The Integrity of piRNA Clusters is Abolished by Insulators in the
Drosophila

Germline

1

Institute of Molecular Genetics, Russian Academy of Sciences, 123182 Moscow, Russia

2

Present Address: Friedrich Miescher Institute for Biomedical Research, Maulbeerstrasse 66, 4058 Basel, Switzerland

*

Author to whom correspondence should be addressed.

Received: 29 January 2019 / Revised: 27 February 2019 / Accepted: 6 March 2019 / Published: 11 March 2019
Abstract
Piwi-interacting RNAs (piRNAs) control transposable element (TE) activity in the germline. piRNAs are produced from single-stranded precursors transcribed from distinct genomic loci, enriched by TE fragments and termed piRNA clusters. The specific chromatin organization and transcriptional regulation of
Drosophila
germline-specific piRNA clusters ensure transcription and processing of piRNA precursors. TEs harbour various regulatory elements that could affect piRNA cluster integrity. One of such elements is the suppressor-of-hairy-wing (Su(Hw))-mediated insulator, which is harboured in the retrotransposon
gypsy
. To understand how insulators contribute to piRNA cluster activity, we studied the effects of transgenes containing
gypsy
insulators on local organization of endogenous piRNA clusters. We show that transgene insertions interfere with piRNA precursor transcription, small RNA production and the formation of piRNA cluster-specific chromatin, a hallmark of which is Rhino, the germline homolog of the heterochromatin protein 1 (HP1). The mutations of Su(Hw) restored the integrity of piRNA clusters in transgenic strains. Surprisingly, Su(Hw) depletion enhanced the production of piRNAs by the domesticated telomeric retrotransposon
TART
, indicating that Su(Hw)-dependent elements protect
TART
transcripts from piRNA processing machinery in telomeres. A genome-wide analysis revealed that Su(Hw)-binding sites are depleted in endogenous germline piRNA clusters, suggesting that their functional integrity is under strict evolutionary constraints.
View Full-Text
►

▼

Figures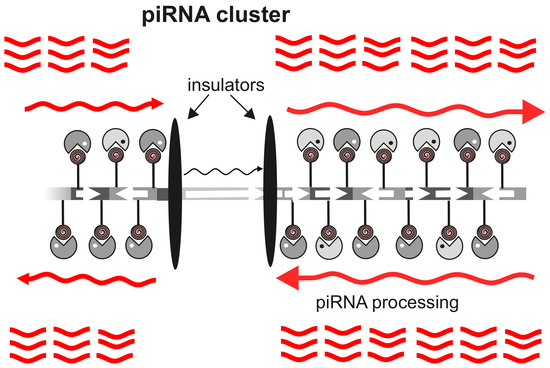 Graphical abstract
This is an open access article distributed under the
Creative Commons Attribution License
which permits unrestricted use, distribution, and reproduction in any medium, provided the original work is properly cited (CC BY 4.0).

Share & Cite This Article
MDPI and ACS Style
Radion, E.; Sokolova, O.; Ryazansky, S.; Komarov, P.A.; Abramov, Y.; Kalmykova, A. The Integrity of piRNA Clusters is Abolished by Insulators in the Drosophila Germline. Genes 2019, 10, 209.
Note that from the first issue of 2016, MDPI journals use article numbers instead of page numbers. See further details here.
Related Articles
Comments
[Return to top]