Deep Sequencing Reveals Central Nervous System Compartmentalization in Multiple Transmitted/Founder Virus Acute HIV-1 Infection
1
U.S. Military HIV Research Program, Walter Reed Army Institute of Research, Silver Spring, MD 20910, USA
2
The Henry M. Jackson Foundation for the Advancement of Military Medicine, Bethesda, MD 20817, USA
3
Department of Medicine, Faculty of Medicine Siriraj Hospital, Mahidol University, Bangkok 10700, Thailand
4
SEARCH, Thai Red Cross AIDS Research Centre, Bangkok 10330, Thailand
5
Memory and Aging Center, Department of Neurology, University of California, San Francisco, CA 94158, USA
6
International Vaccine Institute, Seoul 08826, Korea
7
Academic Medical Center, Department of Global Health, University of Amsterdam, 1105AZ Amsterdam, The Netherlands
8
Department of Neurology, Yale University; New Haven, CT 06510, USA
*
Author to whom correspondence should be addressed.
†
Current address: Bill & Melinda Gates Medical Research Institute, Cambridge, MA 02142, USA.
‡
Current address: GSK Vaccines, Rockville, MD 20850, USA.
Received: 19 July 2019 / Revised: 10 August 2019 / Accepted: 11 August 2019 / Published: 15 August 2019
Abstract
HIV-1 disseminates to a broad range of tissue compartments during acute HIV-1 infection (AHI). The central nervous system (CNS) can serve as an early and persistent site of viral replication, which poses a potential challenge for HIV-1 remission strategies that target the HIV reservoir. CNS compartmentalization is a key feature of HIV-1 neuropathogenesis. Thus far, the timing of how early CNS compartmentalization develops after infection is unknown. We examined whether HIV-1 transmitted/founder (T/F) viruses differ between CNS and blood during AHI using single-genome sequencing of envelope gene and further examined subregions in
pol
and
env
using next-generation sequencing in paired plasma and cerebrospinal fluid (CSF) from 18 individuals. Different proportions of mostly minor variants were found in six of the eight multiple T/F-infected individuals, indicating enrichment of some variants in CSF that may lead to significant compartmentalization in the later stages of infection. This study provides evidence for the first time that HIV-1 compartmentalization in the CNS can occur within days of HIV-1 exposure in multiple T/F infections. Further understanding of factors that determine enrichment of T/F variants in the CNS, as well as potential long-term implications of these findings for persistence of HIV-1 reservoirs and neurological impairment in HIV, is needed.
View Full-Text
►

▼

Figures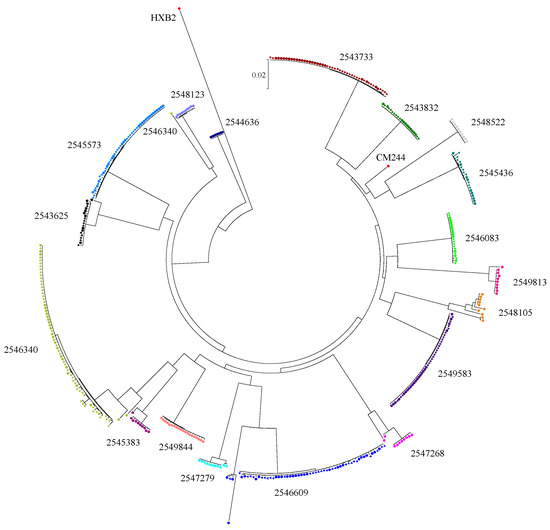 Figure 1
This is an open access article distributed under the
Creative Commons Attribution License
which permits unrestricted use, distribution, and reproduction in any medium, provided the original work is properly cited (CC BY 4.0).

Share & Cite This Article
MDPI and ACS Style
Tovanabutra, S.; Sirijatuphat, R.; Pham, P.T.; Bonar, L.; Harbolick, E.A.; Bose, M.; Song, H.; Chang, D.; Oropeza, C.; O'Sullivan, A.M.; Balinang, J.; Kroon, E.; Colby, D.J.; Sacdalan, C.; Hellmuth, J.; Chan, P.; Prueksakaew, P.; Pinyakorn, S.; Jagodzinski, L.L.; Sutthichom, D.; Pattamaswin, S.; de Souza, M.; Gramzinski, R.A.; Kim, J.H.; Michael, N.L.; Robb, M.L.; Phanuphak, N.; Ananworanich, J.; Valcour, V.; Kijak, G.H.; Sanders-Buell, E.; Spudich, S.; The MHRP Viral Sequencing Core; the RV254/SEARCH 010 Study Team. Deep Sequencing Reveals Central Nervous System Compartmentalization in Multiple Transmitted/Founder Virus Acute HIV-1 Infection. Cells 2019, 8, 902.
Note that from the first issue of 2016, MDPI journals use article numbers instead of page numbers. See further details here.
Related Articles
Comments
[Return to top]