Size Dependency of Circulation and Biodistribution of Biomimetic Nanoparticles: Red Blood Cell Membrane-Coated Nanoparticles
1
Department of Colorectal Surgery, Fudan University Shanghai Cancer Center, Shanghai 200032, China
2
School of Pharmacy, Fudan University, Key Laboratory of Smart Drug Delivery, Ministry of Education, 826 Zhangheng Road, Shanghai 201203, China
3
Department of Bioengineering, School of Engineering and Applied Sciences, University of Pennsylvania, Philadelphia, PA 19104, USA
4
School of Pharmacy, Heilongjiang University of Chinese Medicine, 24 Heping Road, Harbin 150040, China
5
Department of Radiation Oncology, Shanghai Chest Hospital, Shanghai Jiao Tong University, Shanghai 200030, China
*
Authors to whom correspondence should be addressed.
†
These authors contributed equally to this work.
Received: 9 July 2019 / Revised: 9 August 2019 / Accepted: 9 August 2019 / Published: 13 August 2019
Abstract
Recently, biomimetic nanoparticles, especially cell membrane-cloaked nanoparticles, have attracted increasing attention in biomedical applications, including antitumor therapy, detoxification, and immune modulation, by imitating the structure and the function of biological systems such as long circulation life in the blood. However, the circulation time of cell membrane-cloaked nanoparticles is far less than that of the original cells, greatly limiting their biomedical applications, while the underlying reasons are seldom demonstrated. In this study, the influence of particle size on the circulation and the biodistribution of red blood cell membrane-coated nanoparticles (RBC-NPs) as model biomimetic nanoparticles were investigated. Differently sized RBC-NPs (80, 120, 160, and 200 nm) were prepared by fusing RBC membranes on poly(lactic-co-glycolic acid) nanoparticles. It was shown that the particle size did not change the cellular uptake of these biomimetic nanoparticles by macrophage cells in vitro and their immunogenic responses in vivo. However, their circulation life in vivo decreased with the particle size, while their accumulation in the liver increased with the particle size, which might be related to their size-dependent filtration through hepatic sinusoids. These findings will provide experimental evidence for the design and the optimization of biomimetic nanoparticles.
View Full-Text
►

▼

Figures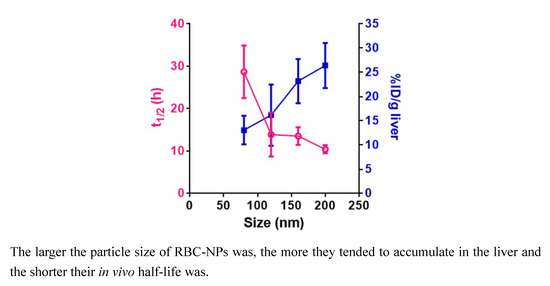 Graphical abstract
This is an open access article distributed under the
Creative Commons Attribution License
which permits unrestricted use, distribution, and reproduction in any medium, provided the original work is properly cited (CC BY 4.0).

Share & Cite This Article
MDPI and ACS Style
Li, H.; Jin, K.; Luo, M.; Wang, X.; Zhu, X.; Liu, X.; Jiang, T.; Zhang, Q.; Wang, S.; Pang, Z. Size Dependency of Circulation and Biodistribution of Biomimetic Nanoparticles: Red Blood Cell Membrane-Coated Nanoparticles. Cells 2019, 8, 881.
Note that from the first issue of 2016, MDPI journals use article numbers instead of page numbers. See further details here.
Related Articles
Comments
[Return to top]