Fatty Acid and Lipopolysaccharide Effect on Beta Cells Proteostasis and its Impact on Insulin Secretion
1
Departamento de Bioquímica, Facultad de Medicina Mexicali, Universidad Autónoma de Baja California, 21000 Mexicali, Mexico
2
Facultad de Odontología, Universidad Autónoma de Baja California, 22390 Tijuana, Mexico
3
Tecnológico Nacional de México/I.T. Tijuana, Centro de Graduados e Investigación en Química-Grupo de Biomateriales y Nanomedicina, 22510 Tijuana, Mexico
4
Hospital General de Zona No. 30, Instituto Mexicano del Seguro Social, 21100 Mexicali, Mexico
5
Instituto de Fisiología Celular, Universidad Nacional Autónoma de México, 04510 Ciudad de México, Mexico
6
Tecnológico Nacional de México/I.T. Tijuana, Centro de Graduados e Investigación en Química, 22000 Tijuana, Mexico
7
Cátedras CONACyT- Tecnológico Nacional de México/I.T. Tijuana. Centro de Graduados e Investigación en Química-Grupo de Biomateriales y Nanomedicina, 22000 Tijuana, Mexico
*
Author to whom correspondence should be addressed.
Received: 15 July 2019 / Revised: 2 August 2019 / Accepted: 6 August 2019 / Published: 13 August 2019
Abstract
Metabolic overload by saturated fatty acids (SFA), which comprises β-cell function, and impaired glucose-stimulated insulin secretion are frequently observed in patients suffering from obesity and type 2 diabetes mellitus. The increase of intracellular Ca
2+
triggers insulin granule release, therefore several mechanisms regulate Ca
2+
efflux within the β-cells, among others, the plasma membrane Ca
2+
-ATPase (PMCA). In this work, we describe that lipotoxicity mediated mainly by the saturated palmitic acid (PA) (16C) is associated with loss of protein homeostasis (proteostasis) and potentially cell viability, a phenomenon that was induced to a lesser extent by stearic (18C), myristic (14C) and lauric (12C) acids. PA was localized on endoplasmic reticulum, activating arms of the unfolded protein response (UPR), as also promoted by lipopolysaccharides (LPS)-endotoxins. In particular, our findings demonstrate an alteration in PMCA1/4 expression caused by PA and LPS which trigger the UPR, affecting not only insulin release and contributing to β-cell mass reduction, but also increasing reactive nitrogen species. Nonetheless, stearic acid (SA) did not show these effects. Remarkably, the proteolytic degradation of PMCA1/4 prompted by PA and LPS was avoided by the action of monounsaturated fatty acids such as oleic and palmitoleic acid. Oleic acid recovered cell viability after treatment with PA/LPS and, more interestingly, relieved endoplasmic reticulum (ER) stress. While palmitoleic acid improved the insulin release, this fatty acid seems to have more relevant effects upon the expression of regulatory pumps of intracellular Ca
2+
. Therefore, chain length and unsaturation of fatty acids are determinant cues in proteostasis of β-cells and, consequently, on the regulation of calcium and insulin secretion.
View Full-Text
►

▼

Figures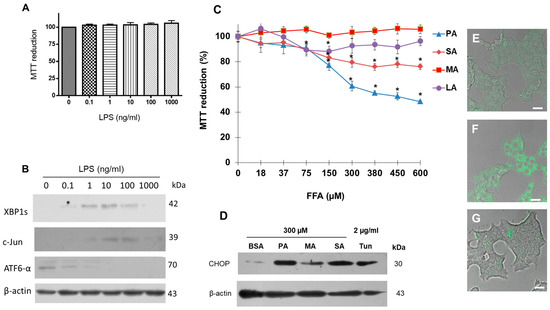 Figure 1
This is an open access article distributed under the
Creative Commons Attribution License
which permits unrestricted use, distribution, and reproduction in any medium, provided the original work is properly cited (CC BY 4.0).

Share & Cite This Article
MDPI and ACS Style
Acosta-Montaño, P.; Rodríguez-Velázquez, E.; Ibarra-López, E.; Frayde-Gómez, H.; Mas-Oliva, J.; Delgado-Coello, B.; Rivero, I.A.; Alatorre-Meda, M.; Aguilera, J.; Guevara-Olaya, L.; García-González, V. Fatty Acid and Lipopolysaccharide Effect on Beta Cells Proteostasis and its Impact on Insulin Secretion. Cells 2019, 8, 884.
Note that from the first issue of 2016, MDPI journals use article numbers instead of page numbers. See further details here.
Related Articles
Comments
[Return to top]