MicroRNA-34a and MicroRNA-181a Mediate Visfatin-Induced Apoptosis and Oxidative Stress via NF-κB Pathway in Human Osteoarthritic Chondrocytes
1
Department of Medicine, Surgery and Neuroscience, Rheumatology Unit, Azienda Ospedaliera Universitaria Senese, Policlinico Le Scotte, 53100 Siena, Italy
2
Department of Medicine, Surgery and Neurosciences, Section of Orthopedics and Traumatology, University of Siena, Policlinico Le Scotte, 53100 Siena, Italy
3
Department of Medicine, Surgery and Neuroscience, Scleroderma Unit, University of Siena, Policlinico Le Scotte, 53100 Siena, Italy
4
Sbarro Institute for Cancer Research and Molecular Medicine, Center for Biotechnology, College of Science and Technology, Temple University, Philadelphia, PA 19122, USA
5
Department of Medical Biotechnologies, University of Siena, 53100 Siena, Italy
*
Author to whom correspondence should be addressed.
Received: 3 July 2019 / Revised: 31 July 2019 / Accepted: 9 August 2019 / Published: 11 August 2019
Abstract
Current evidence suggests a complex interaction between adipokines and microRNA (miRNA) in osteoarthritis (OA) pathogenesis. The present study explored the role of miR-34a and miR-181a in regulating apoptosis and oxidative stress induced by visfatin in human OA chondrocytes. Chondrocytes were transfected with miR-34a and miR-181a inhibitors and stimulated with visfatin for 24 h, in the presence of nuclear factor (NF)-κB inhibitor (BAY-11-7082, 2 h pre-incubation). Apoptosis and reactive oxygen species (ROS) production were detected by cytometry, miRNA, antioxidant enzymes, nuclear factor erythroid (NRF)2 and B-cell lymphoma (BCL)2 expressions by quantitative real time polymerase chain reaction (real time PCR) and western blot. P50 NF-κB subunit was measured by immunofluorescence. Visfatin significantly induced apoptosis and superoxide anion production, increased miR-34a, miR-181a, superoxide dismutase (SOD)-2, catalase (CAT), NRF2 and decreased BCL2 gene and protein expression in OA chondrocytes. All the visfatin-caused effects were suppressed by using miR-34a and miR-181a inhibitors. Pre-incubation with BAY-11-7082 counteracted visfatin-induced expression of miRNA, BCL2, SOD-2, CAT and NRF2. Inhibition of miR-34a and miR-181a significantly reduced the activation of p50 NF-κB. Visfatin confirms its ability to induce apoptosis and oxidative stress in human OA chondrocytes; these effects appeared mediated by miR-34a and miR-181a via NF-κB pathway. We highlight the relevance of visfatin as potential therapeutic target for OA treatment.
View Full-Text
►

▼

Figures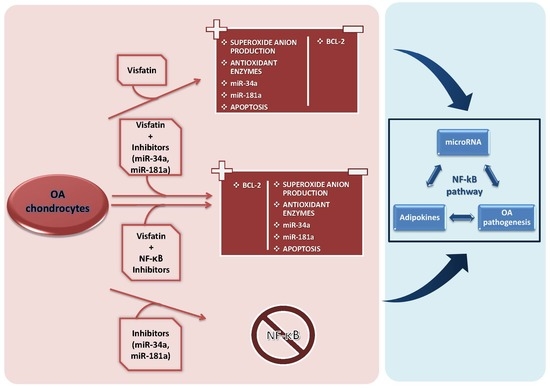 Graphical abstract
This is an open access article distributed under the
Creative Commons Attribution License
which permits unrestricted use, distribution, and reproduction in any medium, provided the original work is properly cited (CC BY 4.0).

Share & Cite This Article
MDPI and ACS Style
Cheleschi, S.; Tenti, S.; Mondanelli, N.; Corallo, C.; Barbarino, M.; Giannotti, S.; Gallo, I.; Giordano, A.; Fioravanti, A. MicroRNA-34a and MicroRNA-181a Mediate Visfatin-Induced Apoptosis and Oxidative Stress via NF-κB Pathway in Human Osteoarthritic Chondrocytes. Cells 2019, 8, 874.
Note that from the first issue of 2016, MDPI journals use article numbers instead of page numbers. See further details here.
Related Articles
Comments
[Return to top]