Connecting the Dots in the Neuroglobin-Protein Interaction Network of an Unstressed and Ferroptotic Cell Death Neuroblastoma Model
1
Laboratory of Protein Science, Proteomics and Epigenetic Signaling (PPES), Department of Biomedical Sciences, University of Antwerp, 2610 Wilrijk, Belgium
2
Centre for Proteomics (CFP), University of Antwerp, 2610 Wilrijk, Belgium
3
Department of Ophthalmology, Visual Optics and Visual Rehabilitation, Faculty of Medicine and Health Sciences, University of Antwerp, 2610 Wilrijk, Belgium
4
Flemish Institute for Technological Research (VITO), 2400 Mol, Belgium
5
Laboratory of Experimental Hematology (LEH), Faculty of Medicine and Health Sciences, University of Antwerp, 2610 Wilrijk, Belgium
*
Author to whom correspondence should be addressed.
Received: 11 July 2019 / Revised: 3 August 2019 / Accepted: 7 August 2019 / Published: 11 August 2019
Abstract
Neuroglobin is a heme protein of which increased levels provide neuroprotection against amyloid proteinopathy and hemorrhagic damage. These cellular stressors involve the promotion of ferroptosis—an iron-dependent, lipid peroxide-accreting form of cell death. Hence, we questioned whether neuroglobin could oppose ferroptosis initiation. We detected human neuroglobin (hNgb)-EGFP-expressing SH-SY5Y cells to be significantly more resistant to ferroptosis induction, identifying 0.68-fold less cell death. To elucidate the underlying pathways, this study investigated hNgb-protein interactions with a Co-IP-MS/MS approach both under a physiological and a ferroptotic condition. hNgb binds to proteins of the cellular iron metabolism (e.g., RPL15 and PCBP3) in an unstressed condition and shows an elevated binding ratio towards cell death-linked proteins, such as HNRNPA3, FAM120A, and ABRAXAS2, under ferroptotic stress. Our data also reveal a constitutive interaction between hNgb and the longevity-associated heterodimer XRCC5/XRCC6. Disentangling the involvement of hNgb and its binding partners in cellular processes, using Ingenuity Pathway Analysis, resulted in the integration of hNgb in the ubiquitination pathway, mTOR signaling, 14-3-3-mediated signaling, and the glycolysis cascade. We also detected a previously unknown strong link with motor neuropathies. Hence, this study contributes to the elucidation of neuroglobin's involvement in cellular mechanisms that provide neuroprotection and the upkeep of homeostasis.
View Full-Text
►

▼

Figures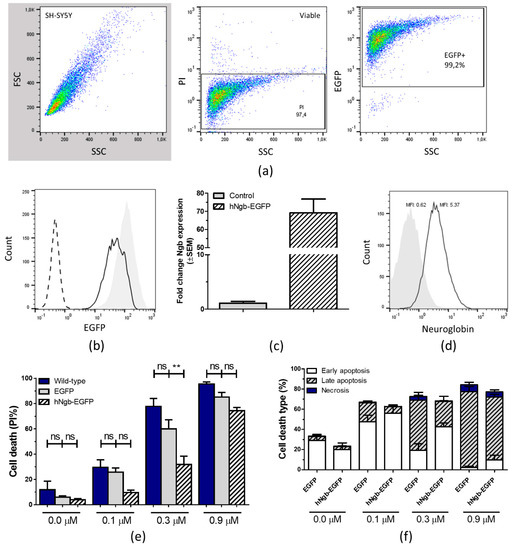 Figure 1
This is an open access article distributed under the
Creative Commons Attribution License
which permits unrestricted use, distribution, and reproduction in any medium, provided the original work is properly cited (CC BY 4.0).

Share & Cite This Article
MDPI and ACS Style
Van Acker, Z.P.; Van Raemdonck, G.A.; Logie, E.; Van Acker, S.I.; Baggerman, G.; Vanden Berghe, W.; Ponsaerts, P.; Dewilde, S. Connecting the Dots in the Neuroglobin-Protein Interaction Network of an Unstressed and Ferroptotic Cell Death Neuroblastoma Model. Cells 2019, 8, 873.
Note that from the first issue of 2016, MDPI journals use article numbers instead of page numbers. See further details here.
Related Articles
Comments
[Return to top]