Investigation of Cytokine Changes in Osteoarthritic Knee Joint Tissues in Response to Hyperacute Serum Treatment
1
Institute Clinical Experimental Research, Semmelweis University, Budapest 1094, Hungary
2
Center for Regenerative Medicine, Danube University, Krems-an-der-Donau 3500, Austria
3
Institute Sport and Health Sciences, University of Physical Education, Budapest 1123, Hungary
4
Kastelypark Clinic, Tata 2980, Hungary
5
RT-Europe Nonprofit Research Center, Mosonmagyaróvár 9200, Hungary
6
Galenbio Ltd., Mosonmagyaróvár 9200, Hungary
7
Orthosera GmbH, Krems an der Donau 3500, Austria
*
Author to whom correspondence should be addressed.
Received: 3 June 2019 / Revised: 19 July 2019 / Accepted: 1 August 2019 / Published: 3 August 2019
Abstract
One option to fight joint degradation and inflammation in osteoarthritis is the injection of activated blood products into the synovial space. It has been demonstrated that hyperacute serum is the most proliferative among plasma products, so we investigated how the cytokine milieu of osteoarthritic knee joint reacts to hyperacute serum treatment in vitro. Cartilage, subchondral bone, and synovial membrane explanted from osteoarthritic knees were stimulated by interleukin-1 beta (IL-1β) and the concentration of 39 biomarkers was measured in the co-culture supernatant after hyperacute serum treatment. The IL-1β stimulation triggered a strong inflammatory response and enhanced the concentrations of matrix metalloproteinase 3 and 13 (MMP-3 and MMP-13), while hyperacute serum treatment reduced inflammation by decreasing the concentrations of IL-1β, tumor necrosis factor alpha (TNF-α), interleukin-6 receptor alpha (IL-6Rα), and by increasing the level of interleukin-1 antagonist (IL-1RA) Cell viability increased by day 5 in the presence of hyperacute serum. The level of MMPs-1, 2, and 9 were higher on day 3, but did not increase further until day 5. The concentrations of collagen 1 alpha 1 (COL1A1) and osteonectin were increased and receptor activator of nuclear factor kappa-B ligand (RANKL) was reduced in response to hyperacute serum. We concluded that hyperacute serum treatment induces cell proliferation of osteoarthritic joint tissues and affects the cytokine milieu towards a less inflamed state.
View Full-Text
►

▼

Figures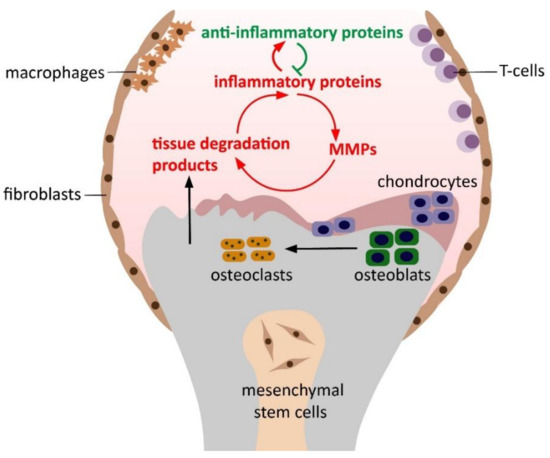 Figure 1
This is an open access article distributed under the
Creative Commons Attribution License
which permits unrestricted use, distribution, and reproduction in any medium, provided the original work is properly cited (CC BY 4.0).

Share & Cite This Article
MDPI and ACS Style
Kardos, D.; Marschall, B.; Simon, M.; Hornyák, I.; Hinsenkamp, A.; Kuten, O.; Gyevnár, Z.; Erdélyi, G.; Bárdos, T.; Paukovits, T.M.; Magos, K.; Béres, G.; Szenthe, K.; Bánáti, F.; Szathmary, S.; Nehrer, S.; Lacza, Z. Investigation of Cytokine Changes in Osteoarthritic Knee Joint Tissues in Response to Hyperacute Serum Treatment. Cells 2019, 8, 824.
Note that from the first issue of 2016, MDPI journals use article numbers instead of page numbers. See further details here.
Related Articles
Comments
[Return to top]