Modulation of Agrin and RhoA Pathways Ameliorates Movement Defects and Synapse Morphology in MYO9A-Depleted Zebrafish
1
John Walton Muscular Dystrophy Research Centre, MRC Centre for Neuromuscular Diseases, Institute of Genetic Medicine, Newcastle University, Newcastle upon Tyne NE1 3BZ, UK
2
Interdisciplinary School of Health Sciences, Faculty of Health Sciences, University of Ottawa, Ottawa, ON K1H 8L1, Canada
3
Children's Hospital of Eastern Ontario Research Institute, University of Ottawa, Ottawa, ON K1H 8L1, Canada
4
Institute of Cell and Molecular Biosciences, Newcastle University, Newcastle Upon Tyne NE2 4HH, UK
5
Neurotune AG. Wagistrasse 27a, 8952 Schlieren, Switzerland
6
Department of Clinical Neurosciences, University of Cambridge, Cambridge CB2 0QQ, UK
7
Institute of Neuroscience, Newcastle University, Newcastle Upon Tyne NE2 4HH, UK
8
Department of Neuropediatrics, Centre for Neuromuscular Disorders in Children, University Hospital Essen, University of Duisburg-Essen, 45122 Essen, Germany
9
Department of Neuropediatrics and Muscle Disorders, Faculty of Medicine, Medical Center—University of Freiburg, 79106 Freiburg, Germany
10
Centro Nacional de Análisis Genómico (CNAG-CRG), Center for Genomic Regulation, Barcelona Institute of Science and Technology (BIST), 08028 Barcelona, Spain
11
Division of Neurology, Department of Medicine, The Ottawa Hospital, Ottawa, ON K1H 7X5, Canada
*
Author to whom correspondence should be addressed.
Received: 1 July 2019 / Revised: 24 July 2019 / Accepted: 2 August 2019 / Published: 7 August 2019
Abstract
Congenital myasthenic syndromes (CMS) are a group of rare, inherited disorders characterised by impaired function of the neuromuscular junction (NMJ). This is due to defects in one of the many proteins associated with the NMJ. In three patients with CMS, missense mutations in a gene encoding an unconventional myosin protein, MYO9A, were identified as likely causing their disorder. Preliminary studies revealed a potential involvement of the RhoA/ROCK pathway and of a key NMJ protein, agrin, in the pathophysiology of MYO9A-depletion. In this study, a CRISPR/Cas9 approach was used to generate genetic mutants of
MYO9A
zebrafish orthologues,
myo9aa/ab,
to expand and refine the morphological analysis of the NMJ. Injection of NT1654, a synthetic agrin fragment compound, improved NMJ structure and zebrafish movement in the absence of Myo9aa/ab. In addition, treatment of zebrafish with fasudil, a ROCK inhibitor, also provided improvements to the morphology of NMJs in early development, as well as rescuing movement defects, but not to the same extent as NT1654 and not at later time points. Therefore, this study highlights a role for MYO9A at the NMJ, the first unconventional myosin motor protein associated with a neuromuscular disease, and provides a potential mechanism of action of MYO9A-pathophysiology.
View Full-Text
►

▼

Figures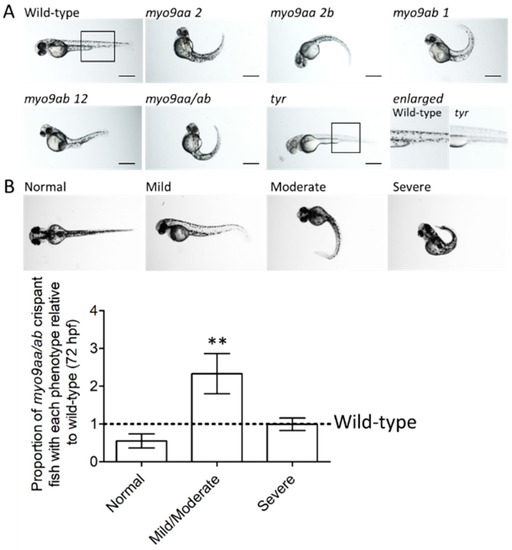 Figure 1
This is an open access article distributed under the
Creative Commons Attribution License
which permits unrestricted use, distribution, and reproduction in any medium, provided the original work is properly cited (CC BY 4.0).

Share & Cite This Article
MDPI and ACS Style
O'Connor, E.; Cairns, G.; Spendiff, S.; Burns, D.; Hettwer, S.; Mäder, A.; Müller, J.; Horvath, R.; Slater, C.; Roos, A.; Lochmüller, H. Modulation of Agrin and RhoA Pathways Ameliorates Movement Defects and Synapse Morphology in MYO9A-Depleted Zebrafish. Cells 2019, 8, 848.
Note that from the first issue of 2016, MDPI journals use article numbers instead of page numbers. See further details here.
Related Articles
Comments
[Return to top]