Thymic Stromal Lymphopoietin Interferes with the Apoptosis of Human Skin Mast Cells by a Dual Strategy Involving STAT5/Mcl-1 and JNK/Bcl-xL
Department of Dermatology, Venerology and Allergy, Charité—Universitätsmedizin Berlin, Charitéplatz 1, 10117 Berlin, Germany
*
Authors to whom correspondence should be addressed.
Received: 10 July 2019 / Revised: 29 July 2019 / Accepted: 1 August 2019 / Published: 5 August 2019
Abstract
Mast cells (MCs) play critical roles in allergic and inflammatory reactions and contribute to multiple pathologies in the skin, in which they show increased numbers, which frequently correlates with severity. It remains ill-defined how MC accumulation is established by the cutaneous microenvironment, in part because research on human MCs rarely employs MCs matured in the tissue, and extrapolations from other MC subsets have limitations, considering the high level of MC heterogeneity. Thymic stromal lymphopoietin (TSLP)—released by epithelial cells, like keratinocytes, following disturbed homeostasis and inflammation—has attracted much attention, but its impact on skin MCs remains undefined, despite the vast expression of the TSLP receptor by these cells. Using several methods, each detecting a distinct component of the apoptotic process (membrane alterations, DNA degradation, and caspase-3 activity)
,
our study pinpoints TSLP as a novel survival factor of dermal MCs. TSLP confers apoptosis resistance via concomitant activation of the TSLP/ signal transducer and activator of transcription (STAT)-5 / myeloid cell leukemia (Mcl)-1 route and a newly uncovered TSLP/ c-Jun-N-terminal kinase (JNK)/ B-cell lymphoma (Bcl)-x
L
axis, as evidenced by RNA interference and pharmacological inhibition. Our findings highlight the potential contribution of TSLP to the MC supportive niche of the skin and, vice versa, highlight MCs as crucial responders to TSLP in the context of TSLP-driven disorders.
View Full-Text
►

▼

Figures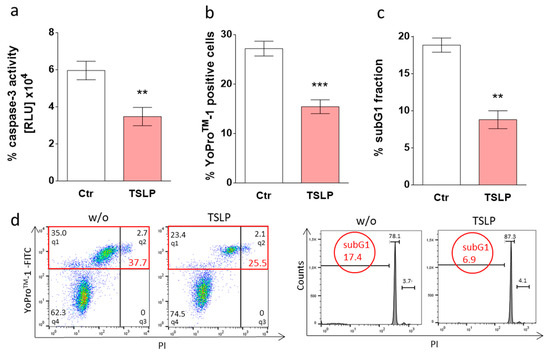 Figure 1
This is an open access article distributed under the
Creative Commons Attribution License
which permits unrestricted use, distribution, and reproduction in any medium, provided the original work is properly cited (CC BY 4.0).

Share & Cite This Article
MDPI and ACS Style
Hazzan, T.; Eberle, J.; Worm, M.; Babina, M. Thymic Stromal Lymphopoietin Interferes with the Apoptosis of Human Skin Mast Cells by a Dual Strategy Involving STAT5/Mcl-1 and JNK/Bcl-xL. Cells 2019, 8, 829.
Note that from the first issue of 2016, MDPI journals use article numbers instead of page numbers. See further details here.
Related Articles
Comments
[Return to top]