Synthesis and Evaluation of Novel Pyrazole Ethandiamide Compounds as Inhibitors of Human THP-1 Monocytic Cell Neurotoxicity
1
Department of Biology, University of British Columbia Okanagan Campus, Kelowna, BC V1V 1V7, Canada
2
Department of Chemistry, University of British Columbia Okanagan Campus, Kelowna, BC V1V 1V7, Canada
3
Chemical Research Industries Division, National Research Centre, Dokki, Giza D-12622, Egypt
4
Department of Chemistry, Taibah University, Medina 42353, Saudi Arabia
*
Authors to whom correspondence should be addressed.
Received: 13 May 2019 / Revised: 25 June 2019 / Accepted: 27 June 2019 / Published: 29 June 2019
Abstract
Neuroinflammation and microglia-mediated neurotoxicity contribute to the pathogenesis of a broad range of neurodegenerative diseases; therefore, identifying novel compounds that can suppress adverse activation of glia is an important goal. We have previously identified a class of trisubstituted pyrazoles that possess neuroprotective and anti-inflammatory properties. Here, we describe a second generation of pyrazole analogs that were designed to improve their neuroprotective activity toward neurons under inflammatory conditions. Pyrazolyl oxalamide derivatives were designed to explore the effects of steric and electronic factors. Three in vitro assays were performed to evaluate the compounds' anti-neurotoxic, neuroprotective, and cytotoxic activity using human THP-1, PC-3, and SH-SY5Y cells. Five compounds significantly reduced the neurotoxic secretions from immune-stimulated microglia-like human THP-1 monocytic cells. One of these compounds was also found to protect SH-SY5Y neuronal cells when they were exposed to cytotoxic THP-1 cell supernatants. While one of the analogs was discarded due to its interference with the cell viability assay, most compounds were innocuous to the cultured cells at the concentrations used (1–100 μM). The new compounds reported herein provide a design template for the future development of lead candidates as novel inhibitors of neuroinflammation and neuroprotective drugs.
View Full-Text
►

▼

Figures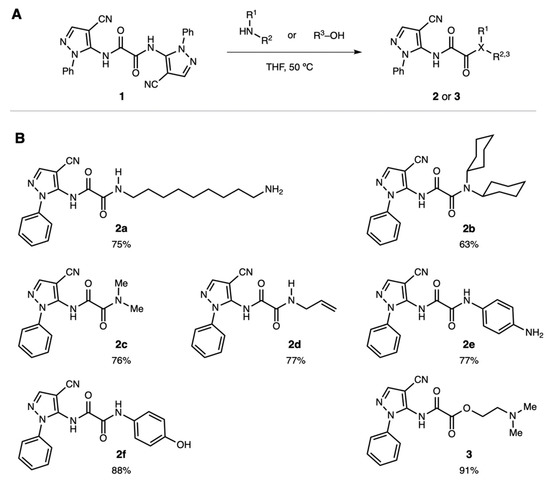 Figure 1
This is an open access article distributed under the
Creative Commons Attribution License
which permits unrestricted use, distribution, and reproduction in any medium, provided the original work is properly cited (CC BY 4.0).

Share & Cite This Article
MDPI and ACS Style
McKenzie, J.A.; Barghash, R.F.; Alsaggaf, A.T.; Kulkarni, O.; Boudreau, K.; Menard, F.; Neeland, E.G.; Klegeris, A. Synthesis and Evaluation of Novel Pyrazole Ethandiamide Compounds as Inhibitors of Human THP-1 Monocytic Cell Neurotoxicity. Cells 2019, 8, 655.
Note that from the first issue of 2016, MDPI journals use article numbers instead of page numbers. See further details here.
Related Articles
Comments
[Return to top]