Open Access This article is
freely available
re-usable
Review
Hematological Malignancy-Derived Small Extracellular Vesicles and Tumor Microenvironment: The Art of Turning Foes into Friends
Tumor-Stroma Interactions, Department of Oncology, Luxembourg Institute of Health, 84, val fleuri, L-1526 Luxembourg, Luxembourg
†
These authors contributed equally to this work.

Received: 2 April 2019 / Accepted: 25 May 2019 / Published: 27 May 2019
Abstract
:
Small extracellular vesicles (small EVs) are commonly released by all cells, and are found in all body fluids. They are implicated in cell to cell short- and long-distance communication through the transfer of genetic material and proteins, as well as interactions between target cell membrane receptors and ligands anchored on small EV membrane. Beyond their canonical functions in healthy tissues, small EVs are strategically used by tumors to communicate with the cellular microenvironment and to establish a proper niche which would ultimately allow cancer cell proliferation, escape from the immune surveillance, and metastasis formation. In this review, we highlight the effects of hematological malignancy-derived small EVs on immune and stromal cells in the tumor microenvironment.
Keywords:
tumor-derived small EVs; exosomes; tumor microenvironment; hematological malignancies; leukemia; lymphoma; myeloma; immunity
1. Introduction
Our review follows the "Minimal information for studies of extracellular vesicles 2018 (MISEV2018)" updated guidelines [
1
]. In order to guarantee correct divulgation and to increase the experiment reproducibility, vesicles nomenclature, characteristics and cited papers have been selected to follow the recommendations from the International Society for Extracellular Vesicles (ISEV) as closely as possible.
Small extracellular vesicles (small EVs), sometimes widely called exosomes, are vesicles (30–150 nm) released by all cells present in all body fluids that are involved in short- and long-distance cell communication [
2
,
3
,
4
,
5
,
6
]. Small EVs are typically included in the category of extracellular vesicles (EVs), together with exosome-like vesicles (20–50 nm), membrane particles (50–80 nm), microvesicles (100–1000 nm) and apoptotic bodies (<5000 nm) [
1
,
7
]. Beside the size, what distinguishes small EVs from other extracellular vesicles is their specific biogenesis, which is strictly bound to the endosomal compartment [
1
,
8
,
9
].
The release of small EVs is dependent on the cell of origin, the physiological context, and the purpose [
8
,
10
]. Initially considered a physiological phenomenon to remove cellular waste, today, small EVs are considered to be a sophisticated way for cells to communicate with the surrounding microenvironment [
7
,
11
]. Their molecular content is strictly dependent on the cell of origin [
10
]. Interestingly, it was shown that tumor-derived small EVs (TEVs) carry a cargo of molecules that is different from the small EVs released by the healthy counterpart [
10
]. Therefore, it is not surprising that tumor cells release specific small EVs containing an unique molecular fingerprint which is used by tumors to increase proliferation [
12
], metastasis formation [
12
,
13
] and immune escape [
14
], effectively reshaping the healthy microenvironment in favor of a pro-tumorigenic one.
2. Generality on Small EVs and the Tumor Microenvironment
2.1. Architecture and Content
2.2. The Complex Interactions between TEVs and Cells in the Microenvironment
Different studies have described the ability of TEVs to re-educate the surrounding cells in order to gain strategic advantages. Virtually all cell types were reported to be targeted by small EVs. Macrophages targeted by TEVs polarized to a more pro-tumorigenic phenotype (M2), in turn macrophage-derived small EVs stimulate invasion of cancer cells by transferring the protein Wnt5a [
44
]. In order to maintain a constant macrophage polarization, it is fundamental that TEVs regulate monocyte recruitment, survival and differentiation. TEVs improve monocyte survival through mitogen-activated protein kinase (MAPK) and receptor tyrosine kinases (RTK), such as epidermal growth factor receptor (EGFR) and human epidermal growth factor receptor 2 (HER2)-dependent mechanisms [
45
]. Immune cells are also strongly impacted by TEVs. CD8
+
T lymphocytes circulating in cancer patients were found to highly express CD95 and programmed cell death protein 1 (PD-1) markers [
46
,
47
]. On the other hand, several other studies showed that cancer cells express the programmed death ligand 1 (PD-L1) and CD95 ligand (FasL) together with the corrupted microenvironment immune cells [
48
,
49
,
50
,
51
,
52
,
53
]. TEVs also carry FasL as well as PD-L1, and this association has recently linked TEVs with ligand-mediated apoptosis and exhaustion in T cells [
54
,
55
,
56
]. Szajnik et al. suggested that increased levels of phospho-STAT3, phospho-SMAD2/3, IL-10 and TGF-β1 expression in TEV-treated CD4
+
CD25
hi
FOXP3
+
regulatory T cells (Tregs) may account for the reduced anti-tumor immune response in cancer patients [
57
]. In addition, TEVs can target and modify stromal and stem cells in the bone marrow. TEVs carrying specific RNAs activate Toll-like receptor 3 (TLR3) in stromal cells thus promoting tumor growth and establishing a proper tumor niche by inducing neutrophil recruitment and immobilization at the tumor location [
58
,
59
,
60
,
61
]. Hornick and colleagues also demonstrated that TEVs possess even a systemic effect. Indeed, Acute Myeloid Leukemia (AML)-derived EVs enriched in miR-150 and miR-155 impaired hematopoietic stem and progenitor cell (HSPC) clonogenicity through suppression of c-MYB translation [
62
].
TEVs are part of a complex strategy used by the tumor cells, not only to circumvent the canonical cellular defenses, but also to deeply re-educate immune and stromal cells towards a pro-tumorigenic phenotype.
2.3. TEVs as Potential Biomarkers
3. Hematological Malignancy-Derived Small EVs and Immune Cells
Of the wide ranging of studies describing the role of TEVs in tumorigenesis, in this review, we will focus our attention on hematological malignancy-derived small EVs and their impact on immune and stromal cells of the tumor microenvironment (TME).
The ability to evade the immune surveillance is one of the strategies for the generation of a proper tumor niche and a successful tumor development [
80
,
81
]. This process is not only visible in the area of the primary tumor but it is also a way to generate pre-metastatic and metastatic niches [
80
]. One quality of the TEVs is to carry molecules which are used in several level of communications with the surrounding cells of the microenvironment. Through receptor-mediated uptake, TEVs release their content into the cytoplasm by directly fusing with the cell membrane. Furthermore, TEV-carried ligands are recognized by proper receptors on target cells; for example, antigens carried by TEVs can bind to major histocompatibility complex (MHC) receptors [
82
]. Altogether, it is believed that small EVs play an important role in the communication of tumor cells to non-malignant bystander cells in their surroundings, in order to create a tumor-friendly environment (
Figure 1
).
3.1. B Cells
B cells are an essential component of the immune system. They are mainly responsible for modulating immune response and inflammation through the production of antibodies and the promotion of T cell activation and proliferation through antigen presentation [
83
]. Recent studies have revealed a new category of B cells, known as regulatory B cells (Bregs), involved in the control of anti-tumor immune response and tumor development [
84
,
85
,
86
,
87
,
88
]. Bregs possess protective functions, maintain immune tolerance and suppress pathological autoimmune and inflammatory responses [
89
,
90
,
91
]. Despite that, Bregs have been shown to play an important role in supporting cancer immune escape through the release of anti-inflammatory mediators, such as interleukin-10 (IL-10) [
91
]. Release of IL-10 allows Bregs to regulate CD4
+
T cell differentiation, proliferation and activity (cytokine secretion), for instance by pro-apoptotic signals [
90
,
92
,
93
]. In a similar way, Bregs suppress CD8
+
T cell immune response and function [
94
,
95
,
96
], natural killer IFN-γ production [
97
], monocyte proliferation and cytokine release [
98
] and finally dendritic cell IL-12 production [
99
]. Furthermore, the release of IL-10 promotes the expansion of Bregs which cause an enhanced immune depression together with IL-10 dependent stimulation and expansion of Tregs [
97
,
100
,
101
].
Bregs are playing an important role in lymphoma. IL-10 is rapidly produced and released by Bregs stimulated with lymphoma-derived small EVs [
102
]. Furthermore, small EVs released by Burkitt's lymphoma cell lines stimulate B cell proliferation, induction of activation-induced cytidine deaminase (AID), and the production by B cells of circle and germline transcripts for IgG1 [
103
].
Haque and Vaiselbuh suggested that acute lymphoblastic leukemia (ALL)-derived small EVs regulate in vitro leukemic and non-leukemic B cell proliferation through the transport of proliferative, pro-survival and anti-apoptotic factors [
104
]. Finally, Patel et al. reported that primary human ALL-derived small EVs are released by the growing leukemia clones to promote proliferation and survival of the low density growing clones [
105
].
Despite having canonical protective activities, B cells and Bregs, targeted by TEVs, can be used by the tumor to circumvent the immune system and enhance tumor growth.
3.4. Natural Killer Cells
3.5. Monocytes
Among the leukocytes, monocytes represent a subgroup of cells with a plasticity to differentiate into macrophages or dendritic cells. Monocyte plasticity is considerably reduced by TEVs. Indeed, lymphoma-derived small EVs efficiently interact with monocytes by membrane fusion, inducing secretion of the pro-inflammatory cytokines IL-6, TNF-α, IL-1β, and profoundly altering the process of their differentiation into dendritic cells [
137
]. In line with the previously reported changes, we showed how CLL-derived small EVs containing the non-coding RNA hY4 were able to induce monocyte polarization, leading to cytokines release, such as CCL2, CCL4 and IL-6 and expression of PD-L1, suggesting a potential small EV-based mechanism of immune escape [
138
].
Due to their possibility to differentiate into different immune cells, monocytes can be led to polarize into a pro-tumorigenic form, which ultimately decrease the pool of macrophages and DCs used in the fight against cancer development.
3.7. Granulocytes
Neutrophils are the body's first line of defense against foreign invaders and thus one of the most important key mediators of the innate immune response [
146
]. Neutrophils are potent antitumor effector cells due to their cytotoxic activities and ability to release cytokines and chemokines which leads to the recruitment of other cells with antitumor activity [
147
,
148
,
149
]. Despite this, similarly to macrophages and monocytes, neutrophils also show a phenotypic plasticity, which is modulated by different tumor-derived signals, and then display pro- or anti-tumor effects [
150
,
151
].
CML can be driven by the formation of the hybrid gene BCR/ABL kinase as results of the Philadelphia chromosome rearrangements. CML-derived small EVs have been documented to carry such gene and transfer it in vitro and in vivo to neutrophils, ultimately causing an aberrant gene expression program in the target cells, and recapitulating CML-like symptoms in Sprague-Dawley (SD) rats or NOD/SCID mice [
152
].
It is worth mentioning that Hansen and colleagues described that Hodgkin lymphoma (HL)-derived CD30
+
small EVs induce the release of the pro-inflammatory cytokine IL-8 by healthy eosinophil-like EoL-1 cells and primary granulocytes [
153
].
Although further investigation is required, the typical antitumor activity of neutrophils appears to be easily subverted to a pro-tumorigenic one, by decreasing their cytotoxic ability and potentially increasing their involvement in inflammation.
3.8. Myeloid-Derived Suppressor Cells
MDSCs are one of the most powerful population of cells involved in the siege of the microenvironment. Due to the strong pro-tumorigenic potential of MDSC, tumor cells proliferate undisturbed thanks to the effective immune evasion and nutrient support.
4. Hematological Malignancies-Derived Small EVs and Stromal Cells
The stroma consists in heterogeneous cell populations delivering structural and physiological support for hematopoietic cells. In cancer, the stroma evolves in parallel to the disease and it is considered as one of the essential key factors for tumor development, progression and dissemination [
165
,
166
,
167
,
168
] (
Figure 2
).
4.1. Fibroblasts
Fibroblasts are extremely versatile and resilient cells distributed in different parenchymal tissues. They represent the main source of extracellular matrix (ECM) proteins which provide a scaffold for cells but also strongly influence their cell phenotype and functions [
169
]. Furthermore, fibroblasts also function as accessory cells in many immune and inflammatory responses [
170
].
Cancer-associated fibroblasts (CAFs) are one of the most dominant cell types found in solid tumor lesions and play a key role in the tumor niche, producing cytokines, chemokines, metabolites, enzymes and extracellular matrix molecules which will ultimately fuel cancer cells [
169
,
171
]. Moreover, CAFs regulate the inflammatory microenvironment by expressing pro-inflammatory genes, such as IL-1β, IL-6, IL-8, TGF-β, CXCL12, and collagen [
172
,
173
,
174
,
175
].
The impact of hematopoietic malignancy-derived small EVs on fibroblast behavior has been reported in multiple studies. CML-derived small EVs has been described, both in vitro and in vivo, to be able to induce fibroblast-like bone marrow stromal cells to release IL-8, ultimately supporting CML cells survival [
176
]. AML-derived small EVs have been described to transport key mRNAs, such as CXCR4 and IGF-IR (insulin-like growth factor-I receptor), directly to fibroblasts [
177
]. Huan and colleagues showed that these TEVs modulate fibroblasts proliferation as well as promote VEGF expression in vitro, thus altering angiogenesis responses [
177
]. Frassanito and colleagues also demonstrated that myeloma-derived small EVs are able to increase myeloma-fibroblasts proliferation and survival via the transfer of miR-27b-3p and miR-214-3p [
178
]. T-cell leukemia- and CML-derived small EVs have been described to contain the telomerase (hTERT) enzyme mRNA and the potential transfer to hTERT-negative fibroblasts [
179
] may prime to aberrant hTERT expression in TEVs-targeted fibroblasts potentially leading to a tumor-like phenotype [
180
,
181
].
Fibroblasts are an important component of every tissue. The transformation into CAFs causes deep changes in the microenvironment architecture, causing an increase in inflammation which, together with small EVs communication, leads to tumor advance.
4.2. Mesenchymal Stem Cells
As a major component of the TME, MSCs play a key role in promoting tumor progression. Indeed, on one hand TEVs are used to enhance MSCs proliferation, survival and promote pro-tumorigenic phenotype. On the other hand, MSCs guarantee suppression of the immune system, pro-survival signals and induction of polarization for different immune cells.
4.3. Endothelial Cells
Cancer proliferation, survival and metastasis dissemination are highly dependent on angiogenesis. To this end, TEVs are used to boost ECs proliferation, migration and tube formation.
4.4. Osteoblasts and Osteoclasts
5. Conclusions
Cancer is a complex disease which doesn't involve only tumor cells but also a composite cellular microenvironment. Through the multiple strategies and tools deployed by cancer cells to gain proliferative and survival advantages, small extracellular vesicles are one of the most concealed. These vesicles are commonly released by all cells and they are typically used by the cells to communicate with each other. In cancer, small EVs are used to overload the surrounding tissues with pro-tumorigenic signals, derived from TEVs but also from microenvironment cells modified by TEVs.
In this review, we presented how hematological malignancy-derived small EVs possess extremely high potential to re-educate normal tissues, and thus, to re-shape the surrounding tumor microenvironment.
Deregulation of both effector and regulatory immune cells through the use of small EVs is an elegant and efficient strategy to hijack immune defenses and allow cancer progression.
Stroma composition evolves in parallel to cancer growth and progression. Indeed, communication with stromal cells allows to generate an appropriate niche surrounding the primary tumor, and potentially in secondary organs, to proliferate and welcome metastatic cells, respectively.
Through the release of small EVs, tumor cells can interact with an impressive number of cells, tissues and structures. It is important to stress how the understanding of small EV role during tumor development and progression is essential in order to develop effective anticancer strategies. Achieving a deeper knowledge of this intricate communication system would allow us to identify its weaknesses, as well as to use it as a potential drug delivery strategy.
Author Contributions
E.G., J.P. and E.M. contributed to the writing of the manuscript and the conception of the figures.
Funding
This work was supported by grants from FNR Luxembourg (PRIDE15/10675146/CANBIO and INTER/DFG/16/11509946).
Conflicts of Interest
The authors declare no conflict of interest.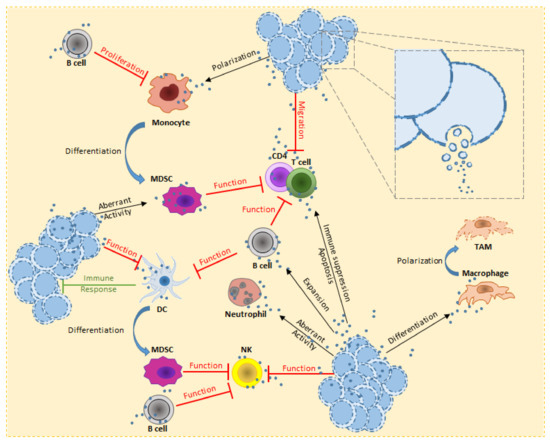 Figure 1. Overview of hematological malignancy-derived small EV effects on immune cells. In order to escape from the immune system, tumor cells deploy several strategies. TEVs are used to stimulate B cell expansion and activity against several immune cells (e.g., T cells and NK). T cells are known to be affected on the proliferative potential and cytokine production. TEVs directly reduce the T cells migration, leading to up-regulation of receptors involved in immune suppression and or activate pro-apoptotic signals. Alternatively, MDSCs acquire strong immune suppression activity, either from interaction of TEVs or aberrant differentiation from myeloid cells (e.g., monocytes) or immature DCs. Under the effect of TEVs, monocytes polarize towards a pro-tumorigenic form. This leads to pro-inflammatory cytokines release and expression of receptors involved in immune suppression. NK cells have high cytotoxic activity, the tumor uses TEVs to heavily decrease this threat. Furthermore, accumulation of pro-tumorigenic MDSCs also increases this inhibitory effect. TEVs have been reported to stimulate macrophage polarization towards M2 form, this ensure the TME with an increasing pool of TAM which release pro-tumorigenic growth factors, chemokines and cytokines. The consequences of TEV uptake by neutrophils is still under investigation, nevertheless their aberrant activity has been reported to be the cause of CML-like symptoms in vivo experiments. Concerning DCs, it is important to highlight the capacity of TEVs to boost the tumor immune response, transforming the communication through small EVs to a double-edge weapon against the disease.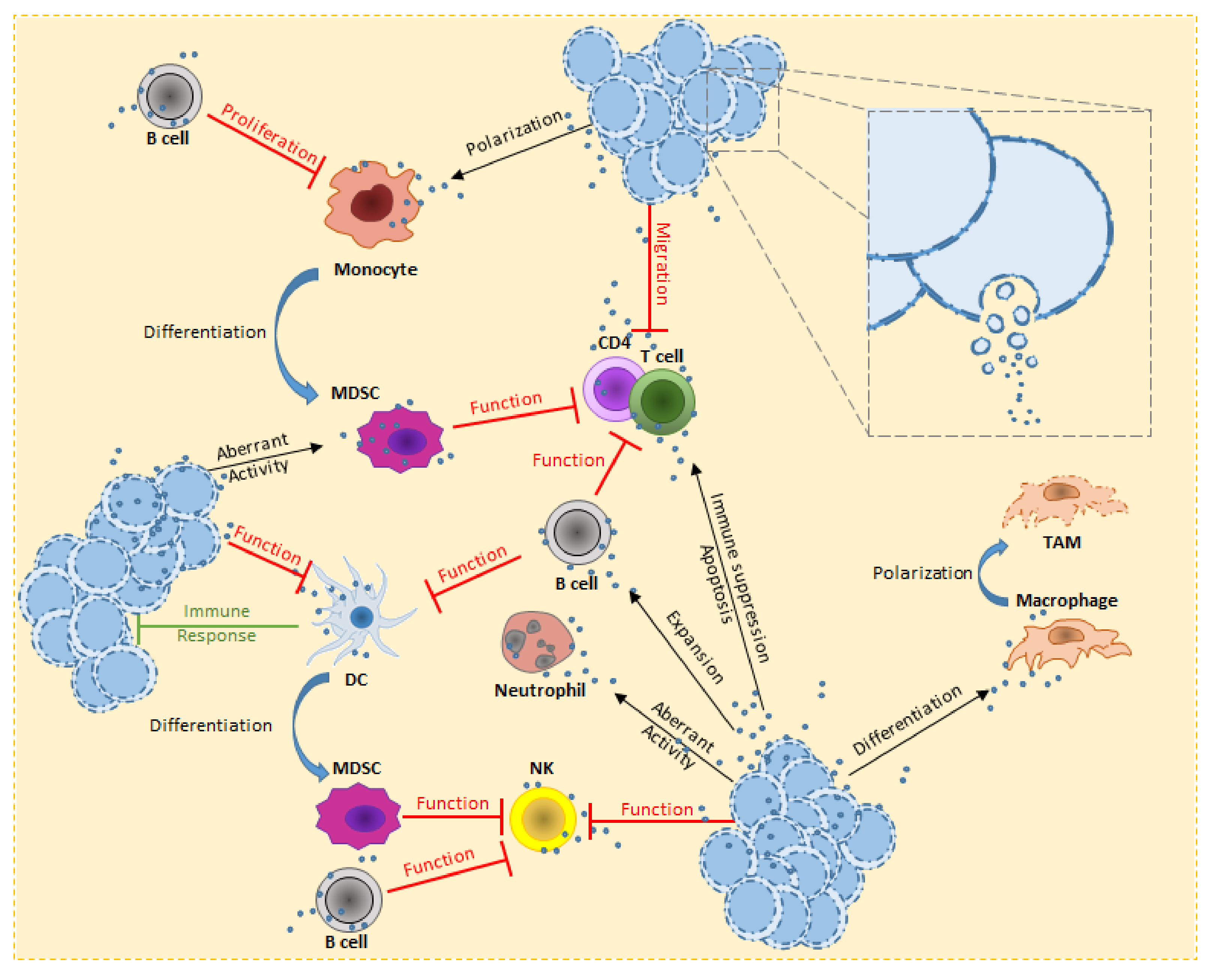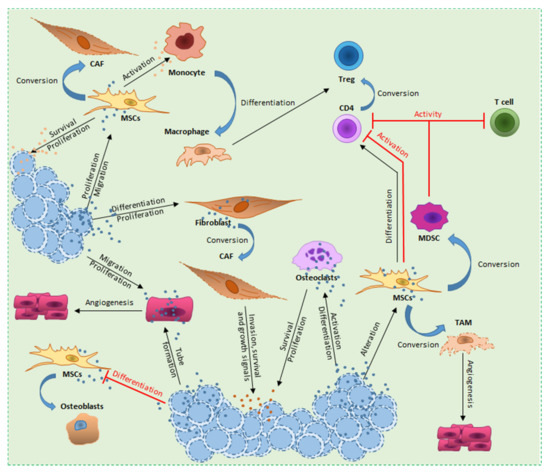 Figure 2. Overview of hematological malignancy-derived small EV effects on stromal cells. In the tumor-stroma communication, TEVs play an essential role in re-shaping the microenvironment. Small EVs coming from different tumors have been described to induce differentiation and increase proliferation of fibroblasts. Through the transfer of different molecules, TEVs convert fibroblasts and MSCs into CAFs which in turn boost tumor invasion, survival and growth. TEVs have the ability to block the MSCs physiological differentiation into osteoblasts causing a progressive bone loss. Under the activity of TEVs, MSCs are further altered in proliferation and migration, resulting in the release of MSC-derived small EVs which in turn boost survival and proliferation of the tumor cells. MSC-derived small EVs mediate immunosuppression in various immune-effector cells, with Tregs being one of the most deregulated immune cell subtype. Indeed, MSC-derived small EVs directly target CD4+ T cells, thus reducing their activation and expansion towards Treg compartment. Furthermore, the aberrant activation of monocytes leads to differentiation into macrophages and consequently Tregs expansion. ECs are an essential component of the microenvironment necessarily for angiogenesis. ECs are actively targeted by TEVs with the aim to increase vascularization in the tumor surrounding, leading to higher proliferation and tumor spreading. Finally, osteoclasts, a further component needed for bone remodeling, under the effect of TEVs show a deleterious activation and differentiation which lead to bone loss and pro-tumorigenic chemokine and growth factor release.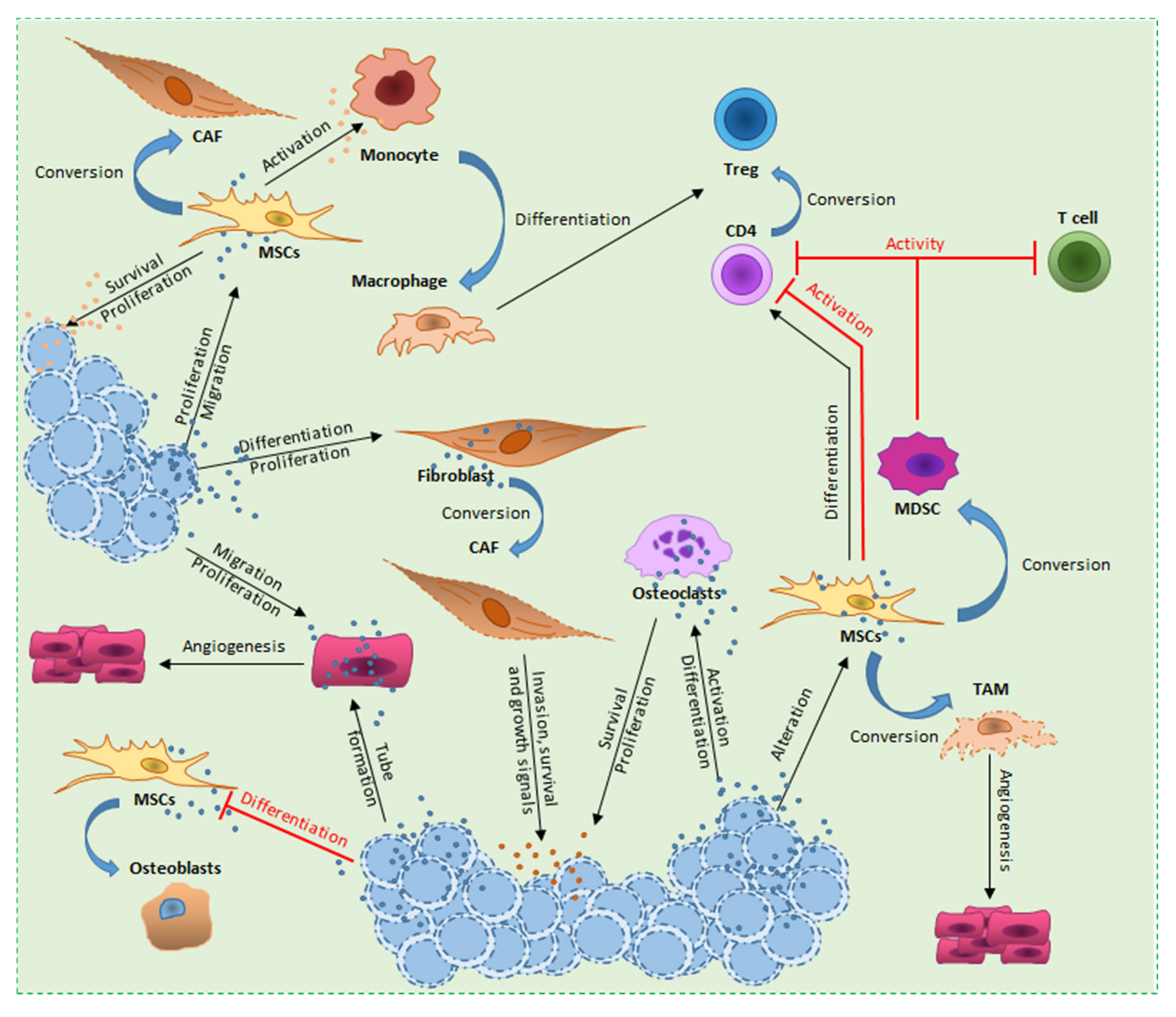 Table 1. Overview of the hematological malignancy-derived small EV functions based on the content and immune cell types.
| Hematopoietic Malignancies | Small EVs Content | Target Cells | Effects | References |
| --- | --- | --- | --- | --- |
| Lymphoma | LMP1 | B cells | Increased proliferation | [103] |
| CLL | miR-363 | T cells | Migration inhibition | [114] |
| DLBCL | Fas, FasL, and TRAIL | T cells | Increased apoptosis | [55,115] |
| Lymphoma | CD39 and CD73 | T cells Macrophages | Accumulation of Adenosine | [116,117] |
| T Lymphoma | TGF-β, IL-6 and PGE2 | DCs | Block of maturation | [121] |
| T- and B-leukemia/lymphoma | NKG2D ligands and TGF-β | NK cells | Reduced cytotoxicity | [130,131] |
| CML | TGF-β | NK cells | Reduced cytotoxicity | [133] |
| AML | CD33, CD34, CD117, MICA/MICB, and TGF-β | NK cells | Reduced cytotoxicity | [74,106] |
| MM | HSP70 | NK cells | Activation of the NF-κB pathway and IFN-γ released | [134] |
| CLL | Y RNA hY4 | Monocytes | Polarization induction | [138] |
| DLBCL | MyD88 | Macrophages | Pro-inflammatory signals | [144] |
| CML | BCR/ABL | Neutrophils | Aberrant BCR/ABL expression and CML-like symptoms | [152] |
| Lymphoma | HSP72 | MDSCs | Suppressive functions | [137] |
| MM | HSP72 | MDSCs | Proliferation increased and activity enhanced | [164] |
Disease abbreviations: Chronic Lymphocytic Leukemia (CLL); Diffuse Large B Cell Lymphoma (DLBCL); Chronic Myeloid Leukemia (CML); Acute Myelogenous Leukemia (AML); Multiple Myeloma (MM).

Table 2. Overview of the hematological malignancy-derived small EV functions based on the content and stromal cell types.
Hematopoietic Malignancies
Small EVs Content
Target Cells
Effects
References
AML
CXCR4 and IGF-IR
Fibroblasts
Proliferation and VEGF expression
[177]
MM
miR-27b-3p and
miR-214-3p
Fibroblasts
Myeloma-fibroblasts proliferation and survival boost
[178]
T cells Leukemia and CML
hTERT
Fibroblasts
CAF phenotype acquisition
[179,180,181]
CLL
microRNA and
Y RNA
MSCs
CAF phenotype acquisition
[187]
MM
miR-21 and
miR-146a
MSCs
Proliferation and CAF induction
[185]
ATLL
miR-21 and
miR-155
MSCs
MSCs proliferation
[186]
AML
miR-7977
MSCs
Reduced ability to support CD34+ cells in the bone marrow
[177]
CML
AREG
MSCs
Aberrant activating of EGFR signalling
[192]
MM
AREG
MSCs
Block differentiation towards osteoblasts
[235]
AML
VEGF and VEGFR mRNA
ECs
Pro-angiogenesis mediated by increased glycolysis
[208]
MM
STAT3, JNK1/2/3, ERK1/2 and P53
ECs
Enhanced migration and tube formation
[209,210]
MM
miR-135b
ECs
Aberrant HIF-FIH signalling
[217]
CML
miR-210
ECs
Enhanced tube formation
[218]
CML
miR-17 -92 cluster
ECs
Enhanced migration and tube formation
[213]
MM
piRNA-823
ECs
Enhanced proliferation, tube formation and invasion
[215]
CML (Blast crisis)
mir-126
ECs
Increased tumor cells migration
[214]
APML; AML-M3
PML-RARα mRNA
ECs
Acquisition of pro-coagulant and tissue factor properties
[219]
MM
AREG
Pre-osteoclasts
Increased differentiation towards osteoclasts
[235]
MM
DKK-1
Osteoblasts
Block of function and differentiation
[237]
Disease abbreviations: Chronic Lymphocytic Leukemia (CLL); Chronic Myeloid Leukemia (CML); Acute Myelogenous Leukemia (AML); Multiple Myeloma (MM); Adult T-cell Leukemia/Lymphoma (ATLL); Acute Promyelocytic Leukemia (APML).

© 2019 by the authors. Licensee MDPI, Basel, Switzerland. This article is an open access article distributed under the terms and conditions of the Creative Commons Attribution (CC BY) license (http://creativecommons.org/licenses/by/4.0/).