Systemic Dysfunction of Osteoblast Differentiation in Adipose-Derived Stem Cells from Patients with Multiple Myeloma
1
INSERM, UMR_S 938, Centre de Recherche Saint-Antoine-Team Genetic and Acquired Lipodystrophies, Institut Hospitalo-Universitaire de Cardiométabolisme et Nutrition (ICAN), Sorbonne Université, F-75012 Paris, France
2
INSERM, UMR_S 938, Centre de Recherche Saint-Antoine-Team Proliferation and Differentiation of Stem Cells, Institut Universitaire de Cancérologie, Sorbonne Université, F-75012 Paris, France
3
EFS Ile de France, Unité d'Ingénierie et de Thérapie Cellulaire, F-94017 Créteil, France
4
INSERM, CNRS, UMR_S 938, Centre de Recherche Saint-Antoine- Team Cancer Biology and Therapeutics, Institut Universitaire de Cancérologie, Sorbonne Université, F-75012 Paris, France
5
INSERM, UMR_S 938, Centre de Recherche Saint-Antoine-Team Proliferation and Differentiation of Stem Cells, Institut Universitaire de Cancérologie, Sorbonne Université, F-75012 Paris, France
6
INSERM, UMR_S 938, Centre de Recherche Saint-Antoine-Team Genetic and Acquired Lipodystrophies, Institut Hospitalo-Universitaire de Cardiométabolisme et Nutrition (ICAN), Assistance Publique-Hôpitaux de Paris, Hôpital Saint-Antoine, service d'Endocrinologie, Sorbonne Université, F-75012 Paris, France
7
INSERM, UMR_S 938, Centre de Recherche Saint-Antoine-Team Proliferation and Differentiation of Stem Cells, Assistance Publique-Hôpitaux de Paris, Hôpital Saint Antoine, Département d'Hématologie et de Thérapie Cellulaire, Sorbonne Université, F-75012 Paris, France
*
Author to whom correspondence should be addressed.
†
These authors contributed equally to this paper.
‡
These authors contributed equally to this paper.
Received: 28 March 2019 / Revised: 29 April 2019 / Accepted: 8 May 2019 / Published: 10 May 2019
PDF
[4514 KB, uploaded 22 May 2019]
|

Review Reports
Abstract
Multiple myeloma is characterized by bone lesions linked to increased osteoclast and decreased osteoblast activities. In particular, the osteoblast differentiation of bone marrow-derived stem cells (MSC) is impaired. Among the potential therapeutic tools for counteracting bone lesions, adipose-derived stem cells (ASC) could represent an appealing source for regenerative medicine due to their similar characteristics with MSC. Our study is among the first giving detailed insights into the osteoblastogenic capacities of ASC isolated by fat aspiration from myeloma patients (MM-ASC) compared to healthy subjects (HD-ASC). We showed that MM-ASC and HD-ASC exhibited comparable morphology, proliferative capacity, and immunophenotype. Unexpectedly, although normal in adipocyte differentiation, MM-ASC present a defective osteoblast differentiation, as indicated by less calcium deposition, decreased alkaline phosphatase activity, and downregulation of RUNX2 and osteocalcin. Furthermore, these ASC-derived osteoblasts displayed enhanced senescence, as shown by an increased β-galactosidase activity and cell cycle inhibitors expression (p16INK4A, p21WAF1/CIP1.), associated with a markedly increased expression of DKK1, a major inhibitor of osteoblastogenesis in multiple myeloma. Interestingly, inhibition of DKK1 attenuated senescence and rescued osteoblast differentiation, highlighting its key role. Our findings show, for the first time, that multiple myeloma is a systemic disease and suggest that ASC from patients would be unsuitable for tissue engineering designed to treat myeloma-associated bone disease.

►

▼

Figures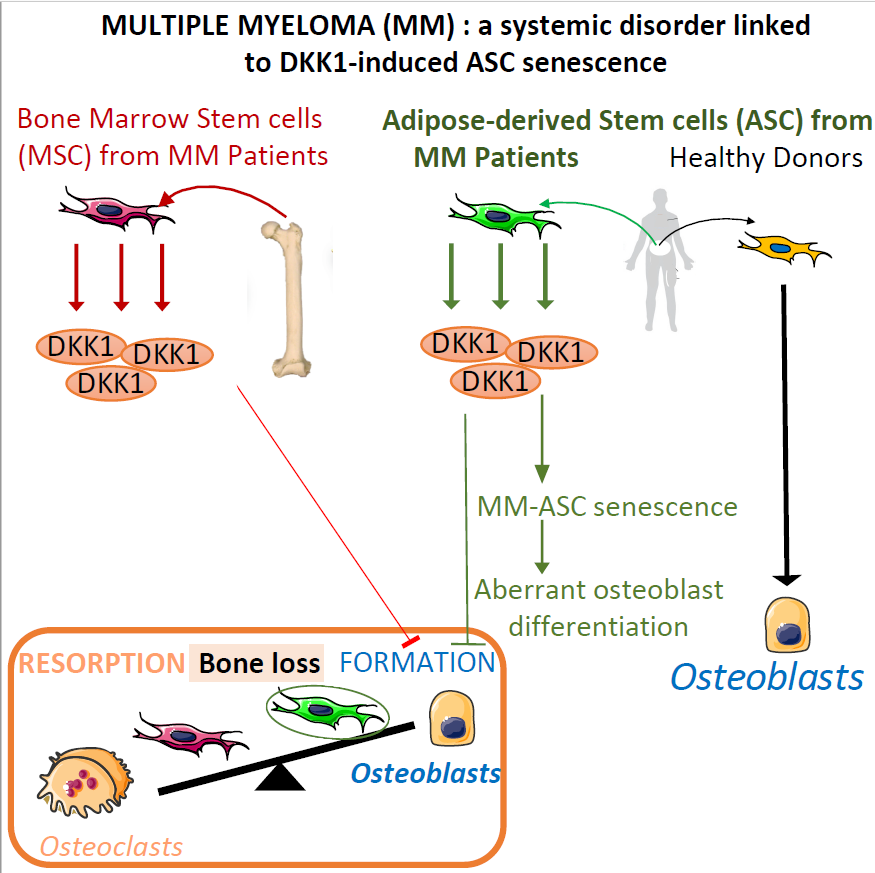 Graphical abstract
This is an open access article distributed under the
Creative Commons Attribution License
which permits unrestricted use, distribution, and reproduction in any medium, provided the original work is properly cited (CC BY 4.0).

Share & Cite This Article
MDPI and ACS Style
Béréziat, V.; Mazurier, C.; Auclair, M.; Ferrand, N.; Jolly, S.; Marie, T.; Kobari, L.; Toillon, I.; Delhommeau, F.; Fève, B.; Larsen, A.K.; Sabbah, M.; Garderet, L. Systemic Dysfunction of Osteoblast Differentiation in Adipose-Derived Stem Cells from Patients with Multiple Myeloma. Cells 2019, 8, 441.
Note that from the first issue of 2016, MDPI journals use article numbers instead of page numbers. See further details here.
Related Articles
Comments
[Return to top]