MAGI1 Mediates eNOS Activation and NO Production in Endothelial Cells in Response to Fluid Shear Stress
1
Pathology, Department of Oncology, Microbiology and Immunology, Section of Medicine, Faculty of Science and Medicine, University of Fribourg, Chemin du Musée 18, CH-1700 Fribourg, Switzerland
2
Institute of Anatomy and Vascular Biology, Westfälische, Wilhelms-Universität Münster, Vesaliusweg 2-4, D-48149 Münster, Germany
3
Cells-in-Motion Cluster of Excellence (EXC 1003—CiM), University of Muenster, D-48149 Muenster, Germany
*
Author to whom correspondence should be addressed.
Received: 10 April 2019 / Revised: 24 April 2019 / Accepted: 26 April 2019 / Published: 27 April 2019
Abstract
Fluid shear stress stimulates endothelial nitric oxide synthase (eNOS) activation and nitric oxide (NO) production through multiple kinases, including protein kinase A (PKA), AMP-activated protein kinase (AMPK), AKT and Ca
2+
/calmodulin-dependent protein kinase II (CaMKII). Membrane-associated guanylate kinase (MAGUK) with inverted domain structure-1 (MAGI1) is an adaptor protein that stabilizes epithelial and endothelial cell-cell contacts. The aim of this study was to assess the unknown role of endothelial cell MAGI1 in response to fluid shear stress. We show constitutive expression and co-localization of MAGI1 with vascular endothelial cadherin (VE-cadherin) in endothelial cells at cellular junctions under static and laminar flow conditions. Fluid shear stress increases MAGI1 expression. MAGI1 silencing perturbed flow-dependent responses, specifically, Krüppel-like factor 4 (KLF4) expression, endothelial cell alignment, eNOS phosphorylation and NO production. MAGI1 overexpression had opposite effects and induced phosphorylation of PKA, AMPK, and CAMKII. Pharmacological inhibition of PKA and AMPK prevented MAGI1-mediated eNOS phosphorylation. Consistently, MAGI1 silencing and PKA inhibition suppressed the flow-induced NO production. Endothelial cell-specific transgenic expression of MAGI1 induced PKA and eNOS phosphorylation in vivo and increased NO production ex vivo in isolated endothelial cells. In conclusion, we have identified endothelial cell MAGI1 as a previously unrecognized mediator of fluid shear stress-induced and PKA/AMPK dependent eNOS activation and NO production.
View Full-Text
►

▼

Figures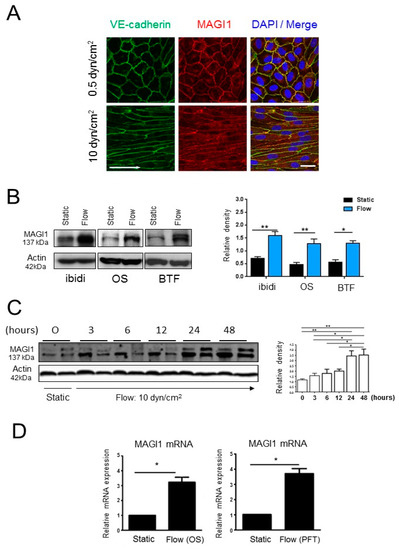 Figure 1
This is an open access article distributed under the
Creative Commons Attribution License
which permits unrestricted use, distribution, and reproduction in any medium, provided the original work is properly cited (CC BY 4.0).

Share & Cite This Article
MDPI and ACS Style
Ghimire, K.; Zaric, J.; Alday-Parejo, B.; Seebach, J.; Bousquenaud, M.; Stalin, J.; Bieler, G.; Schnittler, H.-J.; Rüegg, C. MAGI1 Mediates eNOS Activation and NO Production in Endothelial Cells in Response to Fluid Shear Stress. Cells 2019, 8, 388.
Note that from the first issue of 2016, MDPI journals use article numbers instead of page numbers. See further details here.
Related Articles
Comments
[Return to top]