Humoral Response to the HIV-1 Envelope V2 Region in a Thai Early Acute Infection Cohort
1
U.S. Military HIV Research Program, Walter Reed Army Institute of Research, Silver Spring, MD 20910, USA
2
Henry M. Jackson Foundation for the Advancement of Military Medicine, Inc., Bethesda, MD 20817, USA
*
Authors to whom correspondence should be addressed.
†
These authors contributed equally to this work.
‡
Current address: DAIDS, National Institute of Allergy and Infectious Diseases, Rockville, MD 20852, USA.
Received: 22 March 2019 / Revised: 11 April 2019 / Accepted: 15 April 2019 / Published: 19 April 2019
Abstract
Reduced risk of HIV-1 infection correlated with antibody responses to the envelope variable 1 and 2 regions in the RV144 vaccine trial. To understand the relationship between antibody responses, V2 sequence, and structure, plasma samples (n = 16) from an early acute HIV-1 infection cohort from Thailand infected with CRF01_AE strain were analyzed for binding to V2 peptides by surface plasmon resonance. Five participants with a range of V2 binding responses at week 24 post-infection were further analyzed against a set of four overlapping V2 peptides that were designed based on envelope single-genome amplification. Antibody responses that were relatively consistent over the four segments of the V2 region or a focused response to the C-strand (residues 165–186) of the V2 region were observed. Viral escape in the V2 region resulted in significantly reduced antibody binding. Structural modeling indicated that the C-strand and the sites of viral variation were highly accessible in the open conformation of the HIV-1 Env trimer. V2 residues, 165–186 are preferentially targeted during acute infection. Residues 169–184 were also preferentially targeted by the protective immune response in the RV144 trial, thus emphasizing the importance of these residues for vaccine design.
View Full-Text
►

▼

Figures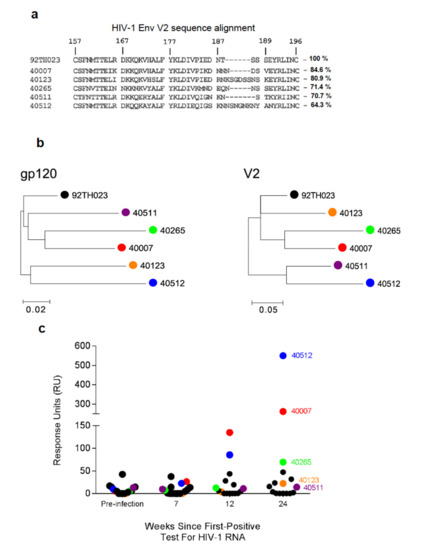 Figure 1
This is an open access article distributed under the
Creative Commons Attribution License
which permits unrestricted use, distribution, and reproduction in any medium, provided the original work is properly cited (CC BY 4.0).

Share & Cite This Article
MDPI and ACS Style
Trinh, H.V.; Gohain, N.; Pham, P.T.; Hamlin, C.; Song, H.; Sanders-Buell, E.; Bose, M.; Eller, L.A.; Tovanabutra, S.; Michael, N.L.; Robb, M.L.; Joyce, M.G.; Rao, M. Humoral Response to the HIV-1 Envelope V2 Region in a Thai Early Acute Infection Cohort. Cells 2019, 8, 365.
Note that from the first issue of 2016, MDPI journals use article numbers instead of page numbers. See further details here.
Related Articles
Comments
[Return to top]