Open Access This article is
freely available
re-usable
Review
GBA
, Gaucher Disease, and Parkinson's Disease: From Genetic to Clinic to New Therapeutic Approaches
1
The Marlene and Paolo Fresco Institute for Parkinson's and Movement Disorders, NYU Langone Health, New York, NY 10017, USA
2
Dino Ferrari Center, Neuroscience Section, Department of Pathophysiology and Transplantation, University of Milan, 20122 Milan, Italy
3
Foundation IRCCS Ca' Granda Ospedale Maggiore Policlinico, Neurology Unit, 20122 Milan, Italy
*
Author to whom correspondence should be addressed.
Received: 21 March 2019 / Accepted: 16 April 2019 / Published: 19 April 2019
Abstract
:
Parkinson's disease (PD) is the second most common degenerative disorder. Although the disease was described more than 200 years ago, its pathogenetic mechanisms have not yet been fully described. In recent years, the discovery of the association between mutations of the
GBA
gene (encoding for the lysosomal enzyme glucocerebrosidase) and PD facilitated a better understating of this disorder.
GBA
mutations are the most common genetic risk factor of the disease. However, mutations of this gene can be found in different phenotypes, such as Gaucher's disease (GD), PD, dementia with Lewy bodies (DLB) and rapid eye movements (REM) sleep behavior disorders (RBDs). Understanding the pathogenic role of this mutation and its different manifestations is crucial for geneticists and scientists to guide their research and to select proper cohorts of patients. Moreover, knowing the implications of the
GBA
mutation in the context of PD and the other associated phenotypes is also important for clinicians to properly counsel their patients and to implement their care. With the present review we aim to describe the genetic, clinical, and therapeutic features related to the mutation of the
GBA
gene.
Keywords:
glucocerebrosidase; Parkinson's disease; Gaucher's disease; Lewy Body Dementia; REM sleep behavior disorders
1. Introduction
GBA
is a gene located on chromosome 1 (1q21) encoding for the glucocerebrosidase (GCase), a lysosomal enzyme involved in the metabolism of glucosylceramide. The mutation of this gene has been classically associated with Gaucher's disease, a systemic disorder with a variable degree of involvement of the central nervous system. Surprisingly, about 14 years ago it was observed that mutations in this same gene were associated with an increased incidence of Parkinson's disease (PD), in both Gaucher's patients as well as asymptomatic carriers [
1
,
2
,
3
,
4
]. PD is the second most common neurodegenerative disorder, affecting 2–3% of the world population over the age of 65 [
5
]. It is caused by the progressive loss of dopaminergic neurons in the substantia nigra. Classically it presents with a combination of bradykinesia, rigidity, resting tremor, and postural instability. However, a list of non-motor features, such as hyposmia, constipation, urinary symptoms, orthostatic hypotension, anxiety, depression, impaired sleep, and cognitive impairment can present as well in various degrees [
5
]. Since the first observations of
GBA
and PD, their association has been extensively explored. Different hypotheses have been formulated to explain the causative role of this mutation in PD [
6
]. First of all, GCase is part of the endolysosomal pathway, which seems to be particularly crucial in the pathogenesis of PD. Indeed, many different monogenic familial forms of PD are caused by genes involved in this pathway [
7
]. Moreover, mutated GCase is not able to fold properly and thus can accumulate in different cellular compartments of the dopaminergic neurons, causing a cell stress response that can be deleterious of the cells. In addition, impaired GCase activity seems to cause an accumulation of alpha-synuclein (for a comprehensive review see [
8
]).
Today we know that
GBA
mutations are the major genetic risk factor for PD. Impaired GCase activity has been identified also in idiopathic cases of PD patients who did not carry a mutation in the gene, suggesting a central role of this enzyme in the pathogenesis of the disease [
9
,
10
].
In the present review, we aim to summarize the genetic changes and the characteristic features associated with the mutations of this gene, spanning from Gaucher's disease to PD and the other described phenotypes. This will aid in a better understanding of the pathogenic role of this mutation. The identification of these phenotypes will allow for clinicians to offer more appropriate counseling to the patients and their families.
2. Pathogenetic Mutations of the
GBA

Gene
2.1. GBA Mutation and Gaucher's Disease (GD)
Gaucher's disease (GD) is a systemic disorder that can present with a various degree of systemic and neurological manifestations. According to the severity of the disease and the neurological involvement, three different types of GD have been identified. GD type 1 has been classically considered only a systemic disorder, with no neurological involvement whatsoever. Anemia, leukopenia, thrombocytopenia with frequent bleeding, osteopenia with bone pain, easy fractures, Erlenmeyer flask deformity, as well as hepatosplenomegaly, failure to grow, and puberty delay can be presenting features of this disease [
11
,
12
,
13
,
14
]. Monoclonal gammopathy has been reported as well [
15
]. The disease can manifest early in childhood but it may remain undiagnosed until adulthood when the phenotype is mild. The pathological hallmarks of the disease are the so-called Gaucher cells, macrophages engorged with aberrant lysosomes as a consequence of the GCase-impaired activity. Symptoms are caused by the infiltration of these cells in the reticuloendothelial system of the affected organs [
16
]. In recent years, the natural history of GD type 1 has dramatically changed since the introduction of target treatments, such as enzyme replacement therapy (ERT) (human recombinant enzyme to be administered intravenously every other week) and oral substrate reduction therapy (SRT) [
17
]. Treatments with these two approaches are able to address the majority of the systemic symptoms associated with GD type 1 and those in GD type 3. So far, SRT has been approved only for subjects over the age of 18 years. However, in the adult population it represents an important alternative first line treatment. Unfortunately, these therapies are not able to cross the blood-brain barrier and therefore they are not suitable for the treatment of the neurological complications associated with GD type 2 and 3. The two latest forms are also referred to as the acute (type 2) and chronic (type 3) neuronopathic form. Patients affected with GD type 2 start manifesting severe symptoms very early, usually within the first six months of life. They usually present a combination of severe neurological manifestations, with brainstem involvement (i.e., eye movement abnormalities, spasticity, hypotonia) and seizure, as well as life-threatening systemic symptoms, such as respiratory distress and aspiration pneumonia [
18
,
19
]. Skin manifestations, like ichthyosis or collodion abnormalities, as well as hydrops fetalis, can be present. Prognosis is very poor and death usually occurs before the age of four [
20
]. GD type 3 (chronic neuronopathic form) has been further classified as GD type 3a,b,c. GD type 3a presents a milder visceral phenotype, but can be associated with severe and life-threatening myoclonic seizures. GD type 3b, instead, is characterized by a more prominent visceral involvement [
21
]. Interestingly, one of the features that have been used to try to discriminate between patients with GD type 1 and the milder neuropathic form GD type 3 is the assessment of the eye movements. Indeed, patients with GD type 3, especially type b, present with characteristic eye movement abnormalities. In particular they show loss of horizontal before vertical gaze palsy and slowing of the saccades, suggesting involvement of the brainstem. GD type 3c, instead, is the only subtype of the disease presenting with cardiac mitral and aortic calcification and poor prognosis [
21
]. A particular cluster of patients with GD type 3 has been identified among the Swedish population. This is also referred as Norrbottnian form, because of its geographical distribution. It is associated with the c.1448T > G mutation and it presents with an early and severe splenomegaly and a combination in the first or second decade of ataxia, spastic paresis, horizontal supranuclear gaze palsy, kyphoscoliosis and other orthopedic abnormalities, cognitive impairment, and seizures [
22
].
Those different phenotypes are associated with discrete genetic mutations, as detailed below.
Different Pathogenic Mutations of
GBA

Associated with Gaucher's Disease (GD) Subtypes

More than 300 variants of the

GBA

gene have been associated with Gaucher's disease [

23

]. GD is an autosomal recessive disorder. In order for the disease to manifest, patients need to carry a pathogenic mutation on both alleles of the GBA gene, either in a homozygous or compound heterozygous fashion. Point mutations, insertion, deletion, missense mutations, splice junctions, and concomitant multiple mutations have been reported [

24

]. The different variants can be more represented in particular ethnic groups as well as in particular phenotypes. The c.1226A < G (N370S; or N409S according to the new nomenclature) mutation is the most common one among Ashkenazi Jew (AJ) patients, followed by the c.84dupG (84GG) mutation, which is more rare. The c.115 + 1G > A (IVS2 + 1), c.1504C > T (R463C), and c.1604G > A (R496H) are commonly found in AJ patients with GD type 1 [

24

]. On the contrary, the N370S mutation is rarely found among Chinese and Japanese patients [

24

] (Hruska et al., 2008). Among Asian ethnic groups, the c.1448T > C (L444P, or L483P according to the new nomenclature) and the c.754T > A (F252I), usually associated with GD type 2 and 3, are more prevalent, also explaining why among these populations the neuropathic forms of GD are more frequent [

20

]. c.1448T > C (L444P) is also the most frequent mutation among Caucasians with a non-Ashkenazi Jew ancestry [

25

] (

Figure 1

).

Different mutations can lead to different phenotypes of GD. The c.1226A > G (N370S) mutation is associated only with Gaucher's disease type 1 and it seems to be protective for the development of the neurological involvement characteristic of GD type 2 and 3. Indeed, patients who present the c.1226A > G (N370S) mutation on at least one allele of the

GBA

gene will manifest only GD type 1 [

24

]. Interestingly, subjects who are homozygous for the N370S variant can also remain asymptomatic for the disease. On the other hand, the c.1448T > C (L444P) mutation is usually associated with GD type 2 or 3, even when presenting in a compound heterozygous state [

19

]. Homozygous c.1448T > C (L444P) mutation [c.1448T > C]1[c.1448T > C] (L444P/L444P) with no recombinant alleles can be associated with very severe but also milder phenotypes [

26

]. The c.1342G > C (D409H) variant is responsible for GD type 3c which presents with characteristic cardiac valve calcifications [

27

]. c.680A > G (N188S), c.1246G > A (G377S), and c.1297G > T (V394L) are more likely to be associated with myoclonic epilepsy [

28

,

29

,

30

]. Despite previously reported observations, it is commonly found that members of the same family report variability in the manifestation of symptoms even with an identical genotype, suggesting that a genotype/phenotype correlation is tentative still. Other reported mutations are uniquely rare and oftentimes private among specific families. [

12

]. Hence, it is difficult to make generalizations about these mutations specific phenotypical profiles.

Another interesting mutation is the c.1093G > A (E326K), which caused a lot of debate in the literature [

31

]. Indeed, it is not clear whether this mutation is really pathogenic for GD, since it was found also in a significant number of asymptomatic carriers in homozygosity [

32

,

33

]. However, when associated with other

GBA

mutations on the same allele, it can cause severe impairment of the GCase activity [

34

,

35

]. Interestingly enough, the same mutation seems to be significantly associated with an increased risk of PD [

33

].
2.2. GBA Mutation and Parkinson's Disease (PD)
2.2.1. Pathogenic Mutations of
GBA

Associated with PD
2.2.2.
GBA

Mutations and Parkinson's Disease Phenotype

PD patients carrying

GBA

mutations are not easily recognizable in most cases because they do not present exclusive features that would clearly distinguish them from patients with idiopathic PD (iPD). However, large population studies comparing carriers vs. non-carriers, mild vs. severe mutations, as well as heterozygous manifesting carriers vs. PD–GD patients, allowed the ability to define common traits in these subgroups of patients (for a comprehensive review see [

8

]). In particular,

GBA

–PD patients present an overall earlier age of onset compared to non-carriers. Disease manifests about 3–6 years earlier in heterozygous carriers, irrespectively of the severity of the mutation, and about 6–11 years earlier in subjects with homozygous mutations [

45

,

46

,

48

,

54

,

65

,

66

,

67

,

68

,

69

,

70

]. There are limited reports of

GBA

mutation carriers having an age of onset in the 20′s. [

31

,

54

,

71

,

72

,

73

].

The progression of the disease has been characterized in many different studies by a more pronounced cognitive deficit in a significant percentage of these patients, with a risk of developing dementia up to three times higher compared to iPD, which is even more increased in patients with severe mutations [

46

,

48

,

74

]. Hallucinations and REM sleep behavior disorders (RBD) also are more common among

GBA

patients in a dose-dependent fashion, being more frequent in subjects with homozygous mutations and in patients carrying severe vs. milder mutations. However, other non-motor symptoms, such as depression and anxiety, constipation, urinary symptoms, orthostatic hypotension, and sexual dysfunctions are over-represented as well in

GBA

carriers compared to iPD, especially in the presence of severe mutations, but with no increased severity in GD patients [

46

,

48

,

75

,

76

]. An increased incidence of dysautonomic features has been suggested to be the main driver of the slightly reduced survival reported in these patients [

77

]. Motor complications, such as dysphagia, dysarthria, and freezing of gait, are more frequent as well in

GBA

carriers [

46

,

67

].

In patients with

GBA

mutations and PD, the rigid akinetic phenotype seems to be more common. Usually, these patients present a very good response to levodopa, although the progression of the motor symptoms can be slightly faster compared to iPD but without higher rates of motor fluctuations or dyskinesia. Therefore, no specific treatment approaches need to be considered for this subgroup of patients. Interestingly, a recent study evaluated the outcomes of treatment with deep brain stimulation (DBS) in a cohort of PD patients carrying

GBA

mutations [

78

]. After a follow up of 7.5 years on average, it was noticed that the het-

GBA

cohort presented similar outcomes compared to iPD in terms of motor symptoms, while cognitive impairment and non-motor symptoms were definitely more represented among carriers [

78

]. However, because of the beneficial effect on the motor symptoms, DBS should be considered as a suitable option for these patients.
2.2.3.
GBA

Mutations and Other Phenotypes

GBA

mutations were identified also in cases of REM sleep behavior disorders (RBD) and in cases of dementia with Lewy bodies (DLB) [

79

].
GBA

and Dementia with Lewy Bodies
GBA

and REM Sleep Behavior Disorders
3. New Targeted Treatments for
GBA

–PD Patients
4. Conclusions
The discovery of the association between mutations of the
GBA
gene and PD allowed important considerations and discoveries that are contributing to a better understating of the pathogenesis of PD. Indeed, after this initial observation, the role of lysosomal impairment has been extensively explored in PD. A growing amount of emerging evidence supports the idea that the endolysosomal trafficking is involved in alpha-synuclein accumulation and dopaminergic neuron degeneration. A number of genes involved in monogenic forms of PD or genetic risk factors for the disease (such as
SNCA
,
ATP13A2
,
VPS35
,
DNAJC6
,
SYNJ1
,
LRRK2
,
RAB39B
) are part of this pathway (for review see [
110
]). Mutations of genes involved in the endolysosomal pathways are responsible for a group of disorders designated as Lysosomal Storage Disorders (LSD). These are typically rare autosomal recessive diseases which cause systemic involvements with variable degrees of severity and neurological involvement, usually presenting during childhood (reviewed in [
111
]). It is interesting to note that an increased burden of LSD-associated mutations has been identified in the screening of large PD populations compared to controls [
112
]. At the same time, among the 39 new gene loci associated with PD reported in the largest genome wide association study (GWAS) performed in PD patients so far, a number of these variants were found in LSD-associated genes (i.e.,
NAGLU
,
GUSB
,
NEU1
, and
GRN
) [
113
].
The case of autosomal recessive conditions causing severe and rare disorders during childhood, which in turn present as genetic risk factors for common adult neurodegenerative disorders when in a heterozygous state, appears to be more and more frequent, usually presenting an incomplete penetrance. This is the case for a number of LSD in the context of PD or of a parkinsonian degeneration, such as
SMPD1
(sphingomyelin phosphodiesterase, Niemann–Pick disease),
ATP13A2
(P5-type ATPase, Kufor–Rakeb disease),
GALC
(galactosylceramidase, Krabbe disease),
NPC1
(Niemann–Pick type C),
NAGLU
(α-N-acetylglucosminidase, Sanfilippo syndrome B, or mucopoly-saccharidosis III disease B (MPS-IIIB)),
HEXB
(β-hexosaminidase B, Sandhoff disease (GM2 gangliosidosis)) (summarized in [
114
]). The association between
GBA
mutations, GD, and PD must be just the tip of the iceberg of a larger phenomenon, where the association between genes initially considered responsible only for autosomal recessive disorders turned out to be risk factors for common neurodegenerative conditions. This association may have been recognized first in GD patients because of the higher frequency of this disease compared with other LSD.
Interestingly, this is also the case for the
TREM2
gene (encoding for Triggering Receptor Expressed on Myeloid cells 2), which seems to be the most frequent genetic risk factor of another common neurodegenerative disorder, Alzheimer's disease (AD) [
115
]. Autosomal recessive mutations of
TREM2
are responsible for the rare, juvenile condition known as Polycystic lipomembranous osteodysplasia with sclerosing leukoencephalopathy. Of note,
TREM2
plays a crucial role in microglia cells as part of the phagocytic scavenger pathway [
116
].
The phenomena of one gene presenting with different phenotypes is becoming more common in the context of neurological disorders and in respect to common diseases, such as PD and AD. It is important for clinicians to be familiar with these concepts in order to be able to properly counsel their patients and their family members. Also, the identification of such patients will hopefully offer more effective treatments, once available.
These new insights into the understanding of neurodegenerative diseases and, in particular, PD open new scenarios that only a few years ago were still totally obscure. Hopefully, these discoveries will be important for a real discernment of these severe conditions and for the discovery of more effective therapeutic approaches.
Author Contributions
Conceptualization, G.M.R. and A.B.D.F.; writing—original draft preparation, G.M.R. and A.B.D.F.; writing—review and editing, G.M.R. and A.B.D.F.
Funding
Marlene and Paolo Fresco Institute Clinical Fellowship program; American Parkinson Disease Association.
Acknowledgments
We sincerely thank Brooklyn Henderson, Registered Nurse for her significant contribution in the editing of the manuscript.
Conflicts of Interest
The authors declare no conflict of interest.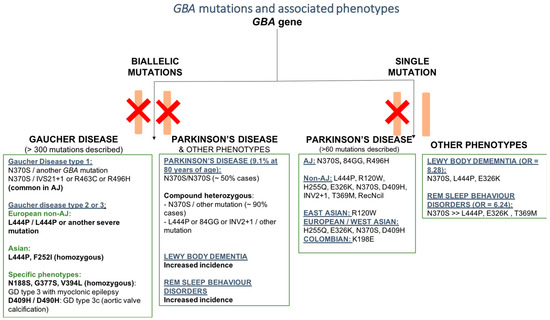 Figure 1.
Schematic representation of the most common pathogenic mutations of the
GBA
genes and associated phenotypes. Phenotypes were grouped based on homozygous and heterozygous mutations, ancestry, and specific associated features.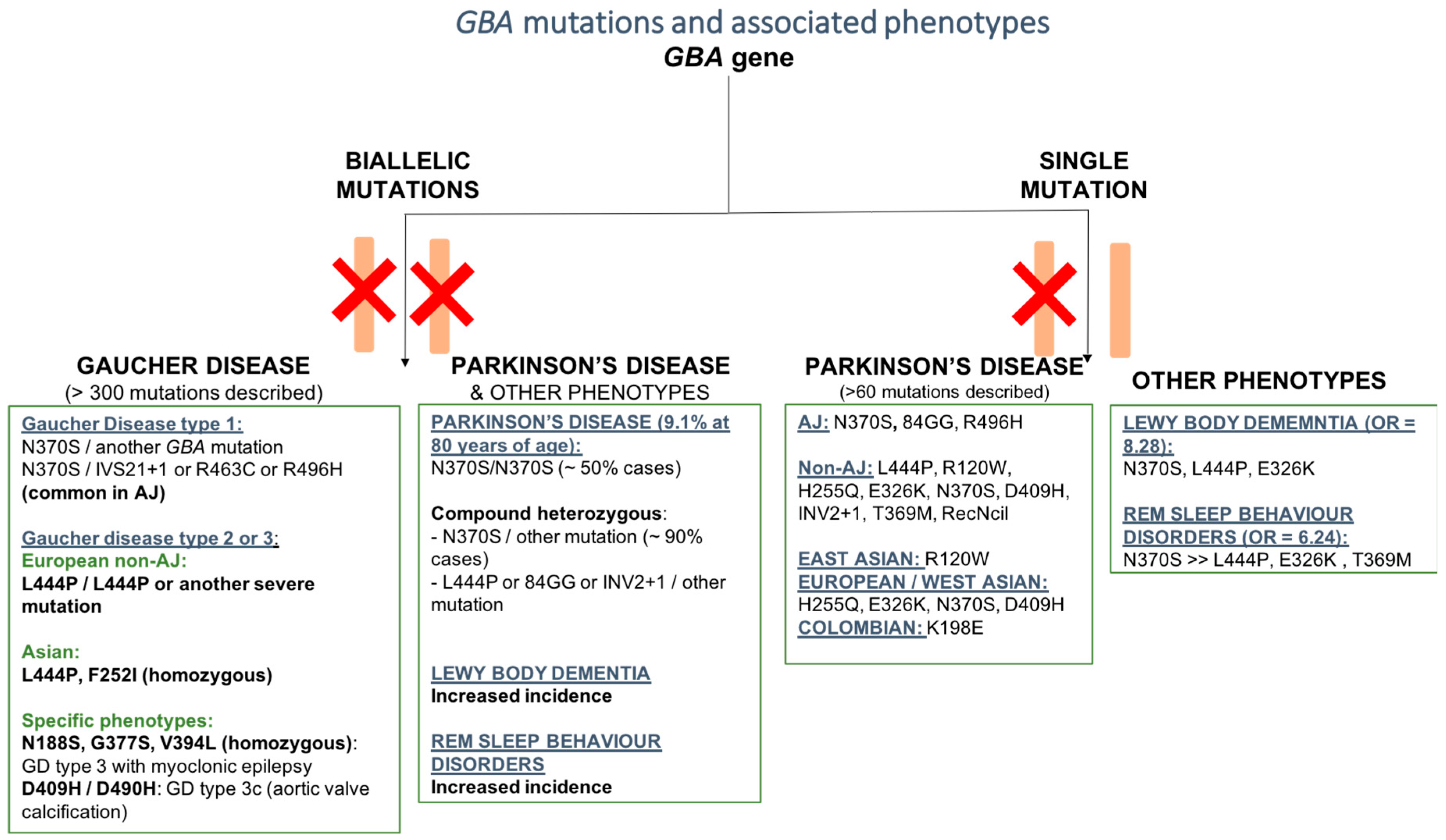 © 2019 by the authors. Licensee MDPI, Basel, Switzerland. This article is an open access article distributed under the terms and conditions of the Creative Commons Attribution (CC BY) license (http://creativecommons.org/licenses/by/4.0/).