NFκB- and MAP-Kinase Signaling Contribute to the Activation of Murine Myeloid Dendritic Cells by a Flagellin A: Allergen Fusion Protein
Paul-Ehrlich-Institut, Vice President´s Research Group 1: Molecular Allergology, 63225 Langen, Hesse, Germany
*
Author to whom correspondence should be addressed.
Received: 12 December 2018 / Revised: 26 March 2019 / Accepted: 12 April 2019 / Published: 15 April 2019
Abstract
Fusion proteins incorporating the TLR5-ligand flagellin are currently undergoing clinical trials as vaccine candidates for many diseases. We recently reported a flagellin:allergen fusion protein containing the TLR5-ligand flagellin A (FlaA) from
Listeria monocytogenes
and the major birch pollen allergen Bet v 1 (rFlaA:Betv1) to prevent allergic sensitization in an experimental mouse model. This study analyzes the signaling pathways contributing to rFlaA:Betv1-mediated pro- and anti-inflammatory cytokine secretion and cell metabolism in myeloid dendritic cells (mDCs) in vitro. The influence of mammalian target of rapamycin (mTOR)-, NFκB-, and MAP kinase (MAPK)-signaling on cytokine secretion and metabolic activity of bone marrow (BM)-derived mDCs stimulated with rFlaA:Betv1 were investigated by pre-treatment with either mTOR- (rapamycin), NFκB- (dexamethason, BMS-345541, TPCA-1, triptolide, or BAY-11) or MAPK- (SP600125, U0126, or SB202190) inhibitors, respectively. rFlaA:Betv1-mediated IL-10 secretion as well as activation of mDC metabolism, rather than pro-inflammatory cytokine secretion, were inhibited by rapamycin. Inhibition of NFκB-signaling suppressed rFlaA:Betv1-induced IL-12, while inhibition of MAPK-signaling dose-dependently suppressed rFlaA:Betv1-induced IL-10 as well as pro-inflammatory IL-6 and TNF-α production. Notably, with the exception of a partial JNK-dependency, rFlaA:Betv1-mediated effects on mDC metabolism were mostly NFκB- and MAPK-independent. Therefore, MAPK-mediated activation of both NFκB- and mTOR-signaling likely is a key pathway for the production of pro- and anti-inflammatory cytokines by flagellin fusion protein vaccines.
View Full-Text
►

▼

Figures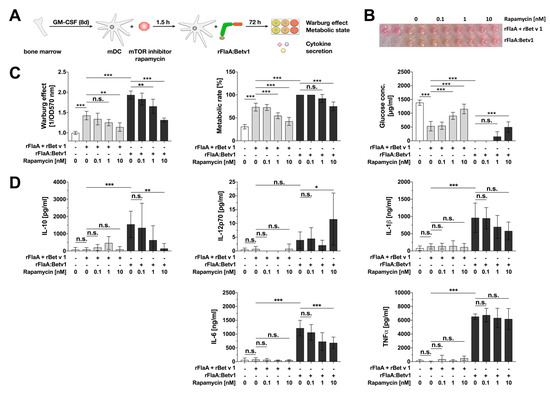 Figure 1
This is an open access article distributed under the
Creative Commons Attribution License
which permits unrestricted use, distribution, and reproduction in any medium, provided the original work is properly cited (CC BY 4.0).

Share & Cite This Article
MDPI and ACS Style
Moeller, T.; Wolfheimer, S.; Goretzki, A.; Scheurer, S.; Schülke, S. NFκB- and MAP-Kinase Signaling Contribute to the Activation of Murine Myeloid Dendritic Cells by a Flagellin A: Allergen Fusion Protein. Cells 2019, 8, 355.
Note that from the first issue of 2016, MDPI journals use article numbers instead of page numbers. See further details here.
Related Articles
Comments
[Return to top]