Low Molecular Mass Myocardial Hyaluronan in Human Hypertrophic Cardiomyopathy
1
Cardiology, Heart Centre, Department of Public Health and Clinical Medicine, Umeå University, 901 85 Umeå, Sweden
2
Department of Cardiology, Oslo University Hospital Rikshospitalet, 0424 Oslo, Norway
3
Department of Clinical Medicine, UiT, the Arctic University of Norway, 9019 Tromsø, Norway
4
Research Institute of Internal Medicine, Oslo University Hospital Rikshospitalet, 0372 Oslo, Norway
5
Faculty of Medicine, University of Oslo, 0318 Oslo, Norway
6
Department of Thoracic and Cardiovascular Surgery, Oslo University Hospital Rikshospitalet, 0424 Oslo, Norway
*
Author to whom correspondence should be addressed.
Received: 13 December 2018 / Revised: 11 January 2019 / Accepted: 23 January 2019 / Published: 29 January 2019
Abstract
During the development of hypertrophic cardiomyopathy, the heart returns to fetal energy metabolism where cells utilize more glucose instead of fatty acids as a source of energy. Metabolism of glucose can increase synthesis of the extracellular glycosaminoglycan hyaluronan, which has been shown to be involved in the development of cardiac hypertrophy and fibrosis. The aim of this study was to investigate hyaluronan metabolism in cardiac tissue from patients with hypertrophic cardiomyopathy in relation to cardiac growth. NMR and qRT-PCR analysis of human cardiac tissue from hypertrophic cardiomyopathy patients and healthy control hearts showed dysregulated glucose and hyaluronan metabolism in the patients. Gas phase electrophoresis revealed a higher amount of low molecular mass hyaluronan and larger cardiomyocytes in cardiac tissue from patients with hypertrophic cardiomyopathy. Histochemistry showed high concentrations of hyaluronan around individual cardiomyocytes in hearts from hypertrophic cardiomyopathy patients. Experimentally, we could also observe accumulation of low molecular mass hyaluronan in cardiac hypertrophy in a rat model. In conclusion, the development of hypertrophic cardiomyopathy with increased glucose metabolism affected both hyaluronan molecular mass and amount. The process of regulating cardiomyocyte size seems to involve fragmentation of hyaluronan.
View Full-Text
►

▼

Figures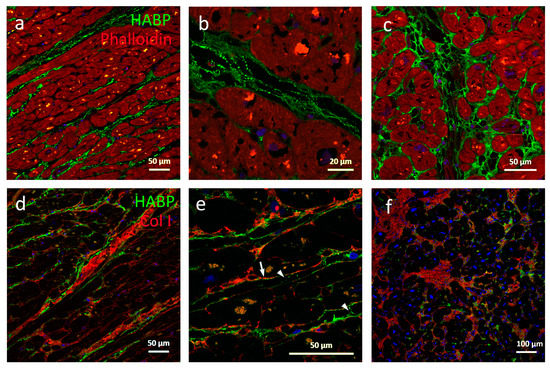 Figure 1
This is an open access article distributed under the
Creative Commons Attribution License
which permits unrestricted use, distribution, and reproduction in any medium, provided the original work is properly cited (CC BY 4.0).

Share & Cite This Article
MDPI and ACS Style
Lorén, C.E.; Dahl, C.P.; Do, L.; Almaas, V.M.; Geiran, O.R.; Mörner, S.; Hellman, U. Low Molecular Mass Myocardial Hyaluronan in Human Hypertrophic Cardiomyopathy. Cells 2019, 8, 97.
Note that from the first issue of 2016, MDPI journals use article numbers instead of page numbers. See further details here.
Related Articles
Comments
[Return to top]