Assessment of the Immunosuppressive Potential of INF-γ Licensed Adipose Mesenchymal Stem Cells, Their Secretome and Extracellular Vesicles
1
Laboratório de Farmacologia Molecular, Departamento de Ciências da Saúde, Universidade de Brasília, Brasília 70910-900, Brazil
2
Pós-graduação em Ciências Genômicas e Biotecnologia, Universidade Católica de Brasília, Brasília 70790-160, Brazil
*
Author to whom correspondence should be addressed.
Received: 10 December 2018 / Revised: 25 December 2018 / Accepted: 29 December 2018 / Published: 5 January 2019
Abstract
There is an active search for the ideal strategy to potentialize the effects of Mesenchymal Stem-Cells (MSCs) over the immune system. Also, part of the scientific community is seeking to elucidate the therapeutic potential of MSCs secretome and its extracellular vesicles (EVs), in order to avoid the complexity of a cellular therapy. Here, we investigate the effects of human adipose MSCs (AMSCs) licensing with INF-γ and TLR3 agonist over AMSCs proliferation, migration, as well as the immunomodulatory function. Furthermore, we evaluated how the licensing of AMSCs affected the immunomodulatory function of AMSC derived-secretome, including their EVs. INF-γ licensed-AMSCs presented an elevated expression of indoleamine 2,3-dioxygenase (IDO), accompanied by increased ICAM-1, as well as a higher immunosuppressive potential, compared to unlicensed AMSCs. Interestingly, the conditioned medium obtained from INF-γ licensed-AMSCs also revealed a slightly superior immunosuppressive potential, compared to other licensing strategies. Therefore, unlicensed and INF-γ licensed-AMSCs groups were used to isolate EVs. Interestingly, EVs isolated from both groups displayed similar capacity to inhibit T-cell proliferation. EVs isolated from both groups shared similar TGF-β and Galectin-1 mRNA content but only EVs derived from INF-γ licensed-AMSCs expressed IDO mRNA. In summary, we demonstrated that INF-γ licensing of AMSCs provides an immunosuppressive advantage both from a cell-cell contact-dependent perspective, as well as in a cell-free context. Interestingly, EVs derived from unlicensed and INF-γ licensed-AMSCs have similar ability to control activated T-cell proliferation. These results contribute towards the development of new strategies to control the immune response based on AMSCs or their derived products.
View Full-Text
►

▼

Figures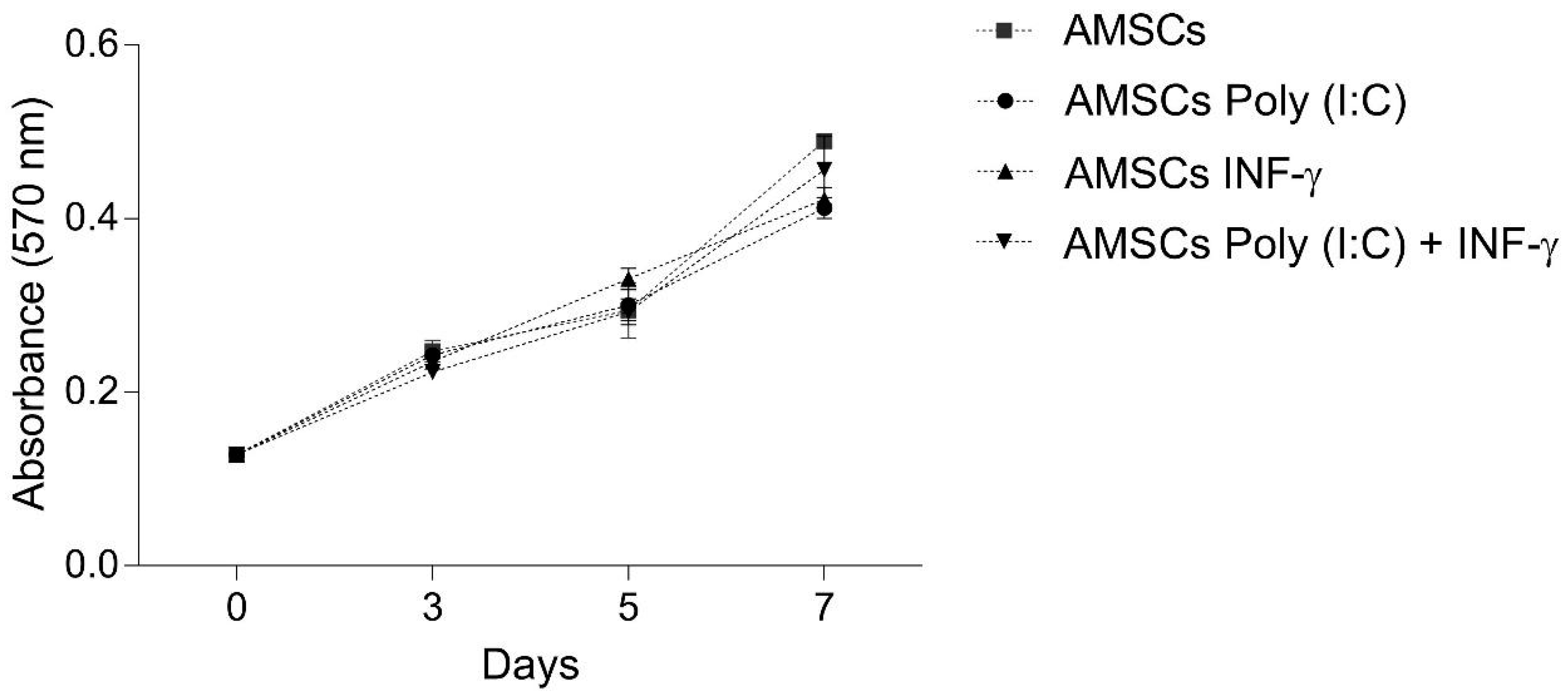 Figure 1
This is an open access article distributed under the
Creative Commons Attribution License
which permits unrestricted use, distribution, and reproduction in any medium, provided the original work is properly cited (CC BY 4.0).

Share & Cite This Article
MDPI and ACS Style
Serejo, T.R.T.; Silva-Carvalho, A.É.; Braga, L.D.C.F.; Neves, F.A.R.; Pereira, R.W.; Carvalho, J.L.; Saldanha-Araujo, F. Assessment of the Immunosuppressive Potential of INF-γ Licensed Adipose Mesenchymal Stem Cells, Their Secretome and Extracellular Vesicles. Cells 2019, 8, 22.
Note that from the first issue of 2016, MDPI journals use article numbers instead of page numbers. See further details here.
Related Articles
Comments
[Return to top]