Plasma Corticotropin-Releasing Factor Receptors and B7-2+ Extracellular Vesicles in Blood Correlate with Irritable Bowel Syndrome Disease Severity
1
The Osher Center for Integrative Medicine, University of California, San Francisco, CA 94143, USA
2
Department of OBGYN, University of California, San Francisco, CA 94143-0556, USA
3
Department of Pediatrics, University of California, San Francisco, CA 94158, USA
4
G. Oppenheimer Center for Neurobiology of Stress and Resilience Vatche and Tamar Manoukian Division of Digestive Diseases David Geffen School of Medicine, University of California, Los Angeles, CA 90095-7378, USA
*
Author to whom correspondence should be addressed.
Received: 19 November 2018 / Revised: 10 January 2019 / Accepted: 27 January 2019 / Published: 30 January 2019
Abstract
Extracellular vesicles (EVs) are composed of bilayer membranes that are released by different cell types and are present in bodily fluids, such as blood, urine, and bile. EVs are thought to play a key role in intracellular communication. Based on their size and density, EVs are classified into small, medium, or large EVs. Cargo composition in EVs reflects physiological changes in health and disease. Patients with irritable bowel syndrome (IBS) exhibit visceral hypersensitivity and mood disorders. Stressful episodes often precede disease symptoms in IBS patients. Stress-induced symptoms include, but are not limited to, abdominal pain and mood swings. Perceived stress responses are mediated by two known G protein-coupled receptors (GPCRs), corticotropin-releasing factor receptor 1 and 2 (CRFRs). CRFRs belong to the Class B secretin receptor family of GPCRs. Here, we show that CRFRs were present in human and murine plasma, and in EVs purified from mouse serum. CRFRs were present in plasma from IBS patients and healthy controls. EVs secreted from immune cells influence both adaptive and innate immune responses via exchange of EVs between different immune cell types. B7-2 (CD86), a plasma membrane antigen-presenting protein, is present on EVs secreted from dendritic, B-, and mast cells, whereas CD9 is present on EVs secreted from dendritic and intestinal epithelial cells. We found that plasma CRFR levels positively correlated with B7-2+ EVs (R = 0.8597,
p
< 0.0001), but no association was seen with CD9+ EVs. Plasma CRFRs expression negatively correlated with IBS severity scores. Our data suggests that plasma EVs from immune cells carry CRFRs as cargos and influence cell-cell communication in health and disease.
View Full-Text
►

▼

Figures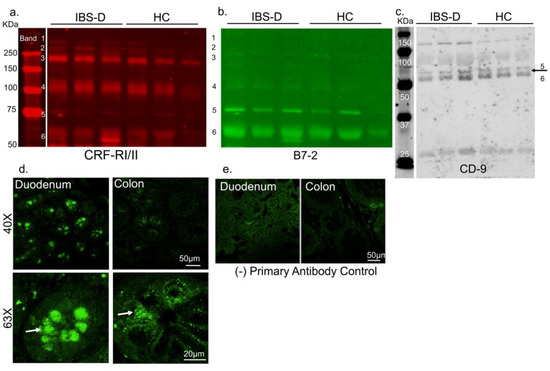 Figure 1
This is an open access article distributed under the
Creative Commons Attribution License
which permits unrestricted use, distribution, and reproduction in any medium, provided the original work is properly cited (CC BY 4.0).

Share & Cite This Article
MDPI and ACS Style
Hagiwara, S.-I.; Hasdemir, B.; Heyman, M.B.; Chang, L.; Bhargava, A. Plasma Corticotropin-Releasing Factor Receptors and B7-2+ Extracellular Vesicles in Blood Correlate with Irritable Bowel Syndrome Disease Severity. Cells 2019, 8, 101.
Note that from the first issue of 2016, MDPI journals use article numbers instead of page numbers. See further details here.
Related Articles
Comments
[Return to top]