Carnosine Prevents Aβ-Induced Oxidative Stress and Inflammation in Microglial Cells: A Key Role of TGF-β1
1
Oasi Research Institute—IRCCS, 94018 Troina, Italy
2
Ralph N. Adams Institute for Bioanalytical Chemistry, University of Kansas, Lawrence, KS 66047-1620, USA
3
Department of Pharmaceutical Chemistry, University of Kansas, Lawrence, KS 66047-1620, USA
4
Bio-nanotech Research and Innovation Tower (BRIT), University of Catania, 95125 Catania, Italy
5
Department of Drug Sciences, University of Catania, 95125 Catania, Italy
6
Department of Biomedical and Biotechnological Sciences, Section of Pharmacology, University of Catania, 95125 Catania, Italy
7
Department of Biomedical and Biotechnological Sciences, Division of Medical Biochemistry, University of Catania, 95125 Catania, Italy
8
Department of Chemistry, University of Kansas, Lawrence, KS 66047-1620, USA
*
Authors to whom correspondence should be addressed.
†
Current address: Department of Biomedical and Biotechnological Sciences, PhD Program in Neurosciences, University of Catania, 95125 Catania, Italy.
Received: 28 December 2018 / Revised: 12 January 2019 / Accepted: 14 January 2019 / Published: 17 January 2019
Abstract
Carnosine (β-alanyl-L-histidine), a dipeptide, is an endogenous antioxidant widely distributed in excitable tissues like muscles and the brain. Carnosine is involved in cellular defense mechanisms against oxidative stress, including the inhibition of amyloid-beta (Aβ) aggregation and the scavenging of reactive species. Microglia play a central role in the pathogenesis of Alzheimer's disease, promoting neuroinflammation through the secretion of inflammatory mediators and free radicals. However, the effects of carnosine on microglial cells and neuroinflammation are not well understood. In the present work, carnosine was tested for its ability to protect BV-2 microglial cells against oligomeric Aβ1-42-induced oxidative stress and inflammation. Carnosine prevented cell death in BV-2 cells challenged with Aβ oligomers through multiple mechanisms. Specifically, carnosine lowered the oxidative stress by decreasing NO and O
2
−•
intracellular levels as well as the expression of iNOS and Nox enzymes. Carnosine also decreased the secretion of pro-inflammatory cytokines such as IL-1β, simultaneously rescuing IL-10 levels and increasing the expression and the release of TGF-β1. Carnosine also prevented Aβ-induced neurodegeneration in mixed neuronal cultures challenged with Aβ oligomers, and these neuroprotective effects were completely abolished by SB431542, a selective inhibitor of the type-1 TGF-β receptor. Our data suggest a multimodal mechanism of action of carnosine underlying its protective effects on microglial cells against Aβ toxicity with a key role of TGF-β1 in mediating these protective effects.
View Full-Text
►

▼

Figures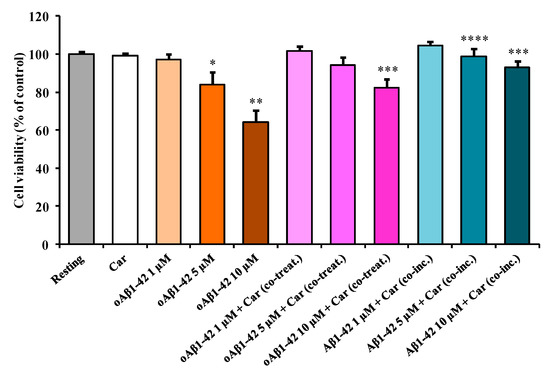 Figure 1
This is an open access article distributed under the
Creative Commons Attribution License
which permits unrestricted use, distribution, and reproduction in any medium, provided the original work is properly cited (CC BY 4.0).

Share & Cite This Article
MDPI and ACS Style
Caruso, G.; Fresta, C.G.; Musso, N.; Giambirtone, M.; Grasso, M.; Spampinato, S.F.; Merlo, S.; Drago, F.; Lazzarino, G.; Sortino, M.A.; Lunte, S.M.; Caraci, F. Carnosine Prevents Aβ-Induced Oxidative Stress and Inflammation in Microglial Cells: A Key Role of TGF-β1. Cells 2019, 8, 64.
Note that from the first issue of 2016, MDPI journals use article numbers instead of page numbers. See further details here.
Related Articles
Comments
[Return to top]