Oxidative Insults and Mitochondrial DNA Mutation Promote Enhanced Autophagy and Mitophagy Compromising Cell Viability in Pluripotent Cell Model of Mitochondrial Disease
1
Department of Pediatrics, Mackay Memorial Hospital, Taipei 10449, Taiwan
2
Department of Medicine and Institute of Biomedical Sciences, Mackay Medical College, New Taipei 25245, Taiwan
3
Department of Medical Research, Mackay Memorial Hospital, Taipei 10449, Taiwan
4
Department of Pediatric Neurology, Kaohsiung Chang Gung Memorial Hospital, and Chang Gung University College of Medicine, Kaohsiung 88301, Taiwan
5
Department of Laboratory Medicine, Mackay Memorial Hospital, Taipei 10449, Taiwan
6
Department of Information Technology, Mackay Memorial Hospital, Taipei 10449, Taiwan
7
Department of Neurosurgery, Mackay Memorial Hospital, Taipei 10449, Taiwan
8
Mackay Medicine, Nursing and Management College, Taipei 11260, Taiwan
9
Graduate Institute of Injury Prevention and Control, Taipei Medical University, Taipei 11031, Taiwan
*
Authors to whom correspondence should be addressed.
Received: 29 November 2018 / Revised: 11 January 2019 / Accepted: 15 January 2019 / Published: 17 January 2019
Abstract
Dysfunction of mitochondria causes defects in oxidative phosphorylation system (OXPHOS) and increased production of reactive oxygen species (ROS) triggering the activation of the cell death pathway that underlies the pathogenesis of aging and various diseases. The process of autophagy to degrade damaged cytoplasmic components as well as dysfunctional mitochondria is essential for ensuring cell survival. We analyzed the role of autophagy inpatient-specific induced pluripotent stem (iPS) cells generated from fibroblasts of patients with mitochondrial encephalomyopathy, lactic acidosis, and stroke-like episodes (MELAS) with well-characterized mitochondrial DNA mutations and distinct OXPHOS defects. MELAS iPS cells recapitulated the pathogenesis of MELAS syndrome, and showed an increase of autophagy in comparison with its isogenic normal counterpart, whereas mitophagy is very scarce at the basal condition. Our results indicated that the existence of pathogenic mtDNA alone in mitochondrial disease was not sufficient to elicit the degradation of dysfunctional mitochondria. Nonetheless, oxidative insults induced bulk macroautophagy with the accumulation of autophagosomes and autolysosomes upon marked elevation of ROS, overload of intracellular calcium, and robust depolarization of mitochondrial membrane potential, while mitochondria respiratory function was impaired and widespread mitophagy compromised cell viability. Collectively, our studies provide insights into the dysfunction of autophagy and activation of mitophagy contributing to the pathological mechanism of mitochondrial disease.
View Full-Text
►

▼

Figures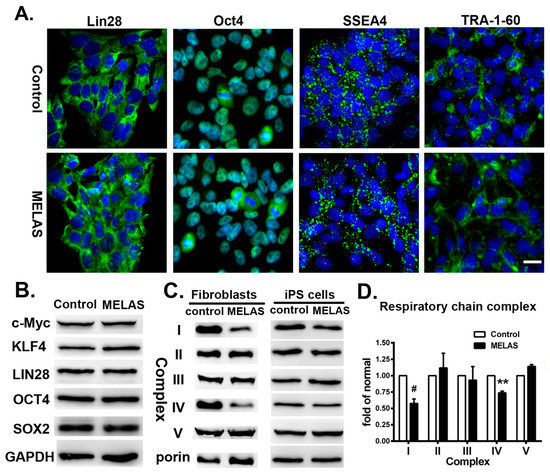 Figure 1
This is an open access article distributed under the
Creative Commons Attribution License
which permits unrestricted use, distribution, and reproduction in any medium, provided the original work is properly cited (CC BY 4.0).

Share & Cite This Article
MDPI and ACS Style
Lin, D.-S.; Huang, Y.-W.; Ho, C.-S.; Hung, P.-L.; Hsu, M.-H.; Wang, T.-J.; Wu, T.-Y.; Lee, T.-H.; Huang, Z.-D.; Chang, P.-C.; Chiang, M.-F. Oxidative Insults and Mitochondrial DNA Mutation Promote Enhanced Autophagy and Mitophagy Compromising Cell Viability in Pluripotent Cell Model of Mitochondrial Disease. Cells 2019, 8, 65.
Note that from the first issue of 2016, MDPI journals use article numbers instead of page numbers. See further details here.
Related Articles
Comments
[Return to top]