Open Access This article is
freely available
re-usable
Review
Bring It to an End: Does Telomeres Size Matter?
Aix Marseille Univ, MMG, Marseille Medical Genetics U1251, 13385 Marseille, France
*
Author to whom correspondence should be addressed.
Received: 20 December 2018 / Accepted: 4 January 2019 / Published: 8 January 2019
Abstract
:
Telomeres are unique nucleoprotein structures. Found at the edge of each chromosome, their main purpose is to mask DNA ends from the DNA-repair machinery by formation of protective loops. Through life and cell divisions, telomeres shorten and bring cells closer to either cell proliferation crisis or senescence. Beyond this mitotic clock role attributed to the need for telomere to be maintained over a critical length, the very tip of our DNA has been shown to impact transcription by position effect. TPE and a long-reach counterpart, TPE-OLD, are mechanisms recently described in human biology. Still in infancy, the mechanism of action of these processes and their respective genome wide impact remain to be resolved. In this review, we will discuss recent findings on telomere dynamics, TPE, TPE-OLD, and lessons learnt from model organisms.
Keywords:
telomere; TPE; TPE-OLD; TERRA; aging
1. Introduction
From cancer research to aging studies, investigations on the regulation of the very tip of chromosomes led to paradoxical observations: (i) telomerase, the enzyme responsible for telomere elongation is not produced in somatic cells, (ii) most cancer telomerase-positive cells display rather short telomeres as telomerase upregulation is considered a late event during malignant transformation; (iii) stem cells harbors long telomeres and express telomerase; (iv) short telomeres are associated with aging and increased cancer risk, or the complete opposite; (v) telomere maintenance involves epigenetic mechanisms and chromatin changes. Altogether, the wealth of studies available in the literature raises questions on the relevance, feasibility, and caveats that one encounters when questioning telomeres dynamics. In the end, does telomere length and size matter?
In this review, we will discuss the past decades of telomere research by crossing lessons on telomere length regulation and impact in Human. We will first focus on telomere length dynamics before developing on consequences at the epigenetic level and possible implication on human health through position effect mechanisms.
2. Telomere Dynamics
2.2. Telomere Elongation
Adult stem cells are long-lived and actively cycling stem cells. The importance of telomerase in adult stem cells compartment is directly observable in patients suffering from a number of syndromes associated with dysfunctional telomeres that will be discussed below.
2.3. Heritable Telomere-Length
It is now widely admitted that telomere length is variable from one individual to another and even variable between each chromosome and their respective arms within one cell. This observation raises questions on telomere length heritability for the 92 telomere ends. Are they partially or totally inherited? Does the age of the parents (i.e., telomere length in gametes) matter? Similarly, does the parental overall telomere length matter? If answers can be grasped from a few studies including some focusing on twins, work on these fascinating questions remains to be done.
Using Fluorescence In-Situ Hybridization (FISH), a group had previously shown some differences in telomeres length between homologous chromosomes [
50
], suggesting homolog-specific telomere length polymorphisms. In monozygotic twins, the same team elegantly showed highly similar arm-specific chromosome ends between twins and close telomere lengths at advanced age, a similarity not found in dizygotic twins [
51
,
52
]. Telomere length was more conserved between the specific chromosome ends of the twins (if one considers separately chromosome pairs) than for the individual itself (if one considers the chromosome pair). Moreover, samples from 80-year-old twins suggested that telomere length was roughly conserved regardless of environmental stresses, at the opposite of what has been described for epigenetics marks and the epigenetic drift [
53
]. This suggests that chromosome-specific telomere length is inherited from the parents and confirms the hypothesis of a partially genetically inherited telomere length proposed a long time ago [
54
]. Furthermore, this study advocates for a limited impact of environmental factors over telomere erosion (if one consider that twins likely lived in different environments over time). Respective chromosomal telomeres within cells are highly heterogeneous. Nevertheless, length distribution between chromosomes arms is conserved between cell types in a given individual [
33
,
55
,
56
].
More recently, parental contribution to inherited telomere length has been proposed. A meta-analysis on nearly 20,000 participants revealed strong correlation between paternal age at conception (PAC) and offspring telomere length. Sperm telomere length increases with age in humans. As a result older fathers' offspring inherit longer telomeres [
57
]. In a more recent study, using 3 of the largest available datasets, a group refined the calculations, and incorporated the paternal birth year as a corrective parameter allowing comparison of different datasets since paternal birth year (PBY) was collinear with age and father's age at birth of the offspring in the three datasets analyzed (e.g., considering a generational effect) [
38
]. Beyond reconciling data from cross-sectional and longitudinal studies, their outcome revealed that global telomere length shortens in the global population [
38
].
These different studies show heterogeneity in the length of telomeres between individuals, either because of genetic factors inherited from the parents, age of the father at conception or because of environmental factors specific to each person/generation with a theoretically minimal impact for the later (as calculated in [
58
]). In this context, 'critically' short telomere will not affect individuals at the same age or the same manner, even at the scale of individual chromosomes, each having different lengths. Hence, the harmful effect of telomere shortening and impact of telomere erosion can appear as a societal burden.
3. Telomere Singularity: Possible Causes of Differences between Telomere Length
As mentioned previously, critical telomere length and sensitivity to DNA damage signaling has been restrained to a small subset of chromosome ends [
31
,
32
]. Those findings made by two separate teams, using replicative senescence as cellular model, brought up new concerns toward telomeres dynamics. If some chromosome ends are more prone to shortening (i.e., 6p, 12p, 17q, 16q, 21p, 3p-q, 9p-q), some are protected from DNA damage signaling (e.g., 21p) [
32
]. Moreover, chromosomes exhibit differential rates of shortening between long and short arms. Altogether, those preliminary studies brought up the singular identity of each telomere. If not equal in length, are they equal in anything (i.e., dynamics or localization)?
3.1. Telomere Nuclear Localization
For a long time, chromosome organization within the cell was thought to be random. In mammalian cells, the exact opposite is now well established [
59
,
60
]. Chromosomes are organized in gene-poor and gene-rich regions and position within the nucleus often correlates with gene density, gene-poor regions being more peripheral [
59
,
61
]. At numerous loci, localization depends on interactions between genomic loci and the nuclear lamina through formation of lamina-associated domains (LAD) [
59
]. If found widespread in the nucleus with a preference for the nuclear interior, partners and actors involved in the topological organization of telomeres remain elusive [
62
]. This distribution is also dynamic and changes dependent on the cellular state (proliferative versus quiescent), a finding reminiscent of recent discoveries on proteins associated to the nuclear periphery and telomeres, either in
cis
(A-type Lamins, LAP2a, BAF1) [
63
,
64
,
65
] and/or in
trans
, through TRF2 interactions (A-type Lamins, LAP2a) [
66
,
67
]. Since telomeres are not only found at the nuclear periphery, these regulatory elements (anchoring telomeres to the nuclear envelope) do not alleviate telomere spatial positioning. Telomere-specific localization could depend on subtelomeric regions, which are unique to each chromosome [
68
]. Indeed, in addition to LADs, specific sequences such as the D4Z4 subtelomeric macrosatellite tether telomeres at the nuclear membrane. Interestingly, if studies regarding the relative position of telomeres to the periphery are available, their counterparts do not exist, as if internal telomere localization was considered as the default position. Of note, as mentioned previously, telomere erosion occurs for all telomeres, but with differences. As shown by single telomere analysis (STELA), erosion rates showed heterogeneity when comparing chromosome ends, with a slower shortening rate but overall shorter length for the 17p [
69
]. However, regarding single ends, telomere length was homogenous, further advocating for a per chromosome-end tight regulation of erosion, rather than an overall random shortening. Further studies combining STELA single telomere length analysis and telomere position within the nuclei could shed light on the mechanisms explaining why some telomeres are more critical when short than others (e.g., 6p and 21p). The key might reside on the
cis
and
trans
interactions at play in their respective territories.
3.2. Telomere Replication
Chromosome folding and subnuclear localization are also influenced in response to gene replication [
60
]. Considering this, chromosomes do not replicate at the same time during S-phase but have a specific window of replication, with some being replicated early and others during late S-phase without synchronicity between chromosome arms (i.e., p and q arms replicating regarding their nuclear localization rather than genomic identity) [
70
]. This replication timing is conserved between homologs and individuals. Moreover, like for the rest of chromosomes, there is a tight relationship between the peripheral localization of a telomere and its late replication with correlations between replication timing of telomere, presence of satellite-like repeats or position of telomeres at the nuclear membrane as seen for the short arm of acrocentric chromosomes [
68
]. It's tempting to assume that telomere length could influence telomere replication timing, however these two mechanisms seem independent. [
70
].
In a human model of immortalized cells, (i.e., with reactivation of telomerase) there was no change in the global replication profile of telomeres throughout the immortalization process [
71
]. This corroborates the observation that translocation of a telomere and its associated subtelomere is sufficient to maintain replication timing, independently of the size of the translocation or the presence of a complex rearrangement. In agreement with findings on telomere position, it appears that subtelomeric regions are needed to control telomere replication timing as observed using fragmented telomere [
68
,
70
], independently from centromeric or other chromosomal sequences. Thus, the only parameter associated with changes in telomere replication timing seems to be its radial position within the nucleus. Nevertheless, molecular mechanisms and sequences involved in this process remain unknown. Recent studies have underlined the role of TRF2 in the global replication [
72
,
73
] which might bring back replication timing of specific telomeres at the center of interest. Of note, the RIF1 protein (Rap1-interacting-factor) able to bind to Lamin B1 involved in nuclear architecture organization has been implicated in the spatio-temporal regulation of the human genome [
74
]. However, to date, no relation has been made between RIF1 activity and telomeric replication timing.
Altogether, whereas only a few studies investigated telomeres nuclear localization, the wealth of reports on telomere replication mainly focuses on the molecular mechanisms ruling the specific duplication of the (T
2
AG
3
)
n
motif, mostly in link with the possibility of development of anti-oncogenic therapies targeting telomerase. Thus, an integrative vision of telomeres within its 3D environment remains to be established to further understand the consequences of nuclear localization on higher-order telomere organization and consequences on transcription or DNA repair of chromosome ends (
Figure 2
).
4. Telomere Epigenetics and Position Effect
Beyond the mitotic clock, the very tip of our DNA has been shown to be epigenetically active. Either by impacting transcription by position effect or by direct transcription. TPE (Telomere Position Effect), a long-reach counterpart, TPE-OLD (Telomere Position Effect Over Long Distances) and TERRA (Telomeric Repeat-containing RNA) have been recently described in Human [
75
,
76
,
77
]. Still in infancy, their mechanism of action and genome wide impacts remain to be resolved.
4.1. Epigenetic Signature
Mammalian chromosome ends are enriched in constitutive heterochromatin marks such as di- and trimethylation of H3K9, trimethylation of H4K20 and recruit heterochromatin protein 1 (HP1) isoforms in a telomere length-dependent manner [
78
]. Thanks to the rise of deep-sequencing, a recent study focused on deciphering the global chromatin signature of telomeres. Considering the existence of internal telomeric sequences (ITS) and other possible telomere-like repeats, reads were stringently filtered-out to keep only 'pure' and terminal (T
2
AG
3
)
n
motifs [
79
,
80
]. The analysis of 10 epigenetic marks in >10 cell lines from 10 different groups revealed striking results. Rather than the increase in H3K9me3 previously described [
81
], telomeres appear poorly enriched in this heterochromatin mark compared to other classical heterochromatic regions (e.g., Sat II, Sat III). H3K9me3 enrichment was only found in the U2OS ALT cell line. Telomeres are rather enriched in H4K20me1 and more surprisingly in H3K27Ac, a histone mark highly linked to active transcription [
82
]. Reciprocally, telomeres are also depleted in methylated H3K27. These unprecedented findings radically change the dogma for telomeres influence, usually seen as massive silencer and suggests the need for re-exploration of ChIP-Seq data. Indeed, using these refined settings, one can assume new epigenetic marks and proteins associated with telomeres. Additionally, telomere length should be taken into consideration, in order to decipher the potential influence of telomere fluctuations over the genome.
4.2. Telomere Position Effect
Interestingly, 15 genes are present between this gene and the telomere of the short arm of chromosome 1. None of these genes showed telomere length-dependent regulation, a contradiction with the TPE rule, advocating for higher complexity in the regulation of this mechanism.
4.3. Telomere Position Effect-Over Long Distance
To test whether changes in the higher-order organization of TPE-OLD genes correlate with epigenetics modifications, ChIP assay were used and revealed enrichment in H3K9me3 marks and, in the TRF2 shelterin component at the promoter of TPE-OLD genes indicating a possible cooperation between chromatin marks and telomeric factors in telomere-dependent gene silencing. TRF2 is specifically enriched at TPE-OLD sensitive genes, decreased upon telomere shortening and absent at the promoter of genes located within the loops. This suggests a gene-specific effect more than a global spreading of telomeric chromatin and heterochromatin marks.
4.4. Telomeric Repeat-Containing RNA
For years, the longstanding belief was that telomeres are transcriptionally silent. Recent evidences show that telomeres are transcribed by RNA polymerase II to give rise to a class of long non-coding RNA containing telomeric repeats called TERRA (Telomeric Repeat-containing RNA) [
77
,
103
]. These transcripts have been detected in a variety of organisms, from yeast to Human. TERRAs are transcribed from subtelomeres, in a centromere to telomere direction and consist of 5′ to 3′ chromosome end-specific subtelomeric sequences and telomeric repeats. Direct visualization of TERRA by RNA-FISH revealed clusters and discrete foci of TERRA transcripts with some of them colocalizing with telomeres [
77
,
103
]. Association between these non-coding RNAs and telomere-binding protein was also shown, among which shelterin components such as TRF1 and TRF2 [
104
,
105
,
106
]. Mechanisms underlying TERRA function in telomere maintenance and regulation have been widely studied in budding yeast [
107
]. However, studies of potential TERRA functions in human cells show conflicting results between research groups, largely due to the challenges inherent to telomeres (e.g., length heterogeneity) and TERRA identification (e.g., no sequences consensus) [
108
,
109
]. For instance, whether TERRA molecules originate only from telomeres or also from internal telomeric sequences (ITS) is still debated. In addition, the question remains as whether TERRA molecules are produced from all chromosome ends and whether TERRA remain bound to the telomere from which they are transcribed or redistributed within the nucleus.
Telomeric RNAs are also implicated in R-loops formation which are RNA:DNA hybrids in which TERRA act either in
cis
or
trans
and suggested to interact with telomerase hence leading to different activities when occurring at telomeres or short/damaged telomeres [
108
,
110
,
111
]. RNA emanating from telomeres are also embroiled in pathologies like in the immunodeficiency, centromeric region instability, facial anomalies syndrome (ICF) [
112
].
5. Telomeropathies
Telomere length is thus at the corner of different biological mechanisms but also associated to a broad range of diseases, from rare genetic syndromes to common ones. As we previously described, telomere shortening occurs normally during aging. This information has been broadly disseminated in the general population with an increasing number of newspapers mentioning the links between aging and telomeres length. As a consequence, numerous private companies offer telomere length measurement with the promise to "help you stay younger longer", not mentioning cures or food supplement protecting telomeres.
If one can criticize the statistical tests power, we now know the extreme variability of telomere length among individuals. Such studies validated telomere length as a good biomarker for healthy aging but interpretation must be taken with caution given the number of additional factors to be considered.
6. Conclusions
Topics on aging never get old and telomere biology is no exception. Telomere epidemiology studies already revealed that we are not "telomerically" equal and discoveries on telomere length regulation, heritability, dynamics and association with aging, raised interest on the topic to a general audience, from journalists to insurance companies. This peculiar part of our DNA has been at the center of interest for the past 80 years. In this context, it falls under the responsibility of the scientific community to convey a balanced message regarding the implication of telomere homeostasis in diseases and wellness, considering that numerous additional factors must be considered. Indeed, in human, the clear-cut influence of telomeres, beyond the well-described effect of critical shortening, remains unclear and record on telomere shortening rate at specific telomere-ends are missing, leaving the former observation to potential biased conclusions. Moreover, the recent identification of long non-coding RNA (TERRAs) produced by telomeres and the long-distance impacts of telomeres on gene regulation represents a new challenge. Thanks to the rise of high-resolution methods (TeSLA, STELA, HiC, molecular combing) and accessibility to affordable deep sequencing platforms (NGS, nanopore technology, PacBio), future research will help deciphering subtelomere complexity, likely uncover novel pathways linked to telomere biology and opens new research opportunities to understand the genome wide impact of telomere in physiological and pathological situations or adaptation to environmental cues. In this context, if all agree that telomere matters, questions on their influence, weakness and strength linger.
Author Contributions
Writing—review and editing, C.L., F.M., J.D.R.
Funding
This study was funded by "Association Française contre les Myopathies" (AFM; MNHDecrypt and TRIM-RD), C.L. is the recipient of a fellowship from the French ministry of Higher Education1 and Research.
Conflicts of Interest
The authors declare no conflict of interest.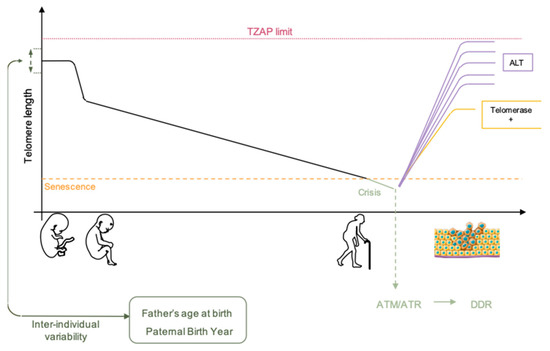 Figure 1.
Telomere length decreases with age. Initial telomere variability comes from the parental telomere length and is modulated both by the father's age at birth and paternal birth year, a correction factor allowing comparison between different datasets [
38
]. During development, telomere length decreases abruptly and reaches a steady slow rate of erosion after birth. Telomere attrition is confronted to a critical size corresponding to the senescence stage of the cell. Beyond senescence, cells undergo crisis with continuous telomere length decrease leading to activation of ATM/ATR checkpoint and DNA Damage Response (DDR) pathway activation. Cells surviving to crisis enter in an oncogenic process where telomere length increases thanks to telomerase reactivation or Alternative Lengthening of Telomeres (ALT). In all biological process, a telomere upper length limit is defined by TZAP, avoiding formation of extra-long telomeres.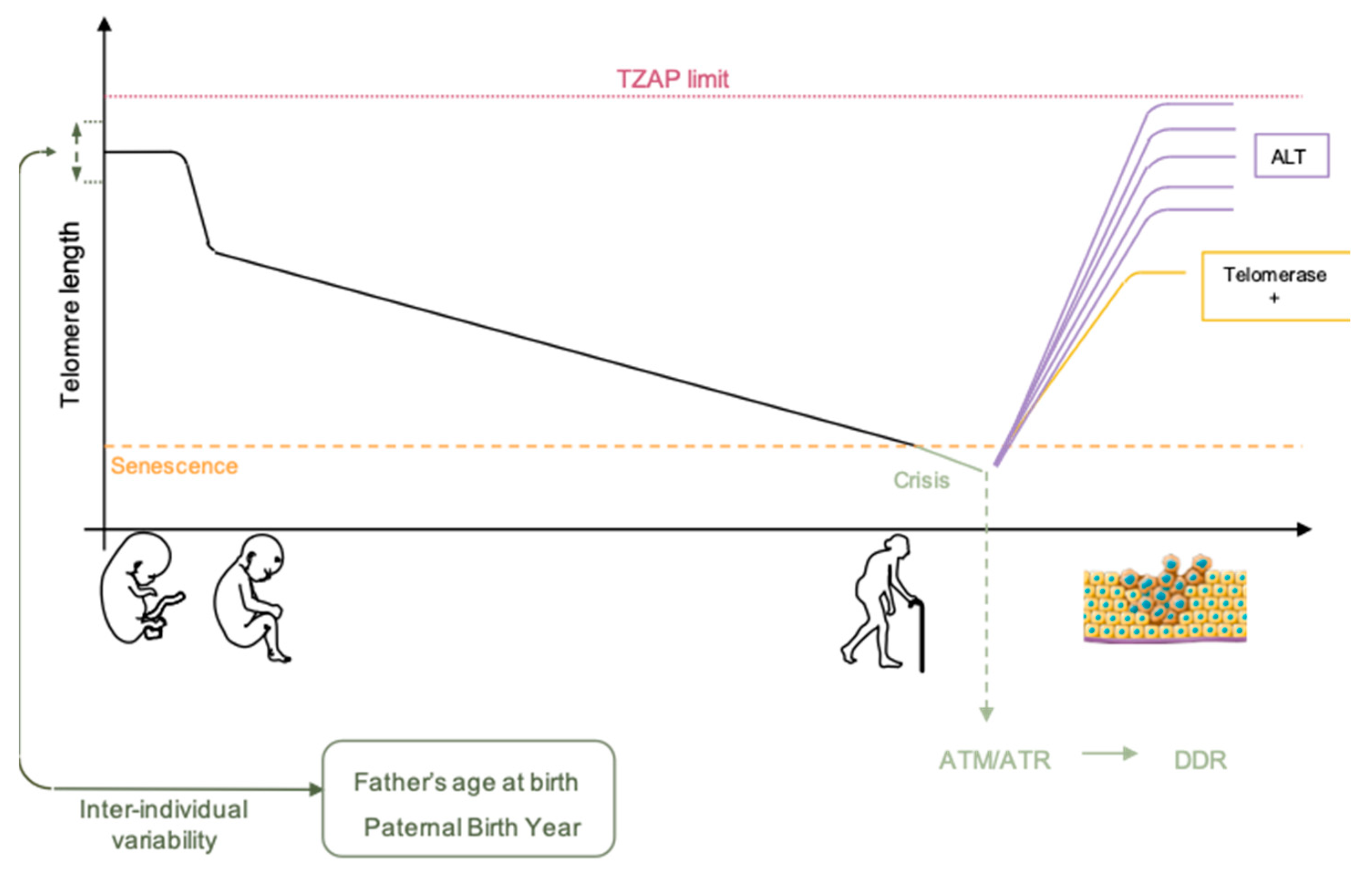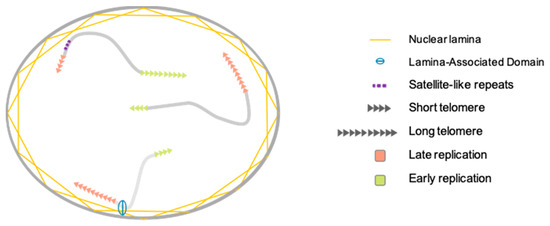 Figure 2. Telomere nuclear localization and replication timing. Similar to observations made on chromosomes, telomere replication timing is tightly linked to its nuclear localization. In brief, an internal localization correlates with early S-Phase replication and inversely, peripheral localization is associated with late S-Phase replication. Peripheral positioning of telomere is observed for subtelomeres enriched in beta satellite repeats. Through interactions with Lamin-associated partners, a number of telomeres lie in the vicinity of topological domains associated to the lamina (LADs). Importantly, even if an integrative 3D vision of telomere positioning is lacking, telomere replication occurs independently of telomere length.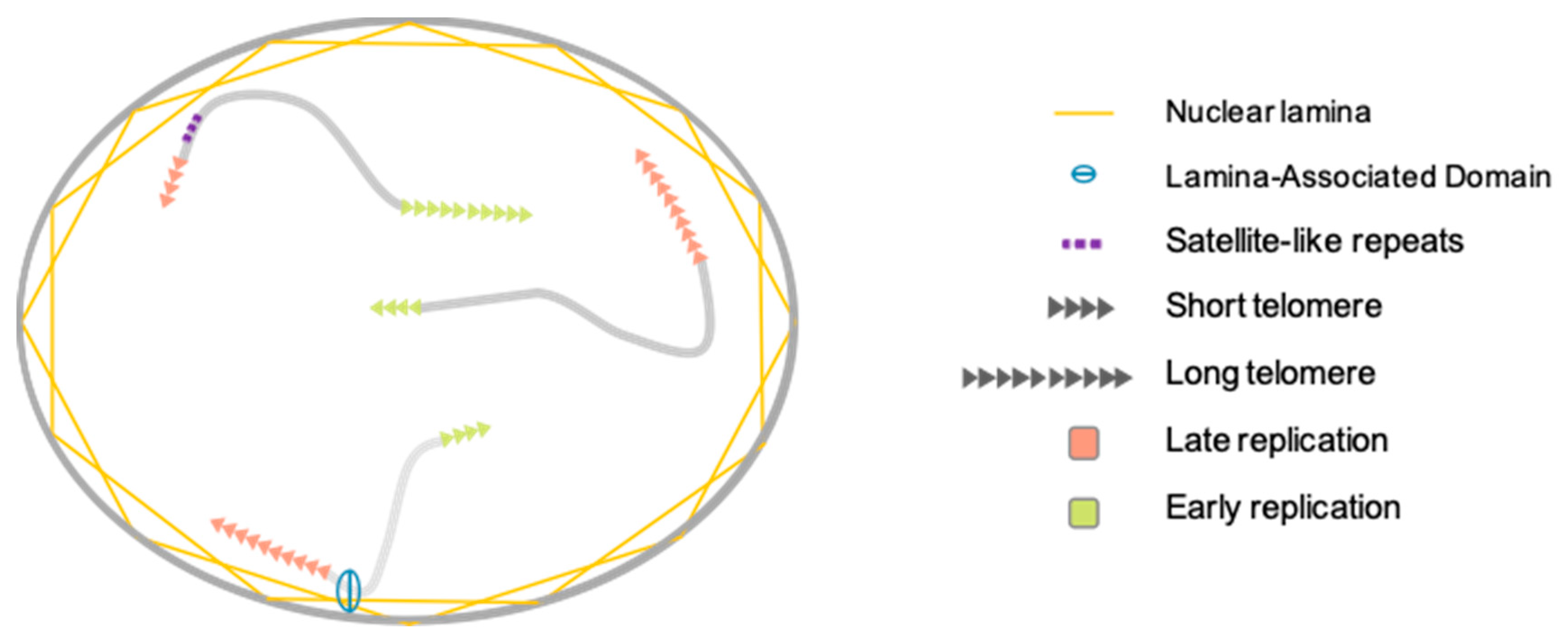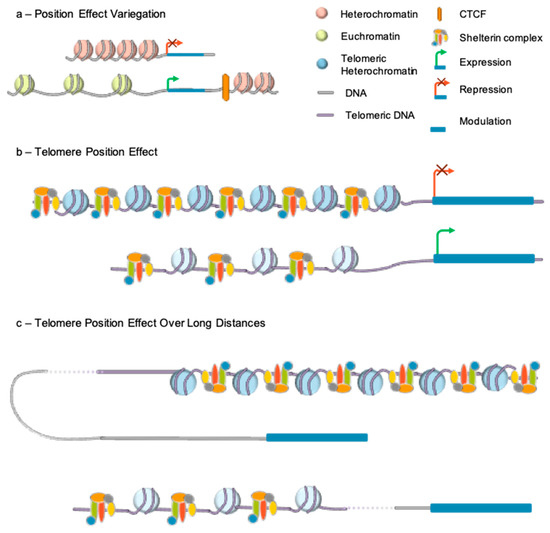 Figure 3. Gene transcription can be modulated by epigenetic features. (a) Position effect variegaton is caused by presence of heterochromatin regions in the vicinity of a gene. This repressive chromation environment is able to switch off gene expression by heterochromatin marks spreading. Spreading can be blocked by insulator elements bound by CTCF protecting the gene from heterochromatin. (b) Subtelomeric genes expression can be impeded by telomeric heterochromatin spreading through a mechanism called telomere position effect (TPE). Expression can be re-established as telomere shorten, either with age or in pathological conditions. (c) With chromosome folding, telomeres can loop over long distances, bringing together telomeric heterochromatin and gene located in more centromeric locus. Gene expression can be switched on or off, depending on a mechanism not yet fully understood termed TPE-OLD.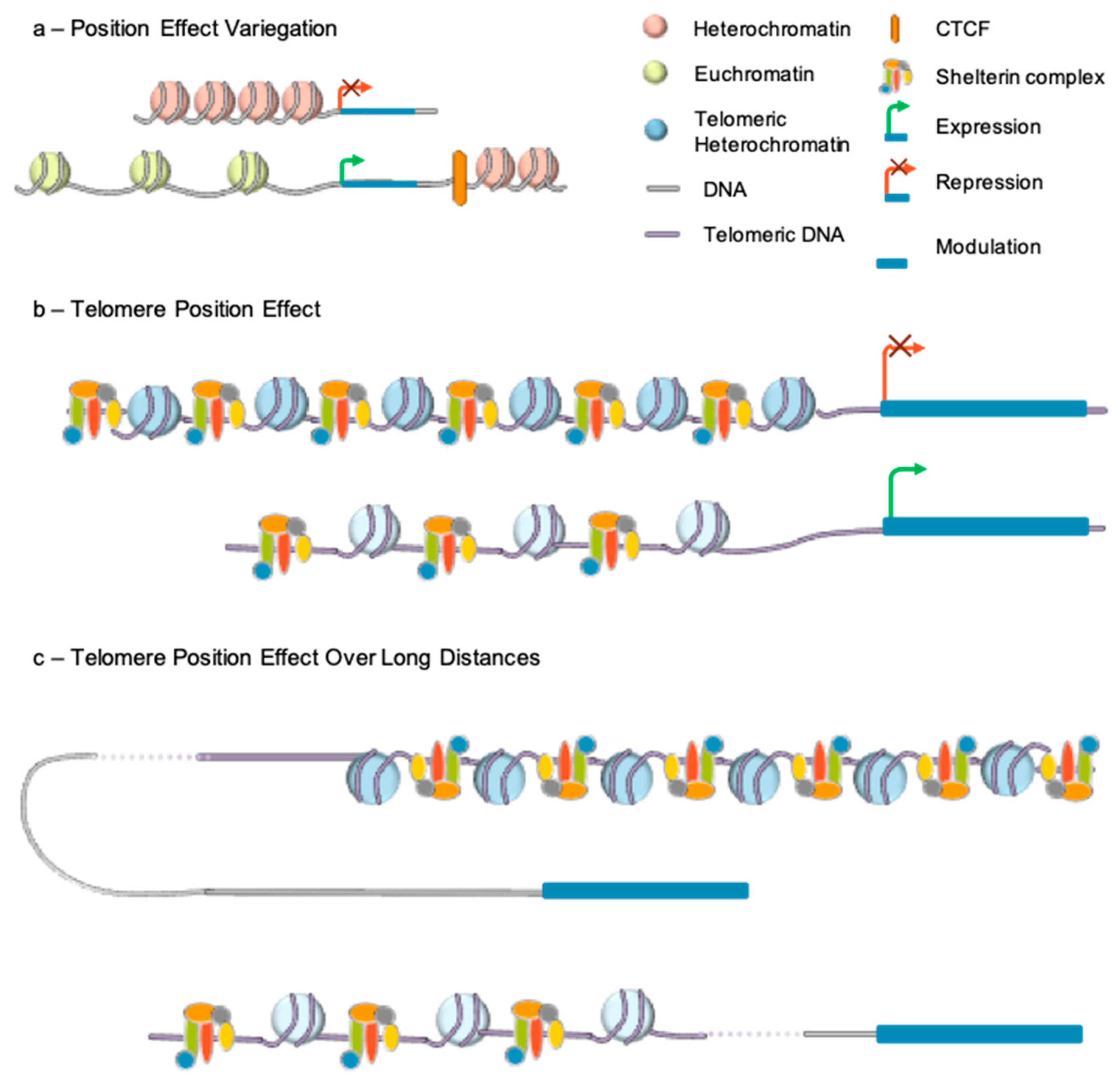 © 2019 by the authors. Licensee MDPI, Basel, Switzerland. This article is an open access article distributed under the terms and conditions of the Creative Commons Attribution (CC BY) license (http://creativecommons.org/licenses/by/4.0/).