Increasing the TRPM2 Channel Expression in Human Neuroblastoma SH-SY5Y Cells Augments the Susceptibility to ROS-Induced Cell Death
1
Sino-UK Joint Laboratory for Brain Function and Injury and Department of Physiology and Neurobiology, Xinxiang Medical University, Xinxiang 453003, China
2
School of Biomedical Sciences, Faculty of Biological Sciences, University of Leeds, Leeds LS2 JT, UK
*
Authors to whom correspondence should be addressed.
Received: 13 November 2018 / Revised: 22 December 2018 / Accepted: 30 December 2018 / Published: 8 January 2019
Abstract
Human neuroblastoma SH-SY5Y cells are a widely-used human neuronal cell model in the study of neurodegeneration. A recent study shows that, 1-methyl-4-phenylpyridine ion (MPP), which selectively causes dopaminergic neuronal death leading to Parkinson's disease-like symptoms, can reduce SH-SY5Y cell viability by inducing H
2
O
2
generation and subsequent TRPM2 channel activation. MPP-induced cell death is enhanced by increasing the TRPM2 expression. By contrast, increasing the TRPM2 expression has also been reported to support SH-SY5Y cell survival after exposure to H
2
O
2
, leading to the suggestion of a protective role for the TRPM2 channel. To clarify the role of reactive oxygen species (ROS)-induced TRPM2 channel activation in SH-SY5Y cells, we generated a stable SH-SY5Y cell line overexpressing the human TRPM2 channel and examined cell death and cell viability after exposure to H
2
O
2
in the wild-type and TRPM2-overexpressing SH-SY5Y cells. Exposure to H
2
O
2
resulted in concentration-dependent cell death and reduction in cell viability in both cell types. TRPM2 overexpression remarkably augmented H
2
O
2
-induced cell death and reduction in cell viability. Furthermore, H
2
O
2
-induced cell death in both the wild-type and TRPM2-overexpressing cells was prevented by 2-APB, a TRPM2 inhibitor, and also by PJ34 and DPQ, poly(ADP-ribose) polymerase (PARP) inhibitors. Collectively, our results show that increasing the TRPM2 expression renders SH-SY5Y cells to be more susceptible to ROS-induced cell death and reinforce the notion that the TRPM2 channel plays a critical role in conferring ROS-induced cell death. It is anticipated that SH-SY5Y cells can be useful for better understanding the molecular and signaling mechanisms for ROS-induced TRPM2-mediated neurodegeneration in the pathogenesis of neurodegenerative diseases.
View Full-Text
►

▼

Figures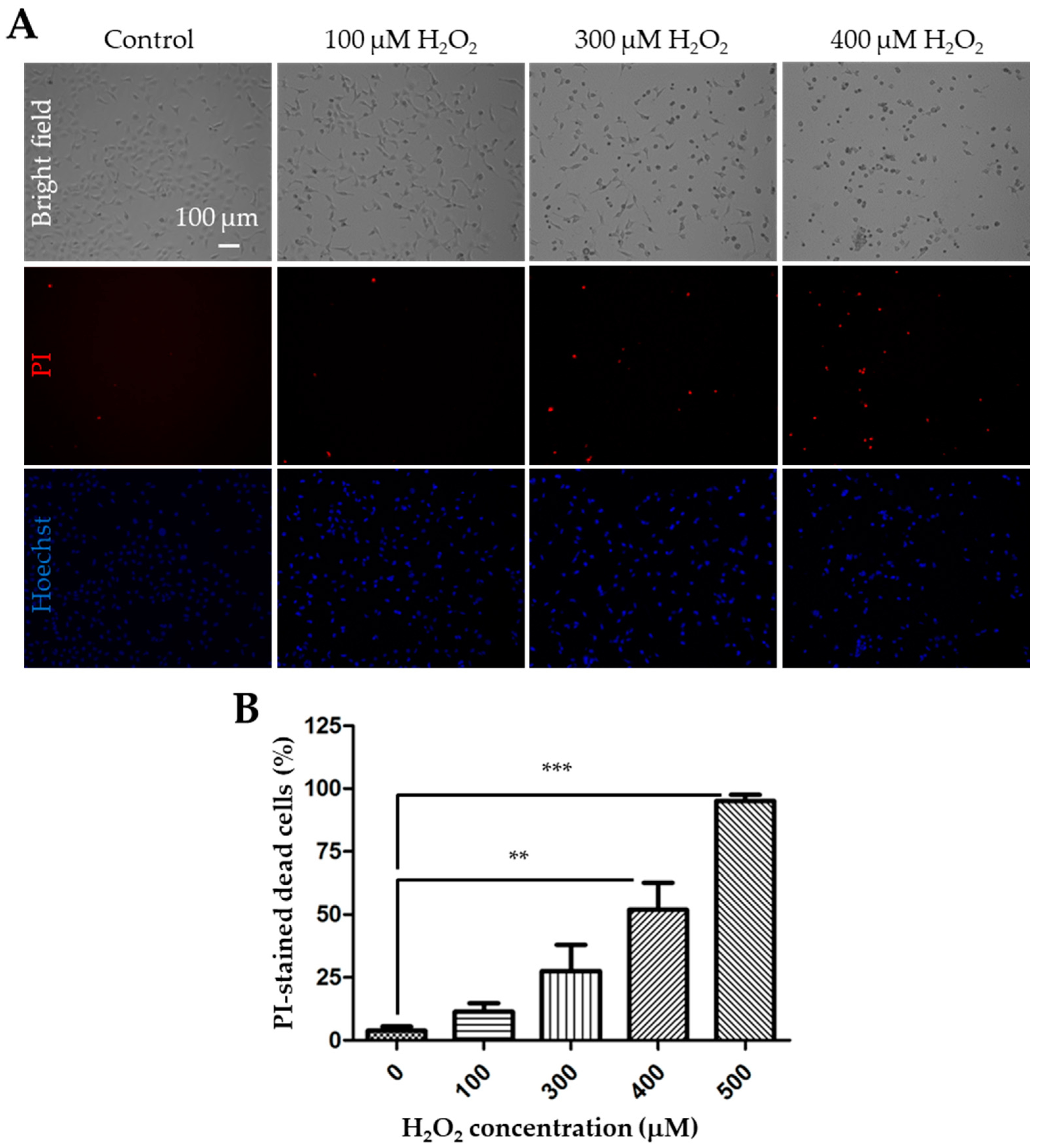 Figure 1
This is an open access article distributed under the
Creative Commons Attribution License
which permits unrestricted use, distribution, and reproduction in any medium, provided the original work is properly cited (CC BY 4.0).

Share & Cite This Article
MDPI and ACS Style
An, X.; Fu, Z.; Mai, C.; Wang, W.; Wei, L.; Li, D.; Li, C.; Jiang, L.-H. Increasing the TRPM2 Channel Expression in Human Neuroblastoma SH-SY5Y Cells Augments the Susceptibility to ROS-Induced Cell Death. Cells 2019, 8, 28.
Note that from the first issue of 2016, MDPI journals use article numbers instead of page numbers. See further details here.
Related Articles
Comments
[Return to top]