Open Access This article is
freely available
re-usable
Review
Coagulation, Microenvironment and Liver Fibrosis
1
Medicina Interna, Istituto di Ricovero e Cura a Carattere Scientifico (IRCCS) San Donato, Università Degli Studi di Milano, 20097 San Donato Milanese (MI), Italy
2
Fondazione IRCCS Ca' Granda, Ospedale Maggiore Policlinico, UOC Medicina Generale-Emostasi e Trombosi, 20122 Milano, Italy
3
Dipartimento di Scienze biomediche per la Salute, Università degli Studi di Milano, 20122 Milano, Italy
4
A. M. and A. Migliavacca per lo studio delle Malattie del Fegato, 20122 Milano, Italy
*
Author to whom correspondence should be addressed.
Received: 10 June 2018 / Accepted: 20 July 2018 / Published: 24 July 2018
Abstract
:
Fibrosis is the main consequence of any kind of chronic liver damage. Coagulation and thrombin generation are crucial in the physiological response to tissue injury; however, the inappropriate and uncontrolled activation of coagulation cascade may lead to fibrosis development due to the involvement of several cellular types and biochemical pathways in response to thrombin generation. In the liver, hepatic stellate cells and sinusoidal endothelial cells orchestrate fibrogenic response to chronic damage. Thrombin interacts with these cytotypes mainly through protease-activated receptors (PARs), which are expressed by endothelium, platelets and hepatic stellate cells. This review focuses on the impact of coagulation in liver fibrogenesis, describes receptors and pathways involved and explores the potential antifibrotic properties of drugs active in hemostasis in studies with cells, animal models of liver damage and humans.
Keywords:
thrombin; protease-activated receptors; endothelial dysfunction; von Willebrand factor; hepatitis; cirrhosis; anticoagulation
Author Contributions
N.B. contributed to the systematic review of literature, and the design and writing of the manuscript; E.L. contributed to the systematic review of literature, and the writing of the manuscript; V.L.M. contributed to the supervision of the manuscript editing, and the revision of major intellectual content.
Funding
Authors received no external funding.
Conflicts of Interest
The authors declare no conflict of interest.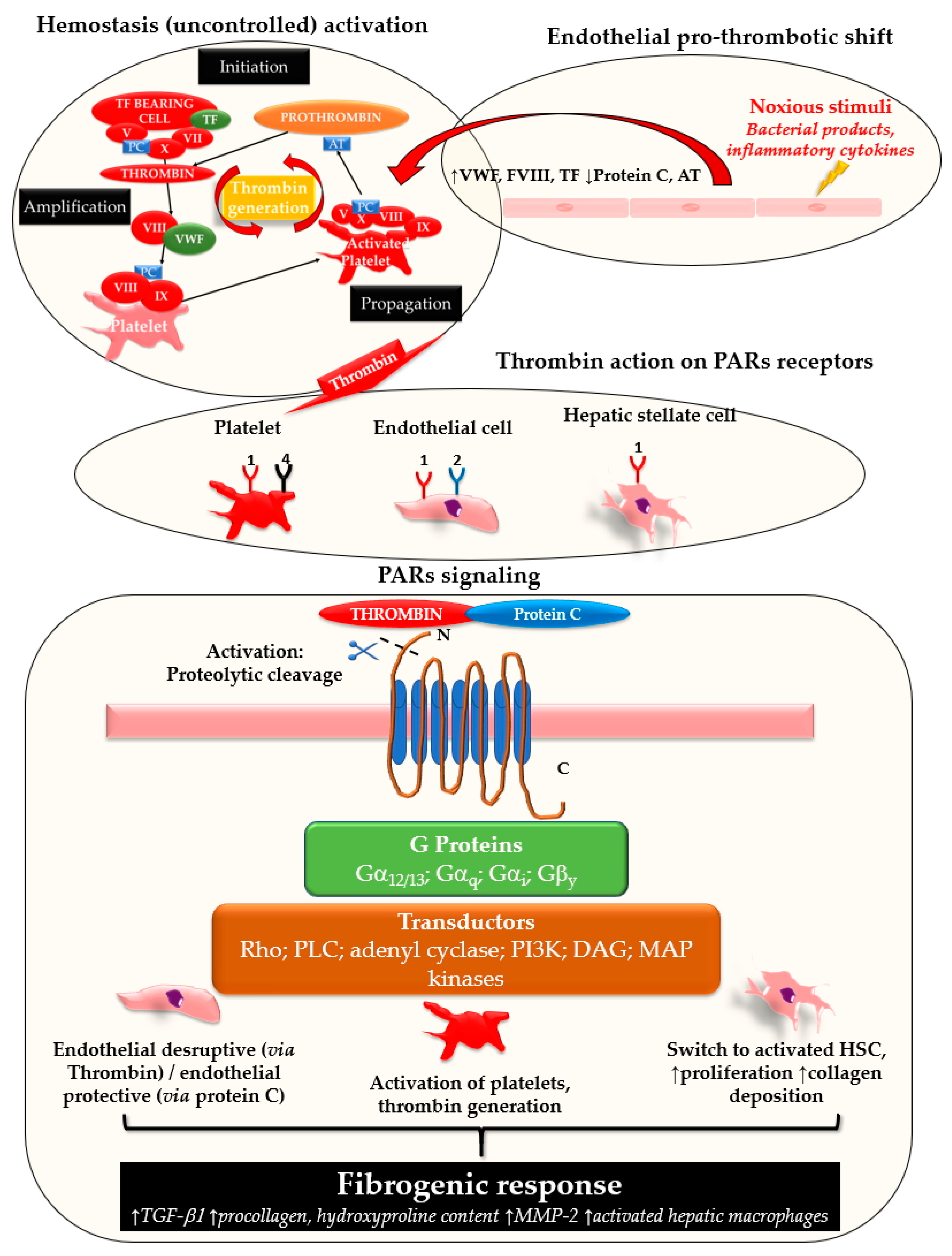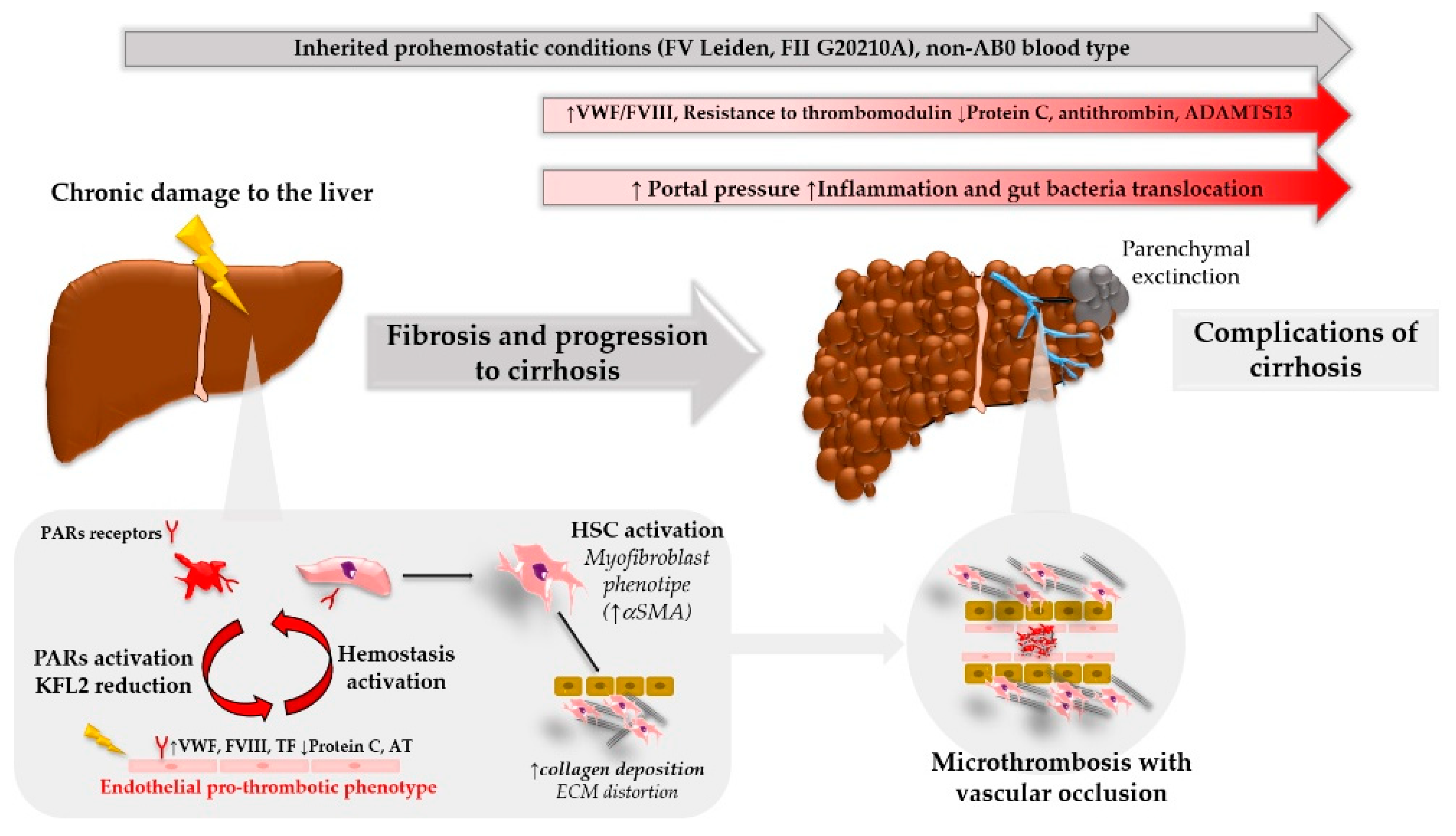 Reference
Experimental Model
Pathway Explored
Methods
Results
Chambers 1998 [24]
human fetal lung fibroblasts
PAR-1
Exposure to incremental dose of thrombin; TRAPs (thrombin receptor-activating peptide) +/− inhibitors (hirudin/Phe-Pro-ArgCH2CL)
Thrombin ↑ αI-procollagen mRNA through PAR-1 activation
Gaça 2002 [25]
Cultured stellate HSEC
Thrombin, tryptase/PAR 1–2
PAR 1/2 mRNA RT-PCR analysis + northern blotting in lysate of HSEC. Use of PD98059 (kinase inhibitor)
↑ PAR-1/2 while fibroblast transforms in myofibroblast phenotype
↑ HSC proliferation by PARs
Fiorucci et al. 2004 [26]
rat HSC cell line; BDL cirrhotic rat
Thrombin-PARs
type I collagen mRNA expression; quantitative morphometric analysis; hepatic and urinary excretion of hydroxyproline
Thrombin triggers HSC activation and collagen deposition via PARs, prevented by PAR1 antagonist
J Gillibert Duplantier et al. 2007 [38]
Human hepatic myofibroblasts
PAR-1; COX-2; Akt-1; platelet derived growth factor (PDGF)
Cell migration; RNA isolation and analysis for Prostaglandin E2 receptor; analysis of Akt-1 phosphorylation and PDGF-receptor phosphorylation.
Thrombin inhibits human hepatic myofibroblast migration via PAR-1;
Thrombin inhibits PDGF induced migration (inhibition of PI3K)
Martinelli 2007 [35]
Patients with HCV (287 european, 90 brazilian)
PAR1
Cross-sectional study; fibrosis evaluated by liver biopsy; polymorphism of PAR-1 gene analysis (−1426 C/T, IVS-14, −506 I/D
↑ fibrosis in TT genotype of 1426 C/T polymorphism
Rullier 2008 [32]
PAR-1 −/− and +/− mice exposed to CCL4
PAR1
Histology; RT-PCR for type I collagen, MMP-2, PDGFβ-r, MP-1, mRNA
↓ fibrosis and activated fibrogenic cells
↓ type I collagen, MMP-2, PDGFβ-r mRNA
↓ T lymphoctyes infiltration
B. P. Sullivan et al. 2010 [33]
Bile duct epithelial cells (BDECs); PAR1−/−, TF +/−, mice with low levels of human TF expression. All mice were fed with BDEC toxicant (ANIT); Human Liver Samples from patients with PBC/PSC
TF, PAR-1, αVβ6
Real-Time PCR of snap-frozen liver
or adherent cells; immunofluorescence on liver frozen sections for αVβ6
TF and PAR-1 deficiency ↓ Liver Fibrosis/αVβ6 mRNA
↑ TGF-β1 related αVβ6 expression by PAR-1
αVβ6 inhibition ↓ fibrosis
↑ TF and PAR-1 mRNAs in livers from PBC/PSC patients
V. Knight et al. 2012 [31]
HSC cells; HSEC cells; (PAR-2 knockout mice; C57BL/6 mice; CCl4 cirrhotic mice
PARs
Hepatic hydroxyproline content in frozen liver tissue; PCR analysis of MMP-2, TIMP-1 and PAR-1/2; identification of α-SMA, F4/80 and CD68; TGF-β1 Production In Vitro; HSC Proliferation in Response to PAR Activation; Hepatic TGF-β1 Content
PAR-2 Deficiency ↓ Fibrosis/ procollagen mRNA/Hydroxyproline
Content/
Stellate Cell Activation/
Hepatic TGF-β1 Expression/MMPs/ Activated Hepatic Macrophages;
PAR 1/2 ↑ HSC Collagen Production/TGF-β1
R. Nault et al. 2016 [34]
PAR-1 −/− and +/− mice exposed to to TCDD (progression to NASH)
PAR-1;
Identification of Fibrin(ogen)
TCDD Exposure Activates the Coagulation Cascade;
↓ inflammation and collagen deposition in PAR-1 −/−
V. Knight et al. 2017 [30]
PAR-1 −/− mice;
HSC cells;
CCl4 treated mice
TF and PARs
Hepatic fibrosis assessment; Hepatic collagen content; Gene expression of TGF-β1, MMP-2, TIMP 1, PAR1 and 2; expression TGF-β1
↓ fibrosis/MMP2/activated macrophages in TF and PAR-1 −/−
Reference
Drug
Animal Model
Fibrosis/Cirrhosis Induction
Fibrosis Assesment
Results
Duplantier 2004 [28]
Wistars rat
Thrombin antagonist SSR182289
CCL4 (three or seven week exposure)
Histology; immunohistochemistry (IHC) for αSMA collagen type I, MMP-2, TIMP-1, and TIMP-2 mRNAs by RT-PCR
↓ 30% fibrosis (7 week CCL4 exposure)
Early ↓αSMA positive cells/TIMP-1 mRNA
Abe 2007 [99]
Dalteparin
Female Wistars Rats
CCL4
Histology; IHC
↓ fibrosis, ↑HGF
↓TGF-β1, COL1A1, αSMA
↓ PDGF induced HSC proliferation
Anstee 2008 [101]
Warfarin
FV Leiden mutant mice, C57BL/6 control animals anticoagulated mice
CCL4
Histology; Liver Hidroxiproline content; αSMA mRNA expression
↑ fibrosis 80% in male FV mutant
Warfarin effect:
↓ Hidroxiproline content ↓ fibrosis scores
Effect blunted in FV mutant
Kassel 2012 [102]
Argatroban (via micro-osmotic pump)
LDLr−/− mice
Western diet
Histology); real time PCR hepatic mRNA expression of αSMA, COL1A1, PDGFβ, TIMP1/2, TGF-β1; IHC (anti CD68, F4/80, αSMA); MCP-1 Elisa
No change in collagen deposition
↓ αSMA, COL1A1, PDGFβ, TIMP1/2
No ↓TGF-β1
↓inflammation (↓neutrophil/macrophage accumulation)
Cerini 2016 [100]
Enoxaparin
Male Wistars Rats
CCL4 (acute vs short vs long term exposure); TAA
Histology; IHC (anti FBN/αSMA/CD68); expression of procollagen I/ αSMA on isolated HSC
↓25–26% in short and long term CCL4 exposure; ↓ 41% in TAA
↓PP and HVR
↓αSMA, procollagen I in HSC
No change on inflammation
Vilaseca 2017 [103]
Rivaroxaban
Cirrhotic wistar rats
CCL4; TAA
Histology; TEM analysis; Liver Hidroxiproline content; IHC (anti fibrinogen/αSMA/CD68) and IF (anti FBN, anti VWF); real time PCR hepatic mRNA expression of αSMA, COL1A1, PDGFβ, TIMP1/2, TGF-β1; in vitro thrombin action on HSC
No ↓in CCL4, ↓25% TAA
improved sinusoidal
architecture
↓Hidroxiproline content/collagen/fibrin deposition
↓PP and HVR
↓HSC activity of profibrotic genes
↓VWF expression in vasculature
No direct activity on HSC (in vitro studies)
Li 2017 [98]
Aspirin (low/high dose), enoxaparin
Sprague-Dawley rats
TAA
Histology (METAVIR score)
↓ in all treatment group (> for high dose aspirin)

© 2018 by the authors. Licensee MDPI, Basel, Switzerland. This article is an open access article distributed under the terms and conditions of the Creative Commons Attribution (CC BY) license (http://creativecommons.org/licenses/by/4.0/).