Receptor Tyrosine Kinase Ubiquitination and De-Ubiquitination in Signal Transduction and Receptor Trafficking
1
Endothelial Cell Biology Unit, School of Molecular & Cellular Biology, University of Leeds, Leeds LS2 9JT, UK
2
Centre for Cardiovascular Biology & Medicine, Rayne Building, University College London, London WC1E 6PT, UK
3
School of Biomedical Sciences, University of Leeds, Leeds LS2 9JT, UK
*
Author to whom correspondence should be addressed.
Received: 13 February 2018 / Revised: 9 March 2018 / Accepted: 13 March 2018 / Published: 15 March 2018
Abstract
Receptor tyrosine kinases (RTKs) are membrane-based sensors that enable rapid communication between cells and their environment. Evidence is now emerging that interdependent regulatory mechanisms, such as membrane trafficking, ubiquitination, proteolysis and gene expression, have substantial effects on RTK signal transduction and cellular responses. Different RTKs exhibit both basal and ligand-stimulated ubiquitination, linked to trafficking through different intracellular compartments including the secretory pathway, plasma membrane, endosomes and lysosomes. The ubiquitin ligase superfamily comprising the E1, E2 and E3 enzymes are increasingly implicated in this post-translational modification by adding mono- and polyubiquitin tags to RTKs. Conversely, removal of these ubiquitin tags by proteases called de-ubiquitinases (DUBs) enables RTK recycling for another round of ligand sensing and signal transduction. The endocytosis of basal and activated RTKs from the plasma membrane is closely linked to controlled proteolysis after trafficking and delivery to late endosomes and lysosomes. Proteolytic RTK fragments can also have the capacity to move to compartments such as the nucleus and regulate gene expression. Such mechanistic diversity now provides new opportunities for modulating RTK-regulated cellular responses in health and disease states.
View Full-Text
►

▼

Figures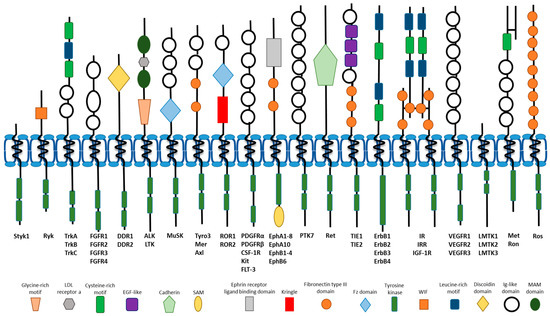 Figure 1
This is an open access article distributed under the
Creative Commons Attribution License
which permits unrestricted use, distribution, and reproduction in any medium, provided the original work is properly cited (CC BY 4.0).

Share & Cite This Article
MDPI and ACS Style
Critchley, W.R.; Pellet-Many, C.; Ringham-Terry, B.; Harrison, M.A.; Zachary, I.C.; Ponnambalam, S. Receptor Tyrosine Kinase Ubiquitination and De-Ubiquitination in Signal Transduction and Receptor Trafficking. Cells 2018, 7, 22.
Note that from the first issue of 2016, MDPI journals use article numbers instead of page numbers. See further details here.
Related Articles
Comments
[Return to top]