Open Access This article is
freely available
re-usable
Review
The Expanding Role of Vesicles Containing Aquaporins
Group of Aquaporins, Plant Nutrition Department, Centro de Edafologia y Biologia Aplicada del Segura, CEBAS-CSIC, Campus Universitario de Espinardo, E-30100 Murcia, Spain
†
These authors contributed equally to this work.

Received: 21 September 2018 / Accepted: 20 October 2018 / Published: 22 October 2018
Abstract
:
In animals and plants, membrane vesicles containing proteins have been defined as key for biological systems involving different processes such as trafficking or intercellular communication. Docking and fusion of vesicles to the plasma membrane occur in living cells in response to different stimuli, such as environmental changes or hormones, and therefore play an important role in cell homeostasis as vehicles for certain proteins or other substances. Because aquaporins enhance the water permeability of membranes, their role as proteins immersed in vesicles formed of natural membranes is a recent topic of study. They regulate numerous physiological processes and could hence serve new biotechnological purposes. Thus, in this review, we have explored the physiological implications of the trafficking of aquaporins, the mechanisms that control their transit, and the proteins that coregulate the migration. In addition, the importance of exosomes containing aquaporins in the cell-to-cell communication processes in animals and plants have been analyzed, together with their potential uses in biomedicine or biotechnology. The properties of aquaporins make them suitable for use as biomarkers of different aquaporin-related diseases when they are included in exosomes. Finally, the fact that these proteins could be immersed in biomimetic membranes opens future perspectives for new biotechnological applications.
Keywords:
aquaporins; membrane vesicles; trafficking; cell communication; biofilters
1. Introduction
Therefore, this review incorporates the current visions of aquaporin trafficking among membranes, their importance in the communication between cells, and their potential uses in biomedicine or biotechnology derived from their properties, including their inclusion in biomimetic membranes. The limited progress in this field is reviewed with the aim of highlighting the significant gaps that remain in our understanding.
2. Aquaporins Activity in Vesicles
The activity of AQPs present in vesicles and the integrity of the vesicles are determined from the osmotic water permeability (P
f
); the fast-kinetics changes in the volume of the vesicles are measured after the rapid imposition of an osmotic/solute gradient (for review see Madeira et al. [
15
]). Different methodologies have been proposed to measure P
f
[
16
]. The light scattering method provides a semiquantitative index of cell volume, and it has been widely applied in P
f
measurements with cells or vesicles, such as erythrocytes, suspensions of membrane vesicles and liposomes reconstituted with AQPs, or lung alveolar epithelial cells [
17
,
18
]. Other methods used to determine changes in cell volume are two-dimensional (2D) images analysis, scanning probe microscopy (SPM), atomic force microscopy (AFM), and scanning electrochemical microscopy (SECM) [
16
,
19
]. However, the development of methodology for the exact measurement of P
f
continues to be a challenge. One of the critical points is the time needed for the establishment of a suitable osmotic gradient, and this parameter is normally underestimated during measurements. In addition, cells with high water permeability require methods with rapid gradient formation [
16
]. These limitations are important issues that need to be solved for studies of AQPs modulators that may have applications in therapeutics, where artifacts contributing to inaccurate estimation of cell membrane water permeability may prevent optimal results from being obtained [
3
].
The activity of some AQPs and their water permeation function remain controversial; this arises not only from the water permeability measurement but also the system used for protein reconstitution. Thus, it has been reported that AQP11 reconstituted in proteoliposomes exhibited normal water permeability when this was determined using a stopped-flow methodology [
20
]. However, Gorelick et al. [
21
] showed that AQP11 expressed in
Xenopus
oocytes had no water permeability. Morishita et al. [
22
] explained that this lack of water permeability is due to the fact that AQP11 is not targeted to the plasma membrane (PM) and stays in the intracellular organelles of the
Xenopus
oocytes. Yakata et al. [
23
] studied the water permeability of AQP11 (excluding detergent effects) using vesicles formed directly from Sf9 cell membranes in which AQP11 molecules are expressed. In this case, the water permeability of AQP11 was 8 times lower than that of AQP1.
3. Aquaporins Trafficking
Protein trafficking in the plasma membrane includes different processes, such as (1) exocytosis or secretion, in which proteins migrate to the PM or outside the cell, (2) endocytosis, in which proteins are integrated into the PM for recycling or regulation of their activity, and (3) transcytosis, which involves the transit of proteins from one specific position in the PM to another. All these processes involve the formation of membrane vesicles containing proteins. One of the most documented types of protein trafficking at the PM level is caused by the need to maintain cellular homeostasis in the face of physiological or external stimuli [
13
]. Therefore, regulation of the abundance and distribution of proteins in the PM is related to the interchange of water and solutes on both sides of the membrane. However, the primary requirement of plants and animals is to regulate the availability of water to their cells in order to cope with fluctuations and maintain water balance. As the cell water permeability is directly proportional to the amount of aquaporin proteins in the membranes and as these proteins are finely regulated, their translocation in vesicles is one of the most important mechanisms of control [
24
].
3.1. Protein–Protein Interaction
3.2. Diacidic and other Motifs
It has been shown that in yeast and animals [
44
], diacidic motifs or DIE (D/ExD/E sequences) in the cytosolic tails of transmembrane domains are involved in the export from the endoplasmic reticulum (ER) of different proteins. This diacidic signal evidenced that export from the ER occurred through a selective mechanism. However, the relationship of diacidic motifs with mammalian AQPs and their role in protein trafficking have not been studied in spite of the fact that these motifs have been found in the C-terminus tail of human AQP1 to AQP6, AQP9, and AQP10 and in the N-terminus of AQP8 [
45
]. It has also been observed that mutations in these motifs in AQP2 leads to disorders such as nephrogenic diabetes insipidus (NDI), with the retention of the aquaporins in the ER [
45
]. In a similar way, the importance of the N-terminus of AQP6 for its intracellular localization has been demonstrated in renal collecting ducts cells [
46
]. This trafficking regulation is critical for AQP6 function as its prolonged expression in the PM leads to cell death. In addition, a physical interaction of AQP6 with H+-ATPase in the vesicles of acid-secreting type-A intercalated cells of renal collecting ducts is able to regulate the vesicle pH.
The importance of NPA (asparagine–proline–alanine) motifs for AQP trafficking has been demonstrated in AQP11, AQP12, and AQP4 [
22
,
47
,
48
], where variations of these motifs induced a lack of those AQPs in the plasma membrane.
In plants such as maize, diacidic motifs (Asp–Ile–Glu) at positions 4 to 6 in the N terminus of Zm-PIP2;4 and Zm-PIP2;5 were identified as playing an important role in export from the ER [
49
]. Similar results were found for
Arabidopsis thaliana
PIP2;1 [
42
]. However, the addition of a diacidic motif to Zm-PIP1;2 resulted in the retention of the protein in the ER. As this motif is not present in all plant AQPs, it may be involved exclusively in ER trafficking as other additional diacidic motifs (DAE) have also been identified in the N-terminus of Zm-PIP2;4 and Zm-PIP2;5 but they were not functional by themselves in ER trafficking. Even so, the involvement of a combination of both types of diacidic motif in proper AQPs export from the ER has not been ruled out [
49
].
3.3. Phosphorylation and Ubiquitination
4. Vesicles Containing Aquaporins and Communication between Cells
5. Industrial Application of Vesicles in Biomedicine
Therefore, exosomes have a great potential for use in the field of biomedicine, and as AQPs play an important role in many biological and pathological processes, the relationship between exosomes and AQPs with regard to their biotechnological applications in biomedicine is an interesting area to be exploited.
6. Other Biotechnological Applications of Vesicles Containing Aquaporins
7. Conclusions
Plasma membrane vesicles containing AQPs have been studied in their biological environments, and their role in cell communication could be exploited for medicinal and commercial purposes. In animals, the AQP that has been studied the most is AQP2 in the kidney. AQP2 shares mechanisms of regulation with plant AQPs, such as the physical interaction with SNARE proteins that affects the pathway of AQP movement to the PM and therefore membrane water permeability. Another common form of regulation is phosphorylation, and distinct residues that can be phosphorylated have been identified. However, the involvement of others and of certain protein kinases still needs further investigation as this process will affect their biotechnological use. Vesicles containing AQPs are involved in cell-to-cell communication, with important signaling functions. Thus, vesicles incorporating AQPs could be useful as biomarkers of different AQPs-related disorders as the exosome proteomic profile may vary depending on the diagnosis. This role has not been explored for plant vesicles under different abiotic or biotic stresses, but this link between AQPs and exosomes in animals has been used to develop novel biomedical tools. In addition, exosomes could be used as drug delivery systems as they are able to cross biological barriers, are biocompatible, and can guarantee the stability and bioavailability of drugs. In this sense, their use as vehicles for siRNA is of great importance in different therapies. However, the transport and fusion of EVs through the membranes remain unexplored, and further studies are necessary in this direction. Finally, the role of AQPs as water channels make them optimal for use in biological membranes as biofilters. Although different techniques and materials have been developed in order to include AQPs vesicles in membranes, more studies are necessary to reduce costs and improve effectiveness.
Therefore, the overall scenario for the recently discovered role of vesicles containing aquaporins highlights the importance of aquaporins, not only in the physiology of organisms belonging to all kingdoms but also with respect to their further utilization in such vesicles in several fields.
Author Contributions
Conceptualization, M.C. and M.C.M.-B; Writing-Original Draft Preparation, M.C.M.-B., P.G.-I., L.Y.-M., J.J.R. and M.C.; Writing-Review & Editing, M.C. and M.C.M.-B.; Visualization, M.C.; Supervision, M.C.; Project Administration, M.C.; Funding Acquisition, M.C.
Funding
This work was funded by the Spanish Ministerio de Economía, Industria y Competitividad (AGL2016-80247-C2-1-R).
Conflicts of Interest
The authors have no conflicts of interest to report.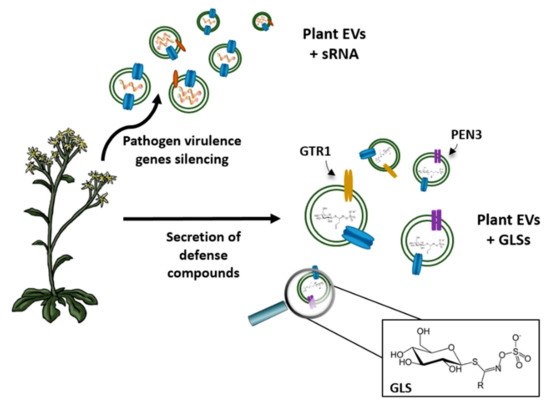 Figure 1. Against a pathogen attack, plants secrete extracellular vesicles (EVs) as a defense response. As seen above, plant EVs can contain small RNA (sRNA) that can silence virulence genes present in the pathogen. Another strategy is to secrete defense compounds, such as glucosinolates (GLSs), and include transport-related proteins, such as GTR1 (glucosinolate transporter-1) and PEN3 (an ATP-binding cassette transporter), in their membrane.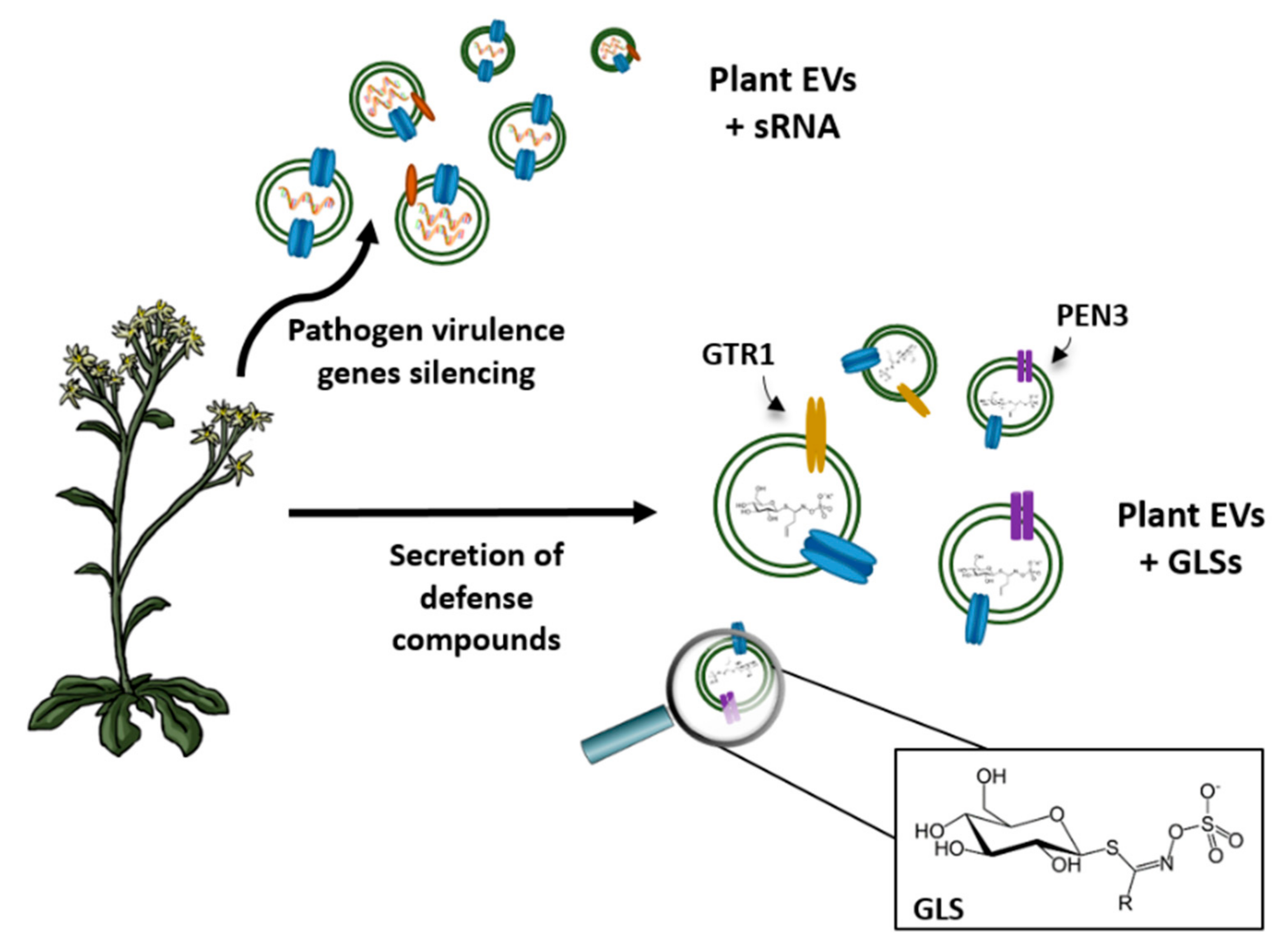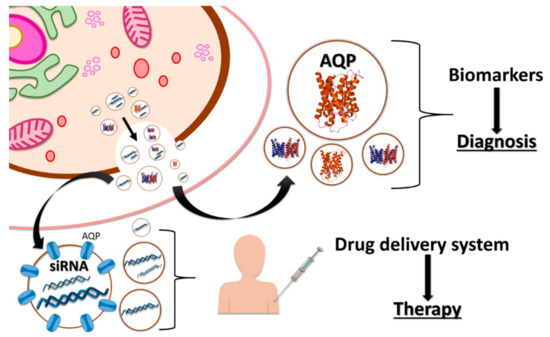 Figure 2. Exosomes containing aquaporins (AQPs) have been used to develop novel biomedical tools. As the abundance of AQPs in exosomes is modified under a specific disorder, they can be used as new biomarkers in the diagnosis of different diseases. Exosomes could also be used as drug delivery systems as they are able to cross biological barriers and guarantee the stability and bioavailability of drugs. One of the biological functions of exosomes is the delivery of RNA, based on which exosomes are used to transport siRNA used in therapies.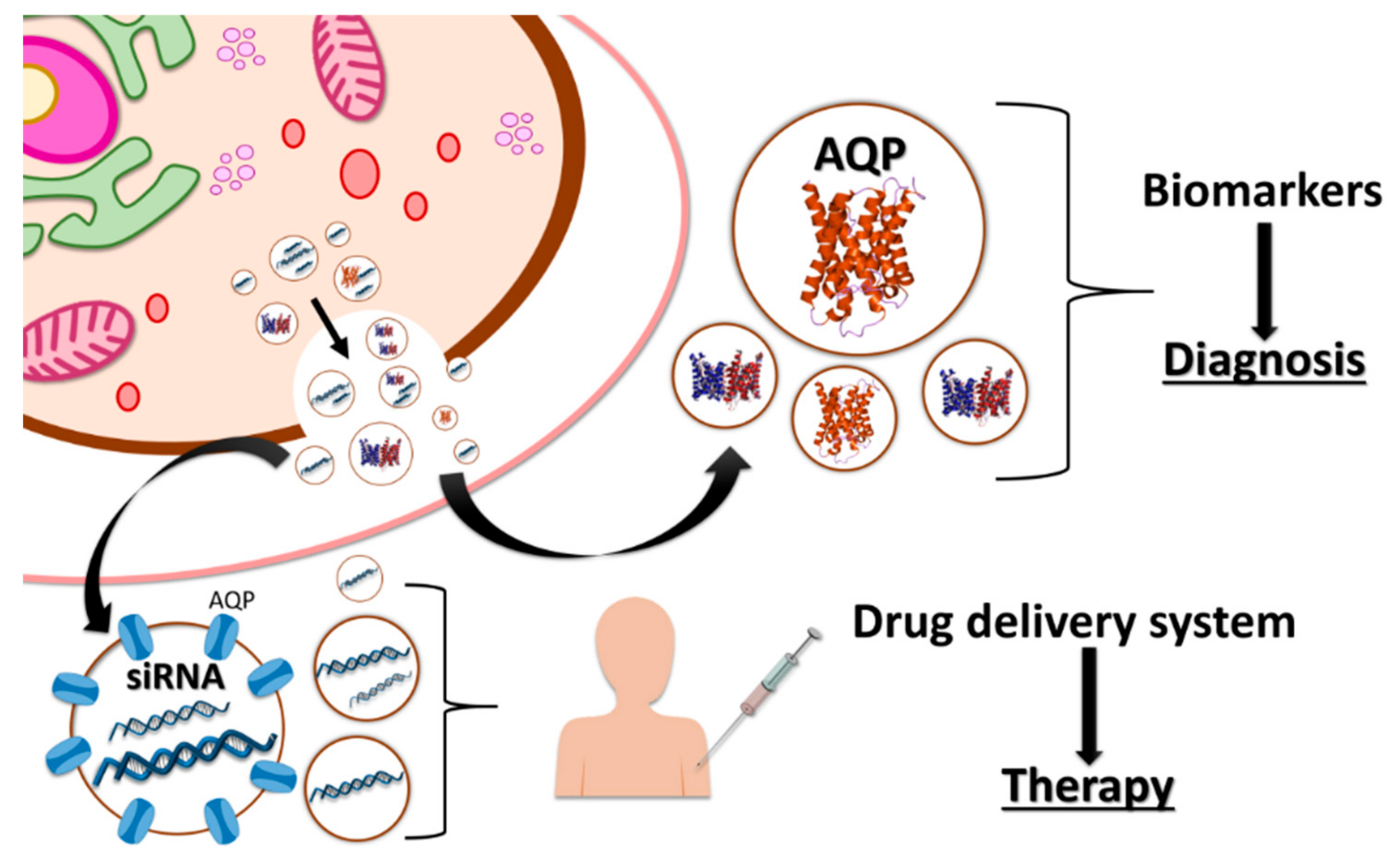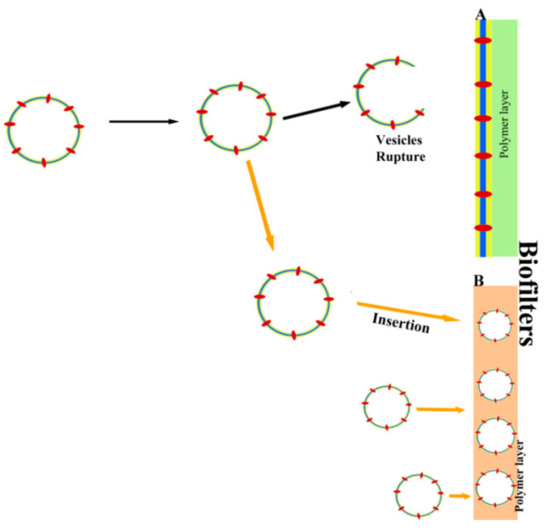 Figure 3. Schematic presentation of AQPs biofilter production. (A) AQPs lipid layer is made from vesicle rupture onto substrate layer by interaction between lipid and polymers. (B) Proteolipids vesicles are incorporated inside the polymers layer to make biofilter.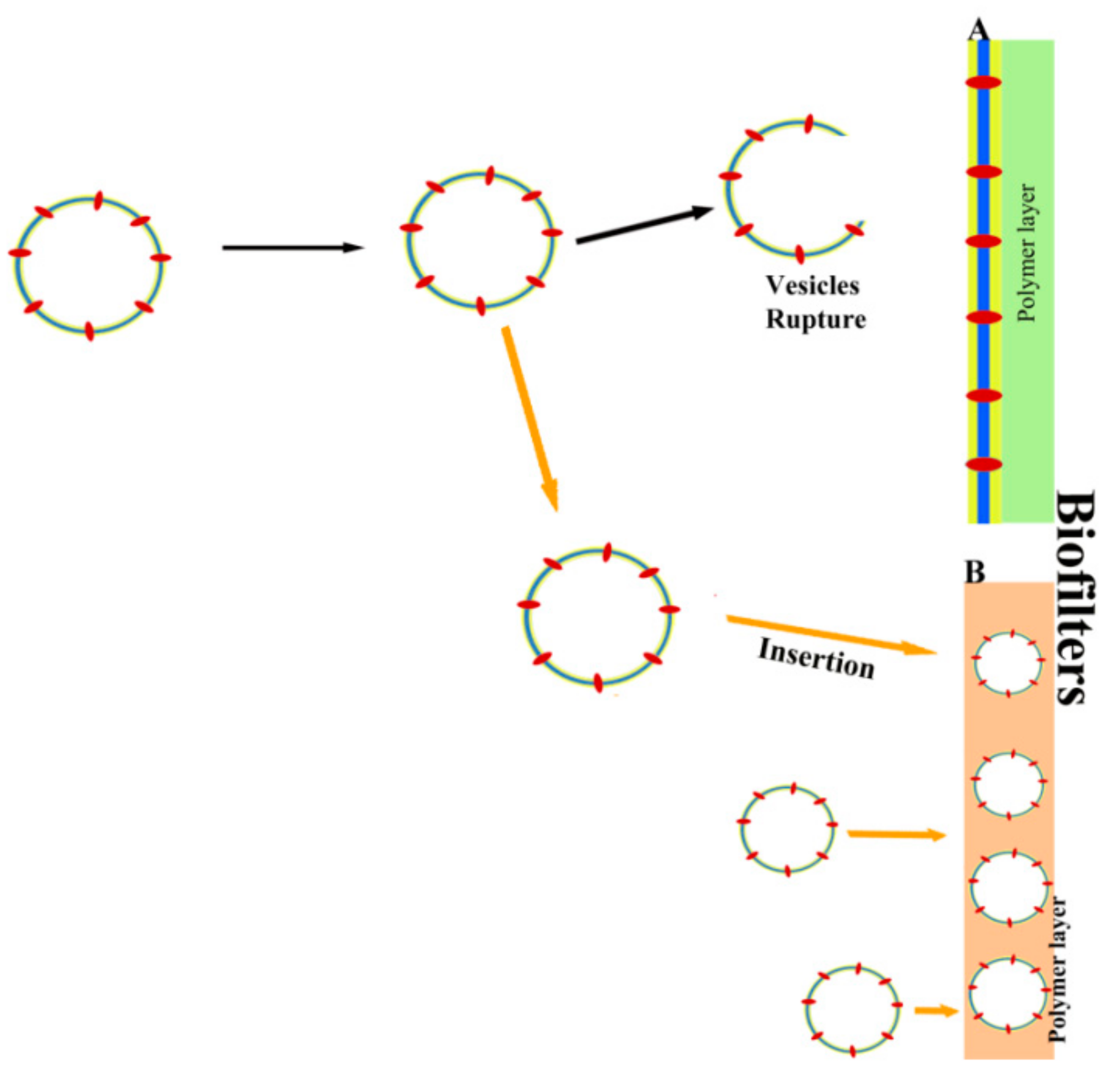 © 2018 by the authors. Licensee MDPI, Basel, Switzerland. This article is an open access article distributed under the terms and conditions of the Creative Commons Attribution (CC BY) license (http://creativecommons.org/licenses/by/4.0/).