Open Access This article is
freely available
re-usable
Review
Aquaporins and Their Regulation after Spinal Cord Injury
1
Neuroscience and Ophthalmology, Institute of Inflammation and Ageing, University of Birmingham, Birmingham, B15 2TT, UK
2
Institute of Clinical Sciences, University of Birmingham, Birmingham B15 2TT, UK
3
School of Life and Health Sciences, Aston University, Birmingham B4 7ET, UK
*
Author to whom correspondence should be addressed.
Received: 20 September 2018 / Accepted: 15 October 2018 / Published: 18 October 2018
Abstract
:
After injury to the spinal cord, edema contributes to the underlying detrimental pathophysiological outcomes that lead to worsening of function. Several related membrane proteins called aquaporins (AQPs) regulate water movement in fluid transporting tissues including the spinal cord. Within the cord, AQP1, 4 and 9 contribute to spinal cord injury (SCI)-induced edema. AQP1, 4 and 9 are expressed in a variety of cells including astrocytes, neurons, ependymal cells, and endothelial cells. This review discusses some of the recent findings of the involvement of AQP in SCI and highlights the need for further study of these proteins to develop effective therapies to counteract the negative effects of SCI-induced edema.
Keywords:
spinal cord injury; edema; aquaporin; water channel
1. Introduction–Human Aquaporins
Water can move rapidly into and out of most cells of the human body. This passive, bidirectional transport of water may occur directly across biological membranes. However, the phosopholipid bilayer can restrict the rate of water flow depending on the properties of the cell [
1
]. As such, the rate of water transport can be increased through co-transport with other solutes and/or ions such as salt [
2
] or through water channel proteins. This type of transport is important for the maintenance of physiological homeostasis and it seems that the majority of rapid water transport occurs through aquaporins (AQPs) [
3
]. AQPs are a family of transmembrane (TM) channel proteins that facilitate the transcellular flow of water through biological membranes in response to changes in osmotic and/or hydrostatic pressure [
4
,
5
]. Thirteen functional human AQP isoforms have been discovered to date with ubiquitous yet differential expression across tissues of the human body [
6
,
7
,
8
].
The initial discovery that AQPs were functional water channels came from transiently transfecting AQP1 into Xenopus oocytes which, when exposed to distilled water, swelled significantly when compared with control, non-transfected oocytes. This was the result of increased AQP1 levels present within the cell membrane, which allow an influx of water to occur when the extracellular solution was hypotonic to the intracellular [
9
,
10
]. The discovery of AQPs and the development of such models has advanced our understanding of how cells and tissues regulate water flow under physiological and pathological conditions. The involvement of AQPs in many pathologies has since been increasingly brought to fruition including in cancer, epilepsy, and neurodegenerative diseases. As such, our understanding of AQPs, not only as passive facilitators of water flow but as mediators of pathological conditions, is crucial for increasing potential therapeutic targets among clinical treatments. Researchers seek to undersand more about how AQPs contribute as therapeutic targets, how they are regulated, and how we may intervene.
1.1. Structure of Mammalian AQPs
AQPs appear to exist functionally in a common homotetrameric structure [
5
] with recent evidence suggesting that each of the monomers behave as a functional water transport unit (
Figure 1
) [
11
]. The role of tetramerization is still incompletely defined. However, recent evidence suggests it is a requisite of the regulatory mechanism [
12
]. Like most TM transporters, AQPs have evolved to become highly specific for their transport molecules. AQP monomer structures exist in an "hour-glass" 3D conformation consisting of a hollow but constricted "pore" formed of six transmembrane α-helices [
13
,
14
]. The most constricted region of this pore is approximately 2.8 Å in size, which allows the continuous passage of one water molecule at a time. This is known as a single file permeation [
15
,
16
]. The electrostatic factors controlling single file permeation are conferred by the hydrophilic residues lining each pore. This includes a tightly constricted region towards the extracellular side of the pore containing an aromatic/arginine (ar/R) motif and two α-helices, which repel the passage of protons and define exquisite specificity for water molecules, and two Asn-Pro-Ala (NPA) motifs within the highly conserved pore-forming B and E loops, which interact in the center of the protein and form hydrogen bonds with water molecules to facilitate transport into the intracellular compartment of the AQP (
Figure 1
) [
17
,
18
,
19
]. These features allow AQP monomers to facilitate effective capacity and selectivity for water transport including allowing up to 3 × 10
9
molecules of water per second across in some water-selective AQPs, e.g., AQP1, 2, 4 and 5 [
4
,
20
].
The tertiary structure of AQPs is considered to be of an hourglass shape with the α-helices tilting to form a barrel (
Figure 1
) [
21
]. Furthermore, subangstrom resolution-scale studies using molecular dynamics have revealed that water moves through the selectivity filter in a choreographed, pair-wise manner, which maintains electrical favorability and allows rapid transport of water through the channel [
18
]. Additionally, some AQPs termed 'aquaglyceroporins' also have selectivity for small polar molecules such as glycerol and urea [
22
]. These AQPs, namely AQP3, 7, 9 and 10, have an altered architecture and polarity within the constricted region that can accommodate transport of these larger molecules [
22
,
23
]. As such, the pore is slightly larger at approximately 3.8 Å and is lined with more hydrophobic residues to accommodate interactions with the additional cargo [
14
,
24
].
1.2. Localization and Functions of Human AQPs
There are 13 functional isoforms of human AQPs currently identified with each containing specific and localized expression patterns and functions. These isoforms have subtle differences in the primary, secondary, and tertiary structures of the proteins. The most important differences are those observed within the elements that line the pore of the channel especially the residues that offer capacitance or resistance to water and sometimes other small molecules. Since different tissues in the body require transport at different rates, the isoform localization of AQPs reflects this specificity of action. For example, different cell types in the kidney collectively express nearly all known human AQPs (AQPs 1–4 and 6–11) while the spleen only appears to express AQP9 [
25
]. AQPs serve different physiological functions within the body depending on their localization and isoform. Arguably the most important function of AQPs is to facilitate the general maintenance of water homeostasis within tissues [
26
]. This is achieved mostly though cell volume regulation (CVR) mechanisms and ensures that the osmolarity within the cell is maintained within a physiological range [
27
,
28
]. Other, more specific functions of aquaporins include, but are not limited to, water transport across kidney tubule epithelium through AQP2 [
29
], production of sweat and saliva through AQP 5 [
30
], and blood-brain/blood-spinal cord water transport through AQPs 1 and 4 [
1
,
31
].
1.3. Regulation of AQPs
Water permeation is a dynamic and fluctuating process in most tissues of the human body and, therefore, functional regulation of AQPs are critical to their activity. This is to ensure that water flow occurs at the appropriate locations and rates for each cell or tissue. Regulation of protein expression is generally the most common means of protein regulation since transcriptional rates of most genes physiologically fluctuate especially under stress [
32
]. This has also been demonstrated for AQPs. Activation of protein kinase C (PKC) decreases expression of AQPs 4 and 9, which can be prevented by the addition of PKC inhibitors. This suggests that their expression levels may be regulated by cellular stressors or signals that are mediated through PKC [
33
]. Many other studies report AQP gene expression levels being changed both via mRNA upregulation and downregulation under a wide variety of different pathophysiological conditions such as human renal and muscular diseases as well as after CNS trauma [
34
,
35
,
36
].
The most common and frequently observed method for regulating AQP activity is through conformational 'gating'. This type of regulation was first reported in plant AQPs such as those in spinach where an intracellular loop physically barricades the intracellular pore following dephosphorylation at a local serine residue [
37
,
38
]. While this regulatory mechanism is used extensively by many biological membrane proteins, it's unclear whether this also occurs as distinctly or as frequently in the proteins of mammalian cells. This remains a controversial topic in the field. Further to blockage gating, some studies report that AQP4 may also be gated by a physical narrowing of the channel pore that becomes too small for water molecules to pass through. Molecular dynamics studies reveal that a histidine residue in the cytoplasmic side of the pore may reorientate and interact with a nearby cysteine residue, which constricts the pore [
39
]. However, no biological relevance of this gating has yet been reported.
Another potential AQP regulation mechanism involves alteration of the abundance of AQPs at the cell membrane via protein trafficking. This hypothesis postulates that enhanced water flow may be the result of variable rates of translocation among AQP channels between the cell membrane and intracellular stores (short-term). Evidence for such a mechanism has been well demonstrated for AQP2 in kidney endothelium [
40
]. In this context, AQP2 is thought to be under the regulation of vasopressin-mediated translocation to the membrane of principal cells of the renal collecting duct, whereby vasopressin binding to its natural receptor, the vasopressin type 2 receptor (V
2
), results in a G-coupled intracellular response leading to protein kinase A (PKA) activation, AQP2 phosphorylation, and the ability to translocate to the basolateral membrane [
40
,
41
,
42
]. This mechanism has also been demonstrated to occur with AQP1 and AQP4. One study demonstrated through an oocyte cell-swelling assay that cyclic adenosine monophosphate (cAMP)-dependent PKA phosphorylation of AQP1 resulted in increased cell swelling due to the increased abundance of functional AQP1 at the cell surface [
43
]. It was suggested that this was due to direct phosphorylation of AQP1. However, the study does not indicate whether this regulates AQP function through gating or by protein trafficking. In contrast, a similar regulatory mechanism was also reported in AQP4. However, this showed decreased AQP4 permeability after PKC activation and phosphorylation of Ser
180
[
44
,
45
].
Mechanisms for the short-term regulation of AQPs are unclear especially any differences between isoforms and tissues. Since water transport is determined passively by changes in osmolarity and tonicity, the rate of this transport seems to be mostly determined by the abundance of AQPs present at the cell membranes. Therefore, more research is needed to elucidate the exact regulatory mechanisms controlling each of the AQPs including some of which may be tissue specific as well as altered within disease or damage states. Regulation of CNS-localized AQPs will be discussed later in the context of their functions.
2. AQPs in the CNS–Physiological Roles
The central nervous system (CNS), which is comprised of the brain and spinal cord, is responsible for collating and processing neuronal information, interpreting its meaning, and, in some cases, coordinating an appropriate response. It is comprised of a vast number of highly specialized cells, which can be broadly categorized into neuronal cells and glial/supporting cells. These all work in tight coordination to ensure that its functional responsibilities are efficiently fulfilled [
46
,
47
]. The functionality of the CNS is very tightly coupled to the ionic and osmotic environments within the tissue and surrounding the tissue. The basic principles of neuronal conductivity rely on a balance of intra-cellular and extra-cellular concentrations of Na
+
, K
+
, and Ca
2+
ions, which affect intra-cellular and extra-cellular osmolarity, and vice versa. Changes in osmolarity determine the flow of water into both cells and the extracellular space from the blood. Furthermore, the brain exists within a finite space, which is determined by the size of the skull. Water content within the brain directly affects intracranial pressure, which is asserted on the tissue [
48
]. Water levels must be effectively regulated to ensure that the brain volume does not become too high, which results in increased intracranial pressure (ICP) and leads to conditions such as intracranial hypertension (IH) [
49
].
The potential fluid-tissue interfaces that exist for exchange in the CNS are extremely restricted including those for water molecules. As such, to maintain the optimal osmotic environments, the CNS must be specialized to ensure that water homeostasis is regulated efficiently to maintain optimal functionality. One of the key specializations is the presence of specific AQPs. Transcriptional profiling of rodent genes indicates that in the healthy, uninjured mammalian spinal cord, there is an expression of AQPs 1, 4, 5, 8, and 9 across different cell types [
50
]. Some CNS AQPs are expressed most predominantly in distinct cell types. For example, AQP4 is expressed in astrocytes or AQP5, 8 and 9 are expressed in neurons [
50
,
51
,
52
]. These AQPs regulate water flow between intracellular and extracellular compartments to regulate cell volume, osmolality, and ion concentration. However, their expression levels and functions within different regions of the CNS vary and, since the blood-CNS barriers are so tightly restricted, AQPs represent the primary mechanism of mass water transport into and out of the CNS. Currently, only AQPs 1, 4, and 9 have been functionally implicated in the spinal cord and, as such, our discussion will be limited to these. However, an overview of the localization and known functions among all CNS AQPs can be found in
Table 1
.
2.1. AQP1
AQP1 expression has been reported at locations throughout the entire CNS in multiple cell types including ependymal cells, astrocytes, and, to a lesser degree, vascular endothelial cells [
52
,
53
,
54
]. The most abundant expression of AQP1 is at the apical membrane of choroid plexus epithelium (CPE) ependymal cells in the brain–the tissue residing in the lateral, third, and fourth brain ventricles, which is responsible for the production of cerebrospinal fluid (CSF) [
55
,
56
,
84
]. It is the role of AQP1 to facilitate rapid and regulated water transport between the CPE and the ventricles in order to produce CSF. When AQP1 is knocked down in mice, there is an 80% reduction in the water permeability of the luminal CPE membrane but only a 25% reduction in CSF production [
31
]. This suggests two things. First, despite the passive nature of AQPs, their expression levels should not be interpreted directly as being representative of absolute water flow. This is because AQPs do not actively control water flow. This remains under the control of the local osmotic pressures they are exposed to. Second, there may be other non-AQP1-dependent mechanisms facilitating CSF production in the CFE potentially via paracellular transport. CSF release through AQP1 is thought to be very important for maintaining physiological ICP since AQP1 knockout mice exhibit 56% lower ICP than controls [
31
].
In addition to ependymal cells, a small population of AQP1 appears to be expressed within some neuronal and glial cells in the brain. Immunolocalization studies evaluating the expression changes of AQPs following the CNS insult have revealed that, even in sham controls, a small level of AQP1 expression may be observed within the rat parietal cortex. While the precise physiological role of AQP1 in these neurons remains unknown, evidence suggests that their upregulation in traumatic brain injury (TBI) models is involved in pain processing and, therefore, perhaps their role is more pathological [
57
,
85
]. Furthermore, while AQP1 is not detected in astrocytes in the healthy brain, it appears to be upregulated within astrocytomas in humans [
58
,
59
] and also in astrocytes following a subarachnoid haemmorage and following brain stab injury in rats [
60
], which is an effect that has been shown by cell culture studies to probably occur in response to hypertonicity via a hypertonicity-response element in the AQP1 gene [
86
,
87
].
2.2. AQP4
AQP4 is expressed in high levels across the brain, spinal cord, and retina as well as in some peripheral nervous tissue with the highest expression levels detected in the cerebellum and spinal cord grey matter [
50
,
64
]. Furthermore, its expression has been localized in multiple cell types including astrocytes, endothelial cells, and some smaller populations of neurons [
50
,
65
]. Its functions are thought to include aiding astrocyte signalling, regulation of local ion homeostasis, and CVR (cell volume regulation) [
88
,
89
].
2.2.1. Astrocytes
Most of the studies investigating roles of astrocytic AQP4 tends to focus on either the brain or the spinal cord. At present, the translation of knowledge of the AQP4 location to physiological function is not conclusive. However, due to the highly similar cellular and sub-cellular distribution seen at different CNS locations, it is expected that the same or similar functional mechanisms of AQP4 occur throughout the whole CNS.
2.2.2. Ependymal Cells
AQP4 is also observed within the basolateral membrane of the ependymal cells surrounding brain-CSF barriers [
66
]. This suggests that AQP4 has a physiological function in maintaining water transport between CSF and CNS parenchyma. Some studies suggest that ependymal AQP4 is involved in transependymal CSF flow and/or reabsorption, which, when disrupted as in
Aqp4−/−
mice, results in sporadic hydrocephalus [
79
]. However, more research is required to clarify the role. Ependymal AQP4 expression has been notably observed in the medial habenula (HB) of the brain, which is a region involved in many cognitive processes such as mood and anxiety regulation [
64
,
96
].
3. Spinal Cord Injury and Oedema
3.1. AQP1 in SCI
AQP1 levels have been shown to significantly increase under a broad range of neuropathological conditions such as Alzheimer's, Creutzfeldt-Jakob disease, traumatic brain injury (TBI), and SCI [
63
,
122
,
123
,
124
]. In uninjured spinal cords, AQP1 expression is predominantly localized to neuronal fibers and ependymal cells. Following SCI, not only did expression increase in these cells, but also in astrocytic cell bodies and with elevated levels persisting for up to 11 months post-injury [
124
]. This persistent and multicellular localization suggests the possibility that AQP1 contributes to different pathological processes after SCI. Extracellular hypertonicity did not affect AQP1 unlike AQP4 that increases robustly as a result of hypertonicity. However, oxidative stress significantly increased AQP1 protein expression while the antioxidant melatonin suppressed this AQP1 upregulation [
124
]. Since AQP1 is expressed after hypoxia in endothelial cells play a role in angiogenesis and cell migration [
116
,
125
], AQP1 was postulated to have a similar function in astrocytes of the spinal cord or in axon elongation via water uptake [
124
]. In support of this assertion, AQP1 was found colocalized with the axonal growth marker GAP43. However, such sustained and persistent upregulation of AQP1 may enhance neuronal/axonal swelling [
117
] and may result in overproduction of CSF by ependymal cells or fluid-filled cysts after SCI [
36
,
124
]. Upregulation of AQP1 after SCI was found in reactive astrocytes surrounding the lesion site and, although the role of this response is not clear, it suggests that AQP1 may facilitate astrocyte migration to the lesion site.
3.3. AQP9 in SCI
Currently, there is only one study in rats that shows upregulation of AQP9 after SCI with myelotomy reducing SCI-induced AQP9 and correlating with reduced edema and enhanced functional recovery [
130
]. However, the study is confounded by the same changes in AQP4, expressed at greater levels after SCI and, hence, it is difficult to tease out the actual contribution of AQP9 in edema formation after SCI. Nonetheless, the study does show regulation of AQP9 after SCI and myelotomy and, therefore, requires further study with specific AQP9 inhibitors to dissect out the contribution of AQP9 to spinal cord edema after injury.
3.4. AQPs as a Clinical Target to Reduce Neurotraumatic Edema: Past, Present, and Future
4. Conclusions
This review highlights some of the current findings about AQPs and their regulation after SCI. It is evident that AQP1, 4 and 9 play a major role in water regulation in the spinal cord but differential expression of AQPs in different cell types suggests multiple functions that require greater understanding prior to the development of therapies aimed at reducing SCI-induced edema. For example, it is evident that AQP4 is probably the most important molecule in regulating water in the spinal cord. However, knockout mouse studies have suggested that complete deletion of AQP4 while reducing acute edema and improving functional outcomes may be detrimental in the chronic stages where AQP4 is required for the clearance of water. Hypoxia and hypertonicity clearly regulate different AQPs and, therefore, may be important mediators of AQP function. Hence, greater understanding of the biology of AQPs after SCI will lead to more effective treatments for SCI-induced edema and relief from the secondary detrimental effect.
Author Contributions
A.M.H., A.C.C., R.M.B., and Z.A. conceived the ideas and wrote the manuscript. A.C.C., R.M.B., A.L., and Z.A. edited the manuscript.
Funding
This research was funded by a Nathalie Rose Barr PhD Studentship from the International Spinal Research Trust, grant no. NRB116 (AL and ZA).
Acknowledgments
We apologize to our colleagues whose work we have not been able to cite in this review. We would like to thank Prof Martin Berry for comments on the manuscript.
Conflicts of Interest
The authors declare no conflict of interest.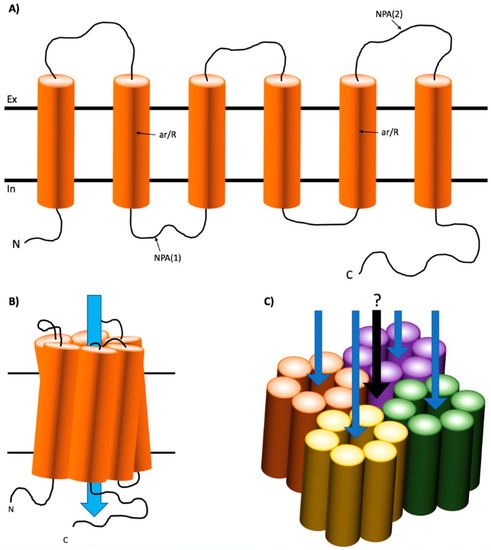 Figure 1. The secondary, tertiary, and quaternary structures of Aquaporin proteins. (A) The secondary structure of aquaporins contains six a-helices connected by three extracellular and two intracellular loops. Loops B and E contain NPA motifs and the fifth a-helices contain ar/R motifs, which is described in the text. (B) All six α-helices exist in a closely associated tertiary monomer structure with both ar/R motifs interacting at opposite sides of the pore and both NPA motifs interacting within the membrane. The route of water passage exists in the transmembrane pore formed through the center of the three-dimensional barrel. (C) AQP monomers homotetermerize and create a five-pore quaternary structure. However, the function of the central pore, formed by the space between all four monomers, remains largely unknown.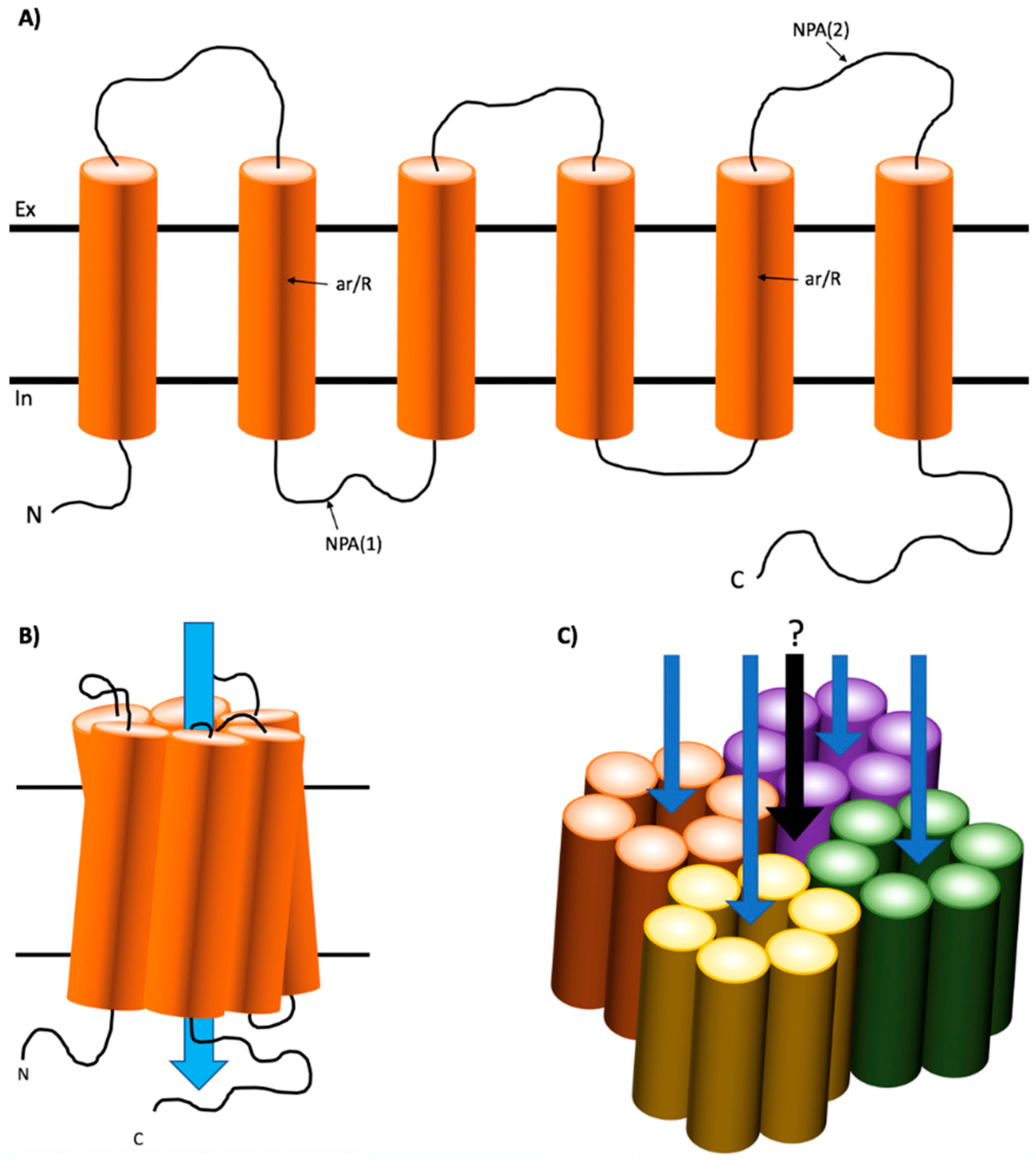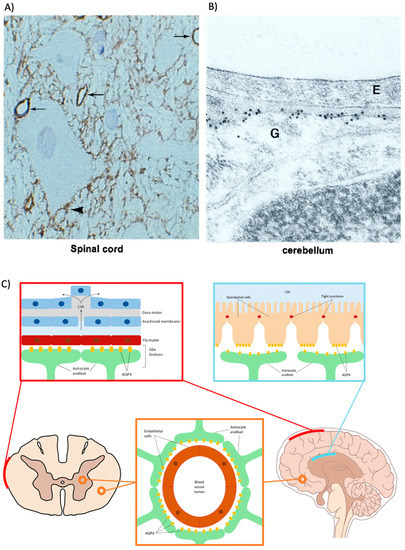 Figure 2. Localization of aquaporin-4 in the brain and spinal cord. (A) Immunogold labelling of AQP4 in thin cryosection of spinal cord, which highlights extensive staining surrounding capillaries (arrow) and neurons (arrowhead) (×670.) (B) Immunogold labeling of AQP4 in ultrathin sections labeled for endothelial cells (E) and glial endfeet processes (G) (×72,000.) (C) Schematic representation of the localization of AQP4 in CNS tissues. AQP4 is located within astrocyte endfeet processes surrounding blood vessels in both brain cortical tissue and spinal cord white and grey matter (orange panel). It is also located at the outer membrane glial surfaces of both organs (red panel). In the brain, AQP4 is also present on ependymal cells lining brain-CSF interfaces (blue panel). Figures from A and B taken from Rash et al., 1998.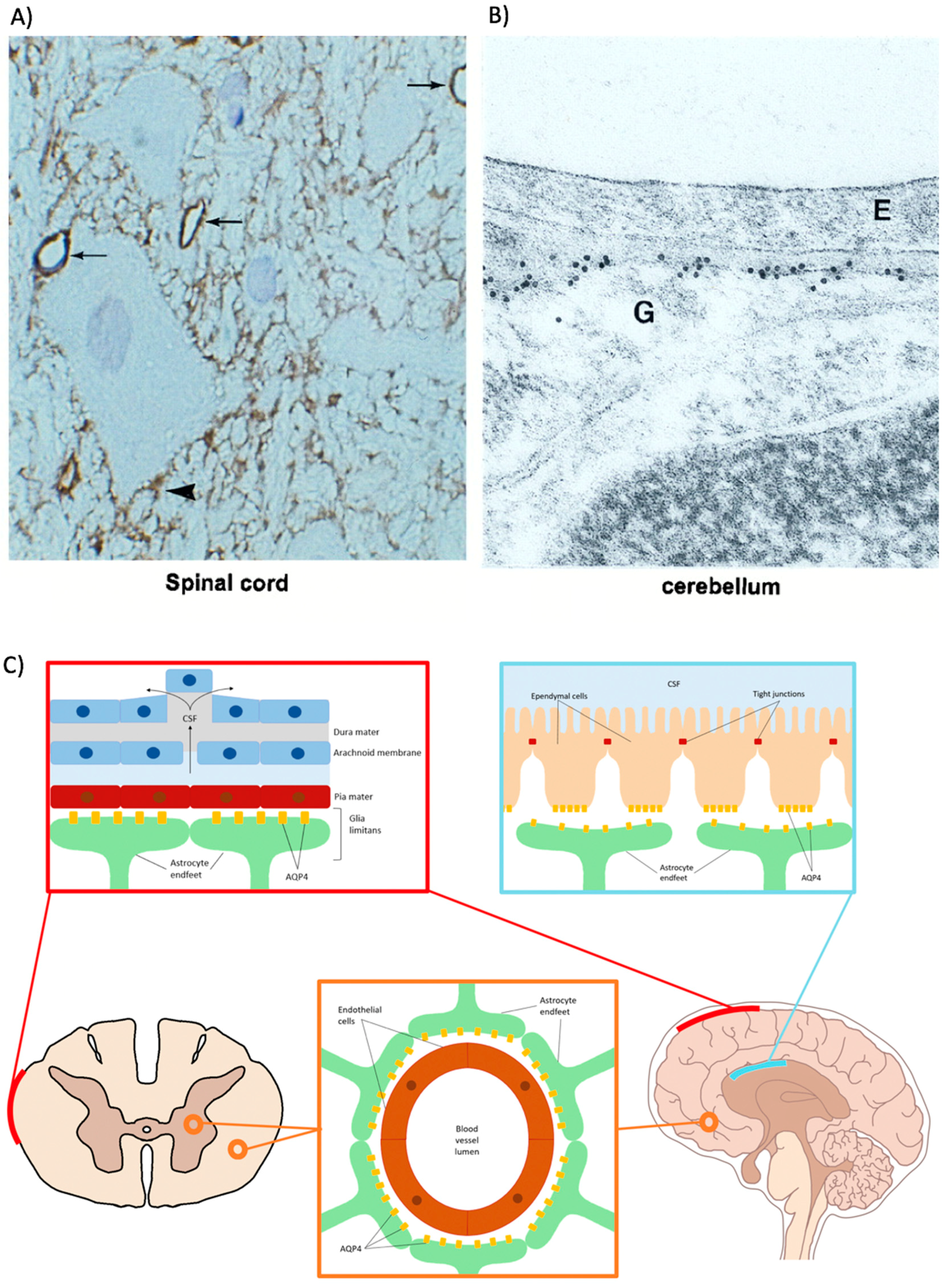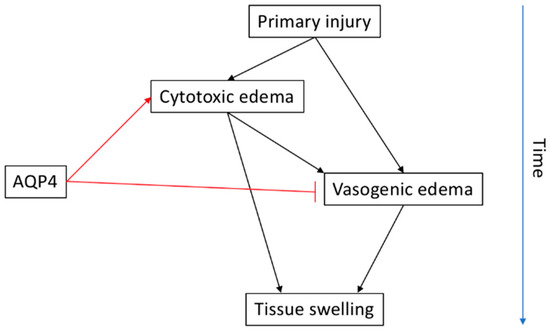 Figure 3. The proposed relationship between AQP4 and cytotoxic and/or vasogenic edema following primary injury over time. AQP4 appears to facilitate cytotoxic edema while aiding the clearance of vasogenic edema at later stages.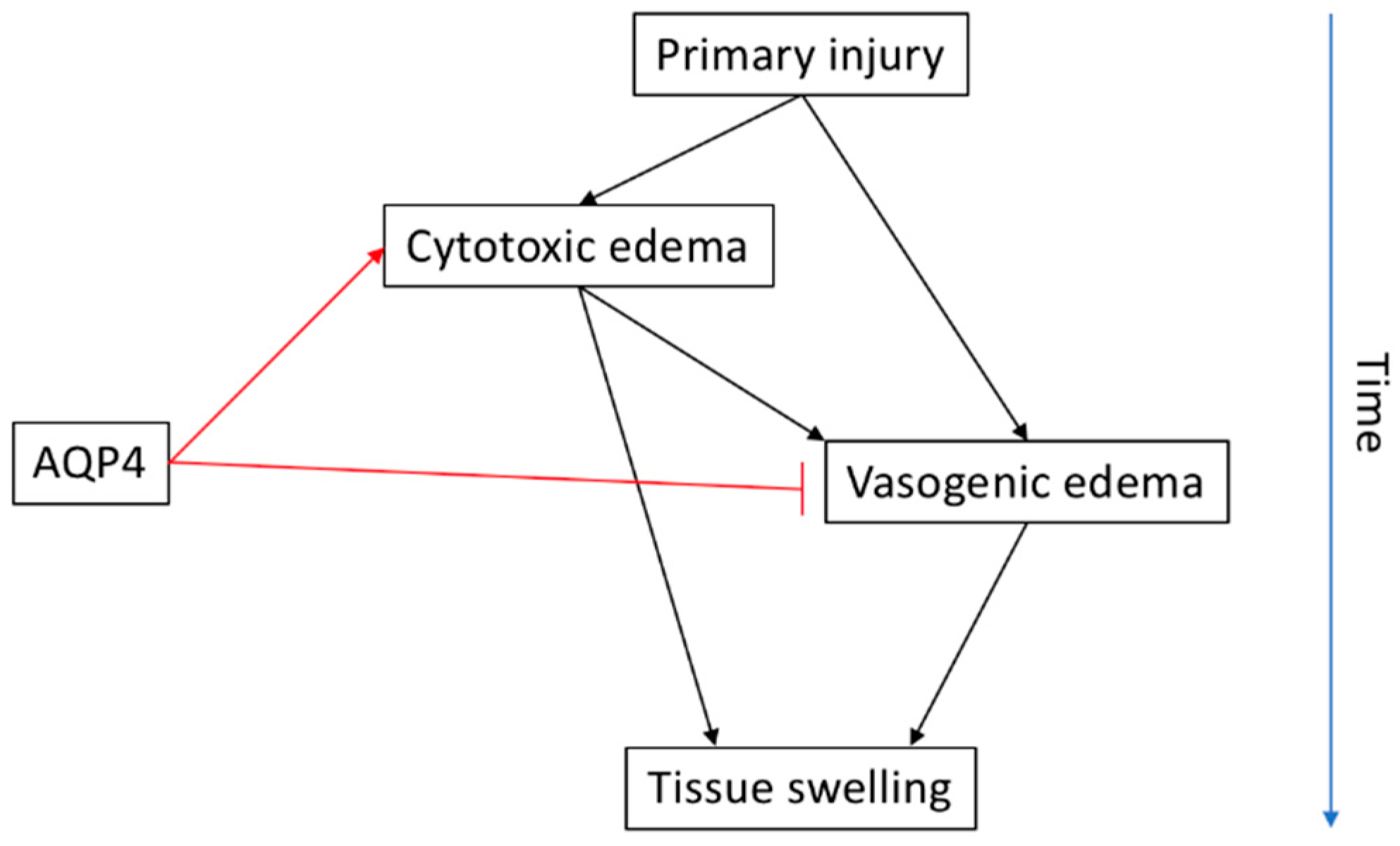 Table 1. Comparison of expression and known or suggested functions of AQPS 1, 4 and 9 in the spinal cord and brain. DRG = dorsal root ganglia, DH = dorsal horn, CSF = cerebrospinal fluid, CPE = choroid plexus epithelia, (*) = not fully investigated.
Spinal Cord
Brain
References
Location
Function
Location
Function
AQP1
Unmyelinated sensory fibers in DRG, DH, and grey matter
Pain processing
Ependymal cells in the CPE
CSF production
[31,50,52,53,54,55,56,57,58,59,60,61,62,63]
Endothelial cells within glia limitans
Unknown
Perivascular astrocytes in white matter, and glial limitans
Cell migration, water homeostasis
Astrocytes within glia limitans, dorsal horn, central canal and white matter
Cell migration, water homeostasis
Neurons surrounding pial blood vessels
Axonal elongation
Ependymal cells within glia limitans and central canal
CSF production (*)
AQP4
Astrocyte end-foot processes encircling capillaries in grey and white matter
Water homeostasis, ionic homeostasis
Perivascular end-foot processes in white matter
Water and waste clearance
Neuronal excitability
[50,61,62,64,65,66,67,68,69,70,71,72,73,74,75,76,77,78,79,80,81]
Astrocyte end-foot processes enveloping myelinated axons and axonal synapses
Regulation of perisynaptic volume
Astrocyte processes facing glia limitans and surrounding central canal
Water homeostasis (*)
Perisynaptic astrocyte end-foot processes
Synaptic function
Perisynaptic volume
Synapse plasticity
K+ homeostasis
Fibrous astrocytes
Unknown
Ependymal cells within glia limitans
CSF production (*), water homeostasis (*)
Subpial and subependymal astrocyte processes
Water flow
Muller cells
K+ clearance
AQP9
Astrocyte end-foot processes in white matter and glia limitans
Water flow (*)
Catacholinergic neurons
Energy metabolism (*)
[50,62,82,83]
Astrocytes in glia limitans
Water flow (*)

© 2018 by the authors. Licensee MDPI, Basel, Switzerland. This article is an open access article distributed under the terms and conditions of the Creative Commons Attribution (CC BY) license (http://creativecommons.org/licenses/by/4.0/).