Open Access This article is
freely available
re-usable
Review
The Dual Role of TAM Receptors in Autoimmune Diseases and Cancer: An Overview
1
Cancer Genomics Group, International Centre for Genetic Engineering and Biotechnology, Cape Town 7925, South Africa
2
Instituto de Ciências Biológicas, Universidade Federal de Goiás, Goiânia 74690-900, GO, Brazil
*
Author to whom correspondence should be addressed.
Received: 5 September 2018 / Accepted: 9 October 2018 / Published: 12 October 2018
Abstract
:
Receptor tyrosine kinases (RTKs) regulate cellular processes by converting signals from the extracellular environment to the cytoplasm and nucleus. Tyro3, Axl, and Mer (TAM) receptors form an RTK family that plays an intricate role in tissue maintenance, phagocytosis, and inflammation as well as cell proliferation, survival, migration, and development. Defects in TAM signaling are associated with numerous autoimmune diseases and different types of cancers. Here, we review the structure of TAM receptors, their ligands, and their biological functions. We discuss the role of TAM receptors and soluble circulating TAM receptors in the autoimmune diseases systemic lupus erythematosus (SLE) and multiple sclerosis (MS). Lastly, we discuss the effect of TAM receptor deregulation in cancer and explore the therapeutic potential of TAM receptors in the treatment of diseases.
Keywords:
autoimmune disease; Axl; cancer; Mer; TAM receptors; Tyro3
1. Introduction
Receptor tyrosine kinases (RTKs) regulate normal cellular processes, including growth, survival, differentiation, motility, and adhesion by converting signals from the extracellular environment to the cytoplasm and nucleus [
1
]. The TAM family of RTKs has three members: Tyro3, Axl, and Mer. In mice, TAM receptors have no essential embryonic function, since single-, double-, and even triple-knockout mice are viable, showing no obvious development defects at birth [
2
]. Conversely, in all adult knockouts (even single knockouts), mice show a multitude of irregularities, indicating an essential role in maintenance and homeostatic balance in a wide variety of mature organ systems that are subjected to renewal throughout adult life. These include the mature immune, hematopoietic, nervous, vascular, and reproductive systems [
2
].
TAM receptors have been reported to play a role in a broad spectrum of human autoimmune disorders such as rheumatoid arthritis [
3
], multiple sclerosis (MS) [
4
], and systemic lupus erythematosus (SLE) [
5
], as well in cancer (reviewed in [
6
]). In cancer, overexpression of TAM receptors has been associated with chemo-resistance [
7
], metastasis [
8
], and poor survival outcomes [
9
].
In this review we will discuss the biological function of TAM receptors and their ligands. We explore the deregulation of TAM receptors in the autoimmune diseases and in cancer. We provide a description of the pathways involved in the different diseases, the role of TAM receptor deregulation in disease therapy, and, finally, strategies that target TAM receptors.
2. Structure of TAM Receptors and Their Ligands
3. Biological Functions
Abnormal levels of TAM receptors are linked to several disease states. The loss of TAM receptor function results in autoimmune diseases, while increased TAM expression leads to chemo-resistance, metastasis, and high mortality in cancer patients. In this review we discuss both theses aspects, as they are two sides of the same coin.
4. TAM Receptors and Autoimmune Diseases
5. TAM Receptors and Cancer
Targeting TAM Receptors
As previously discussed, increased activity of TAM receptors, other than activating oncogenic signals, may lead to drug resistance, increase tumor progression and aggressiveness. In this regard, the development of therapy targeting this class of proteins may represent improvement in the treatment outcome of several types of cancer. The development of TAM inhibitors includes: (1) small molecule tyrosine kinase inhibitors, (2) antagonistic monoclonal antibodies, (3) TAM-fragment crystallizable region of antibody (Fc) soluble decoy receptors, and (4) aptamers. Although promising, each of the approaches has positive and negative points that must be considered.
6. Conclusions
TAM receptors and their ligands play an intricate role in tissue maintenance and development. TAM signaling is highly regulated. Loss of function is associated with disarray in homeostasis that leads to autoimmune diseases, while increased activity is associated with poor prognosis, resistance and metastasis in cancer patients. Inhibition of TAM signaling has shown promise in cancer treatment. TAM inhibitors can restore drug sensitivity, inhibit angiogenesis, reduce tumor growth, and inhibit tumor formation. The consequences of long-term inhibition of TAM signaling are unexplored in the light of disease development due to loss of function. Understanding the role of these receptors in diseases can aid in the development of more rational, therapeutic modalities. The development of targeted TAM therapies for the treatment of cancer without affecting other cells and tissue in which their role is crucial remains paramount.
Author Contributions
Conceptualization, M.W., J.D.P., and L.F.Z.; Resources, M.W., J.D.P., and L.F.Z.; Writing—original Draft preparation, M.W., J.D.P., and L.F.Z.; Writing—review and editing, M.W., J.D.P., and L.F.Z.; Visualization, M.W., J.D.P., and L.F.Z.; Supervision, L.F.Z. Funding acquisition, L.F.Z.
Funding
This research was funded by International Centre for Genetic Engineering and Technology (ICGEB).
Conflicts of Interest
The authors declare no conflict of interest.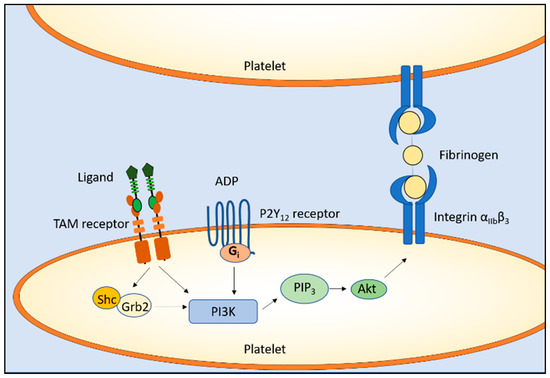 Figure 1. Function of Tyro3, Axl, and Mer (TAM) receptors in hemostasis. In platelets, the activation of TAM receptors and the adenosine diphosphate (ADP) receptor (P2Y12) leads to the phosphorylation of phosphoinositide 3 kinase (PI3K) and Akt, resulting in persistent activation of the fibrinogen receptor integrin αIIbβ3 and leading to thrombogenesis and platelet stabilization.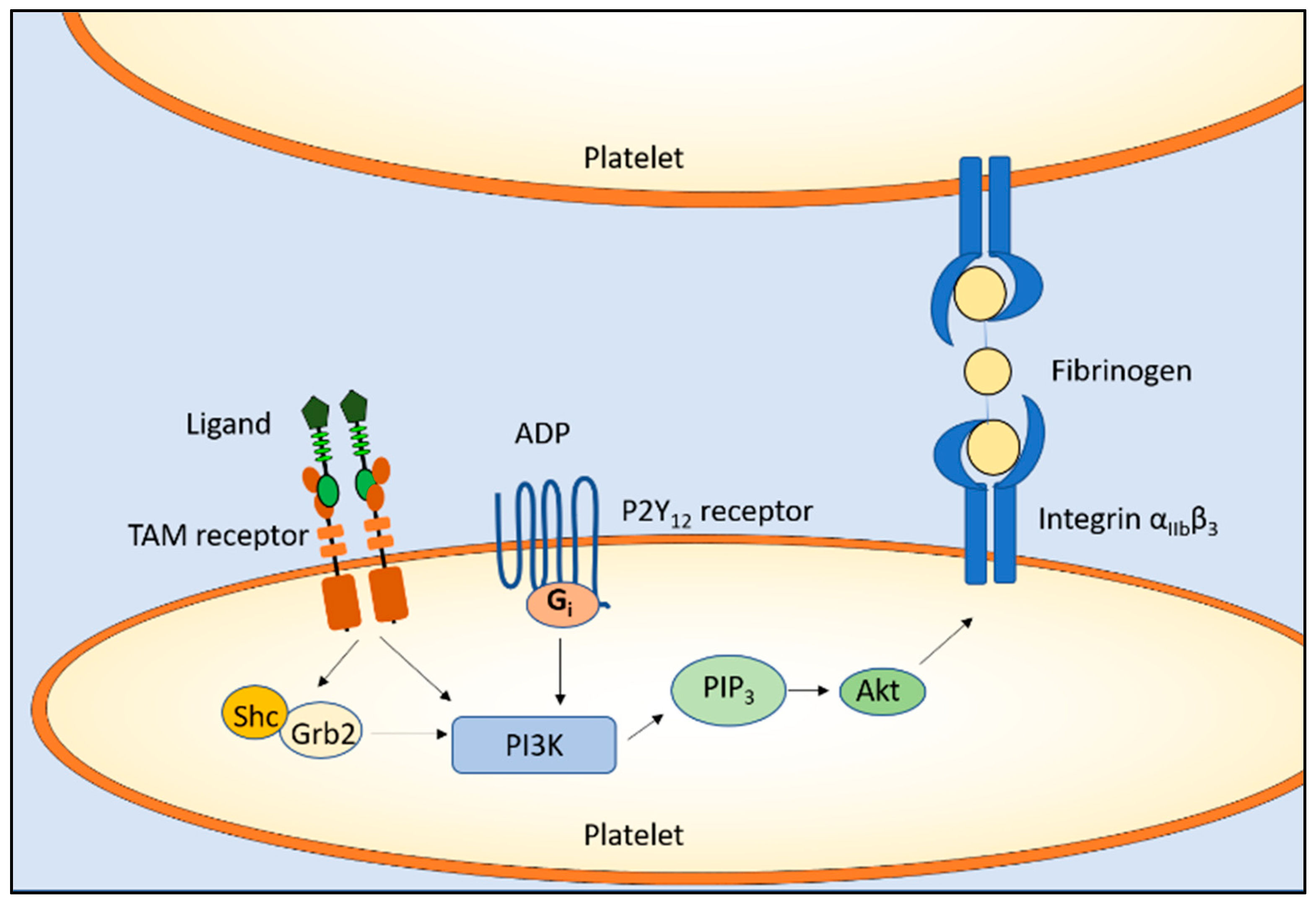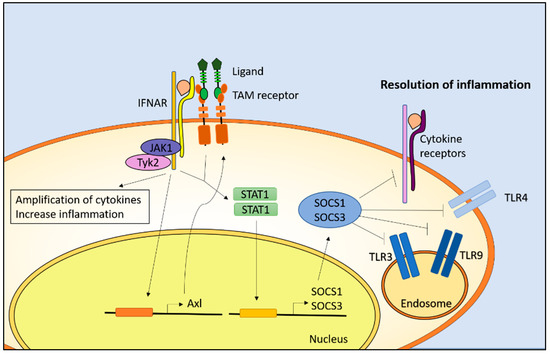 Figure 2.
Activation of TAM receptors in dendritic cells down regulate inflammation. Activation of the type I interferon receptor (IFNAR) leads to cytokine amplification, a subsequent increase in inflammation, and the upregulation of
Axl
transcription. The association of the TAM/ligand complex with IFNAR leads to the transcription of SOCS1 and SOCS3. SOCS1 and SOCS3 inhibit the TLR3, TLR4, and TLR9 pathways as well as cytokine receptors to resolve inflammation. TLR: toll-like receptor; JAK: Janus kinases; STAT: signal transducer and activator of transcription protein; SOCS: suppressor of cytokine signaling.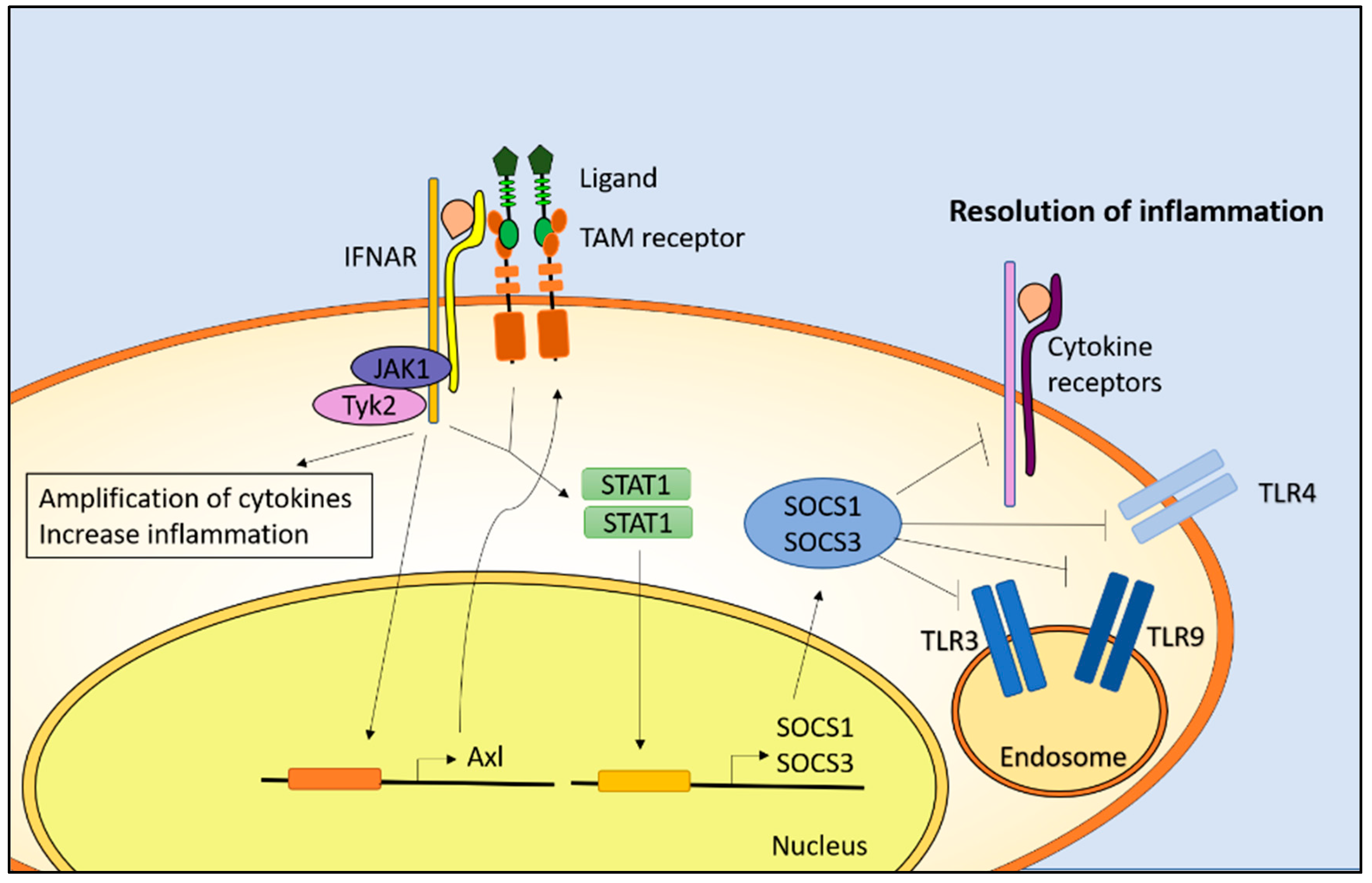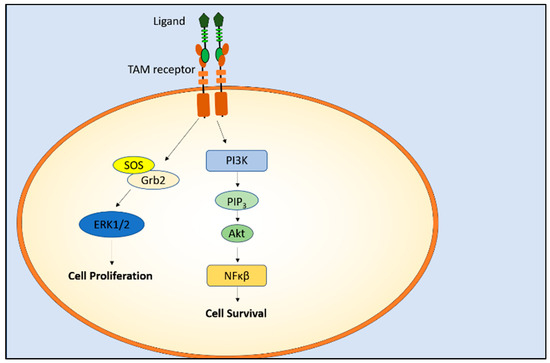 Figure 3. TAM receptor activation results in cell proliferation and survival that are essential for normal neural development. Activation of the PI3K/Akt/NF-κB pathway leads to cell survival, while the activation of SOS/ growth factor receptor-bound protein (Grb2) / extracellular-signal-regulated kinase (ERK) pathway leads to cell proliferation. NF-κB: nuclear factor κ-light-chain-enhancer of activated B cells.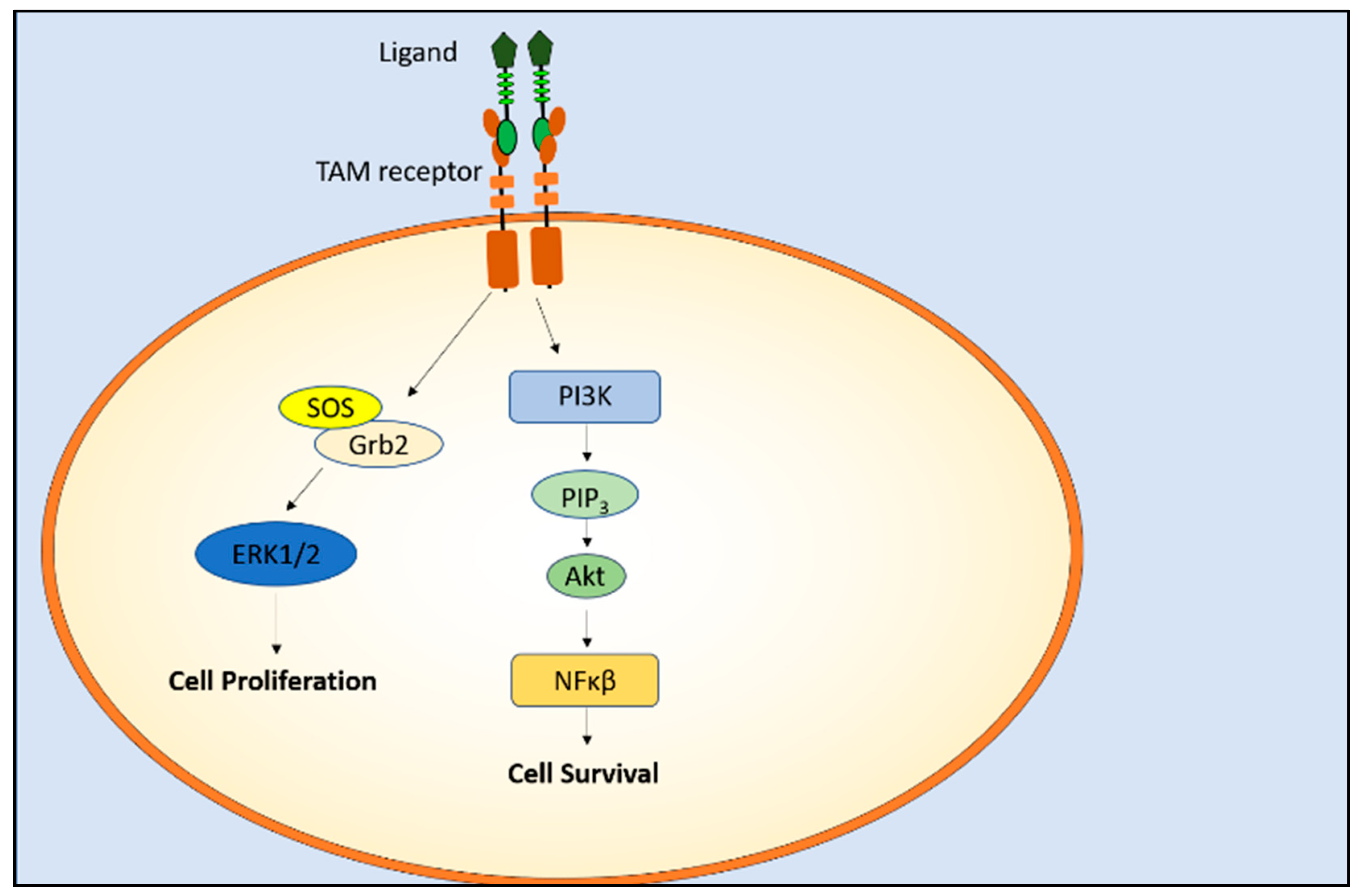 © 2018 by the authors. Licensee MDPI, Basel, Switzerland. This article is an open access article distributed under the terms and conditions of the Creative Commons Attribution (CC BY) license (http://creativecommons.org/licenses/by/4.0/).