Extracellular Vesicles and Matrix Remodeling Enzymes: The Emerging Roles in Extracellular Matrix Remodeling, Progression of Diseases and Tissue Repair
1
Department of Rheumatology and Inflammation Research, Sahlgresnka Academy, University of Gothenburg, Gothenburg 41346, Sweden
2
Department of Biochemistry and Molecular Biology, Monash University, Victoria 3800, Australia
3
Department of Pathology and Forensic Medicine, Ribeirao Preto School of Medicine, University of Sao Paulo, Ribeirao Preto 14049-900, Brazil
*
Author to whom correspondence should be addressed.
Received: 5 August 2018 / Revised: 17 September 2018 / Accepted: 12 October 2018 / Published: 13 October 2018
Abstract
Extracellular vesicles (EVs) are membrane enclosed micro- and nano-sized vesicles that are secreted from almost every species, ranging from prokaryotes to eukaryotes, and from almost every cell type studied so far. EVs contain repertoire of bioactive molecules such as proteins (including enzymes and transcriptional factors), lipids, carbohydrates and nucleic acids including DNA, coding and non-coding RNAs. The secreted EVs are taken up by neighboring cells where they release their content in recipient cells, or can sail through body fluids to reach distant organs. Since EVs transport bioactive cargo between cells, they have emerged as novel mediators of extra- and intercellular activities in local microenvironment and inter-organ communications distantly. Herein, we review the activities of EV-associated matrix-remodeling enzymes such as matrix metalloproteinases, heparanases, hyaluronidases, aggrecanases, and their regulators such as extracellular matrix metalloproteinase inducers and tissue inhibitors of metalloproteinases as novel means of matrix remodeling in physiological and pathological conditions. We discuss how such EVs act as novel mediators of extracellular matrix degradation to prepare a permissive environment for various pathological conditions such as cancer, cardiovascular diseases, arthritis and metabolic diseases. Additionally, the roles of EV-mediated matrix remodeling in tissue repair and their potential applications as organ therapies have been reviewed. Collectively, this knowledge could benefit the development of new approaches for tissue engineering.
View Full-Text
►

▼

Figures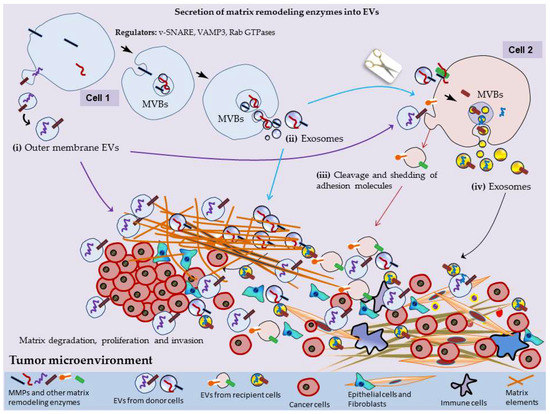 Figure 1
This is an open access article distributed under the
Creative Commons Attribution License
which permits unrestricted use, distribution, and reproduction in any medium, provided the original work is properly cited (CC BY 4.0).

Share & Cite This Article
MDPI and ACS Style
Nawaz, M.; Shah, N.; Zanetti, B.R.; Maugeri, M.; Silvestre, R.N.; Fatima, F.; Neder, L.; Valadi, H. Extracellular Vesicles and Matrix Remodeling Enzymes: The Emerging Roles in Extracellular Matrix Remodeling, Progression of Diseases and Tissue Repair. Cells 2018, 7, 167.
Note that from the first issue of 2016, MDPI journals use article numbers instead of page numbers. See further details here.
Related Articles
Comments
[Return to top]