Estimating Crop Transpiration of Soybean under Different Irrigation Treatments Using Thermal Infrared Remote Sensing Imagery
1
Center for Agricultural Water Research in China, China Agricultural University, Beijing 100083, China
2
CSIRO Land and Water Flagship, Canberra ACT 2601, Australia
*
Author to whom correspondence should be addressed.
Received: 17 October 2018 / Revised: 19 December 2018 / Accepted: 21 December 2018 / Published: 26 December 2018
Abstract
Temporal and spatial resolution of satellite images are coarse and cannot provide the real-time, meter-scale resolution monitoring required in many applications, such as precision agriculture. Since high resolution thermal infrared data provide one means to observe canopy temperature variance, we developed an algorithm (three-temperature model, 3T) to estimate transpiration rate at meter-scale pixels and detected transpiration variation for soybean under different upper irrigation limits: No irrigation, 35% of field capacity (FC), 55% of FC, and 75% of FC, denoted as W
0
, W
1
, W
2
, and W
3
, respectively. The spatial patterns of the transpiration rate indicated that heterogeneity is common in farmland. Transpiration rates in the wet treatment (i.e., W
3
) were consistently higher than that in the dry treatment (i.e., W
0
). Transpiration rates reached peak values at around 12:30–14:30 and most of values showed that W
3
> W
2
> W
1
> W
0
, with 0.91 mm/h, 0.89 mm/h, 0.79 mm/h, and 0.62 mm/h during the reproductive period, respectively. In general, the transpiration rate of soybean increased with increasing irrigation quantities. With a higher irrigation total, soil water content increased gradually, and then the transpiration rate increased. Although land surface temperature decreased by only 8.57 K (Kelvin), 6.33 K, and 5.47 K, respectively, the transpiration rate increased by 78%, 60%, and 40%, respectively, for the W
3
, W
2
, and W
1
treatment compared with the W
0
treatment. The magnitude of transpiration change is greater than that of canopy temperature, but both parameters are strongly interrelated with each other through a non-linear correlation. Heterogeneity of canopy leaf temperature and transpiration is mainly due to physical and biological interactions. Understanding transpiration rate and canopy temperature heterogeneity under different irrigation treatments can not only help in scheduling irrigation, but also in enhancing water utilization efficiency in irrigated agriculture. The real-time monitoring of crop transpiration at meter-scale is of great importance for large irrigation systems, especially for precision irrigation, and will have great application prospects in the near future.
View Full-Text
►

▼

Figures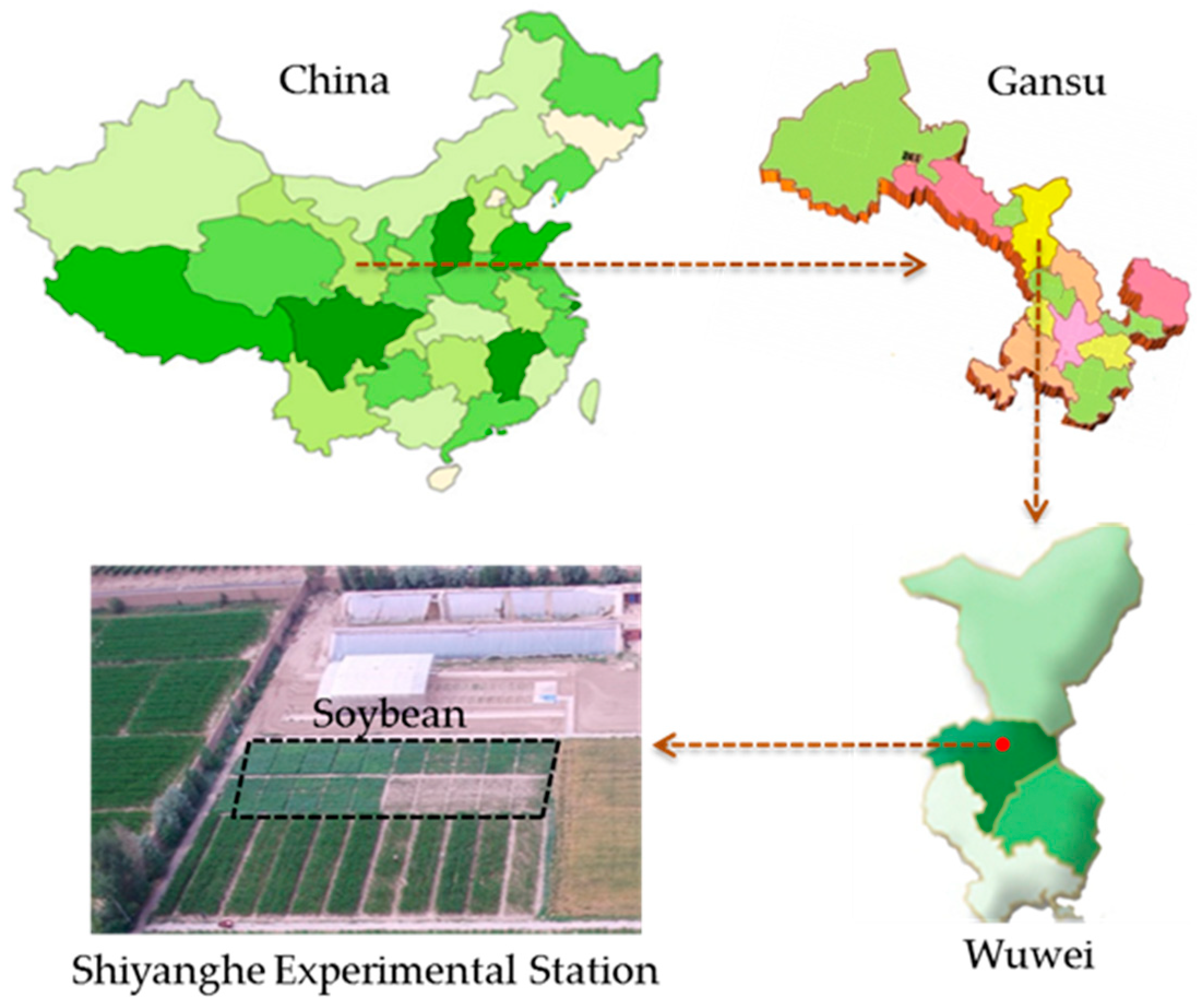 Figure 1
This is an open access article distributed under the
Creative Commons Attribution License
which permits unrestricted use, distribution, and reproduction in any medium, provided the original work is properly cited (CC BY 4.0).

Share & Cite This Article
MDPI and ACS Style
Hou, M.; Tian, F.; Zhang, L.; Li, S.; Du, T.; Huang, M.; Yuan, Y. Estimating Crop Transpiration of Soybean under Different Irrigation Treatments Using Thermal Infrared Remote Sensing Imagery. Agronomy 2019, 9, 8.
Note that from the first issue of 2016, MDPI journals use article numbers instead of page numbers. See further details here.
Related Articles
Comments
[Return to top]