Open Access This article is
freely available
re-usable
Review
The Impact of Genetic Changes during Crop Domestication
1
Department of Botany, Palacky University, 783 01 Olomouc, Czechia
2
Natural Capital and Plant Health, Royal Botanic Gardens Kew, Wakehurst Place, Ardingly,West Sussex RH17 6TN, UK
3
UWA Institute of Agriculture and School of Agriculture and Environment, The University of Western Australia, Perth, WA 6009, Australia
4
CSIRO Agriculture and Food, Wembley, WA 6913, Australia
5
Department of Plant and Soil Science, University of Vermont, Burlington, VT 05405, USA
*
Author to whom correspondence should be addressed.
Received: 11 June 2018 / Accepted: 12 July 2018 / Published: 14 July 2018
Abstract
:
Humans have domesticated hundreds of plant and animal species as sources of food, fiber, forage, and tools over the past 12,000 years, with manifold effects on both human society and the genetic structure of the domesticated species. The outcomes of crop domestication were shaped by selection driven by human preferences, cultivation practices, and agricultural environments, as well as other population genetic processes flowing from the ensuing reduction in effective population size. It is obvious that any selection imposes a reduction of diversity, favoring preferred genotypes, such as nonshattering seeds or increased palatability. Furthermore, agricultural practices greatly reduced effective population sizes of crops, allowing genetic drift to alter genotype frequencies. Current advances in molecular technologies, particularly of genome sequencing, provide evidence of human selection acting on numerous loci during and after crop domestication. Population-level molecular analyses also enable us to clarify the demographic histories of the domestication process itself, which, together with expanded archaeological studies, can illuminate the origins of crops. Domesticated plant species are found in 160 taxonomic families. Approximately 2500 species have undergone some degree of domestication, and 250 species are considered to be fully domesticated. The evolutionary trajectory from wild to crop species is a complex process. Archaeological records suggest that there was a period of predomestication cultivation while humans first began the deliberate planting of wild stands that had favorable traits. Later, crops likely diversified as they were grown in new areas, sometimes beyond the climatic niche of their wild relatives. However, the speed and level of human intentionality during domestication remains a topic of active discussion. These processes led to the so-called domestication syndrome, that is, a group of traits that can arise through human preferences for ease of harvest and growth advantages under human propagation. These traits included reduced dispersal ability of seeds and fruits, changes to plant structure, and changes to plant defensive characteristics and palatability. Domestication implies the action of selective sweeps on standing genetic variation, as well as new genetic variation introduced via mutation or introgression. Furthermore, genetic bottlenecks during domestication or during founding events as crops moved away from their centers of origin may have further altered gene pools. To date, a few hundred genes and loci have been identified by classical genetic and association mapping as targets of domestication and postdomestication divergence. However, only a few of these have been characterized, and for even fewer is the role of the wild-type allele in natural populations understood. After domestication, only favorable haplotypes are retained around selected genes, which creates a genetic valley with extremely low genetic diversity. These "selective sweeps" can allow mildly deleterious alleles to come to fixation and may create a genetic load in the cultivated gene pool. Although the population-wide genomic consequences of domestication offer several predictions for levels of the genetic diversity in crops, our understanding of how this diversity corresponds to nutritional aspects of crops is not well understood. Many studies have found that modern cultivars have lower levels of key micronutrients and vitamins. We suspect that selection for palatability and increased yield at domestication and during postdomestication divergence exacerbated the low nutrient levels of many crops, although relatively little work has examined this question. Lack of diversity in modern germplasm may further limit our capacity to breed for higher nutrient levels, although little effort has gone into this beyond a handful of staple crops. This is an area where an understanding of domestication across many crop taxa may provide the necessary insight for breeding more nutritious crops in a rapidly changing world.
Keywords:
domestication; crops; crop wild relatives; genetic diversity
1. Introduction
Humans have domesticated hundreds of plant and animal species as sources of food, fiber, forage, and tools over the past 12,000 years [
1
], with manifold effects on both human society and the genetic structure of the domesticated species. The history of agriculture can be viewed as a series of key events: the Neolithic Revolution, the Columbian Exchange, the Industrial Revolution, the Green Revolution, and subsequent genomic revolutions. Each of these had positive effects, but they have also come at a cost, such as the substantial reduction in agricultural biodiversity [
2
]. For example, the landfall of the European explorer Christopher Columbus in the Americas (1492) triggered the largest exchange of agricultural biodiversity in history, or the Green Revolution that resulted in the reduction of crop diversity in favor of a high yielding major cereal crops typically grown in monocultures.
The process of crop domestication is driven by human selection, cultivation practices, and agricultural environments. Any selection imposes the reduction of diversity in genomic regions controlling desirable traits, such as nonshattering seeds or increased palatability. Furthermore, agricultural practices greatly reduced effective population sizes of crops, allowing genetic drift to alter genotype frequencies, including the random loss of alleles [
3
,
4
,
5
]. Current advances in molecular technologies, particularly of genome sequencing, provide evidence of human selection acting on numerous loci during and after crop domestication [
6
]. Population-level molecular analyses also enable us to clarify the demographic histories of the domestication process itself, which, together with expanded archaeological studies, can illuminate the origins of crops [
7
].
1.1. Domesticated Crops Are a Subset of World Plant Diversity
It is estimated that on the earth, there are between 370,000 and 500,000 species of higher plants, of which approximately 369,000 have been described [
8
]. Many species are still unknown to science, while perhaps a third is at risk of extinction [
9
]. At present, the Angiosperm Phylogeny Group [
10
] recognizes 462 families of flowering plants (angiosperms).
Family
Number of Species

Asteraceae

(

daisies

)
32,581

Orchidaceae

(

orchids

)
28,237

Fabaceae

(

legumes

)
20,856

Rubiaceae

(

coffees

)
13,686

Poaceae

(

grasses

)
11,430
The largest families of gymnosperms (12 families, ~1110 species, conifers, cycads) are the
Zamiaceae
(a group of cycads containing 232 species) and
Pinaceae
(pines, containing 231 species).
Given that most plant species living today are likely to have existed for millions of years, our human ancestors would have known and used many of them for tens to hundreds of thousands of years. However, our present knowledge of domesticated plants largely reflects our experience of a relatively small number of living domesticates adapted to recent, Holocene environments. The number of plant species used for food by preagricultural human societies is estimated to be around 7000, of which only a tiny fraction were domesticated [
11
]. Although archaeological evidence indicates the beginning of agriculture from the late Pleistocene and early Holocene onward, human interactions with plants that are now domesticated are likely to have started much earlier [
12
], establishing traditions and archetypic views of plants that remain today. Although human dietary habits are rather plastic [
13
], most people in each society follow established food traditions, making adjustments only when necessary. Classical examples are potato and tomato, introduced to Europe in the 1500s, both met with suspicion and regarded as poisonous due to their relationship to the deadly Old World relatives (
Atropa
,
Hyoscyamus
sp.). They were first cultivated as ornamental curiosities in Europe for nearly three centuries before ultimately finding acceptance as important foods. Our ability to organize information and recognize archetypes is linked to the physiological reward system that gives us pleasure when finding something for which we have been consciously searching. Levitin [
14
] proposed that the human brain has been configured to acquire information about the biological world, and that we have an innate passion for naming and categorizing plants.
Domesticated plant species are found in more than 160 taxonomic families [
1
]. The most important of these are
Poaceae
,
Fabaceae
, and
Brassicaceae
. Approximately 2500 species have undergone some degree of domestication, but only 250 are considered to be fully domesticated [
1
]. Many of these have only minor use in particular regions or on specific occasions. Instead, humanity relies on a small collection of crop plants for the majority of our dietary intake. Indeed, <20 plant species together provide about 95% of the world's calorie intake. These include bananas/plantains, beans, cassava, maize, millet, potatoes, rice, sorghum, soybean, sugar cane, sweet potatoes, wheat, and legumes such as lentil, pea, and chickpea [
15
]. This concentration on a few food species is a key element of the vulnerability of the world food supply to the impact of climate change and the outbreak of major new plant diseases and pests. With so few species grown as staples, there is greater potential for epidemic outbreaks of disease and pests.
1.2. Centers of Crop Origin and Domestication Speed
Biological diversity is not evenly distributed either geographically or biologically. The hypothesis that crop plants were domesticated in the centers of respective species diversity was initially proposed by Alfonse de Candolle [
16
] and refined and expanded by Nikolai I. Vavilov [
17
]. Biologically, genetic diversity is distributed over primary, secondary, and tertiary gene pools [
18
], defined by their hybridization compatibility, and therefore not equally accessible to domesticated crops. Finally, within a genome, genetic diversity is also unequally distributed along chromosomes and is positively correlated with the level of recombination [
19
].
Recently there has been considerable debate on domestication as a centric/punctuated process in the cradle of agriculture [
20
,
21
,
22
] versus multiple origins over protracted time periods [
23
,
24
,
25
]. Indeed, domesticated crops could have single or multiple origins, linear or reticulate descent from an ancestral population(s), with gene flow within and between wild and domesticated populations throughout the evolution of the crop. There appears to be evidence for all these possibilities among our domesticated crops. Chickpea is thought to have a monophyletic origin, given the narrow distribution of its wild progenitor [
26
] and the limited genetic diversity of the cultigen [
7
,
27
]. Domesticated barley (
Hordeum vulgare
) [
28
,
29
] and emmer wheat (
Triticum turgidum L
) [
23
] have more polyphyletic tendencies. Both show traces of mosaic eastern and western ancestral origins from opposite ends of the Near Eastern Fertile Crescent. While these regions clearly lie outside a discretely defined core area [
21
], they do occur within "interacting socio-cultural spheres" [
22
], making it difficult to be certain about their independent, polyphyletic origin. Apple (
Malus domestica
) was domesticated 4000–10,000 ybp from
M. sieversi
in the Central Asian Tian Shan mountains and moved to Europe along the Silk Road, hybridizing bidirectionally with wild relatives (
M. orientalis
,
M. sylvestris
) at different time points on route [
30
]. Apple has a self-incompatibility mechanism that ensures outbreeding, facilitating these domestic–wild interactions [
30
]. Finally, domesticated rice (
Oryza sativa
L.) has the strongest evidence for polyphyletic origins, with independent, spatially separate domestication in China (
japonica
gene pool), Indochina to Brahmaputra valley (
indica
gene pool), and central India to Bangladesh (
aus
gene pool) [
31
,
32
]. Subsequently, there was geneflow between each of these genepools, which may [
32
] or may not [
33
] be responsible for the introgression of domestication syndrome traits from the
japonica
to the
indica
pool.
There have been numerous attempts to determine the speed of the domestication process. Multiple methods have been used to ask this question, including forward-in-time simulations [
34
], coalescent simulations [
35
], and selection experiments [
36
]. Nevertheless, clarifying the intricate and conflicted record remains challenging. Although empirical studies indicate that selection might be rapid, the archaeological evidence indicates a slower process over millennia. Because the historical record is fragmented and incomplete, archaeological evidence provides a porous lower boundary on how and where early domestication may have started (approximately 10–12 thousand years ago). Finally, there is a long standing discussion on the relative roles of conscious (intentional selection for a trait) or unconscious selection (selection that occurs as a by-product of farming systems) [
20
,
37
]. These are open questions that are being addressed at a range of biological scales as discussed below.
1.3. Domestication Has Left Signatures Both on Morphological as well as Molecular Levels
1.4. Plant Genomes: Crop Plants and Their Relatives
While much is being learnt from the study of crop genomes, studying the genomes of CWR is critically important. Wild populations are much older and more diverse than domesticated crops, having undergone millennia of recombination, genetic drift, and natural selection. The contrast of wild and domestic genomes will highlight those genomic changes associated with domestication. A deeper understanding of CWR population genomics will enable us to distinguish between that diversity that has arisen as a result of demography and location as a result of isolation by distance (IBD) against that diversity which arises by selection through isolation by environment (IBE). This understanding will facilitate the introgression of adaptive diversity, rather than diversity for its own sake, providing breeders with new tools for crop improvement through drought-, insect-, and disease-resistant varieties.
1.5. Reduced Genetic Diversity of Crops
The diversity with domesticated crop species and their wild relatives is exploited in crop production and breeding. Diversity of alleles for traits of importance in agriculture is the key to selection for genetic improvement in crops. This diversity is stored in germplasm collections worldwide. However, much of the material in seed banks remains poorly characterized, making it difficult to utilize in crop improvement.
1.6. The Eco-Evolutionary Impacts of Domestication and Agricultural Practices
Agriculture has replaced the majority of earth's grasslands, savannahs, and a large proportion of forests and is responsible for 30–35% of global carbon emissions, 70% of global freshwater withdrawals, and a 500% increase in global fertilizer use over the past 50 years [
115
]. One of the most important drivers of rapid evolution is the homogenization of agricultural habitats and the high density of domesticated species in order to maximize production. Agricultural practices have been used for millennia and have generated strong selection both on crops as well as wild organisms. For instance, weed species have evolved to morphologically mimic crops and, in this way, evade eradication by practices such as hand-weeding or seed sorting and cleaning [
116
]. Similarly, despite limited study, it is clear that crop domestication has had large impacts on herbivorous insect communities and on natural enemies of herbivores, such as parasitoids [
117
]. Evolution of wild species in response to agricultural practices can both directly and indirectly impact the provision of multiple ecosystem services, such as rapid evolution in pests, pathogens, and weeds causing stark declines in crop production [
118
].
1.7. Ecophysiological and Nutritional Aspects
2. The Future of Crop Domestication
Increasing demands for high-quality food from a growing, increasingly affluent global population coupled with climate change and a shrinking resource base (arable land, N, P, etc.) create the perfect storm for society, where agriculture is being asked to produce more from less. To meet this challenge, agriculture must deploy all the tools at its disposal. In the context of crop improvement, this means identifying and exploiting all the useful genetic diversity available in our crop genepools (e.g., introgression/redomestication from CWR), as well as widening our vision to domesticate new crops.
3. Concluding Remarks
Although we work at a time when we have powerful new tools to dissect plant genomes and to identify microbial partners of plants, we also work at a time of great challenges for the conservation of natural areas and the flora and fauna that call them home [
142
,
174
]. Despite a growing number of efforts [
142
,
174
,
175
], most crop wild relatives are poorly represented in ex situ germplasm collections and rarely if ever receive formal protection in the wild [
142
,
176
]. This lack of protection hinders their use and their long-term value to breeding efforts and to the food security of humanity and must remain one of our leading conservation priorities. To protect our staple crops and to develop other crops, we must preserve the genetic potential needed to aid in the adaptation of crops to a rapidly evolving growth environment.
Author Contributions
P.S., M.N.N., J.D.B. and E.J.B.v.W. wrote the manuscript.
Funding
This research was funded by Vermont State Agricultural Experimental Station, grant number (US NSF-PGRP 1339346) and by Russian Scientific Fund, grant number (18-46-08001) to EvW. PS research was funded by the Grant Agency of the Czech Republic, grant number (16-21053S) and Palacky University Grant Agency, grant number (IGA 2018_001). JB research was funded by the CSIRO and the Grains Research and Development Corporation (GRDC).
Acknowledgments
We thank Chris Krieg for helpful comments and Emily Warschefsky for useful discussion.
Conflicts of Interest
The authors declare no conflicts of interest.
Figure 1.
Two African legume species that are predominantly wild-harvested and merit full domestication. The upper panel shows a village elder in Burkina Faso holding
Parkia biglobosa
pods. The highly nutritious seeds and pod pulp are used in a range of traditional foods and medicines (photo by Andy McRobb, Royal Botanic Gardens, Kew). The lower panel shows two contrasting genotypes of
Tylosema esculentum
in the experimental fields of the Botswana University of Agriculture and Natural Resources in Gaborone, Botswana (photo by Efisio Mattana, Royal Botanic Gardens, Kew).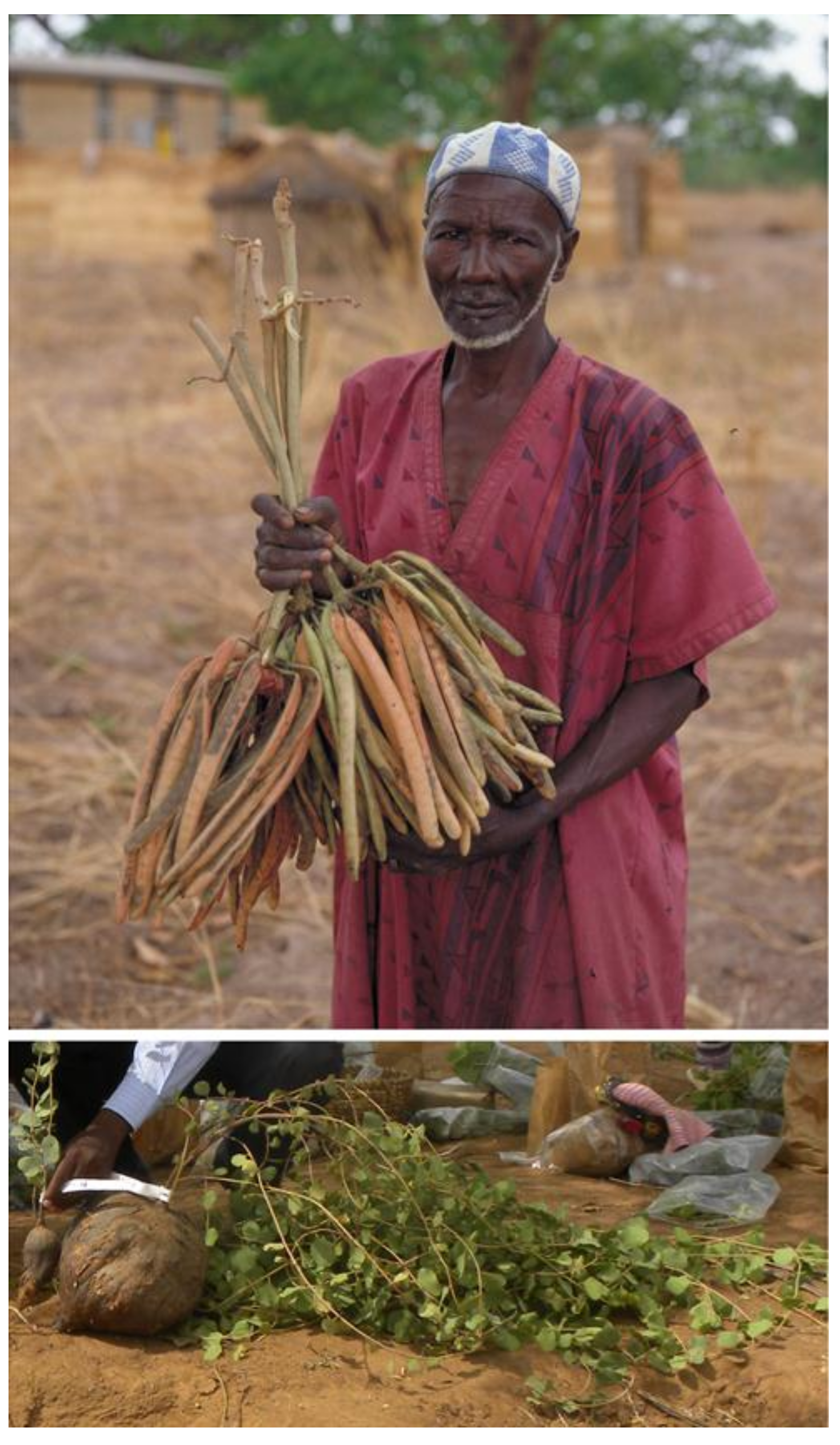 © 2018 by the authors. Licensee MDPI, Basel, Switzerland. This article is an open access article distributed under the terms and conditions of the Creative Commons Attribution (CC BY) license (http://creativecommons.org/licenses/by/4.0/).