Geographic and Research Center Origins of Rice Resistance to Asian Planthoppers and Leafhoppers: Implications for Rice Breeding and Gene Deployment
1
School of Life Sciences, University of Technology Sydney, 15 Broadway, Ultimo, Sydney, NSW 2007, Australia
2
Centre for Plant Molecular Biology and Biotechnology, Tamil Nadu Agricultural University, Coimbatore, TN 641 003, India
3
International Rice Research Institute, DAPO Box 7777, 1301 Metro Manila, Philippines
4
Directorate of Rice Research, Rajendrangar, Hyderabad, AP 500 030, India
5
Pioneer Hi-Bred Private Limited, 3rd Floor Babukhan's Millennium Centre, 6-3-1099/1100, Raj Bhavan Road, Somajiguda, Hyderabad, AP 500 082, India
6
Andhra Pradesh Rice Research Institute and Regional Agricultural Research Station, Maruteru, AP 534 122, India
7
Plant Breeding and Genetics Department, Punjab Agricultural University, Ludhiana, PB 141 004, India
8
Southern Regional Plant Protection Centre, Ling Dinh 860000, Vietnam
9
School of Environmental Science and Management, University of the Philippines, Los Baños, 4030 Laguna, Philippines
10
Laboratory of Entomology, Wageningen University and Research Centre, P.O. Box 8013, 6700 EH Wageningen, The Netherlands
11
Chiayi Agricultural Experiment Station, Taiwan Agricultural Research Institute, No. 2, Minquan Rd., Chiayi 60044, Taiwan
*
Author to whom correspondence should be addressed.
†
Current address: Center for Climate Change Studies, Sathyabama University, Chennai, TN 600 119, India.
‡
Current address: East-West Seed, Km 54 Cagayan Valley Road, San Rafael, 3008 Bulacan, Philippines.
Academic Editor: Michael J. Stout
Received: 22 August 2017 / Revised: 18 September 2017 / Accepted: 18 September 2017 / Published: 21 September 2017
Abstract
This study examines aspects of virulence to resistant rice varieties among planthoppers and leafhoppers. Using a series of resistant varieties, brown planthopper,
Nilaparvata lugens
, virulence was assessed in seedlings and early-tillering plants at seven research centers in South and East Asia. Virulence of the whitebacked planthopper,
Sogatella furcifera
, in Taiwan and the Philippines was also assessed. Phylogenetic analysis of the varieties using single-nucleotide polymorphisms (SNPs) indicated a clade of highly resistant varieties from South Asia with two further South Asian clades of moderate resistance. Greenhouse bioassays indicated that planthoppers can develop virulence against multiple resistance genes including genes introgressed from wild rice species.
Nilaparvata lugens
populations from Punjab (India) and the Mekong Delta (Vietnam) were highly virulent to a range of key resistance donors irrespective of variety origin.
Sogatella furcifera
populations were less virulent to donors than
N. lugens
; however, several genes for resistance to
S. furcifera
are now ineffective in East Asia. A clade of International Rice Research Institute (IRRI)-bred varieties and breeding lines, without identified leafhopper-resistance genes, were highly resistant to the green leafhopper,
Nephotettix virescens
. Routine phenotyping during breeding programs likely maintains high levels of quantitative resistance to leafhoppers. We discuss these results in the light of breeding and deploying resistant rice in Asia.
View Full-Text
►

▼

Figures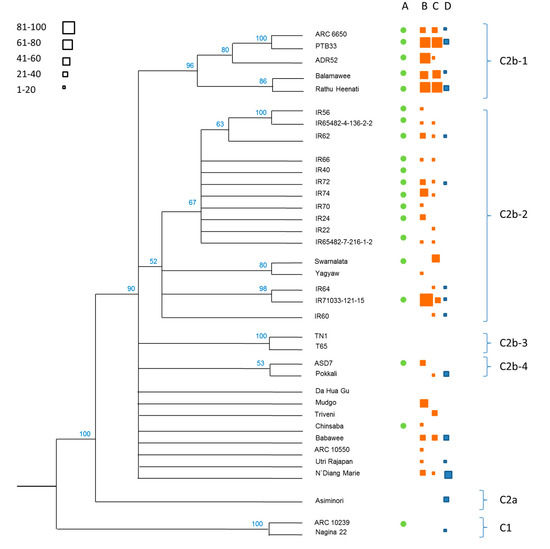 Figure 1
This is an open access article distributed under the
Creative Commons Attribution License
which permits unrestricted use, distribution, and reproduction in any medium, provided the original work is properly cited (CC BY 4.0).

Share & Cite This Article
MDPI and ACS Style
Horgan, F.G.; Srinivasan, T.S.; Bentur, J.S.; Kumar, R.; Bhanu, K.V.; Sarao, P.S.; Chien, H.V.; Almazan, M.L.P.; Bernal, C.C.; Ramal, A.F.; Ferrater, J.B.; Huang, S.-H. Geographic and Research Center Origins of Rice Resistance to Asian Planthoppers and Leafhoppers: Implications for Rice Breeding and Gene Deployment. Agronomy 2017, 7, 62.
Note that from the first issue of 2016, MDPI journals use article numbers instead of page numbers. See further details here.
Related Articles
Comments
[Return to top]