Dry Reforming of Methane over NiLa-Based Catalysts: Influence of Synthesis Method and Ba Addition on Catalytic Properties and Stability
1
Instituto de Química, Universidade Federal da Bahia, Rua Barão de Jeremoabo, 147, Ondina, CEP: 40170-115 Salvador, BA, Brasil
2
Laboratory of Catalysis and Catalytic Process, Dipartimento di Energia, Politecnico di Milano, via La Masa 34, 20156 Milano, Italy
3
Laboratório Nacional de Luz Síncrotron—LNLS, 13083-100 Campinas (SP), Brasil
*
Author to whom correspondence should be addressed.
Received: 5 March 2019 / Revised: 25 March 2019 / Accepted: 25 March 2019 / Published: 30 March 2019
Abstract
CO
2
reforming of CH
4
to produce CO and H
2
is a traditional challenge in catalysis. This area is still very active because of the potentials offered by the combined utilization of two green-house gases. The development of active, stable, and economical catalysts remains a key factor for the exploitation of natural gas (NG) with captured CO
2
and biogas to produce chemicals or fuels via syngas. The major issue associated with the dry reforming process is catalyst deactivation by carbon deposition. The development of suitable catalyst formulations is one strategy for the mitigation of coking which becomes especially demanding when noble metal-free catalysts are targeted. In this work NiLa-based catalyst obtained from perovskite precursors La
1−x
Ba
x
NiO
3
(x = 0.0; 0.05; 0.1 and 0.2) and NiO/La
2
O
3
were synthesized, characterized by in situ and operando XRD and tested in the dry reforming of methane. The characterization results showed that the addition of barium promoted BaCO
3
segregation and changes in the catalyst structure. This partly affected the activity; however, the incorporation of Ba improved the catalyst resistance to deactivation process. The Ba-containing and Ba-free NiLa-based catalysts performed significantly better than NiO/La
2
O
3
catalysts obtained by wet impregnation.
View Full-Text
►

▼

Figures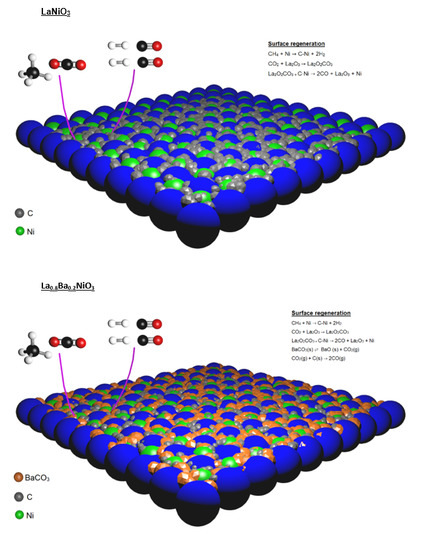 Graphical abstract
This is an open access article distributed under the
Creative Commons Attribution License
which permits unrestricted use, distribution, and reproduction in any medium, provided the original work is properly cited (CC BY 4.0).

Share & Cite This Article
MDPI and ACS Style
Gomes, R.; Costa, D.; Junior, R.; Santos, M.; Rodella, C.; Fréty, R.; Beretta, A.; Brandão, S. Dry Reforming of Methane over NiLa-Based Catalysts: Influence of Synthesis Method and Ba Addition on Catalytic Properties and Stability. Catalysts 2019, 9, 313.
Note that from the first issue of 2016, MDPI journals use article numbers instead of page numbers. See further details here.
Related Articles
Comments
[Return to top]