Tin(IV)-Porphyrin Tetracarbonyl Cobaltate: An Efficient Catalyst for the Carbonylation of Epoxides
1
Department of Chemistry and Research Institute of Physics and Chemistry, Chonbuk National University, Jeonju 54896, Korea
2
Center for Catalytic Hydrocarbon Functionalizations, Institute for Basic Science, Daejeon 34141, Korea
3
Department of Chemistry, Chonnam National University, Gwangju 61186, Korea
4
Department of Chemistry Education, Chungbuk National University, Cheongju 28644, Korea
*
Authors to whom correspondence should be addressed.
Received: 4 March 2019 / Revised: 23 March 2019 / Accepted: 27 March 2019 / Published: 29 March 2019
Abstract
Cationic tin(IV) porphyrins with tetracarbonyl cobaltates were synthesized, exhibiting bifunctional catalytic reactivity. The Lewis acidic tin-porphyrin center activated epoxides; concurrently, cobalt carbonyl anions efficiently opened epoxides and delivered carbonyl moieties. Thus, a series of β-lactones with a high synthetic value were obtained. This catalytic system showed excellent efficiency exceeding a turnover number of one thousand with a broad substrate scope. In addition, the presented tin porphyrin-based catalyst exhibited exclusive chemoselectivity to terminal epoxides over internal ones. The selective carbonylation of di-epoxides demonstrated the usefulness of these catalysts in the synthesis of complex molecular structures.
View Full-Text
►

▼

Figures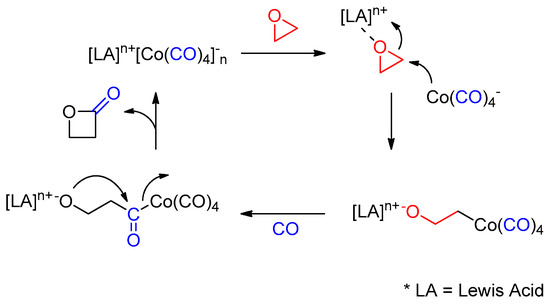 Scheme 1
This is an open access article distributed under the
Creative Commons Attribution License
which permits unrestricted use, distribution, and reproduction in any medium, provided the original work is properly cited (CC BY 4.0).

Share & Cite This Article
MDPI and ACS Style
Baral, E.R.; Kim, D.; Lee, S.; Park, M.H.; Kim, J.G. Tin(IV)-Porphyrin Tetracarbonyl Cobaltate: An Efficient Catalyst for the Carbonylation of Epoxides. Catalysts 2019, 9, 311.
Note that from the first issue of 2016, MDPI journals use article numbers instead of page numbers. See further details here.
Related Articles
Comments
[Return to top]