The Impact of Synthesis Method on the Properties and CO2 Sorption Capacity of UiO-66(Ce)
1
Division of Chemistry and Technology of Fuels, Wroclaw University of Technology, Gdanska 7/9, 50-344 Wroclaw, Poland
2
Department of Chemistry, Wroclaw University of Environmental and Life Sciences, 50-375 Wrocław, Poland
3
Laboratorio de Materiales Avanzados, Departamento de Quimica Inorganica, Universidad de Alicante, Ctra. San Vicente-Alicante s/n, E-03690 Alicante, Spain
4
Institute of Low Temperature and Structure Research, Polish Academy of Sciences, Okólna 2, 50-422 Wrocław, Poland
5
Centre of Polymer and Carbon Materials, Polish Academy of Sciences, M. Curie-Sklodowskiej 34, 41-819 Zabrze, Poland
*
Author to whom correspondence should be addressed.
Received: 28 February 2019 / Revised: 24 March 2019 / Accepted: 26 March 2019 / Published: 29 March 2019
Abstract
A series of cerium-based UiO-66 was obtained via hydrothermal and sonochemical methods, using the same quantities of reagents (cerium ammonium nitrate (CAN), terephthalic acid (H
2
BDC)) and solvents) in each synthesis. The impact of synthesis method and metal to linker ratio on the structural and textural properties of obtained UiO-66(Ce), as well as their composition in terms of Ce
4+
/Ce
3+
ratio, structure defects resulting from missing linker, and CO
2
adsorption capacity was discussed. By using typical characterization techniques and methods, such as XRD, N
2
and CO
2
sorption, TGA, XPS, and SEM, it was shown that the agitation of reacting mixture during synthesis (caused by stirring or ultrasounds) allows to obtain structures that have more developed surfaces and fewer linker defects than when MOF was obtained in static conditions. The specific surface area was found to be of minor importance in the context of CO
2
adsorption than the contribution of Ce
3+
ions that were associated with the concentration of linker defects.
View Full-Text
►

▼

Figures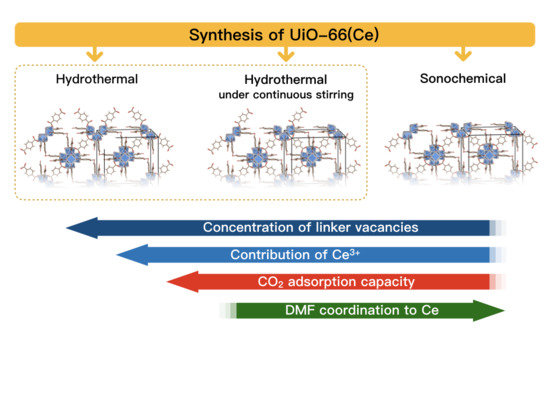 Graphical abstract
This is an open access article distributed under the
Creative Commons Attribution License
which permits unrestricted use, distribution, and reproduction in any medium, provided the original work is properly cited (CC BY 4.0).

Share & Cite This Article
MDPI and ACS Style
Stawowy, M.; Róziewicz, M.; Szczepańska, E.; Silvestre-Albero, J.; Zawadzki, M.; Musioł, M.; Łuzny, R.; Kaczmarczyk, J.; Trawczyński, J.; Łamacz, A. The Impact of Synthesis Method on the Properties and CO2 Sorption Capacity of UiO-66(Ce). Catalysts 2019, 9, 309.
Note that from the first issue of 2016, MDPI journals use article numbers instead of page numbers. See further details here.
Related Articles
Comments
[Return to top]