Transition Metal Phosphides for the Catalytic Hydrodeoxygenation of Waste Oils into Green Diesel
Energy and Sustainable Chemistry Group (EQS), Instituto de Catálisis y Petroleoquímica, CSIC, c/Marie Curie, 2 Cantoblanco, 28049 Madrid, Spain
*
Authors to whom correspondence should be addressed.
Received: 28 February 2019 / Revised: 14 March 2019 / Accepted: 15 March 2019 / Published: 22 March 2019
Abstract
Recently, catalysts based on transition metal phosphides (TMPs) have attracted increasing interest for their use in hydrodeoxygenation (HDO) processes destined to synthesize biofuels (green or renewable diesel) from waste vegetable oils and fats (known as hydrotreated vegetable oils (HVO)), or from bio-oils. This fossil-free diesel product is produced completely from renewable raw materials with exceptional quality. These efficient HDO catalysts present electronic properties similar to noble metals, are cost-efficient, and are more stable and resistant to the presence of water than other classical catalytic formulations used for hydrotreatment reactions based on transition metal sulfides, but they do not require the continuous supply of a sulfide source. TMPs develop a bifunctional character (metallic and acidic) and present tunable catalytic properties related to the metal type, phosphorous-metal ratio, support nature, texture properties, and so on. Here, the recent progress in TMP-based catalysts for HDO of waste oils is reviewed. First, the use of TMPs in catalysis is addressed; then, the general aspects of green diesel (from bio-oils or from waste vegetable oils and fats) production by HDO of nonedible oil compounds are presented; and, finally, we attempt to describe the main advances in the development of catalysts based on TMPs for HDO, with an emphasis on the influence of the nature of active phases and effects of phosphorous, promoters, and preparation methods on reactivity.
View Full-Text
►

▼

Figures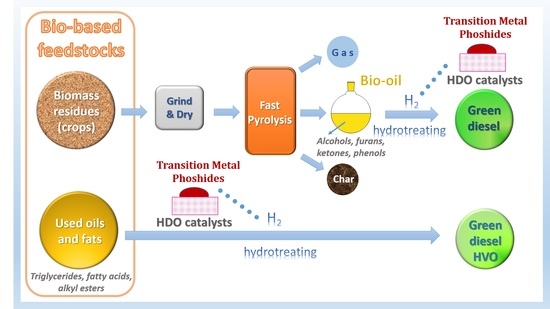 Graphical abstract
This is an open access article distributed under the
Creative Commons Attribution License
which permits unrestricted use, distribution, and reproduction in any medium, provided the original work is properly cited (CC BY 4.0).

Share & Cite This Article
MDPI and ACS Style
Alvarez-Galvan, M.C.; Campos-Martin, J.M.; Fierro, J.L.G. Transition Metal Phosphides for the Catalytic Hydrodeoxygenation of Waste Oils into Green Diesel. Catalysts 2019, 9, 293.
Note that from the first issue of 2016, MDPI journals use article numbers instead of page numbers. See further details here.
Related Articles
Comments
[Return to top]