The Effect of Citric Acid Concentration on the Properties of LaMnO3 as a Catalyst for Hydrocarbon Oxidation
1
Université de Lyon, Université Lyon 1, CNRS, UMR 5256, IRCELYON, 69626 Villeurbanne CEDEX, France
2
Istituto per lo Studio dei Materiali Nanostrutturati (ISMN)-CNR, 90146 Palermo, Italy
3
Facultad de Ciencias y Tecnologías Quimicas, Departamento de Ingenieria Quimica, Universidad de Castilla-La Mancha, 13071 Ciudad Real, Spain
*
Authors to whom correspondence should be addressed.
Received: 21 December 2018 / Revised: 21 February 2019 / Accepted: 23 February 2019 / Published: 1 March 2019
Abstract
LaMnO
3
(LM) catalysts with a molar ratio of citric acid (CA) to metal (La
3+
+ Mn
2+
) nitrates ranging from 0.5 to 2 (LM0.5 to LM2) were synthesized by the citrate sol–gel method with the aim of studying the effect of the citric acid ratio on the physicochemical properties and the catalytic performance in hydrocarbon oxidation. Structural and morphological properties of these catalysts were characterized by X-ray diffraction (XRD) and specific surface area (N
2
adsorption) measurements, while the chemical composition was determined by inductively coupled plasma atomic emission spectroscopy (ICP-OES). In the selected samples, additional characterizations were carried out by thermogravimetric and differential thermal analysis (TGA/DTA), Fourier Transform Infrared Spectroscopy (FT-IR), temperature-programmed reduction by hydrogen (H
2
-TPR), and X-ray photoelectron spectroscopy (XPS). The results showed that the amount of citric acid used significantly influenced the TGA/DTA profile of gels along with the physicochemical properties of the catalysts. The XRD patterns are consistent with the perovskite formation as the main phase. The segregation of a small amount of Mn
3
O
4
, detected for molar ratios ranging between 0.5 and 1.5, suggested the formation of a slightly nonstoichiometric LaMn
1−x
O
3
phase with a relatively high content of Mn
4+
. The catalytic performance was evaluated in the total oxidation of two selected hydrocarbons, toluene and propene, which represent typical volatile organic compounds (VOCs). Typically, three consecutive catalytic cycles were performed in order to reach steady-state performance in toluene and propene oxidation. Moreover, the stability of the catalysts under reaction conditions was investigated through 24-h experiments at 17% of toluene conversion. The catalysts LM1.2, LM1.3, and LM1.5 showed the best catalytic performance in both hydrocarbon oxidations, well comparing with the Pd/Al
2
O
3
used as a reference.
View Full-Text
►

▼

Figures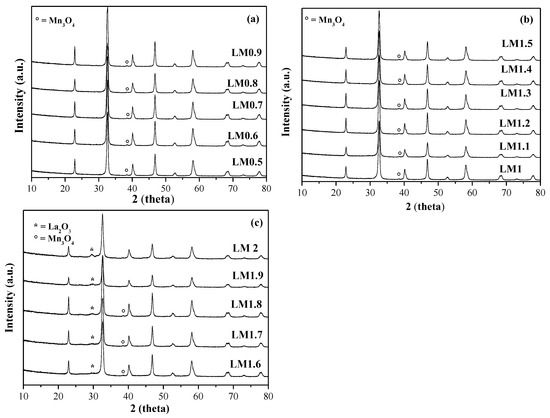 Figure 1
This is an open access article distributed under the
Creative Commons Attribution License
which permits unrestricted use, distribution, and reproduction in any medium, provided the original work is properly cited (CC BY 4.0).

Share & Cite This Article
MDPI and ACS Style
Sihaib, Z.; Puleo, F.; Pantaleo, G.; La Parola, V.; Valverde, J.L.; Gil, S.; Liotta, L.F.; Giroir-Fendler, A. The Effect of Citric Acid Concentration on the Properties of LaMnO3 as a Catalyst for Hydrocarbon Oxidation. Catalysts 2019, 9, 226.
Note that from the first issue of 2016, MDPI journals use article numbers instead of page numbers. See further details here.
Related Articles
Comments
[Return to top]