Cross-Linking with Polyethylenimine Confers Better Functional Characteristics to an Immobilized β-glucosidase from
Exiguobacterium antarcticum

B7

1

Departamento de Biocatálisis, Instituto de Catálisis y Petroleoquímica (CSIC), Marie Curie 2. Cantoblanco, Campus UAM, 28049 Madri, Spain

2

Laboratório Nacional de Ciência e Tecnologia do Bioetanol (CTBE), Centro Nacional de Pesquisa em Energia e Materiais (CNPEM), CEP 13083-970 Campinas, São Paulo, Brazil

3

Departamento de Bioquímica e Biologia Molecular, Universidade Federal do Paraná, Cx. P. 19081 Centro Politécnico, CEP 81531-980 Curitiba, Paraná, Brazil

4

Departamento de Ciência de Alimentos, Faculdade de Engenharia de Alimentos, Universidade Estadual de Campinas (UNICAMP), CEP 13083-862 Campinas, São Paulo, Brazil

5

Instituto de Biociências, Universidade Federal de Mato Grosso do Sul (UFMS), CEP 79070-900 Campo Grande, Brazil

*

Author to whom correspondence should be addressed.

Received: 30 January 2019 / Revised: 14 February 2019 / Accepted: 15 February 2019 / Published: 1 March 2019

Full-Text

|

PDF

[1694 KB, uploaded 1 March 2019]

|

|

Review Reports
Abstract
β-glucosidases are ubiquitous, well-characterized and biologically important enzymes with considerable uses in industrial sectors. Here, a tetrameric β-glucosidase from
Exiguobacterium antarcticum
B7 (
Ea
BglA) was immobilized on different activated agarose supports followed by post-immobilization with poly-functional macromolecules. The best result was obtained by the immobilization of
Ea
BglA on metal glutaraldehyde-activated agarose support following cross-linking with polyethylenimine. Interestingly, the immobilized
Ea
BglA was 46-fold more stable than its free form and showed optimum pH in the acidic region, with high catalytic activity in the pH range from 3 to 9, while the free
Ea
BglA showed catalytic activity in a narrow pH range (>80% at pH 6.0–8.0) and optimum pH at 7.0.
Ea
BglA had the optimum temperature changed from 30 °C to 50 °C with the immobilization step. The immobilized
Ea
BglA showed an expressive adaptation to pH and it was tolerant to ethanol and glucose, indicating suitable properties involving the saccharification process. Even after 9 cycles of reuse, the immobilized β-glucosidase retained about 100% of its initial activity, demonstrating great operational stability. Hence, the current study describes an efficient strategy to increase the functional characteristics of a tetrameric β-glucosidase for future use in the bioethanol production.
View Full-Text
►

▼

Figures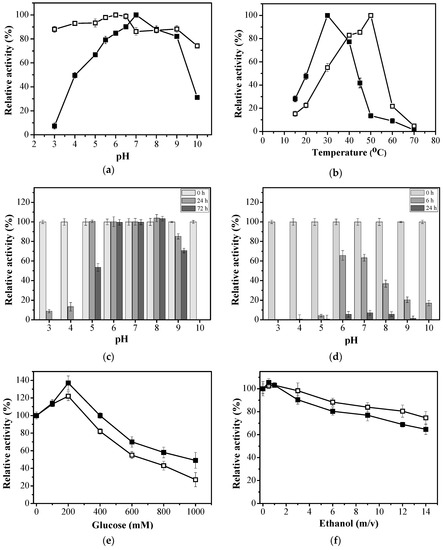 Figure 1
This is an open access article distributed under the
Creative Commons Attribution License
which permits unrestricted use, distribution, and reproduction in any medium, provided the original work is properly cited (CC BY 4.0).

Share & Cite This Article
MDPI and ACS Style
Rodrigues de Melo, R.; Alnoch, R.C.; Sousa, A.S.; Harumi Sato, H.; Ruller, R.; Mateo, C. Cross-Linking with Polyethylenimine Confers Better Functional Characteristics to an Immobilized β-glucosidase from Exiguobacterium antarcticum B7. Catalysts 2019, 9, 223.
Note that from the first issue of 2016, MDPI journals use article numbers instead of page numbers. See further details here.
Related Articles
Comments
[Return to top]