The Synthetic Potential of Fungal Feruloyl Esterases: A Correlation with Current Classification Systems and Predicted Structural Properties
1
Biochemical Process Engineering, Division of Chemical Engineering, Department of Civil, Environmental and Natural Resources Engineering, Luleå University of Technology, SE-97187 Luleå, Sweden
2
Fungal Physiology, Westerdijk Fungal Biodiversity Institute & Fungal Molecular Physiology, Utrecht University, Uppsalalaan 8, 3584 CT Utrecht, The Netherlands
3
Dupont Industrial Biosciences, Nieuwe Kanaal 7-S, 6709 PA Wageningen, The Netherlands
4
Department of Microbiology, University of Helsinki, Viikinkaari 9, 00014-FIN Helsinki, Finland
5
Department of Chemical Sciences, University of Naples "Federico II", Complesso Universitario Monte S. Angelo Via Cintia, 4 IT-80126 Naples, Italy
6
Department of Biology and Biological Engineering, Division of Industrial Biotechnology, Chalmers University of Technology, SE-41296 Gothenburg, Sweden
7
Institut für Molekulare Mikrobiologie und Biotechnologie, Westfälische Wilhelms-Universität Münster, Corrensstraße 3, 48149 Münster, Germany
8
Taros Chemicals GmbH & Co KG, Emil-Figge-Str. 76a, 44227 Dortmund, Germany
9
Environmental Sciences Department, King Abdulaziz University, Jeddah 21589, Saudi Arabia
*
Author to whom correspondence should be addressed.
Received: 21 May 2018 / Revised: 31 May 2018 / Accepted: 1 June 2018 / Published: 7 June 2018
Abstract
Twenty-eight fungal feruloyl esterases (FAEs) were evaluated for their synthetic abilities in a ternary system of
n
-hexane:
t
-butanol: 100 mM MOPS-NaOH pH 6.0 forming detergentless microemulsions. Five main derivatives were synthesized, namely prenyl ferulate, prenyl caffeate, butyl ferulate, glyceryl ferulate, and
l
-arabinose ferulate, offering, in general, higher yields when more hydrophilic alcohol substitutions were used. Acetyl xylan esterase-related FAEs belonging to phylogenetic subfamilies (SF) 5 and 6 showed increased synthetic yields among tested enzymes. In particular, it was shown that FAEs belonging to SF6 generally transesterified aliphatic alcohols more efficiently while SF5 members preferred bulkier
l
-arabinose. Predicted surface properties and structural characteristics were correlated with the synthetic potential of selected tannase-related, acetyl-xylan-related, and lipase-related FAEs (SF1-2, -6, -7 members) based on homology modeling and small molecular docking simulations.
View Full-Text
►

▼

Figures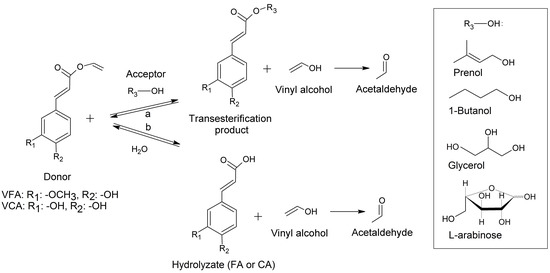 Figure 1
This is an open access article distributed under the
Creative Commons Attribution License
which permits unrestricted use, distribution, and reproduction in any medium, provided the original work is properly cited (CC BY 4.0).

Share & Cite This Article
MDPI and ACS Style
Antonopoulou, I.; Dilokpimol, A.; Iancu, L.; Mäkelä, M.R.; Varriale, S.; Cerullo, G.; Hüttner, S.; Uthoff, S.; Jütten, P.; Piechot, A.; Steinbüchel, A.; Olsson, L.; Faraco, V.; Hildén, K.S.; De Vries, R.P.; Rova, U.; Christakopoulos, P. The Synthetic Potential of Fungal Feruloyl Esterases: A Correlation with Current Classification Systems and Predicted Structural Properties. Catalysts 2018, 8, 242.
Note that from the first issue of 2016, MDPI journals use article numbers instead of page numbers. See further details here.
Related Articles
Comments
[Return to top]