Molecular Orientations Change Reaction Kinetics and Mechanism: A Review on Catalytic Alcohol Oxidation in Gas Phase and Liquid Phase on Size-Controlled Pt Nanoparticles
1
Department of Chemistry, University of California, Berkeley, CA 94720, USA
2
Materials Sciences Division, Lawrence Berkeley National Laboratory, Berkeley, CA 94720, USA
*
Author to whom correspondence should be addressed.
†
Current address: BASF Corporation, 25 Middlesex Essex Turnpike, Iselin, NJ 08830, USA
‡
Current address: Department of Chemistry, Yale University, 300 Heffernan Dr, West Haven, CT 06516, USA
§
Current address: Department of Applied and Environmental Chemistry, University of Szeged, Rerrich Square 1, H-6720 Szeged, Hungary
‖
Current address: Nippon Shokubai Co., Ltd., 992-1 Aza-Nishioki, Okihama, Aboshi-ku, Himeji, Hyogo 671-1282, Japan
Received: 30 April 2018 / Revised: 25 May 2018 / Accepted: 26 May 2018 / Published: 27 May 2018
Abstract
Catalytic oxidation of alcohols is an essential process for energy conversion, production of fine chemicals and pharmaceutical intermediates. Although it has been broadly utilized in industry, the basic understanding for catalytic alcohol oxidations at a molecular level, especially under both gas and liquid phases, is still lacking. In this paper, we systematically summarized our work on catalytic alcohol oxidation over size-controlled Pt nanoparticles. The studied alcohols included methanol, ethanol, 1-propanol, 2-propanol, and 2-butanol. The turnover rates of different alcohols on Pt nanoparticles and also the apparent activation energy in gas and liquid phase reactions were compared. The Pt nanoparticle size dependence of reaction rates and product selectivity was also carefully examined. Water showed very distinct effects for gas and liquid phase alcohol oxidations, either as an inhibitor or as a promoter depending on alcohol type and reaction phase. A deep understanding of different alcohol molecular orientations on Pt surface in gas and liquid phase reactions was established using sum-frequency generation spectroscopy analysis for in situ alcohol oxidations, as well as density functional theory calculation. This approach can not only explain the entirely different behaviors of alcohol oxidations in gas and liquid phases, but can also provide guidance for future catalyst/process design.
View Full-Text
►

▼

Figures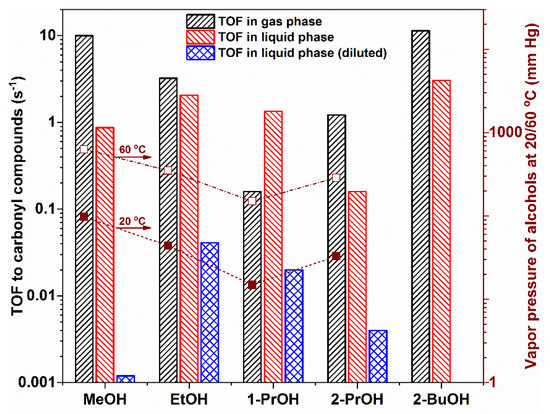 Figure 1
This is an open access article distributed under the
Creative Commons Attribution License
which permits unrestricted use, distribution, and reproduction in any medium, provided the original work is properly cited (CC BY 4.0).

Share & Cite This Article
MDPI and ACS Style
Liu, F.; Wang, H.; Sapi, A.; Tatsumi, H.; Zherebetskyy, D.; Han, H.-L.; Carl, L.M.; Somorjai, G.A. Molecular Orientations Change Reaction Kinetics and Mechanism: A Review on Catalytic Alcohol Oxidation in Gas Phase and Liquid Phase on Size-Controlled Pt Nanoparticles. Catalysts 2018, 8, 226.
Note that from the first issue of 2016, MDPI journals use article numbers instead of page numbers. See further details here.
Related Articles
Comments
[Return to top]