Relations between Structure, Activity and Stability in C3N4 Based Photocatalysts Used for Solar Hydrogen Production
1
Leibniz Institute for Catalysis at the University of Rostock, Albert-Einstein-Str. 29a, 18059 Rostock, Germany
2
Department of Chemistry, Technical University Berlin, Hardenbergstr. 40, 10623 Berlin, Germany
*
Author to whom correspondence should be addressed.
Received: 22 December 2017 / Revised: 19 January 2018 / Accepted: 23 January 2018 / Published: 29 January 2018
Abstract
Solar hydrogen production from water could be a sustainable and environmentally friendly alternative to fossil energy carriers, yet so far photocatalysts active and stable enough for large-scale applications are not available, calling for advanced research efforts. In this work, H
2
evolution rates of up to 1968 and 5188 μmol h
−1
g
−1
were obtained from aqueous solutions of triethanolamine (TEOA) and oxalic acid (OA), respectively, by irradiating composites of AgIn
5
S
8
(AIS), mesoporous C
3
N
4
(CN, surface area >150 m
2
/g) and ≤2 wt.% in-situ photodeposited Pt nanoparticles (NPs) with UV-vis (≥300 nm) and pure visible light (≥420 nm). Structural properties and electron transport in these materials were analyzed by XRD, STEM-HAADF, XPS, UV-vis-DRS, ATR-IR, photoluminescence and in situ-EPR spectroscopy. Initial H
2
formation rates were highest for Pt/CN, yet with TEOA this catalyst deactivated by inclusion of Pt NPs in the matrix of CN (most pronounced at λ ≥ 300 nm) while it remained active with OA, since in this case Pt NPs were enriched on the outermost surface of CN. In Pt/AIS-CN catalysts, Pt NPs were preferentially deposited on the surface of the AIS phase which prevents them from inclusion in the CN phase but reduces simultaneously the initial H
2
evolution rate. This suggests that AIS hinders transport of separated electrons from the CN conduction band to Pt NPs but retains the latter accessible by protons to produce H
2
.
View Full-Text
►

▼

Figures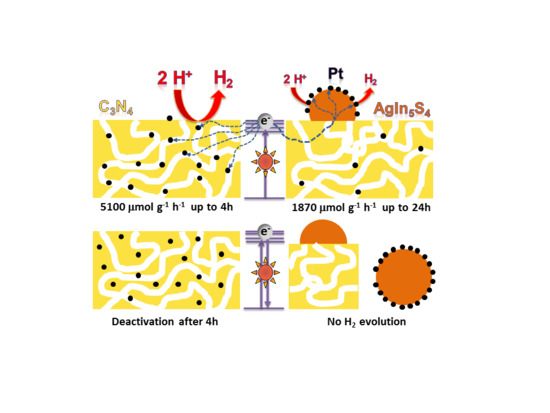 Graphical abstract
This is an open access article distributed under the
Creative Commons Attribution License
which permits unrestricted use, distribution, and reproduction in any medium, provided the original work is properly cited (CC BY 4.0).

Share & Cite This Article
MDPI and ACS Style
Sivasankaran, R.P.; Rockstroh, N.; Hollmann, D.; Kreyenschulte, C.R.; Agostini, G.; Lund, H.; Acharjya, A.; Rabeah, J.; Bentrup, U.; Junge, H.; Thomas, A.; Brückner, A. Relations between Structure, Activity and Stability in C3N4 Based Photocatalysts Used for Solar Hydrogen Production. Catalysts 2018, 8, 52.
Note that from the first issue of 2016, MDPI journals use article numbers instead of page numbers. See further details here.
Related Articles
Comments
[Return to top]