EPR Investigations of G-C3N4/TiO2 Nanocomposites
1
Institute of Physical Chemistry and Chemical Physics, Faculty of Chemical and Food Technology, Slovak University of Technology in Bratislava, Radlinského 9, SK-812 37 Bratislava, Slovakia
2
Institute of Nanoscience and Nanotechnology, National Center for Scientific Research "Demokritos", 153 43 Agia Paraskevi, Attikis, Greece
*
Author to whom correspondence should be addressed.
Received: 31 December 2017 / Revised: 19 January 2018 / Accepted: 23 January 2018 / Published: 26 January 2018
Abstract
The g-C
3
N
4
/TiO
2
nanopowders prepared by the annealing of melamine and TiO
2
P25 at 550 °C were investigated under dark and upon UV or visible-light photoactivation using X- and Q-band electron paramagnetic resonance (EPR) spectroscopy. The EPR spectra of powders monitored at room temperature and 100 K showed the impact of the initial loading ratio of melamine/TiO
2
on the character of paramagnetic centers observed. For the photocatalysts synthesized using a lower titania content, the paramagnetic signals characteristic for the g-C
3
N
4
/TiO
2
nanocomposites were already found before exposure. The samples annealed using the higher TiO
2
loading revealed the photoinduced generation of paramagnetic nitrogen bulk centers (
g
-tensor components
g
1
= 2.005,
g
2
= 2.004,
g
3
= 2.003 and hyperfine couplings from the nitrogen
A
1
= 0.23 mT,
A
2
= 0.44 mT,
A
3
= 3.23 mT) typical for N-doped TiO
2
. The ability of photocatalysts to generate reactive oxygen species (ROS) upon in situ UV or visible-light photoexcitation was tested in water or dimethyl sulfoxide by EPR spin trapping using 5,5-dimethyl 1-pyrroline N-oxide. The results obtained reflect the differences in photocatalyst nanostructures caused by the differing initial ratio of melamine/TiO
2
; the photocatalyst prepared by the high-temperature treatment of melamine/TiO
2
wt. ratio of 1:3 revealed an adequate photoactivity in both spectral regions.
View Full-Text
►

▼

Figures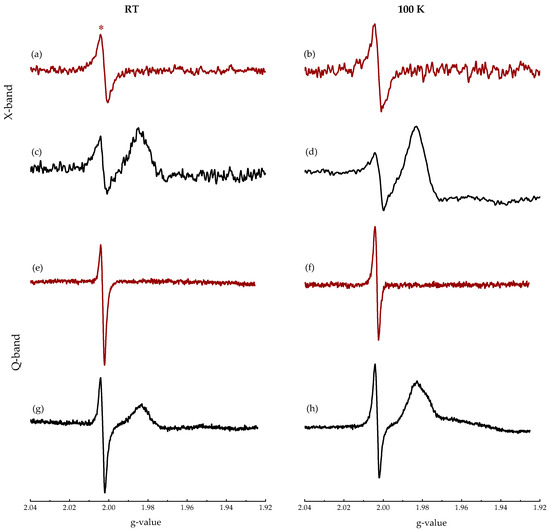 Figure 1
This is an open access article distributed under the
Creative Commons Attribution License
which permits unrestricted use, distribution, and reproduction in any medium, provided the original work is properly cited (CC BY 4.0).

Share & Cite This Article
MDPI and ACS Style
Dvoranová, D.; Mazúr, M.; Papailias, I.; Giannakopoulou, T.; Trapalis, C.; Brezová, V. EPR Investigations of G-C3N4/TiO2 Nanocomposites. Catalysts 2018, 8, 47.
Note that from the first issue of 2016, MDPI journals use article numbers instead of page numbers. See further details here.
Related Articles
Comments
[Return to top]