Bio-Oil Steam Reforming over a Mining Residue Functionalized with Ni as Catalyst: Ni-UGSO
Department of Chemical Engineering and Biotechnological Engineering, Université de Sherbrooke, 2500, Boulevard de l'Université, Sherbrooke, QC J1K 2R1, Canada
*
Author to whom correspondence should be addressed.
Received: 17 November 2017 / Revised: 12 December 2017 / Accepted: 15 December 2017 / Published: 22 December 2017
Abstract
Bio-oil reforming is considered for syngas or H
2
production. In this work, we studied the steam reforming (SR) of two raw bio-oils without adding external steam, using a recently-developed catalyst, Ni-UGSO. Experiments were performed at temperature (
T
) = 750–850 °C and weight hourly space velocity (WHSV) = 1.7–7.1 g/g
cat
/h to assess C conversion (
X
C
) and product yields. The results show that, in all conditions and with both bio-oils tested, the catalyst is stable for the entire duration of the tests (~500 min) even when some C deposition occurred and that only at the highest WHSV tested there is a slight deactivation. In all tests, catalytic activity remained constant after a first, short, transient state, which corresponded to catalyst activation. The highest yields and conversions, with
and
X
C
of 94%, 84% and 100%, respectively, were observed at temperatures above 800 °C and WHSV = 1.7 g/g
cat
/h. The amount of H
2
O in the bio-oils had a non-negligible effect on catalyst activity, impacting
and
X
C
values. It was observed that, above a critical amount of H
2
O, the catalyst was not fully activated. However, higher H
2
O content led to the reduction of C deposits as well as lower
and
and, through the water-gas-shift reaction, to higher
(CO
2
selectivity). Fresh and spent catalysts were analyzed by physisorption (BET), X-ray diffraction, scanning electron microscopy and thermogravimetric analysis: the results reveal that, during the oils' SR reaction, the initial spinel (Ni-Fe-Mg-Al) structures decreased over time-on-stream (TOS), while metallic Ni, Fe and their alloy phases appeared. Although significant sintering was observed in used catalysts, especially at high H
2
O/C ratio, the catalyst's specific surface generally increased; the latter was attributed to the presence of nanometric metallic Ni and Ni-Fe alloy particles formed by reduction reactions. A small amount of C (4%) was formed at low H
2
O/C.
View Full-Text
►

▼

Figures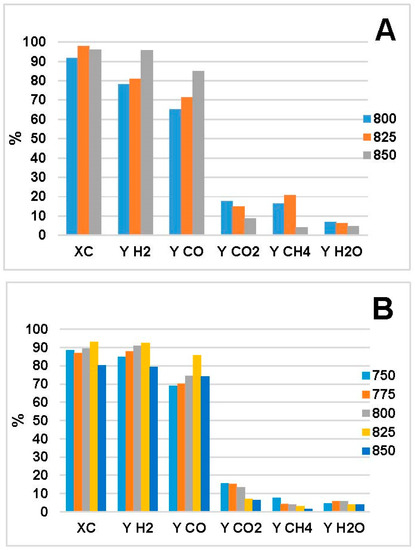 Figure 1
This is an open access article distributed under the
Creative Commons Attribution License
which permits unrestricted use, distribution, and reproduction in any medium, provided the original work is properly cited (CC BY 4.0).

Share & Cite This Article
MDPI and ACS Style
Bali, A.; Blanchard, J.; Chamoumi, M.; Abatzoglou, N. Bio-Oil Steam Reforming over a Mining Residue Functionalized with Ni as Catalyst: Ni-UGSO. Catalysts 2018, 8, 1.
Note that from the first issue of 2016, MDPI journals use article numbers instead of page numbers. See further details here.
Related Articles
Comments
[Return to top]