Open Access This article is
freely available
re-usable
Review
Circulating Nucleosomes and Nucleosome Modifications as Biomarkers in Cancer
Discipline of Surgery, Lambe Institute for Translational Research, School of Medicine, National University of Ireland Galway, H91 YR71, Galway, Ireland
*
Author to whom correspondence should be addressed.
†
ORCID: 0000-0002-3155-0334.
Academic Editor: Samuel Mok
Received: 14 November 2016 / Accepted: 1 January 2017 / Published: 8 January 2017
Abstract
:
Traditionally the stratification of many cancers involves combining tumour and clinicopathological features (e.g., patient age; tumour size, grade, receptor status and location) to inform treatment options and predict recurrence risk and survival. However, current biomarkers often require invasive excision of the tumour for profiling, do not allow monitoring of the response to treatment and stratify patients into broad heterogeneous groups leading to inconsistent treatment responses. Here we explore and describe the benefits of using circulating biomarkers (nucleosomes and/or modifications to nucleosomes) as a non-invasive method for detecting cancer and monitoring response to treatment. Nucleosomes (DNA wound around eight core histone proteins) are responsible for compacting our genome and their composition and post-translational modifications are responsible for regulating gene expression. Here, we focus on breast and colorectal cancer as examples where utilizing circulating nucleosomes as biomarkers hold real potential as liquid biopsies. Utilizing circulating nucleosomes as biomarkers is an exciting new area of research that promises to allow both the early detection of cancer and monitoring of treatment response. Nucleosome-based biomarkers combine with current biomarkers, increasing both specificity and sensitivity of current tests and have the potential to provide individualised precision-medicine based treatments for patients.
Keywords:
breast cancer; histone; colorectal; circulating; biomarker; miRNA; microRNA; posttranslational; modification
1. Introduction
Cancer leads to the death of around 8.2 million people annually world-wide [
1
], despite advances in detection and treatment. Cancer is a group of disorders resulting from aberrant genetic and epigenetic alterations that lead to genomic instability and ultimately uncontrolled cellular proliferation. Chromosomal instability is a major form of genomic volatility and contributes to abnormal chromosomal structure and numbers. Micro-satellite instability and increased frequency of base-pair mutations are other described forms of genomic instability, and these enable the acquisition of the hallmarks of cancer [
2
]. Epigenetic changes are heritable, functionally relevant changes altering gene activity, without altering the underlying DNA sequence. Epigenetic regulation results from changing the accessibility of DNA and altering chromatin structure through posttranslational modifications of either DNA, or DNA bound proteins such as histones. The most frequently studied epigenetic changes are DNA methylation and posttranslational histone modifications.
The National Cancer Institute defines a biomarker as "a biological molecule found in blood, other body fluids or tissue that is a sign of a normal or abnormal process or of a condition or disease" [
3
]. A key clinical goal is the identification of biomarkers that can be used prognostically or diagnostically for early disease detection, to inform optimization of chemo/radiotherapy treatment regimes, potentially identify new therapeutic options or highlight novel therapeutic targets. Here we discuss the post-translational modification of nucleosomes and their use as tumour biomarkers and highlight the potential of using quantification of circulating nucleosomes or histone modifications as biomarkers in cancer.
2. The Role of Nucleosomes in Packaging DNA
3. Histone Post-Translational Modifications
4. Quantification of Nucleosomes PTMs as Tumour Biomarkers
The relationship between histone modifications and cancer has been the subject of much investigation in recent years, with Ac and Me, the most studied modifications. The loss of H4K16ac and H4K20me3 has been observed early in the tumorigenic process and occurs across a variety of cancer cell lines, in addition to global DNA hypomethylation [
54
]. Quantification of nucleosomes and specific PTMs show real potential as cancer biomarkers, both in tumours and importantly circulating in blood. We will first discuss global PTMs in tumour tissue as diagnostic or prognostic biomarkers.
5. Histone Variants
The detection and quantification of both histones and their associated PTM has shown great promise as tumour biomarkers. However, this requires an invasive biopsy of an established tumour-reducing their utility. To fully leverage these biomarkers, deploying them as early prospective markers using non-invasive sampling needs to be explored and established.
6. Circulating Nucleosomes as Cancer Biomarkers
In a study examining potential biomarkers for predicting response to neoadjuvant chemotherapy in breast cancer, they found higher pre-therapeutic levels of nucleosomes in patients who did not respond to neo-adjuvant chemotherapy, compared to those who did.
7. Quantifying PTM of Circulating Nucleosomes as Biomarkers
8. MicroRNA Regulation of Histone PTM
MicroRNAs (miRNAs or miR) are 20–25 base pair non-protein coding RNA that operates as gene regulators by inhibiting degradation of their target messenger RNA. Currently, >2000 miRNAs have been identified in humans and are important regulators of gene expression [
122
]. Importantly, aberrant expression of specific miRNA contributes to the initiation and expression of cancer [
123
]. miRNAs can operate as oncogenes and tumour suppressor genes and their expression can be altered during the process of carcinogenesis. They are detectable in circulation and show great potential as biomarkers in cancer [
118
,
119
,
120
].
It has been shown that post-translational modification of histones can affect the expression of miRNAs. miR-125-b1 contributes to carcinogenesis by regulating genes such as
BAK1
, an anti-apoptotic gene [
124
] and its down-regulation is associated with a poor prognosis in breast cancer. At the miR-125b-1 promoter, H3K27me3 and H3K9me3 were enriched in Luminal A and triple-negative breast cancer cell lines respectively and in the Luminal A cells, H3K27me3 was responsible for miR-125b-1 repression [
125
].
9. Conclusions
The measurement of absolute levels of circulating histone and quantification of PTM in these circulating histones provide an exciting new avenue for the non-invasive diagnosis and monitoring of cancer progression and treatment. Further work investigating links between circulating nucleosome PTM and circulating miRNA will not only provide clinically relevant biomarkers, but reveal information related to the fundamental mechanisms underpinning cancer progression response to treatments. Clinically utilizing the real-time (or near real-time) quantification or monitoring of circulating nucleosomes or circulating nucleosomes posttranslational modifications will provide a potentially quick, cheap and robust method for detecting cancer and monitoring the response of cancers to treatments.
Acknowledgments
We would like to thank the breast cancer research group for stimulating discussions. The authors would like to thank Breast Cancer Research for their financial support. Figures created using the
Mind the Graph
platform (
www.mindthegraph.com
).
Author Contributions
P.M. wrote the manuscript. J.A.L.B. and M.K.: manuscript writing and final approval of manuscript.
Conflicts of Interest
The authors declare no conflict of interest.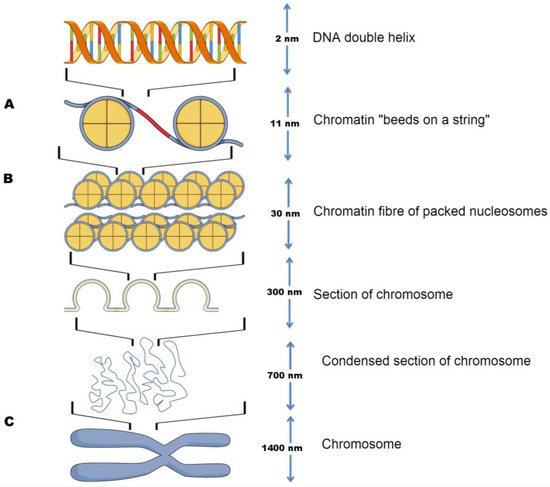 Figure 1. Schematic of DNA compaction levels facilitated by nucleosomes. Left: (A) DNA wound around the histone octamer, forming a nucleosome; (B) Nucleosomes aggregated into chromatin fibres, which compile into higher order three-dimensional loops and domains; (C) Chromatin fibres assembling into chromosomes. Right: indication of the scale of each successive structures compaction.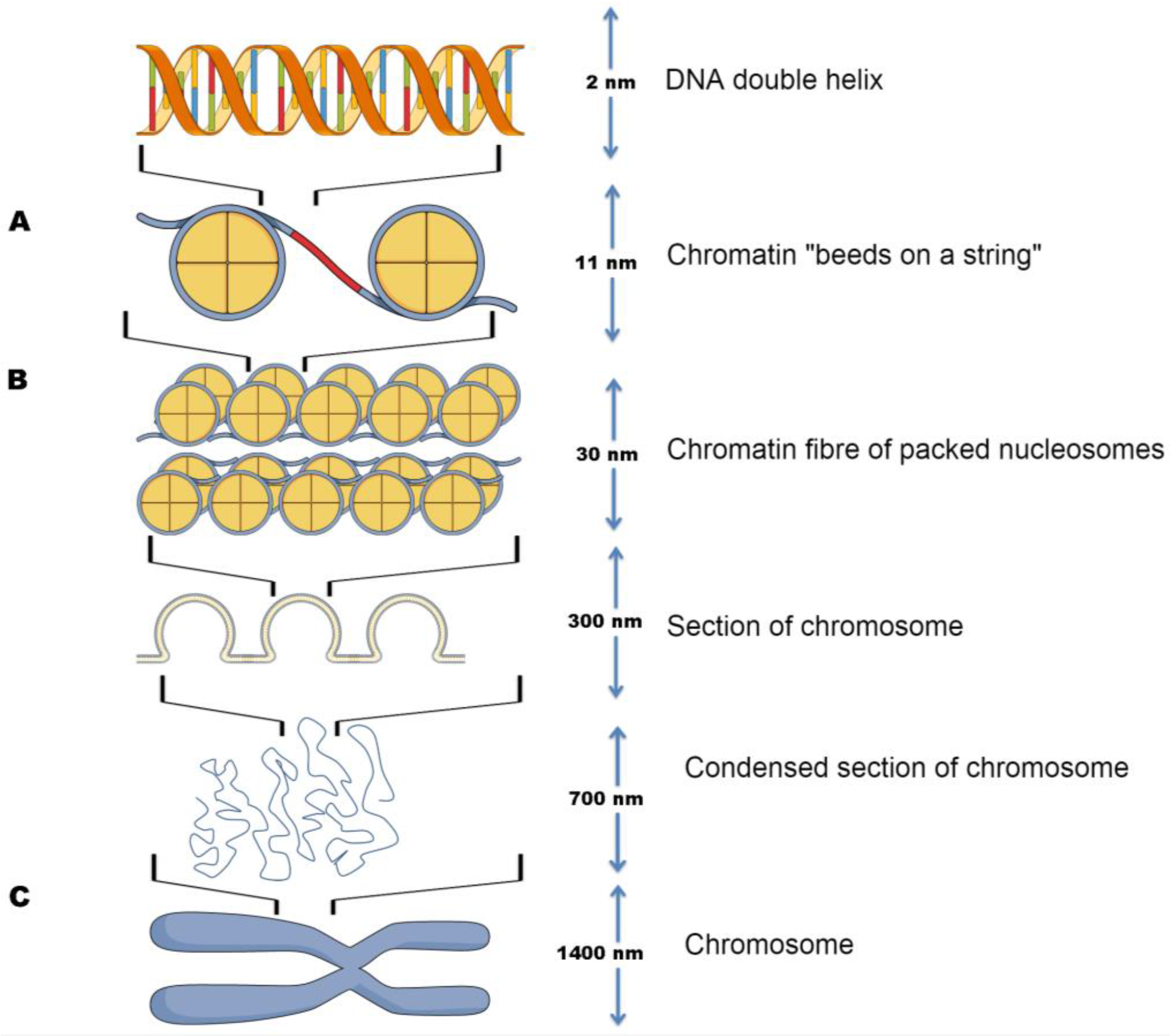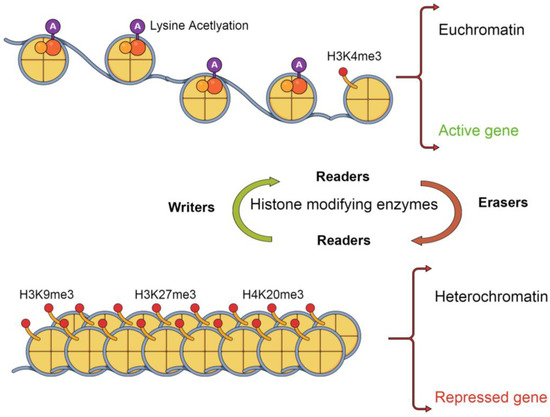 Figure 2. Posttranslational modifications of histones regulate gene expression. Effects of posttranslational modifications on gene regulation. Writers add posttranslational modifications, readers read the posttranslational modification landscape influencing further decisions and Erasers remove posttranslational modifications. TTS: transcription start site.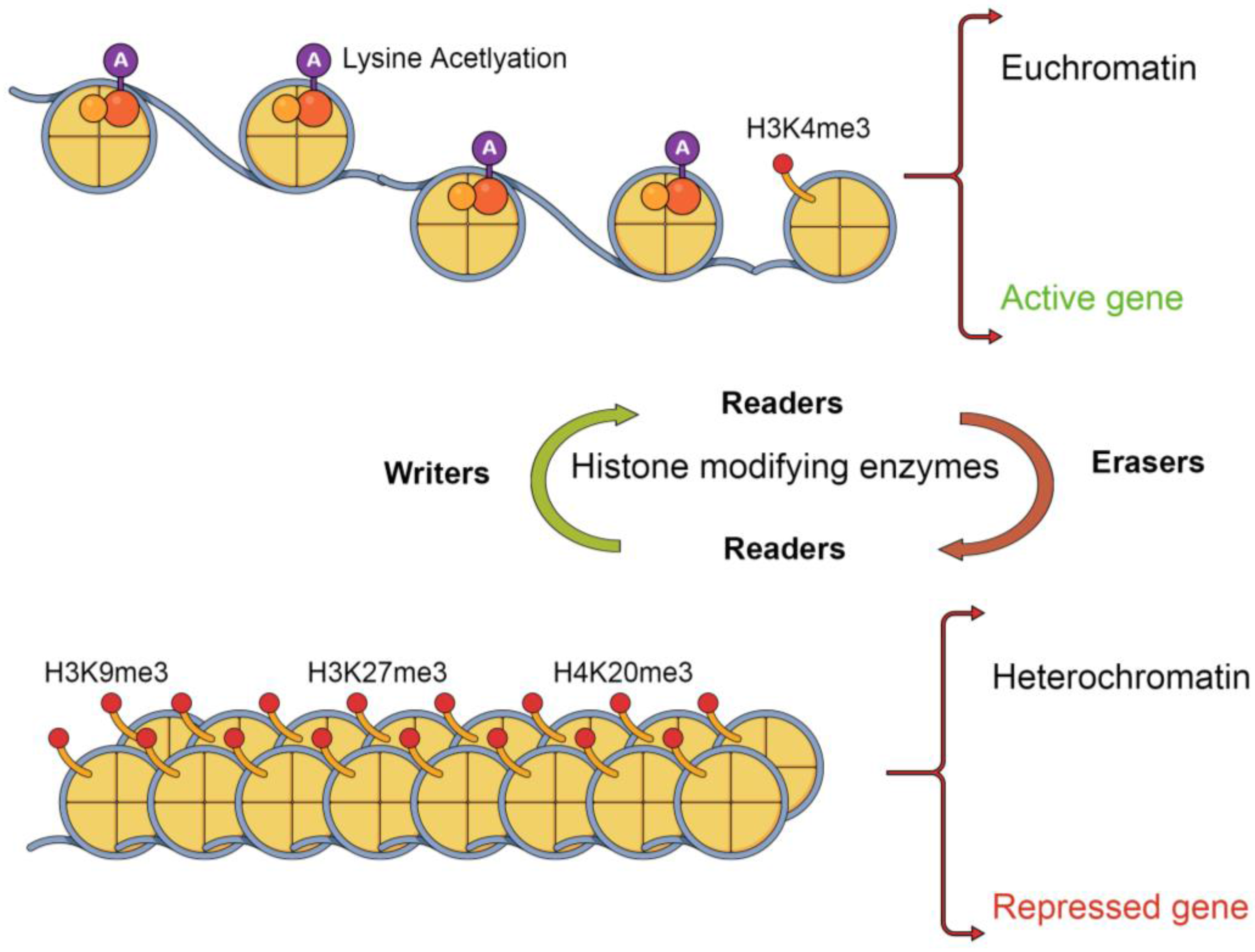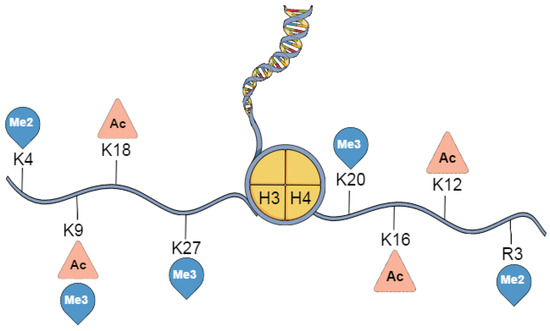 Figure 3. Posttranslational modifications to Histone 3 and 4 found in breast cancer. Key breast cancer associated modifications, to indicated residues, on Histone 3 (H3) or Histone 4 (H4). K: Lysine, R: Arginine, Ac: Acetylation, Me: Methylation, Di-Methylation (Me2), Tri-Methylation (Me3).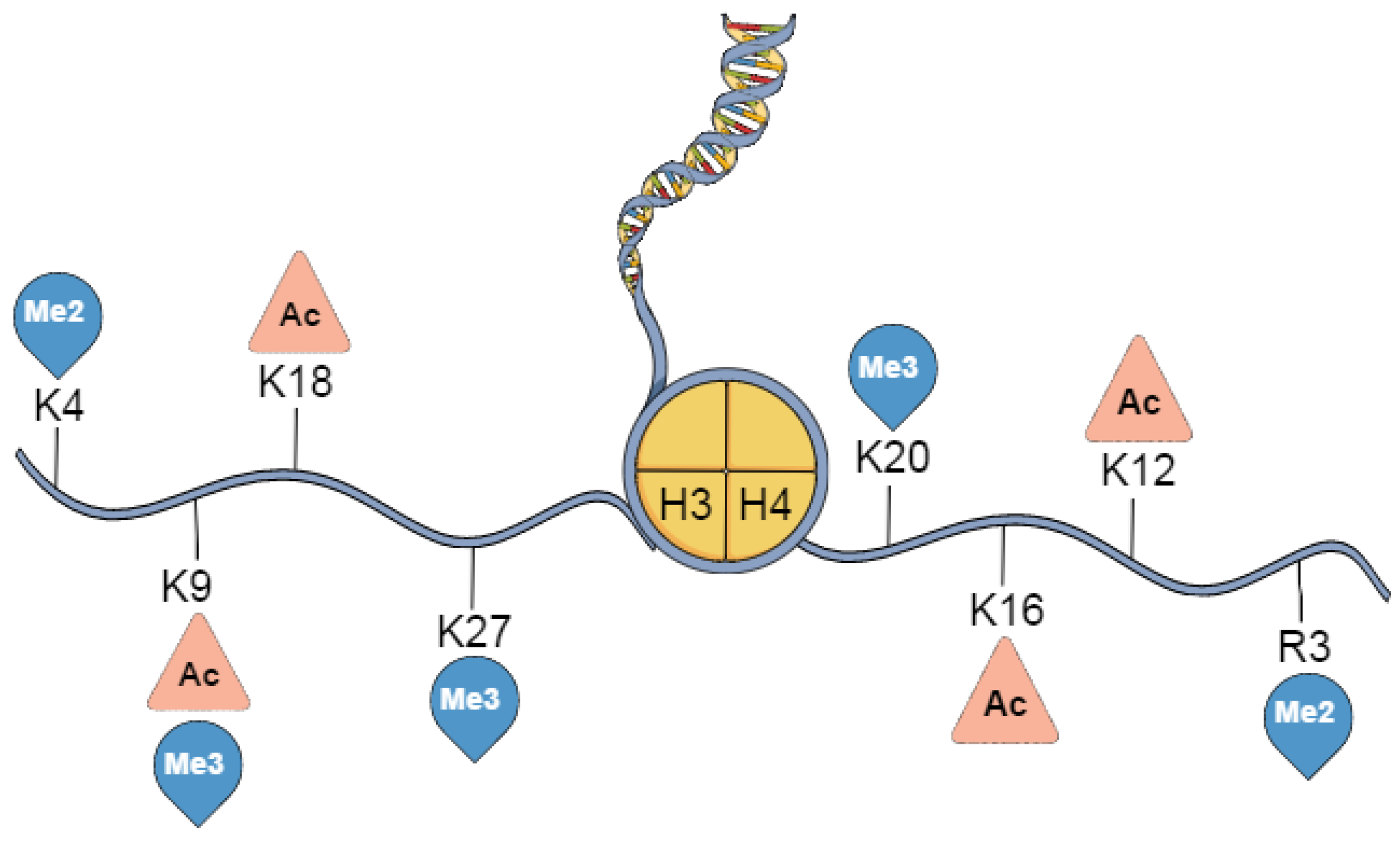 Table 1. Histone 2B: post-translational modifications (PTM) quantification as cancer biomarkers.
Modification
Writer
Eraser
Function
Cancer role
Reference
Histone 2B
Global hypoacetylation & hypomethylation
P300, ATF2
Transcriptional activation
Low level-Prostate
[28]
Table 2. Histone 3: PTM quantification as cancer biomarkers.
Modification
Writer
Eraser
Function
Cancer Role
Reference
Histone 3
H3K4Ac
HDAC 3
Transcriptional activation
Low level—poorer prognosis in oral squamous cell carcinoma
[29]
H3K4Me
SETD 7
KDM 1A
Transcriptional activation
High levels in locally confined prostate cancer
[30]
H3K4Me2
NSD 3
KDM 1A
Transcriptional activation
Low levels in breast, pancreatic, renal and lung carcinomas of worse prognosis
Low levels—higher rate of prostate cancer recurrence
[31,32,33]
KDM 5A
KDM 5D
H3K4Me3
KDM 2B
Transcriptional activation
Transcriptional elongation
High expression associated with poorer prognosis in hepatocellular carcinoma
[34]
MLL
KDM
MLL 3
KDM 5A
MLL 4
KDM 5B
PRDM 9
KDM 5C
SETD 1A
KDM 5D
SETD 1B
PHF 8
NO 66
H3K9Ac
Gcn 5
SIRT 1
Transcriptional activation
Telomere metabolism and function
Low level—breast cancer of poorer prognostic subtype
Low levels—poorer prognosis in non-small cell lung cancer
[31,35]
SIRT 6
H3K9Me
G9a
KDM 1A
Transcriptional repression
Decreased levels indicates poor prognosis in renal cell cancer
Decreased levels in bladder cancer
[36,37]
KDM 3 A & B
H3K9Me2
PHF 8
Transcriptional repression and initiation
Low levels in prostate & pancreatic cancer
Low levels—poorer outcome in prostate and renal cancer
High levels in bladder cancer, correlates with pT stage and grade
[30,32,33,37]
KMD 1A
Glp 1
KDM 1B
G9a
KDM 3A
PRDM 2
KDM 3B
KDM 4C
KDM 4D
KDM 7
H3K9Me3
SETDB 1
KDM 4A
Transcriptional repression and initiation
Indexing of pericentromeric chromatin
Low levels in circulating nucleosomes in colorectal cancer, high in breast cancer
High levels correlates with poorer survival and increased recurrence in gastric cancer
Predicts survival in acute myeloid leukemia
High levels in bladder cancer, correlates with pT stage and grade
[37,38,39,40,41]
SETDB 2
KDM 4B
SUV39H 1 & 2
KDM 4C
KDM 4D
H3K18Ac
P300
Transcriptional activation
Low levels—breast cancer of poorer prognostic subtype
Low levels—better prognosis in esophageal squamous cell carcinoma, especially early
Lower levels in muscle-invasive bladder cancer compared to non-muscle invasive and normal tissue
Correlates to higher tumor grade in prostate cancer
Low levels—poorer survival in pancreatic cancer
[31,32,42,43,44]
CBP
Elp3
H3K27Ac
P300
Transcriptional activation
Up-regulated in colorectal cancer
[45]
CBP
H3K27Me
EZH 1
Transcriptional activation
Low levels correlate to decreased survival in renal cell carcinoma (in addition to H3K27me2 &H3K27me3)
[46]
EZH 2
Glp 1
G9a
H3K27Me2
EZH 1
KDM 6B
Transcriptional repression
Lower levels correlate with poorer survival in colorectal cancer with liver metastases
[47]
EZH 2
KDM 7
NSD 3
PHF 8
H3K27Me3
EZH 2
KDM 6A
Transcriptional repression
Low levels—poorer prognosis in breast, ovarian and pancreatic cancer
High expression correlates with vascular invasion and poorer prognosis in hepatocellular cancer
High expression—increased survival in colorectal cancer
High expression—better prognosis in non-small cell lung cancer
High expression—poorer prognosis in oral squamous cell carcinoma
[48,49,50,51,52]
NSD 3
KDM 6B
H3K36Me2
SETMAR
KDM 2A
Double strand repair & Non-homologous end joining
High level—correlates to histological subtype in primary colorectal cancer
[47]
NSD 1
KDM 2B
SMYD 2
KDM 8
ASH 1L
H3K36Me3
SET D2
KDM 4A
Antagonises PRC2-mediated H3K27 methylation
High level—correlates to lymph node spread in primary colorectal cancer
[47]
NSD 2
NO66
H3K56Ac
HDAC 1
DNA double stranded break repair
High expression—poorer prognosis in colorectal cancer
[53]
CBP
SIRT 1
P300
SIRT 3
SIRT 6
Table 3. Histone 4: PTM quantification as cancer biomarkers.
Modification
Writer
Eraser
Function
Cancer Role
Reference
Histone 4
H4Rme2
PRMT 1
JMJD 6
Facilitates acetylation of H3 and H4 resulting in gene activation
Low levels in breast cancer of poorer prognosis
[31]
PRMT 5
PRMT 6
H4K12Ac
Gcn 5
Histone deposition, telomere silencing
Transcriptional activation, DNA repair
Transcriptional activation
Low levels in breast cancer of poorer prognosis
[31]
KAT1
Tip60
P300
CBP
MYST2
H4K16Ac
Gcn 5
DNA damage response & double-strand repair
Loss—Hallmark of cancer
Low/absent in majority of breast cancers
[31,54]
P300
SIRT 1
CBP
SIRT 2
hMOF
H4K20Me3
SUV420H1
Gene silencing
Indexing of pericentromeric chromatin
Loss—Hallmark of cancer
Reduced levels – independently associated with lower disease-free survival in breast cancer
High expression (in combination with high H3K9Me3 & low H3K4Me3) correlates to better prognosis in colorectal cancer
Significantly lower levels in circulating nucleosomes of colorectal cancer patients
[54,55,56,57]
SUV420H2
NSD2
© 2017 by the authors; licensee MDPI, Basel, Switzerland. This article is an open access article distributed under the terms and conditions of the Creative Commons Attribution (CC-BY) license (http://creativecommons.org/licenses/by/4.0/).