Stabilization of Nucleosomes by Histone Tails and by FACT Revealed by spFRET Microscopy
1
Biology Faculty, Lomonosov Moscow State University, Leninskie Gory 1, Moscow 119992, Russia
2
Shemyakin-Ovchinnikov Institute of Bioorganic Chemistry of Russian Academy of Sciences, Moscow 117997, Russia
3
Department of Biochemistry and Molecular Biology, Mayo Clinic, Rochester, MN 55905, USA
4
Fox Chase Cancer Center, Philadelphia, PA 19111, USA
*
Authors to whom correspondence should be addressed.
Academic Editor: Samuel C. Mok
Received: 10 November 2016 / Revised: 19 December 2016 / Accepted: 22 December 2016 / Published: 6 January 2017
Abstract
A correct chromatin structure is important for cell viability and is tightly regulated by numerous factors. Human protein complex FACT (facilitates chromatin transcription) is an essential factor involved in chromatin transcription and cancer development. Here FACT-dependent changes in the structure of single nucleosomes were studied with single-particle Förster resonance energy transfer (spFRET) microscopy using nucleosomes labeled with a donor-acceptor pair of fluorophores, which were attached to the adjacent gyres of DNA near the contact between H2A-H2B dimers. Human FACT and its version without the C-terminal domain (CTD) and the high mobility group (HMG) domain of the structure-specific recognition protein 1 (SSRP1) subunit did not change the structure of the nucleosomes, while FACT without the acidic C-terminal domains of the suppressor of Ty 16 (Spt16) and the SSRP1 subunits caused nucleosome aggregation. Proteolytic removal of histone tails significantly disturbed the nucleosome structure, inducing partial unwrapping of nucleosomal DNA. Human FACT reduced DNA unwrapping and stabilized the structure of tailless nucleosomes. CTD and/or HMG domains of SSRP1 are required for this FACT activity. In contrast, previously it has been shown that yeast FACT unfolds (reorganizes) nucleosomes using the CTD domain of SSRP1-like Pol I-binding protein 3 subunit (Pob3). Thus, yeast and human FACT complexes likely utilize the same domains for nucleosome reorganization and stabilization, respectively, and these processes are mechanistically similar.
View Full-Text
►

▼

Figures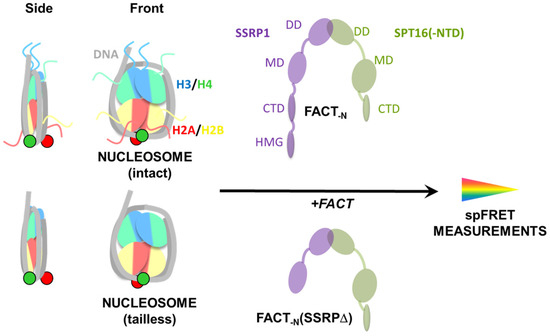 Figure 1
This is an open access article distributed under the
Creative Commons Attribution License
which permits unrestricted use, distribution, and reproduction in any medium, provided the original work is properly cited (CC BY 4.0).

Share & Cite This Article
MDPI and ACS Style
Valieva, M.E.; Gerasimova, N.S.; Kudryashova, K.S.; Kozlova, A.L.; Kirpichnikov, M.P.; Hu, Q.; Botuyan, M.V.; Mer, G.; Feofanov, A.V.; Studitsky, V.M. Stabilization of Nucleosomes by Histone Tails and by FACT Revealed by spFRET Microscopy. Cancers 2017, 9, 3.
Note that from the first issue of 2016, MDPI journals use article numbers instead of page numbers. See further details here.
Related Articles
Comments
[Return to top]