Open Access This article is
freely available
re-usable
Review
Tomato as a Source of Carotenoids and Polyphenols Targeted to Cancer Prevention
1
Unidad Mixta de Investigación Mejora de la Calidad Agroalimentaria UJI-UPV, Department de Ciències Agràries i del Medi Natural, Universitat Jaume I, Avda. Sos Baynat s/n, 12071 Castelló de la Plana, Spain
2
Unidad Mixta de Investigación Mejora de la Calidad Agroalimentaria UJI-UPV, COMAV, Universitat Politècnica de València, Cno., De Vera s/n, 46022 València, Spain
*
Author to whom correspondence should be addressed.
Academic Editor: Alba Minelli
Received: 16 May 2016 / Accepted: 15 June 2016 / Published: 20 June 2016
Abstract
:
A diet rich in vegetables has been associated with a reduced risk of many diseases related to aging and modern lifestyle. Over the past several decades, many researches have pointed out the direct relation between the intake of bioactive compounds present in tomato and a reduced risk of suffering different types of cancer. These bioactive constituents comprise phytochemicals such as carotenoids and polyphenols. The direct intake of these chemoprotective molecules seems to show higher efficiencies when they are ingested in its natural biological matrix than when they are ingested isolated or in dietary supplements. Consequently, there is a growing trend for improvement of the contents of these bioactive compounds in foods. The control of growing environment and processing conditions can ensure the maximum potential accumulation or moderate the loss of bioactive compounds, but the best results are obtained developing new varieties via plant breeding. The modification of single steps of metabolic pathways or their regulation via conventional breeding or genetic engineering has offered excellent results in crops such as tomato. In this review, we analyse the potential of tomato as source of the bioactive constituents with cancer-preventive properties and the result of modern breeding programs as a strategy to increase the levels of these compounds in the diet.
Keywords:
breeding; functional food; lycopene; β-carotene; flavonoid; anthocyanin
2. Accumulation of Bioactive Compounds in Tomato
3. Chemoprotective Characteristics of Tomato Bioactive Compounds
4. Breeding Strategies for the Improvement of Carotenoid and Polyphenol Content in Tomato
Improvement of functional quality is a complex task because the accumulation of any antioxidant compound is the result of complex metabolic processes. Consequently, the increase in the available information on antioxidant biosynthetic pathways (enzymes involved and regulation mechanisms) and the identification of mutant genotypes with beneficial pathway alterations for the antioxidant accumulation is essential to obtain higher precision and better results in the development of breeding programs. Different breeding strategies can be followed with this purpose, and they all depend on the existence of variability for the accumulation of bioactive compounds in the cultivated species or wild relatives. Additionally, a different approach can be followed via genetic engineering. Advances in the improvement of carotenoid and polyphenol composition of tomato are reviewed herein.
4.1. Carotenoids
All the breeding strategies targeted to improve carotenoid content in tomato try to achieve a gene combination enabling a higher accumulation of one or more carotenoids in a desired genotype with good agronomic performance. Two main strategies can be used to do it: one is the use of germplasm with a high potential to accumulate one or more antioxidants as a gene donor in order to transfer them by conventional breeding programs and the other the use of advanced biotechnology to transfer foreign genes (genetic engineering) to allow a beneficial biosynthesis alteration of the desired antioxidant compound.
Regarding the second breeding strategy, the high advances in the knowledge of the carotenoid biosynthesis (metabolic pathway, precursors and regulation mechanisms) allowed the use of this information to obtain several experimental transgenic tomato lines with modified genes controlling some biosynthetic steeps. Most of this works try to emulate the carotenoid biosynthetic performance of some of the natural mutants identified, and some of them also try to avoid undesirable side-effects found in these mutants.
4.2. Polyphenols
The polyphenol content of tomatoes has gained importance during the last decade. Consequently, the achievements of breeding efforts still lag behind those obtained for carotenoids. Nevertheless, quite a lot of information is available regarding polyphenol biosynthesis in this crop. In fact, the polyphenol metabolic pathway has also been ascertained. Several transcription factors related with the regulation of polyphenol biosynthesis have been identified, but a lot of information regarding the spatial accumulation of polyphenols in the fruit and how it can be reverted is still required.
4.3. Joint Accumulation of Carotenoids and Polyphenols
Following the objective of maximizing the functional value of tomato, several efforts have been made in order to maximize the accumulation of carotenoids and polyphenols in the same material. As stated in the carotenoids section, the use of the
high pigment
(
DDB1:hp-1, hp-1w, DET1: hp-2, hp-2j, hp-2dg
) mutants enables an improvement in the accumulation of both types of bioactive compounds. Lines carrying
hp-1
apart from increased carotenoid levels can show 13-fold higher levels of quercetin [
172
]. Long
et al.
[
173
] also found higher levels of chlorogenic acid in
hp-1
-lines (4.3-fold) and similar levels of hydroxycinnamic acids compared to a standard variety. The
hp-2dg
increased the level of quercetin aglycone 3.2-fold at the red stage, while the differences were not significant for naringenin chalcone [
115
]. It is not clear the connection of the two pathways, but considering that vitamin C contents are also higher in
hp-1
and
hp-2
plants [
115
,
174
] it could be possible that the expression of these alleles would trigger stress tolerance mechanisms activating the overproduction of antioxidants. Although both pathways seem to be completely independent, surprisingly, the combination of anthocyanin mutants with carotenoid defective mutants (
Beta, B
, and
yellow flesh
,
r
) results in lower total anthocyanin levels [
36
].
High pigment mutants have also been used in combination with anthocyanin synthesising mutants. Following this strategy, double homozygotes for
Aft
and
hp1
displayed a more than additive effect on the accumulation in anthocyanins and flavonols, with 5-, 19-, and 33-fold increase in the content of petunidin, malvidin and delphinidin respectively [
37
]. Mes
et al.
[
36
] also obtained higher anthocyanin levels combining
Aft
and
hp-1
, though the levels obtained were lower than the combination
Aft-atv
.
Stacking carotenoid and anthocyanin related genes is currently being used in the development of new cultivars with enhanced functional value. As an example, Sestari
et al.
[
175
] stacked the genes
hp-2
,
Aft
and
atv
into a commercial cultivar of cherry tomato. Cherry cultivars are selected due to their high ratio surface to volume, as carotenoids and polyphenols tend to accumulate in the external layers of the fruit, and more light is received by the peel increasing anthocyanin synthesis.
5. Conclusions
It is difficult to establish a clear link between a specific component of a complex diet with the prevention of different types of cancer. Especially, when their efficiency may depend on the matrix in which the bioactive compound is present. Consequently, supplementation studies may differ from their natural ingestion in food. Despite these difficulties, carotenoids and polyphenols have proved in different studies to play a role as functional compounds in the prevention of cancer. In this context, despite not outstanding for its nutritional value, the high level of consumption of tomato all year round makes it an important source of bioactive compounds. During the last decades, efforts have been placed in the breeding sector in order to develop new functional tomato varieties with increased levels of carotenoids and polyphenols. These materials would represent an alternative to isolated compounds found in dietary supplements, with the benefits of synergetic effects of these molecules with other phytochemicals presents in the natural matrix. The use of high pigment genes in combination with a restoration of anthocyanin accumulation in the fruit, especially in smaller materials such as cherry varieties, may represent a promising alternative to increment the intake of these bioactive compounds in their natural matrices in the near future. These new materials will obviously be an interesting tool to be combined with other recommendations in order to prevent or even to contribute to delay the progression of cancer.
Acknowledgments
The Author's thank the editorial office of
Cancers
for covering the costs to publish in Open Access.
Author Contributions
All the authors contributed to the review of bibliography (especially R.M.) and the writing of the paper.
Conflicts of Interest
The authors declare no conflict of interest.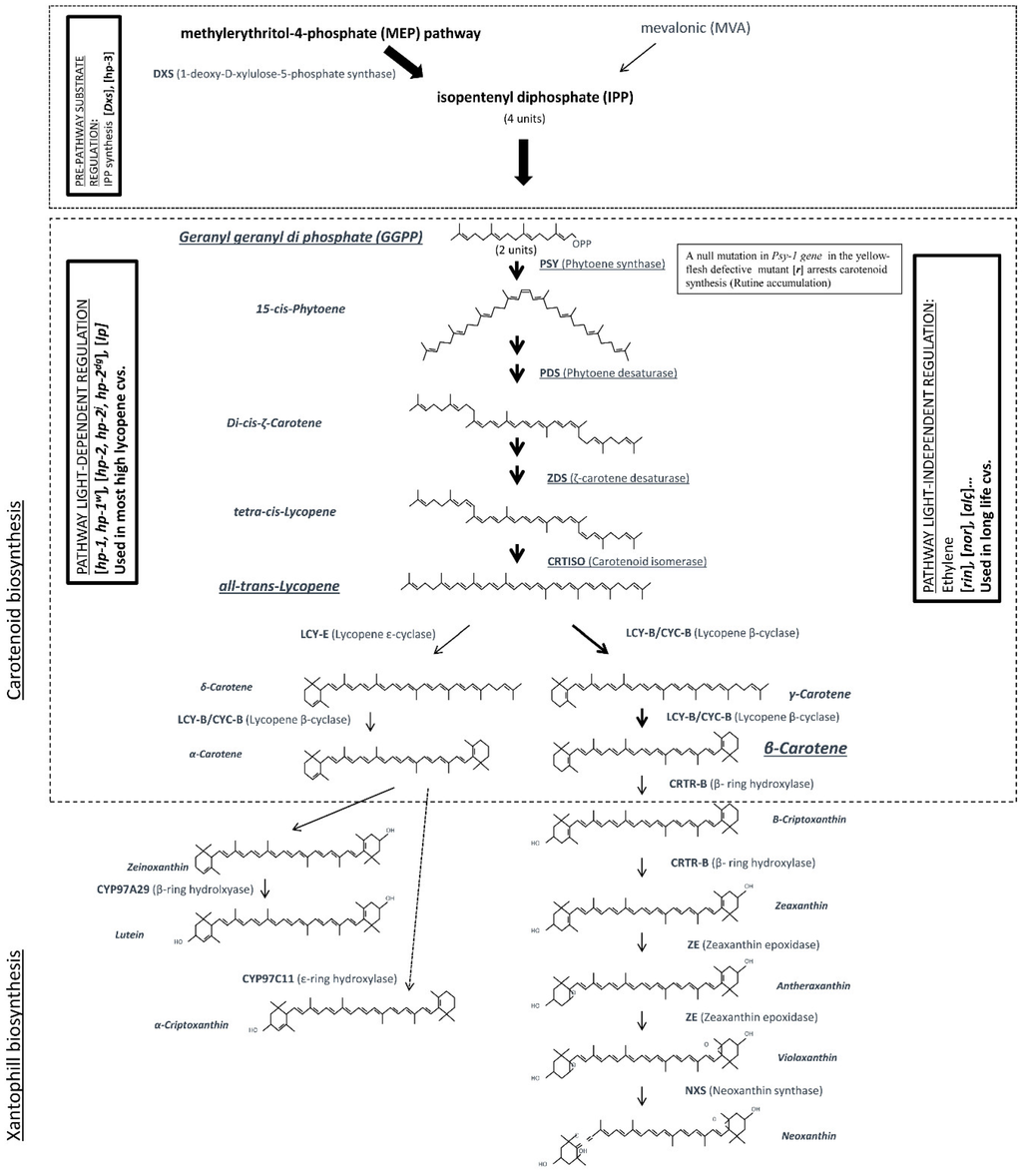 Figure 1.
Carotenoid and xanthophyll biosynthesis pathway in tomato (adapted from; [
24
,
110
,
112
,
122
,
123
]). The most important products and steps in carotenoid biosynthesis in common red tomatoes are underlined and marked with thick arrows respectively. The three regulation mechanisms are indicated with 90° rotated boxes.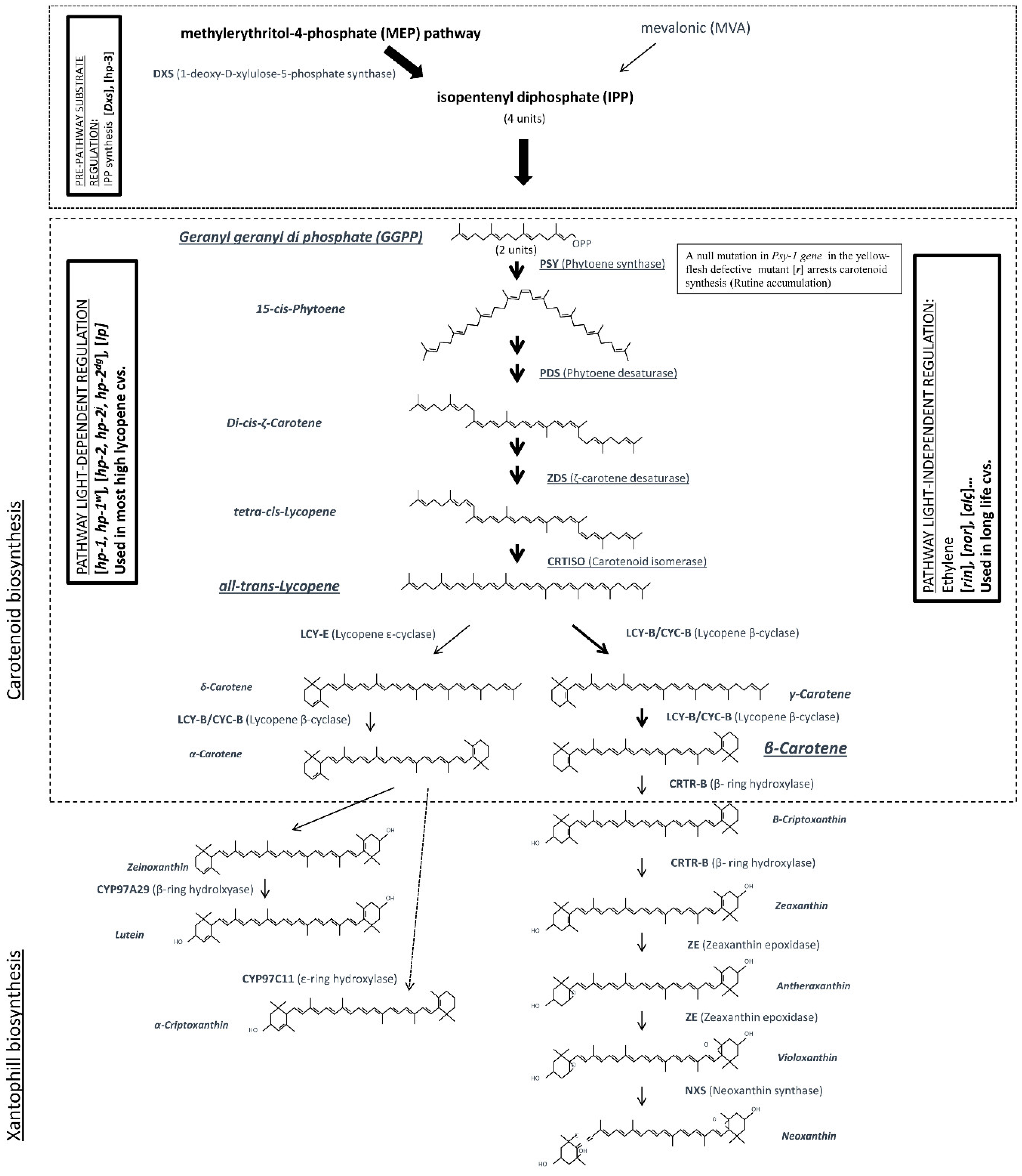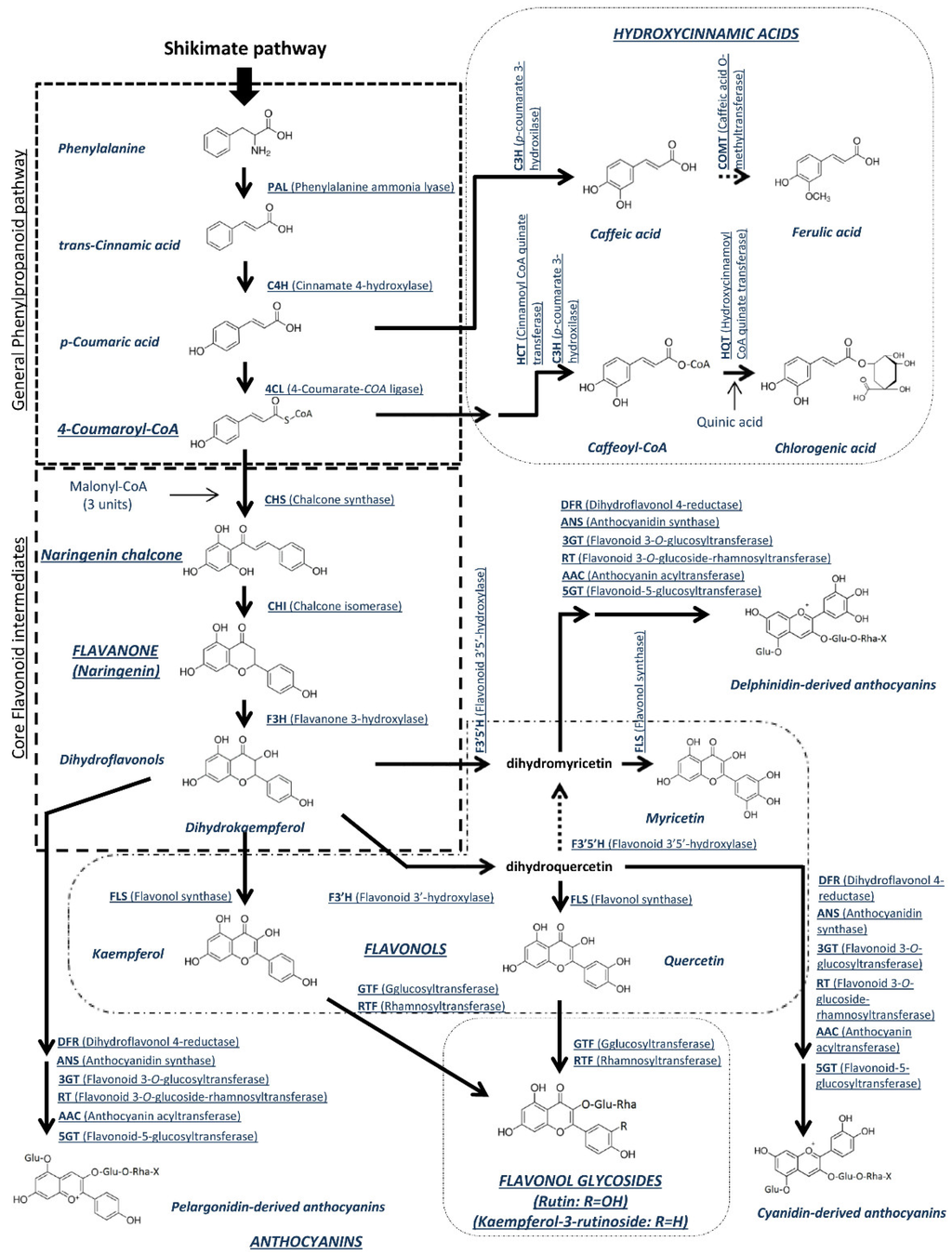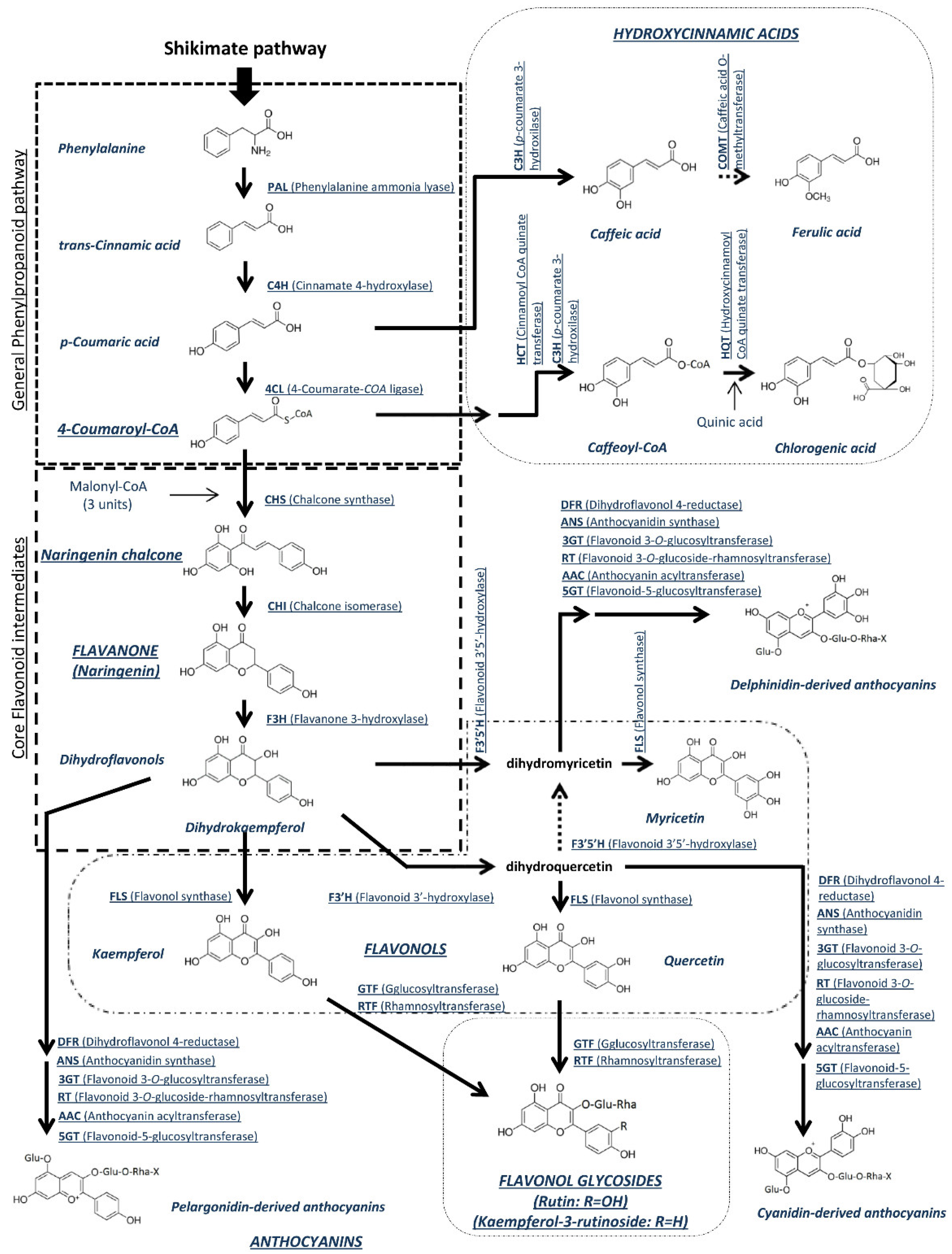 Table 1. Typical composition (mg 100 g−1 fresh weight) in tomato ripe fruits of carotenoids and polyphenols, (adapted from [24,25,26,27]).
Carotenoid
Concentration
Polyphenol
Concentration
Lycopene
7.8–18.1
Naringenin chalcone
0.9–18.2
Phytoene
1.0–2.9
Rutin
0.5–4.5
Phytofluene
0.2–1.6
Quercetin
0.7–4.4
β-Carotene
0.1–1.2
Chlorogenic acid
1.4–3.3
γ-Carotene
0.05–0.3
Caffeic Acid
0.1–1.3
δ-Carotene
0–0.2
Naringenin
0–1.3
Lutein
0.09
Kaempferol-3-rutinoside
0–0.8
Neurosporene
0–0.03

p

-Coumaric acid
0–0.6
α-Carotene
0–0.002
Ferulic acid
0.2–0.5
Neoxanthin
-
Kaempferol
0–0.2
Violaxanthin
-
Myricetin
-
Anteraxanthin
-
Cyanidin
-
Zeaxanthin
-
Pelargonidin
-
Delphinidin
-
Table 2. Mutants used in tomato breeding related to carotenoid accumulation.
Altered Activity
Mutant/Gene
Fruit Colour
Details
Single step of biosynthesis pathway

r

(

yellow flesh

)
Yellow fruits
Null mutation of PSY-1 gene arrests carotenoid synthesis and the yellow colour is due to rutin accumulation

t

(

tangerine

)
Orange fruits
Defective CRTISO enzyme. Prolycopene (orange colour) is accumulated

og

(

old gold

) and ogc (old gold crimson)
Intense red fruits
Frameshift mutations originating defective CYC-B Lycopene is accumulated at the expense of β-carotene

B

(

Beta

)
Orange fruits
Mutation in the promoter of CYC-B gene (increased transcription). β -carotene increases at the expense of lycopene

Del

(

Delta

)
Orange fruits
LCY-E transcription is increased, and more δ-carotene is produced at the expense of lycopene

hp-3

(

high pigment 3

)
Intense red fruits
Defective ZE mutant. Biosynthesis of ABA is decreased, resulting in increased plastid division and higher accumulation of carotenoids
Regulation
hp-1, hp-1w (

high pigment 1

)
Intense red fruits
Mutation of DD1 homolog. Altered light regulation. Increased total carotenoids, vitamin C and polyphenols
hp-2, hp-2j, hp-2dg (

high pigment 2

)
Intense red fruits
Mutation of TDET1. Altered light signal-transduction machinery. Increased total carotenoids, vitamin C and quercetin

Ip

(

Intense pigment

)
Intense red fruits
Promotion of phytochrome signal amplification. Increased soluble solids and total carotenoids
Table 3. Mutants used in tomato breeding related to polyphenol accumulation.
Altered activity
Mutant/gene
Fruit colour
Details
Regulation

Y

(

yellow

)
Pink fruits
Mutation of SlMYB12, transcription factor involved in the regulation of phenylpropanoid/flavonoid pathway. Lack of accumulation of naringenin chalcone in fruit peel

Aft

(

Anthocyanin fruit

)
Purple fruits (external)
Probable regulation of flavonoid/anthocyanidin synthesis in fruits. Increased levels of flavonols, delphinidin, malvidin and petunidin

Abg

(

Aubergine

)
Purple fruits (external)
Possible allele of

Aft

.

atv

(

atroviolacea

)
Light purple fruits (external)
Possible role in the phytochrome

phyB1

high irradiance response pathway. Strong accumulation of anthocyanins in vegetative parts. Small effect on fruit, but it has synergic effects with

Aft

hp-1, hp-1w (

high pigment 1

)
Intense red fruits
Mutation of DD1 homolog. Altered light regulation. Increased total carotenoids, vitamin C and polyphenols
hp-2, hp-2j, hp-2dg (

high pigment 2

)
Intense red fruits
Mutation of TDET1. Altered light signal-transduction machinery. Increased total carotenoids, vitamin C and quercetin
© 2016 by the authors; licensee MDPI, Basel, Switzerland. This article is an open access article distributed under the terms and conditions of the Creative Commons Attribution (CC-BY) license (http://creativecommons.org/licenses/by/4.0/).