Printed Edition
A printed edition of this Special Issue is available at
MDPI Books...
.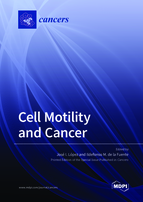 Does Cancer Biology Rely on Parrondo's Principles?
1
Toulouse Biotechnology Institute, University of Toulouse, INSA, CNRS, INRAE, 31400 Toulouse, France
2
Department of Biology, University of New Brunswick, P.O. Box 4400, Fredericton, NB E3B 5A3, Canada
3
Centre for Integrative Ecology, School of Life and Environmental Sciences, Deakin University, Deakin, VIC 3216, Australia
4
CREEC/CANECEV, MIVEGEC (CREES), Centre de Recherches Ecologiques et Evolutives sur le Cancer, University of Montpellier, CNRS, IRD, 34000 Montpellier, France
5
Institute for Evolution and Biodiversity, University of Münster, Hüfferstrasse 1, 48149 Münster, Germany
6
Laboratory of Rare Human Circulating Cells (LCCRH), University Medical Centre of Montpellier, 34093 Montpellier, France
*
Authors to whom correspondence should be addressed.
Academic Editors: José I. López and Ildefonso M. de la Fuente
Received: 9 April 2021
/
Revised: 29 April 2021
/
Accepted: 29 April 2021
/
Published: 3 May 2021
Simple Summary
Parrondo's paradox, whereby losing strategies or deleterious effects can combine to provide a winning outcome, has been increasingly applied by biologists to explain complex adaptations in many living systems. Here, we suggest that considering this paradox in oncology, particularly in relation to the phenotypic diversity of malignant cells, could also be a promising approach to understand several puzzling aspects of cancer biology. For example, the high genetic and epigenetic instability of cancer cells, their metastatic behavior and their capacity to enter dormancy could be explained by Parrondo's theory. We also discuss the relevance of Parrondo's paradox in a therapeutical framework using different examples. This work provides a compelling argument that the traditional separation between medicine and other disciplines remains a fundamental limitation that needs to be overcome if complex processes, such as oncogenesis, are to be completely understood.
Many aspects of cancer biology remain puzzling, including the proliferative and survival success of malignant cells in spite of their high genetic and epigenetic instability as well as their ability to express migrating phenotypes and/or enter dormancy despite possible fitness loss. Understanding the potential adaptive value of these phenotypic traits is confounded by the fact that, when considered separately, they seem to be rather detrimental at the cell level, at least in the short term. Here, we argue that cancer's biology and success could frequently be governed by processes underlying Parrondo's paradox, whereby combinations of intrinsically losing strategies may result in winning outcomes. Oncogenic selection would favor Parrondo's dynamics because, given the environmental adversity in which malignant cells emerge and evolve, alternating between various less optimal strategies would represent the sole viable option to counteract the changing and deleterious environments cells are exposed to during tumorigenesis. We suggest that malignant processes could be viewed through this lens, and we discuss how Parrondo's principles are also important when designing therapies against cancer.
View Full-Text
►

▼

Show Figures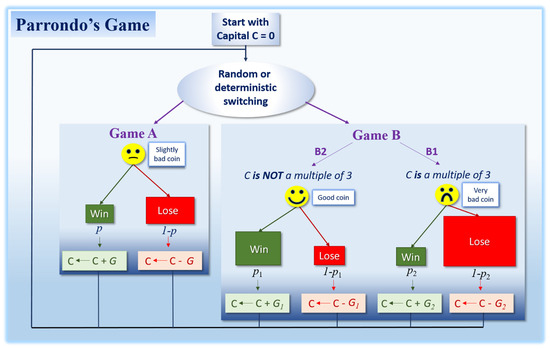 Figure 1
This is an open access article distributed under the
Creative Commons Attribution License
which permits unrestricted use, distribution, and reproduction in any medium, provided the original work is properly cited

MDPI and ACS Style
Capp, J.-P.; Nedelcu, A.M.; Dujon, A.M.; Roche, B.; Catania, F.; Ujvari, B.; Alix-Panabières, C.; Thomas, F. Does Cancer Biology Rely on Parrondo's Principles? Cancers 2021, 13, 2197. https://doi.org/10.3390/cancers13092197
AMA Style
Capp J-P, Nedelcu AM, Dujon AM, Roche B, Catania F, Ujvari B, Alix-Panabières C, Thomas F. Does Cancer Biology Rely on Parrondo's Principles? Cancers. 2021; 13(9):2197. https://doi.org/10.3390/cancers13092197
Chicago/Turabian Style
Capp, Jean-Pascal, Aurora M. Nedelcu, Antoine M. Dujon, Benjamin Roche, Francesco Catania, Beata Ujvari, Catherine Alix-Panabières, and Frédéric Thomas. 2021. "Does Cancer Biology Rely on Parrondo's Principles?" Cancers 13, no. 9: 2197. https://doi.org/10.3390/cancers13092197
Note that from the first issue of 2016, MDPI journals use article numbers instead of page numbers. See further details
here
.