(Endo)Cannabinoids and Gynaecological Cancers
1
Endocannabinoid Research Group, Reproductive Sciences Section, Department of Cancer Studies and Molecular Medicine, University of Leicester, Leicester LE1 7RH, UK
2
Department of Molecular and Cell Biology, University of Leicester, Leicester LE1 7RH, UK
3
European Centre for Brain Research, IRCCS Santa Lucia Foundation, 00164 Rome, Italy
4
Gynaecology Oncology Cancer Centre, Liverpool Women's NHS Foundation Trust, Liverpool Women's Hospital, Liverpool L8 7SS, UK
5
Faculty of Health and Life Sciences, University of Liverpool, Liverpool L69 3GB, UK
6
Department of Biotechnological and Applied Clinical Sciences, University of L'Aquila, 67100 L'Aquila, Italy
*
Authors to whom correspondence should be addressed.
Received: 9 November 2020
/
Revised: 18 December 2020
/
Accepted: 22 December 2020
/
Published: 25 December 2020
Simple Summary
Cancers of the female reproductive system are common and are responsible for a large number of deaths in women. The exact reasons why some of these cancers occur are unknown. It is, however, known that for most of these cancers, several factors interact for them to happen. These interactions involve factors external and internal to the woman. An understanding of some of the internal factors involved in how these cancers arise will not only help drive preventive strategies, but will speed the development of new treatment approaches. The endocannabinoid system is a family including chemicals (known as endocannabinoids) produced in the body that are similar to those derived from the cannabis plant. This system, which is widely distributed in the body, has been shown to be involved in various functions. Its disruption has been shown to lead to various diseases, one of which is cancer. In this review, we summarise current knowledge of this system, its various constituents, and how they are involved in reproductive events and their pathologies, especially cancers. Furthermore, we discuss the role of the endocannabinoid system in these cancers and how targeting it could lead to new approaches to diagnosis and treatment of cancers of the female reproductive system.
Gynaecological cancers can be primary neoplasms, originating either from the reproductive tract or the products of conception, or secondary neoplasms, representative of metastatic disease. For some of these cancers, the exact causes are unknown; however, it is recognised that the precise aetiopathogeneses for most are multifactorial and include exogenous (such as diet) and endogenous factors (such as genetic predisposition), which mutually interact in a complex manner. One factor that has been recognised to be involved in the pathogenesis and progression of gynaecological cancers is the endocannabinoid system (ECS). The ECS consists of endocannabinoids (bioactive lipids), their receptors, and metabolic enzymes responsible for their synthesis and degradation. In this review, the impact of plant-derived (
Cannabis
species) cannabinoids and endocannabinoids on gynaecological cancers will be discussed within the context of the complexity of the proteins that bind, transport, and metabolise these compounds in reproductive and other tissues. In particular, the potential of endocannabinoids, their receptors, and metabolic enzymes as biomarkers of specific cancers, such as those of the endometrium, will be addressed. Additionally, the therapeutic potential of targeting selected elements of the ECS as new action points for the development of innovative drugs will be presented.
View Full-Text
►

▼

Show Figures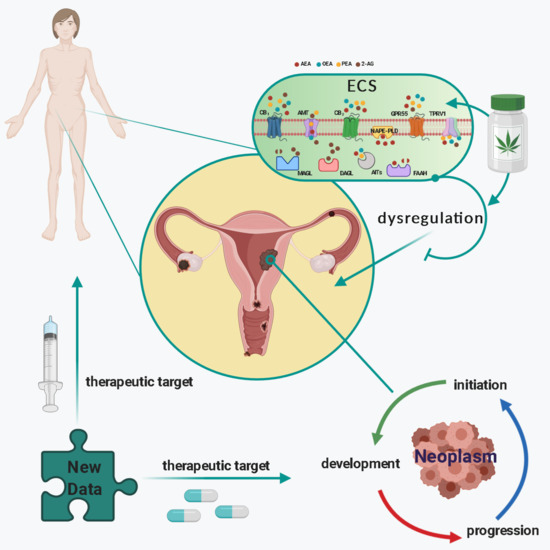 Graphical abstract
This is an open access article distributed under the
Creative Commons Attribution License
which permits unrestricted use, distribution, and reproduction in any medium, provided the original work is properly cited

MDPI and ACS Style
Taylor, A.H.; Tortolani, D.; Ayakannu, T.; Konje, J.C.; Maccarrone, M. (Endo)Cannabinoids and Gynaecological Cancers. Cancers 2021, 13, 37. https://doi.org/10.3390/cancers13010037
AMA Style
Taylor AH, Tortolani D, Ayakannu T, Konje JC, Maccarrone M. (Endo)Cannabinoids and Gynaecological Cancers. Cancers. 2021; 13(1):37. https://doi.org/10.3390/cancers13010037
Chicago/Turabian Style
Taylor, Anthony H., Daniel Tortolani, Thangesweran Ayakannu, Justin C. Konje, and Mauro Maccarrone. 2021. "(Endo)Cannabinoids and Gynaecological Cancers" Cancers 13, no. 1: 37. https://doi.org/10.3390/cancers13010037
Note that from the first issue of 2016, MDPI journals use article numbers instead of page numbers. See further details
here
.