The Role of Cannabinoids as Anticancer Agents in Pediatric Oncology
1
Brain Tumour Research Program, Telethon Kids Institute, Nedlands, WA 6009, Australia
2
Centre for Child Health Research, University of Western Australia, Nedlands, WA 6009, Australia
*
Authors to whom correspondence should be addressed.
Received: 30 November 2020
/
Revised: 1 January 2021
/
Accepted: 2 January 2021
/
Published: 5 January 2021
Simple Summary
The endocannabinoid system (ECS) is a complex signaling pathway system involved in the regulation of multiple functions in both normal tissues and cancer. Δ9-tetrahydrocannabinol and cannabidiol are plant-derived cannabinoids that possess some efficacy against adult cancer, in part via modulation of the ECS, and may be less toxic agents compared to other treatments used in oncology. To date, there are minimal studies that have investigated these drugs in the pediatric cancer setting. Indeed, there are currently no preclinical or clinical studies examining the effects of cannabinoids in pediatric brain cancer, although there is some evidence that they can alleviate symptoms associated with childhood cancer therapy, such as vomiting and nausea. Given there is accumulating evidence that cannabis use during adolescence is associated with poor mental and cognitive health, there is a present and urgent need to investigate the safety and efficacy of cannabinoids in pediatric oncology to provide guidance to families and physicians.
Cannabinoids are a group of chemicals that bind to receptors in the human body and, in turn, modulate the endocannabinoid system (ECS). They can be endogenously produced, synthetic, or derived from the plant
Cannabis sativa L
. Research over the past several decades has shown that the ECS is a cellular communication network essential to maintain multiple biological functions and the homeostasis of the body. Indeed, cannabinoids have been shown to influence a wide variety of biological effects, including memory, pain, reproduction, bone remodeling or immunity, to name a few. Unsurprisingly, given these broad physiological effects, alterations of the ECS have been found in different diseases, including cancer. In recent years, the medical use of cannabis has been approved in different countries for a variety of human conditions. However, the use of these compounds, specifically as anticancer agents, remains controversial. Studies have shown that cannabinoids do have anticancer activity in different tumor types such as breast cancer, melanoma, lymphoma and adult brain cancer. Specifically, phytocannabinoids Δ9-tetrahydrocannabinol (THC) and cannabidiol (CBD) has been shown to induce apoptosis and inhibit proliferation of adult cancer cells, as well as modulate angiogenesis and metastasis. Despite increasing evidence that cannabinoids elicit antitumor effects in adult cancers, there is minimal data available on their effects in children or in pediatric cancers despite public and clinical demand for information. Here we describe a comprehensive and critical review of what is known about the effects of cannabinoids on pediatric cancers, highlight current gaps in knowledge and identify the critical issues that need addressing before considering these promising but controversial drugs for use in pediatric oncology.
View Full-Text
►

▼

Show Figures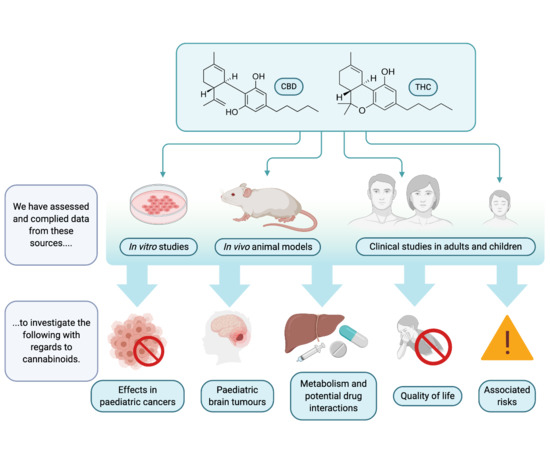 Graphical abstract
This is an open access article distributed under the
Creative Commons Attribution License
which permits unrestricted use, distribution, and reproduction in any medium, provided the original work is properly cited

MDPI and ACS Style
Andradas, C.; Truong, A.; Byrne, J.; Endersby, R. The Role of Cannabinoids as Anticancer Agents in Pediatric Oncology. Cancers 2021, 13, 157. https://doi.org/10.3390/cancers13010157
AMA Style
Andradas C, Truong A, Byrne J, Endersby R. The Role of Cannabinoids as Anticancer Agents in Pediatric Oncology. Cancers. 2021; 13(1):157. https://doi.org/10.3390/cancers13010157
Chicago/Turabian Style
Andradas, Clara, Alexandra Truong, Jacob Byrne, and Raelene Endersby. 2021. "The Role of Cannabinoids as Anticancer Agents in Pediatric Oncology" Cancers 13, no. 1: 157. https://doi.org/10.3390/cancers13010157
Note that from the first issue of 2016, MDPI journals use article numbers instead of page numbers. See further details
here
.