Integration and Comparison of Transcriptomic and Proteomic Data for Meningioma
1
Faculty of Health: Medicine, Dentistry and Human Sciences, The Institute of Translational and Stratified Medicine, University of Plymouth, The John Bull Building, Plymouth Science Park, Research Way, Plymouth PL6 8BU, UK
2
School of Health & Life Sciences, Centuria Building, Teesside University, Middlesbrough, Tees Valley TS1 3BX, UK
3
Cellular and Anatomical Pathology, Plymouth Hospitals NHS Trust, Derriford Road, Plymouth PL6 8BU, UK
4
Department of Neurosurgery, Division of Experimental Neurosurgery, Heidelberg University Hospital, 69120 Heidelberg, Germany
5
Faculty of Medicine, School of Public Health, Imperial College London, Medical School, St Mary's Hospital, Praed Street, London W2 1NY, UK
*
Authors to whom correspondence should be addressed.
†
Authors contributed equally to this manuscript.
Received: 9 October 2020 / Accepted: 3 November 2020 / Published: 5 November 2020
Simple Summary
Meningioma are the most common primary intracranial tumour, yet gaps in their molecular characterisation persist and effective treatments for aggressive, recurring, high-grade (WHO grade III) meningioma are lacking. The aim of our study was to outline differences in the molecular landscape between high-grade and low-grade (WHO grade I) meningioma by combining transcriptomic and proteomic data from two former independent studies. We described both concordant and discordant differential expression between grades and validated expression at either the transcript or protein level for genes including MAOB, CST3, LAMP2, PACS1 and HTRA1. Concordantly upregulated transcripts/proteins of high-grade tumours were enriched in biological processes such as oxidative phosphorylation and RNA metabolism. Using an integrated omics approach we have provided a previously unreported, valuable insight into the altered transcript/protein expression profiles between high and low-grade meningioma. In addition, our findings identified molecules that may hold potential as biomarkers or therapeutic targets of high-grade meningioma.
Meningioma are the most frequent primary intracranial tumour. Management of aggressive meningioma is complex, and development of effective biomarkers or pharmacological interventions is hampered by an incomplete knowledge of molecular landscape. Here, we present an integrated analysis of two complementary omics studies to investigate alterations in the "transcriptome–proteome" profile of high-grade (III) compared to low-grade (I) meningiomas. We identified 3598 common transcripts/proteins and revealed concordant up- and downregulation in grade III vs. grade I meningiomas. Concordantly upregulated genes included
FABP7
, a fatty acid binding protein and the monoamine oxidase
MAOB
, the latter of which we validated at the protein level and established an association with Food and Drug Administration (FDA)-approved drugs. Notably, we derived a plasma signature of 21 discordantly expressed genes showing positive changes in protein but negative in transcript levels of high-grade meningiomas, including the validated genes
CST3
,
LAMP2
,
PACS1
and
HTRA1
, suggesting the acquisition of these proteins by tumour from plasma. Aggressive meningiomas were enriched in processes such as oxidative phosphorylation and RNA metabolism, whilst concordantly downregulated genes were related to reduced cellular adhesion. Overall, our study provides the first transcriptome–proteome characterisation of meningioma, identifying several novel and previously described transcripts/proteins with potential grade III biomarker and therapeutic significance.
View Full-Text
►

▼

Show Figures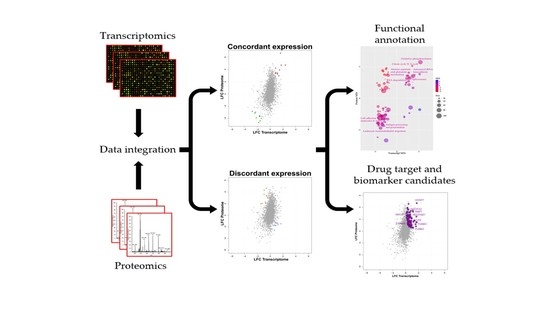 Graphical abstract
This is an open access article distributed under the
Creative Commons Attribution License
which permits unrestricted use, distribution, and reproduction in any medium, provided the original work is properly cited

MDPI and ACS Style
Dunn, J.; Lenis, V.P.; Hilton, D.A.; Warta, R.; Herold-Mende, C.; Hanemann, C.O.; Futschik, M.E. Integration and Comparison of Transcriptomic and Proteomic Data for Meningioma. Cancers 2020, 12, 3270.
AMA Style
Dunn J, Lenis VP, Hilton DA, Warta R, Herold-Mende C, Hanemann CO, Futschik ME. Integration and Comparison of Transcriptomic and Proteomic Data for Meningioma. Cancers. 2020; 12(11):3270.
Chicago/Turabian Style
Dunn, Jemma; Lenis, Vasileios P.; Hilton, David A.; Warta, Rolf; Herold-Mende, Christel; Hanemann, C. O.; Futschik, Matthias E. 2020. "Integration and Comparison of Transcriptomic and Proteomic Data for Meningioma" Cancers 12, no. 11: 3270.
Note that from the first issue of 2016, MDPI journals use article numbers instead of page numbers. See further details
here
.